With the rich ancient background and affluent culture, travelers are faced with a perplexing task to choose their destination in Italy. Each region in the country bids a different sentiment of art and historic upbringing; interlacing regional ethnicity along with a particular set of traditions, language, and cuisine.
The boot-shaped country disguises layers of intellectual and leisure characteristics; from iconic villages, pristine beaches, proud peaks of Alps, to thousands of years of reliquaries by countless artists, luminaries, and glorified reigning kingdoms.
Italia is described as a terrain plentiful in heritage within every inch of its soil. To give you an overview of Italy's top destinations on a time constraint voyage to Italy here is a summarized list of 15 best cities to visit in Italy with your family.
1. Rome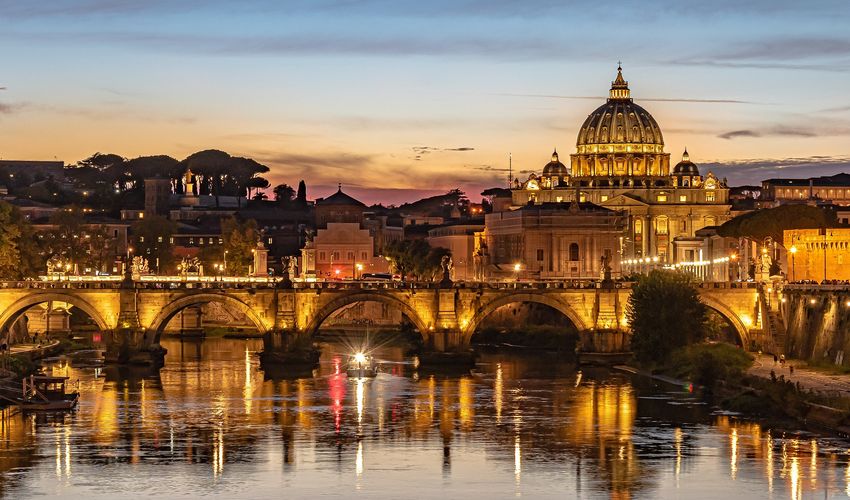 Once the most powerful city in Europe as the capital of the Roman Empire, Roma is an amorous permutation of history, faith, and art. The eternal city stands with the matchless architecture of palatine hill's first settlement, in particular; the largest roman amphitheater, coliseum, and Roman Pantheon and Forum. Most celebrated Italian artists have devoted their aptitudes to Rome throughout millenniums; beaming with names such as Michelangelo, Bernini, and Salvi amid many other artists. Cityscape is sprawling with ancient neighborhoods adorned with palaces, Museums, gothic basilicas, and sculptured Piazzas; retaining the city's characteristic and ageless look.
Rome is the only city that holds a country within its municipality; World's smallest country, Vatican Papal State. Parallel to its religious significance, Vatican chapels are elaborated by eminent artists as Michelangelo and Raphael; while concealing Museums of Priceless reliquaries belonging to Romans and Greeks to Paleo Christian era, benedict artifacts implicated to Jesus of Nazareth and his disciple's to remarkable art collections. Ostia is the closet beach to Rome – in tune with the spirit of the city-sate, flawless sand beaches and sunbathing is complimented with the sight of the ancient port of Ostia Antica.
2. Turin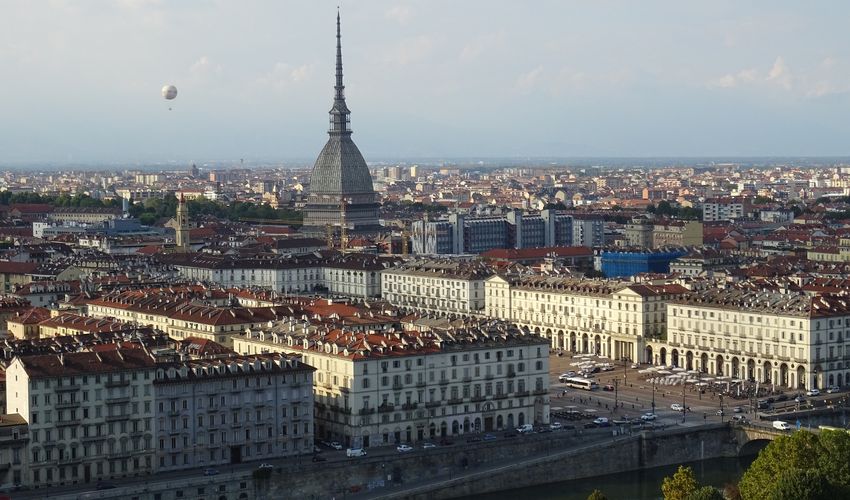 Often denoted as the aristocratic township, Torino is Italy's industrial and cultural pole. Districts are sheathed with French-style boulevards and 19th-century architecture, with precision and perfection. Prized ancient reservoirs of Turin embrace the ancient Roman colony site, war emblems of good and evil, three centuries of Savoy dynasty Castles, art collections and fortresses. Visit Turin's most popular square, Piazza Castello and the adjacent historic structures with astounding tales and stories.
Turin is well-known for its futuristic and post-industrial culture, housing the otherworldly progressive music culture. Fancy cuisine, exquisite chocolate, and cultural literacy are Turin's refined delights. Stroll among the medieval streets and piazzas, the metropolitan's first municipal park at the banks of Po River and watch the valley of Alps in Piedmont region, at Basilica di Superga.
3. Bologna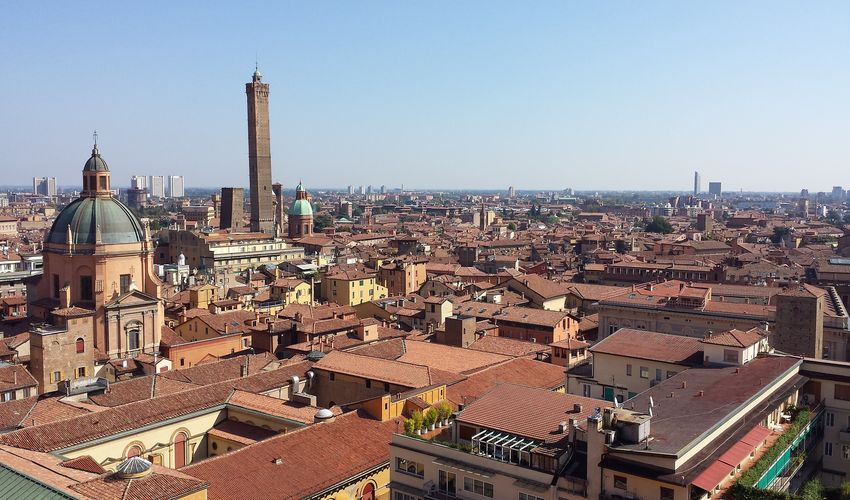 The capital city of Emilia – Romagna region, Bologna is nicknamed as the city of creative music by UNESCO. Contemplating food standard in Italy, Bologna is also titled as the country's capital of gastronomy. The historic heart of the city is discernible with two leaning towers of Asinelli and Garisenda.
Urban architecture reflects the renaissance porticos, gothic churches, fairytale gardens, and an amazing Finestrella, overlooking the ancient canals of Bologna. Art is detected side to side the borough in the form of museums, sculptures, and even modern-day murals. Bologna has remained uncaring of commercial tourism; bringing an optimal destination for those seeking a complete immersion in historic and artistic culture within Bolognese ethnicity.
4. Naples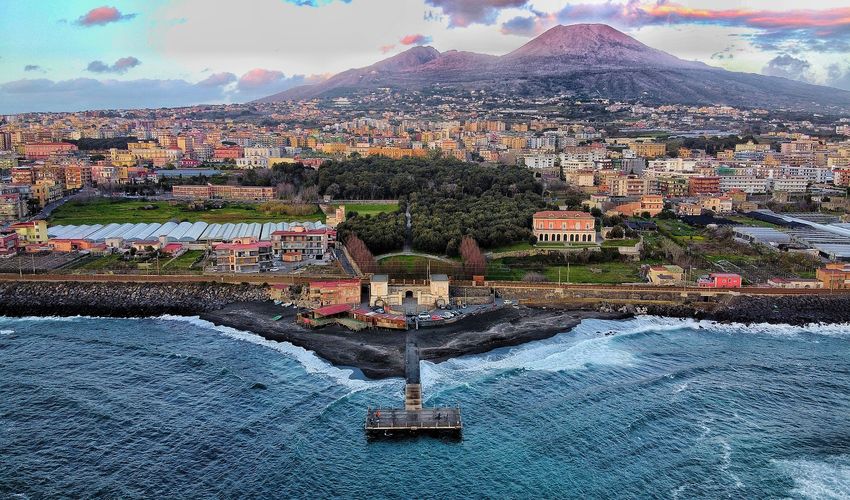 Locate at Naples' Bay, Napoli symbolizes the primordial Greco-Roman civilization; treasuring folds of roman archeological sites, an underground city, Norman and baroque churches, Castles belonging to thousands of years of the sovereign. With its picturesque topography, Naples spots the city's remarkable view over the Active Volcano, Mt. Vesuvius, Bay of Naples and heritage sites. On your cultural tour around the city, visit the world's first opera house and its museum.
Neapolitan territories bear many peculiar elements within its cultural pleats; sacred skull in the basilica of the unfortunate, a solidified lizard in a church, Camorra mafia cemetery of pledge holders and a healing altar, are only a handful of many unusual rudiments. Presenting the world's best pizzeria, Neapolitan cuisine is famous for delicious seafood specialties, Campania wine, and mouthwatering street food- on a budget.
5. Florence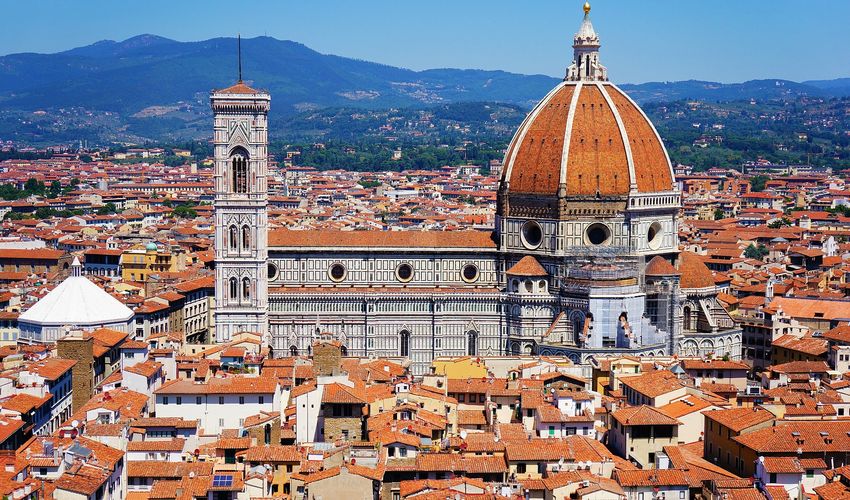 The entire city of Firenze is marked as UNESCO's World Heritage Site, filled with the poetic quintessence of art, literature, and philosophy, adjoin with exalted history. With a compact momentous epicenter, Florence is easy for a walk-on tour around and glancing at world-known masterpieces of art and architecture.
Cross Ponte Vecchio bridge over the Arno river, gaze upon the reflection of Florentine faith; in Santa Maria del Fiore cathedral, its artistic baptistery and bell tower and gothic basilicas and walk up to the Golden Gates of Heaven. The world-famous statue of David and other masterpieces of Michelangelo are portrayed in the Florence Museum of Michelangelo. Established as a textbook example of Renaissance art and architecture exhibited in various buildings such as; Uffizi Gallery and Pitti Palace.
Florence is embraced with lush hills and outstanding landscape in its vicinity; although the city also shields green refuges within Bardini and Rose's Gardens.
6. Venice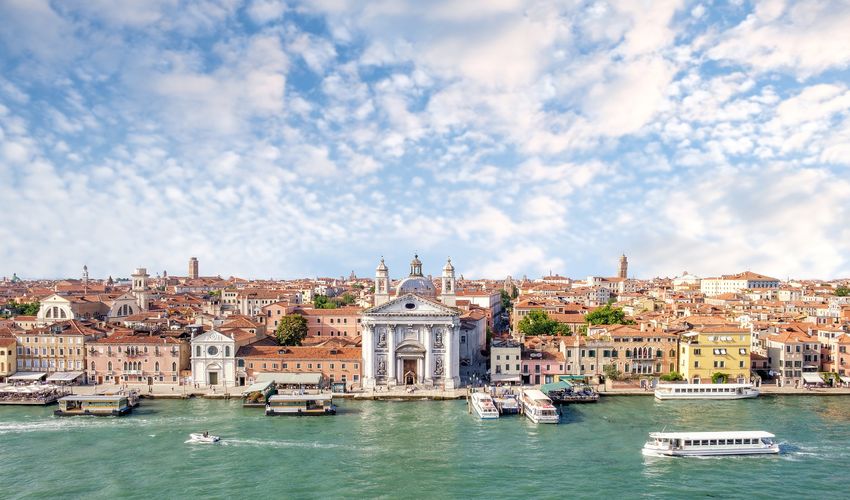 Venice is known for the phenomenal architecture erected on the compact series of Venetian collective islands. Prominent as a romantic destination, wonderful scenery of medieval borough intertwined amid the sophisticated networks of canals- Venice's prominent feature. St Mark Square is the largest piazza and city's focal point, complemented with historic edifices of St. Mary Basilica and Doge's Palace.
House museums, aristocratic castles and several marvelous bridges, unique experiences of gondola rides over Venetian canals and witnessing parts of Venice submerge in the high tides of the Adriatic sea – with its ingenious urban architecture well-found. Art has been always valued as gold in Venice; encompassing Gallerie dell' Accademia and art exhibitions. Venetian artisan market at San Samuele presents shoppers with traditional crafts such as special works of textile, hand-cut leather, carnival masks, and Murano Glass. At Lido di Venice, indulge in sun and sand activities and relish the magnificent view of Venetian lagoon at sunset.
8. Milan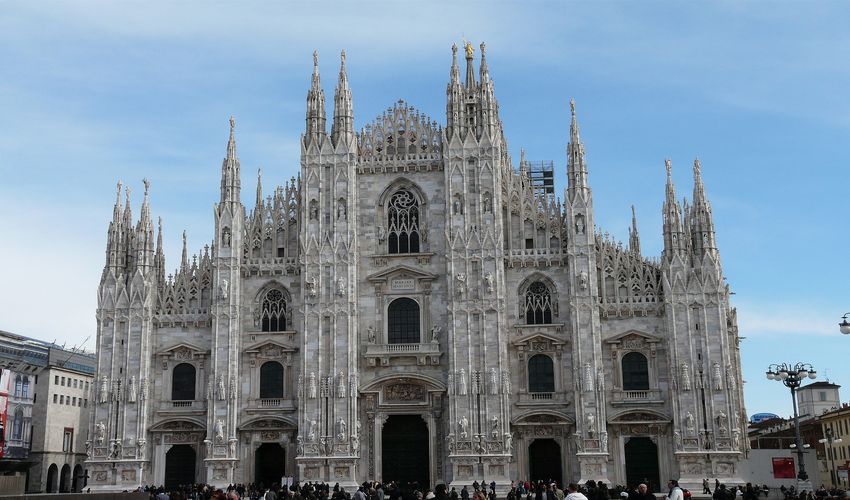 Time-honored as the financial and fashion capital of Italy, Milan is a city with historic charm and post-modern culture. With its diverse architecture, visitors are stunned with an echo of Milanese history in its structures- since from ancient Romans, to renaissance and contemporary eras. Distinctive as a haven for fashion fans, fashion trends are vibrantly seen in every corner- particularly in la Passarelle or weekly fashion runways. Concealing the most lavish exposition of fashion trends, Galleria is Milan's and the world's first shopping mall.
Milan's cathedral is a magnificent gothic structure with figurine pinnacles – ranked as the vault of the highest number of sculptures. With the most impressive opera house of La Scala, Da Vinci National Museum and masterwork of last supper faithfully decorating Santa Maria gothic basilica. Ever-applauded city of Milan is a balance of novelty and inherited culture, with ultramodern succession.
8. Pisa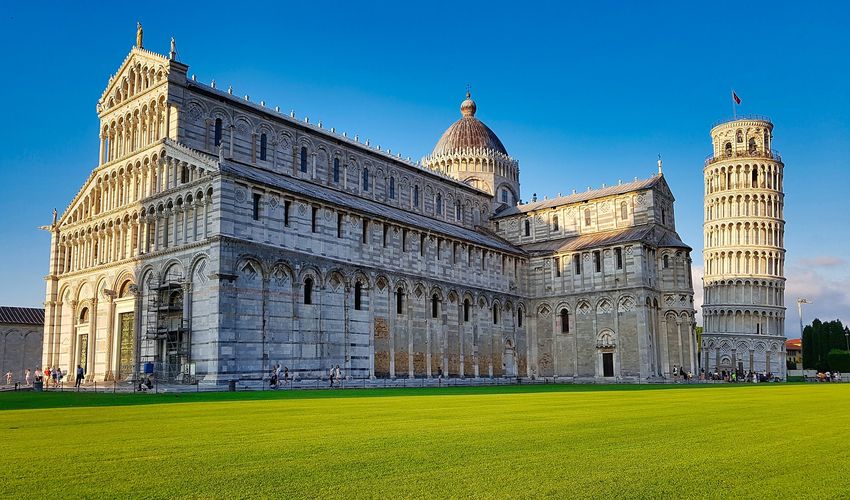 Distinguished with its emblematic leaning tower, Pisa is a treasure trove of roman relicts, maritime empire artifacts, and generations of artistic endeavors. Square of Miracles lies on the path to the leaning tower, state of art baptistery by Nicola Pisano, and the cathedral- all in delightful harmony of Romanesque elegance.
Medieval neighborhoods at the bank of river Arno, convey a stunning scenery to stroll about. The ancient city is highlighted for the oriental influence in Pisan urban architecture. While the artistic aspects are reflected across the city, the final resting place of Pisa is a monumental cemetery; resembling an open-air art gallery. Located in the Tuscan region, hot springs and stunning landscape is just outside the urban borderline.
9. Matera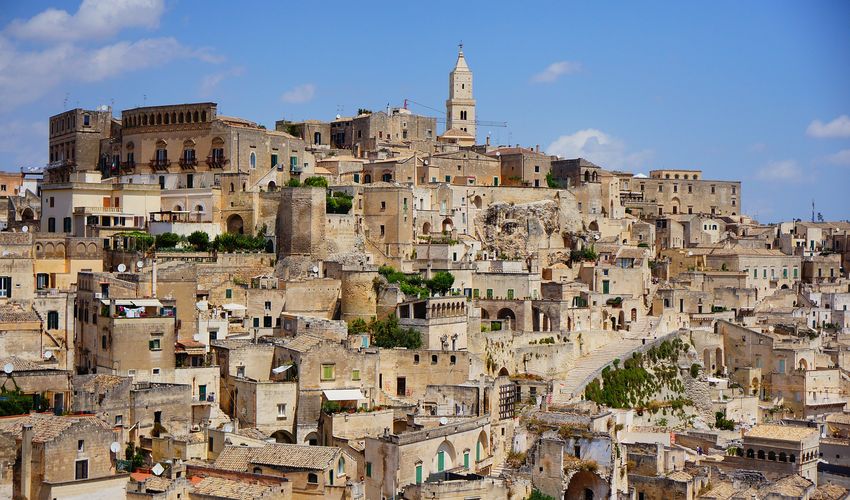 Italy is known for its rich artistic crafts through the history, traced back to 10,000 years ago. Destitute civilization of Matera used their ingenious craft to make up for the deprived circumstances; creating dazing rock architecture and an entire village built in the heart of stone, or Sassi di Matera.
Pronounced as the European capital of culture in 2019, Matera's overlooked beauty was rediscovered in the movie "Passion of Christ" featuring Mel Gibson. With medieval rock churches in Rupestrian Park, Matera Cathedral and houses of Sassi, the south Italian city is described as one of the most extraordinary destinations. A scenic ambient of ancient abided rocks illuminated with warm lights at night, form the most splendid staging to gaze upon from the city's many viewpoints.
10. Pompeii and Herculaneum Roman Cities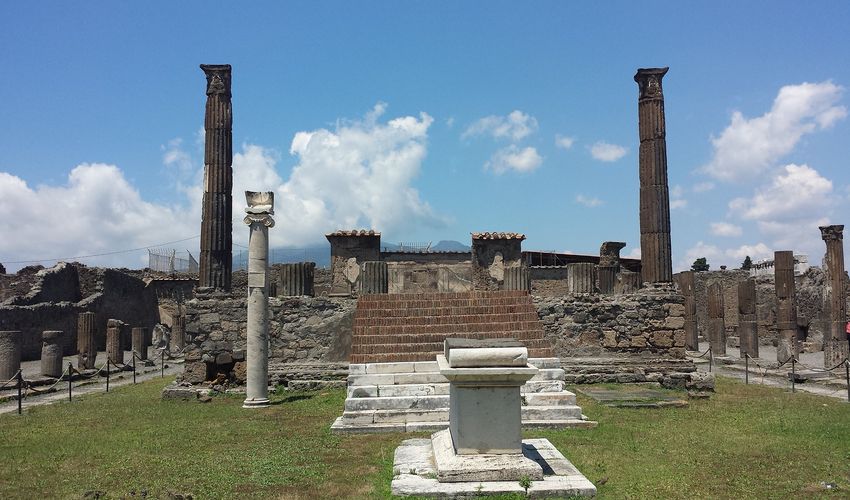 The lost city of Pompeii sits at the Bay of Naples, adjacent to the volcanic Mt. Vesuvius. A remark of Oscan civilization and thereafter Romans, the ancient city with its entire residents were buried under meters of erupted ashes and volcanic residues 79 AC. Volcanic ashes, along with centuries of dust layers were removed during the first excavation in the 16th century; unearthing reserved life of a city into a motionless representation of markets, amphitheaters, households with its ash-fossil inhabitants and extensive details.
Discovered in the 18th century by the king of Naples, Herculaneum was devoured by the lava eruption of Mt. Vesuvius; leaving a township collection of wood, textile, architecture and other artifacts conserved up to present. The entire locality is adorned with paintings, mosaic art, and adornments.
Both destinations of Pompeii and Herculaneum are a short drive away from Naples. Several tours and public transport routes are accessible for a visit to the preserved history.
11. Palermo and Sicily Island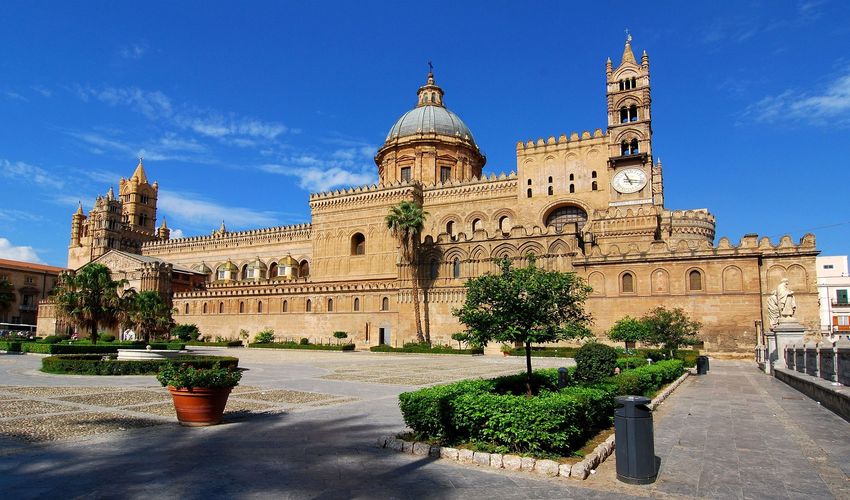 Ruled by Arab Emirs, Normans, Spanish kingdom and even Sicilian Mafia, the city carries the fingerprints of its curious and colorful past. Alongside the Norman castle and Cathedral, the city's most conspicuous feature is La Martorana church with stunning mosaic decorations. Uncanny structures constructed during the fascist regime and a ghastly view of Cappuccini catacombs are other touristic attractions.
Idolized for its crystal clear waters and pristine beaches, Sicily Island is jam-packed with heritage trove of Greek and Roman civilization reliquaries. Valley of Temples in Sicily conceals the most well preserved ancient Greek temples in the world. Mt. Etna, the tallest European active volcano, brings about hot springs, molten lava pits and an adventurous landscape for off-roading enthusiasts. Near Mt. Etna, Taormina is a village positioned on a cliff rock with a Greco-Roman theatre and bewildering backdrop.
12. Five Towns of Cinque Terre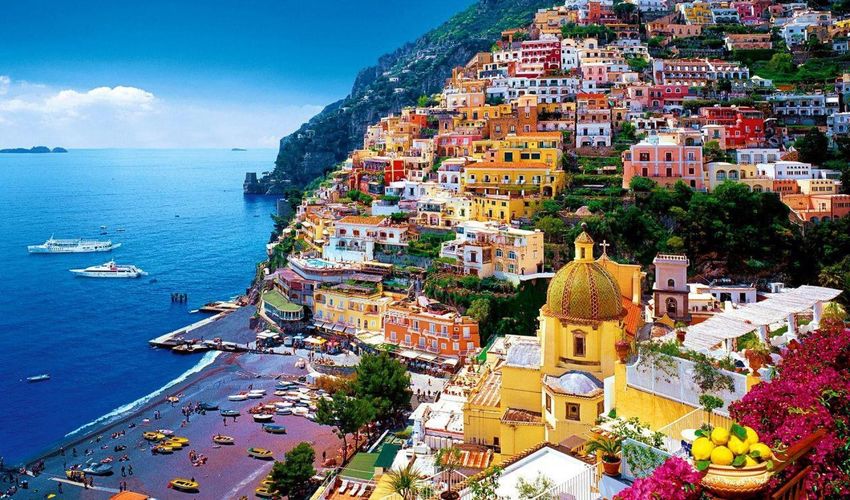 On the coastline of the Ligurian sea, five ancient villages reside on the rocky cliffs of Spezia Province. Five fishing villages of Monterosso, Vernazza, Corniglia, Manarola, and Riomaggiore are connected as a municipal township; exhibiting flamboyant shades of buildings with steep and narrow roads. Cinque Terre's ancient footpaths are renowned for their refined engineering and high practicality up to present.
Today, footpaths are represented as one of the country's best-hiking spots with exceptional sight over the landscape and azure Mediterranean sea. The most popular path lies between Riomaggiore and Manarola; titled as Lover's Lane, Via dell'Amore is a delightful path with a paved passage and romantic sculptures. Entrancing villages are noted for its amusing architecture, cliff viewpoints and olive, and wine agronomy.
13. Perugia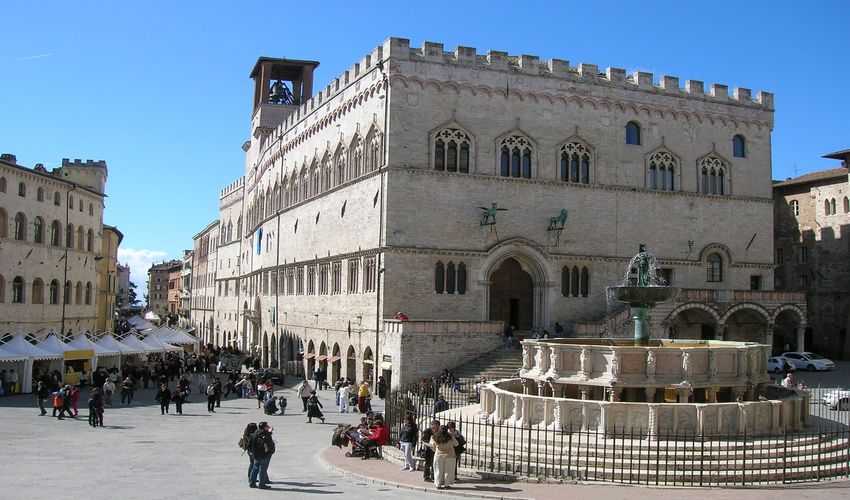 Once one of the federation cities of the Etruscan civilization, Perugia is the capital of the Umbria region today. Due to the city's significance as one of the Etruscan federal metropolises, the city was shielded with a defensive wall; Arco d'Aosta is one of the gates leading into the ancient city of Perugia.
As a cultural hub, Perugia has served as "the city of university" since middle ages and resided many artists through centuries such as Raphael and Pietro Perugino. Gothic churches, Museums and art galleries are combined in a cityscape, on the skirts of Perugia hill. At the top is Fontana Maggiore, adjacent to Piazza Maggiore, outlined with hearty cafes and restaurants. Euro chocolate festival is held annually in the city's historic center, presenting high-quality chocolate for a free tasting.
14. Viterbo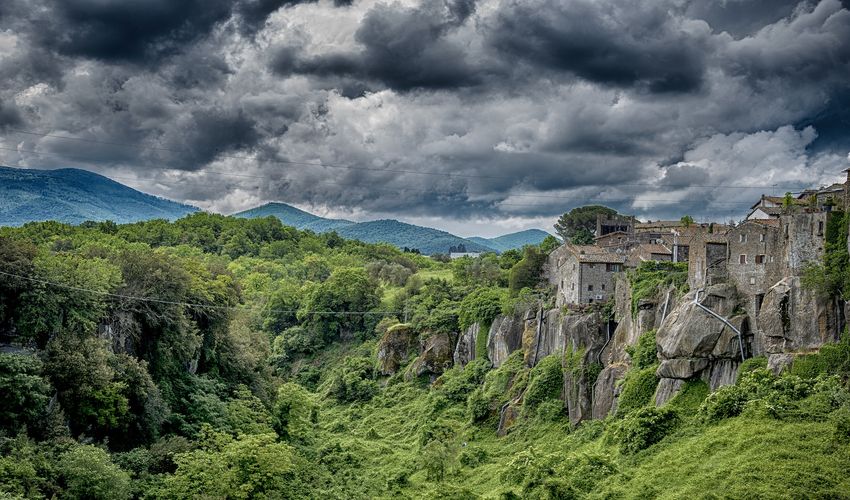 Embraced by Mountains Cimini and Volsini, Viterbo is the province's capital in the Lazio region. The illustrious characteristic of the city is the walls conserved from the renaissance era at the historic center. Viterbo wrought as the papal state before the Vatican- from the 12th century, and until the 19th century.
The legend has it that Hercules established the city; symbolized as a lion in Viterbo's heraldic badge. Palazzo Dei Papi was the residential seat of popes for many centuries. Many structures such as Rocco Fountain are the city's renaissance inheritances. San Lorenzo Cathedral is a Romanesque – Lombard architecture assembled in the ruins of an ancient Hercules temple. to the west of burg, remnants of Roman baths are an incomprehensible site to visit, while relishing the healing benefits of Bulicame hot springs.
15. Verona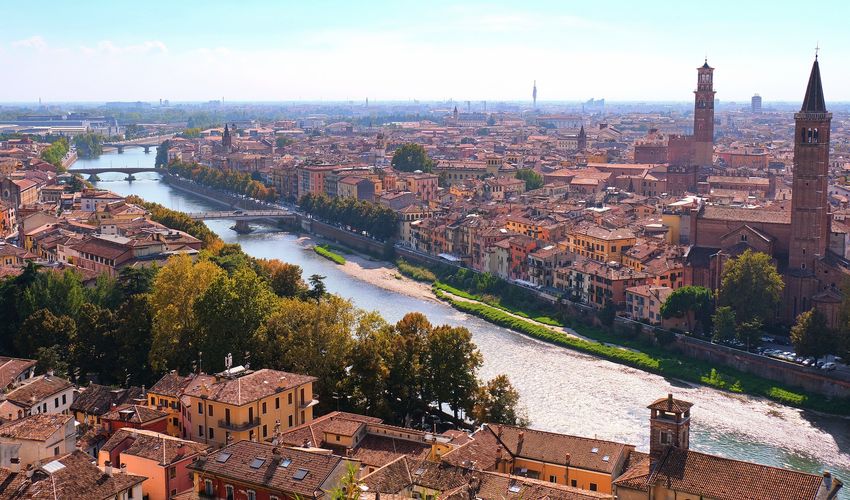 The less-famed cultural Zion of Italy, in Veneto region, Verona amasses opera, art, literature and architecture masterpieces. Dating back to 89 BC, Porta Borsari is the ancient gate through the city's shielding wall for merchants and travelers.
Lamberti Tower is classed as the civic's tallest building, adjacent to Piazza Delle Erbe, or Herb market Square; a remark of the primeval market at the site of the Roman forum. Verona's Arena is one of the prevalent amphitheaters of its kind; nowadays, visitors can experience live events in the ancient Roman arena. In an enchanting addition to the township's romantic essence, the residence of Shakespeare's Juliet, or Casa di Giulietta, is marked as the Cappello family dwelling, and historic proof of Romeo and Juliet anecdote.
Only a drive from Pisa, a small township of Lucca, is an amiable destination, marked with renaissance architecture. Located in Tuscany and a jaunt from Pisa, Commune of Siena houses masterpieces by Donatello, Bernini, and Giovanni Pisano; beautifying the city's many museums, churches, and Renaissance structures.
At the southern part of Naples' Bay, Amalfi coast is renowned for its scenic landscape and astonishing views, complemented with delicious gastronomy. Needless to mention, Sardinia Island is the lavish destination for leisure travel on unsullied beaches along with historic vestiges such as the Bronze Age beehive structures.