The name Scotland conjures images of wilderness and untamed natural beauty in the minds of travelers throughout the world. Native people with an indomitable spirit have lived here for millennia – they had a sophisticated pagan (pre-Christian) religion already in place, and the patchwork of clans and small lordships resisted first the Romans and later the English from ever securing a solid foothold in their country.
The traditional boundary line between Scotland and England is Hadrian's wall – which the Romans built to protect their empire from Scottish encroachment, rather than daring to invade and conquer the country itself. Eventually, Christianity penetrated deeper and deeper into Scotland and later, in 1707 the two countries united to become Great Britain. Scotland has never lost its individual culture or even its independent legal, educational and religious institutions, which help to solidify a national consciousness that is still markedly different from that of its southern neighbor.
Scotland is also distinguished by its huge quantities of untamed natural space, like the famed highlands and islands and their stunningly severe formations of rock and earth. Beautiful Lochs are surrounded by rolling forest and countryside, climbing up toward lofty mountainous regions that contain the tallest peaks in the entire of the British Isles.
Cities like Edinburgh and Glasgow are cultural focal points, places of incredible architectural beauty, creative genius and intellectual genius. Huge numbers of international people visit either as tourists, students or fully expatriate themselves to an excellent country, especially in and around Edinburgh. For those who like history, beautiful scenery, adventure, culture and of course good food and good whiskey – look no further than Scotland. Naming the best things to do is always controversial, with so many options it is largely dependent on personal tastes, but here are 16 of the best things to do, for all kinds of travelers.
1. Isle of Skye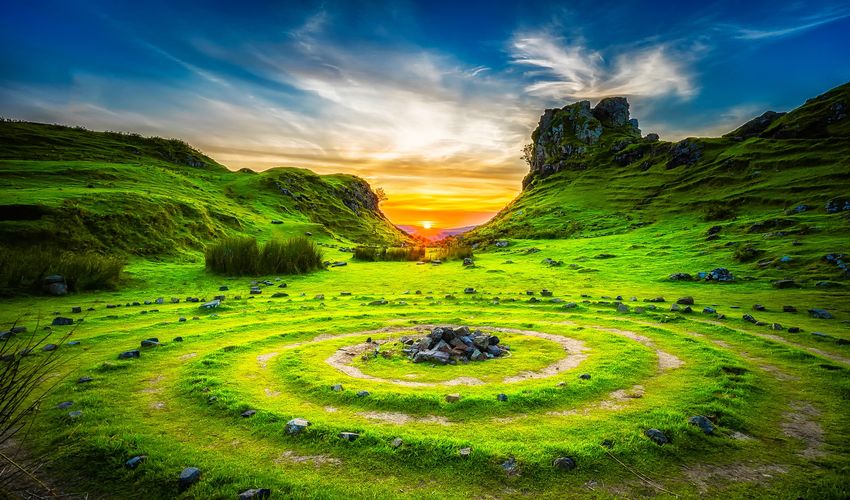 This island is probably the most famous of all the Scottish Islands, for good reason. The epic escarpments of the Cuillin mountains dominate the center, radiating outwards toward majestic scenes as the iconic rocky slopes travel downwards to meet the crashing tides. The island is large, with multiple towns and villages, so there is a lot to do.
The central mountains are a dream for walkers and climbers, with a variety of steep, scrambling walking routes over 12 'Munros' (peaks over 3000ft) and many true climbs as well. There are beautiful scenic walks for the less experienced or less able-bodied walkers as well, often along the stunning epic coastline of the island.
Wildlife spotting is another popular activity owing to populations of Otters, Dolphins, Whales, Eagles, Red Deer, Seals and much more that can be found at home on the island or in the surrounding seas. Check out picturesque towns like the capital of the Isle, Portree, with its lovely harbor. The history of the Island is rich and varied, and well worth delving into for those with a passion for the past.
2. Edinburgh Castle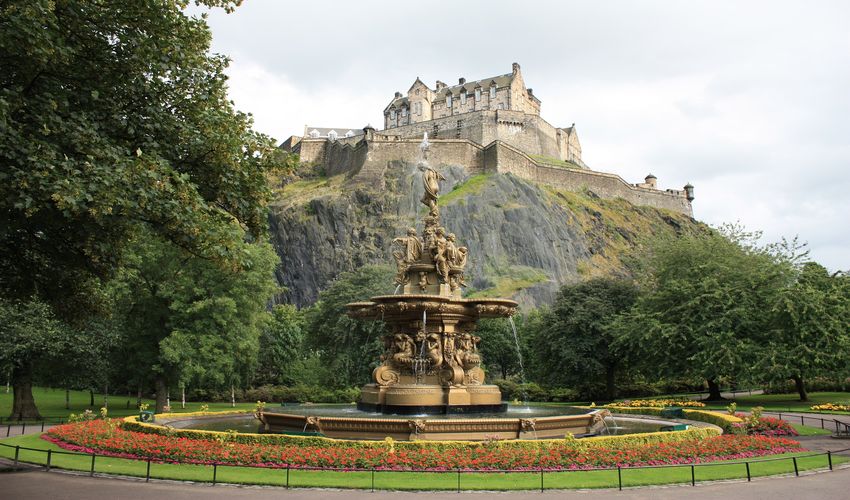 This domineeringly positioned fortification was always going to end up near the top of the list. Viewed from the welcoming and pretty city streets of Edinburgh, the castle is an oppressive yet majestic sight, brutal but utterly impressive. Sat upon the black Castle Rock, it is a stark reminder of the wilderness and the history that has shaped this fascinating country. As well as being an iconic focal point of central Edinburgh scenery, the castle is accessible on foot, and the walk is a scenic way to temporarily escape the city bustle.
Inside you'll find a dense castle complex, loads of history to explore and a variety of things to see – like the Royal Palace, as well as a range of guns and battlements – and at the highest point, Edinburgh's oldest surviving building, St. Margaret's Chapel.
3. Get Outdoors at Fort William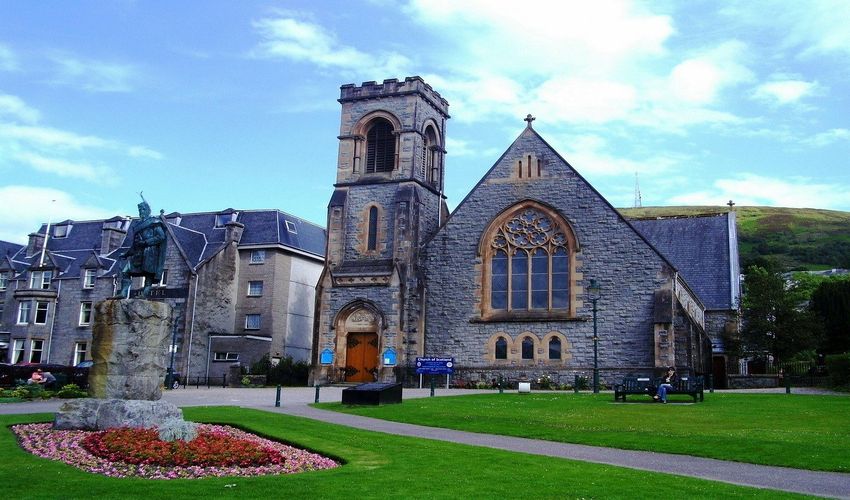 The aptly named outdoor capital of the UK sits in the foothills of the tallest peak in all of the UK – Ben Nevis. This 1344m (4406 feet) tall mountain is a popular spot for adventurous walkers but there are a multitude of other fantastic trails and routes throughout the nearby ranges.
The area is home to a high concentration of adventure sports – from mountain bike rides to white water rafting, climbing and scrambling, to wilderness survivalism and natural safaris – almost any adventurous or outdoor activity available in Britain is available in the area. Even snow sports like skiing and snowboarding! But more on that later. Also bear in mind that Fort William is only one of a huge number of Scottish locations offering world-class adventure and outdoor sports.
4. Glasgow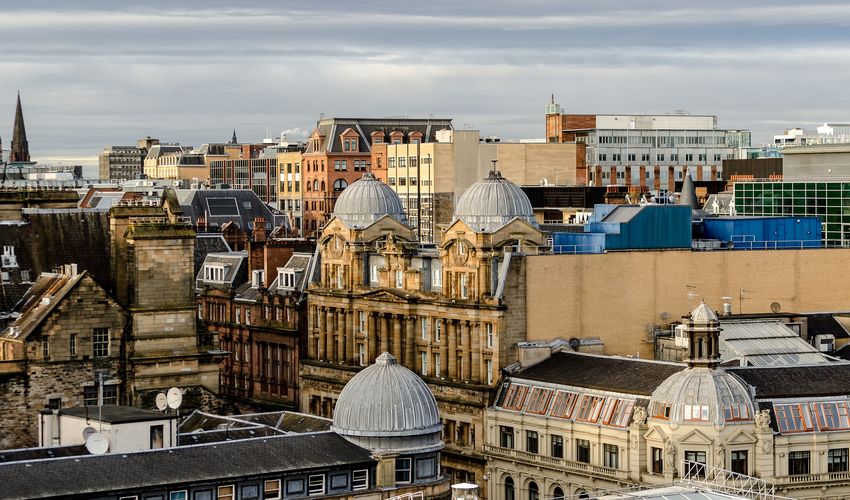 The most populous city in Scotland is a culturally fantastic place, with an exciting blend of old and new at its heart. From magnificent modern architecture to amazing food, to the best nightlife in the country, this city is well worth a visit. There are a multitude of things to do, and you could spend days exploring Glasgow without seeing it all, but here are a few choice picks on the best activities.
The Riverside Museum covers everything transport – with an old wooden ship floating just outside the fabulously contemporary building to help guide your way. Also consider the grand Gallery of Modern Art and the Kelvingrove Art Gallery and Museum, as well as the Glasgow botanical gardens. Possibly the best thing to do, however, is just roaming the city streets – dip into cafes, pubs, bars, shops, restaurants, whatever takes your fancy.
The independent businesses here are fantastic. A hidden gem full of bars, eateries, and shops to explore is Ashton Lane. Alternatively, beer fans could visit Templeton on the Green and try WEST brewery for some of Glasgow's own.
5. Skiing and Snowboarding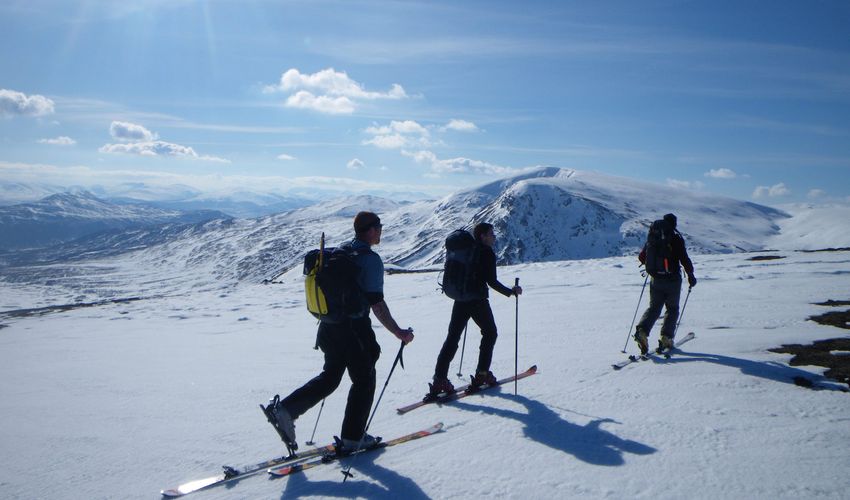 Scotland really is a haven for outdoor pursuits – and pretty much the only place you can visit in the British Isles if you want a proper outdoor skiing/snowboarding experience. Over half a million visitors pay for tickets to access the slopes each year, in a few different locations.
There is good skiing in the Nevis Range, with fairly trustworthy snow, although it can get very busy, especially if the snowfall doesn't reach the lower slopes of the country that year. Glenshee ski center is another good option, but perhaps the best skiing to be found in Scotland is in the Cairngorms. With 30km of pistes, 10 lifts and stunning views of the gorgeous Cairngorms National Park, it's a bucket list ski destination for sure.
However, climatic differences and a relatively low altitude mean that snow is not as predictable here as in, say, the Alps or the Rocky Mountains, so I recommend always keeping an eye on forecasts. Maybe having a backup plan for some other activities like walking or climbing, etc. is a good idea in case the snow doesn't come in large enough quantities to satisfy you.
6. Isle of Arran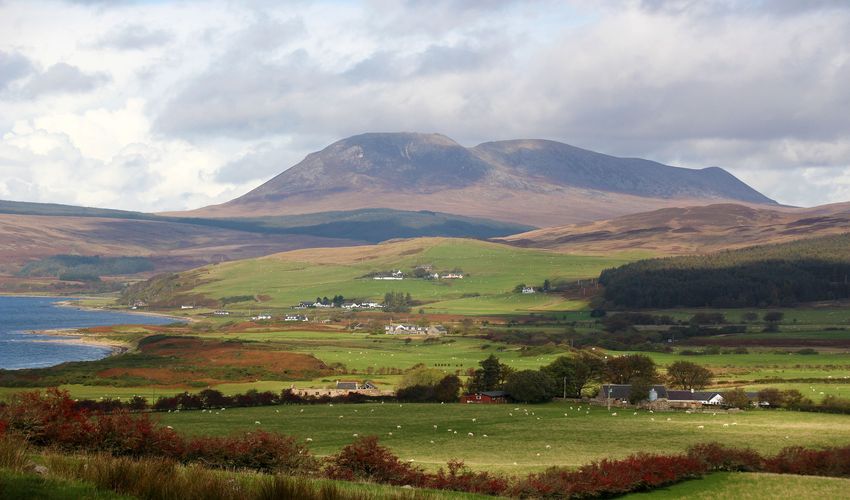 The 7th largest of the Scottish Isles, the Isle of Arran is another famous name among international travelers. With a wealth of activities available year-round (they market themselves as the 'winter wonderisland' There are a range of beautiful beaches and stunning walks to be had all over the Isle.
In warmer seasons camping is a popular way to sleep here, with cycling, hiking, Golf and sailing all popular pastimes, as well as more adventurous pursuits. Not to mention the great range of bars, bistros, and restaurants that make every evening just as enjoyable as a day spent exploring.
7. Experience the Home of Golf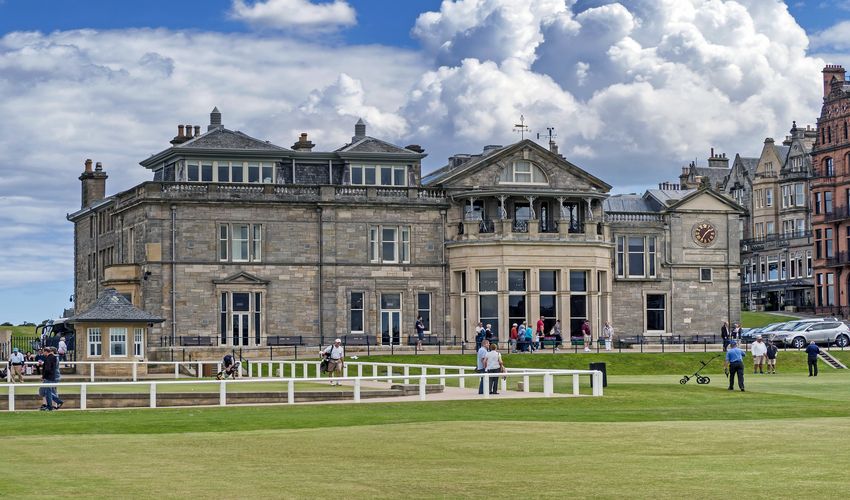 Scotland isn't all about death-defying extreme adventure sports, there is always something on offer for the ladies and gentlemen as well. First recorded here during the Scottish late Middle Ages, the modern game of Golf was developed in Scotland, and the country still boasts a massive range of world-class courses. The old course at St Andrews is variously known as 'The home of Golf'' The oldest Golf course in the world and considered almost as a place of pilgrimage for the truly devoted golfer.
If you can't get enough of this game, there are loads of fantastic, grand hotels that cater to the Golf tourism trade, providing you rooms a stone's throw from some of the best locations the global sport has on offer. If you're really committed and have the money, Scottish Golf offers luxury made to measure tours of the best spots in the country, and you can have a personalized and easy experience as you're guided through some of the most stunning panoramas in all of the Golfing world.
8. Do a Distillery Tour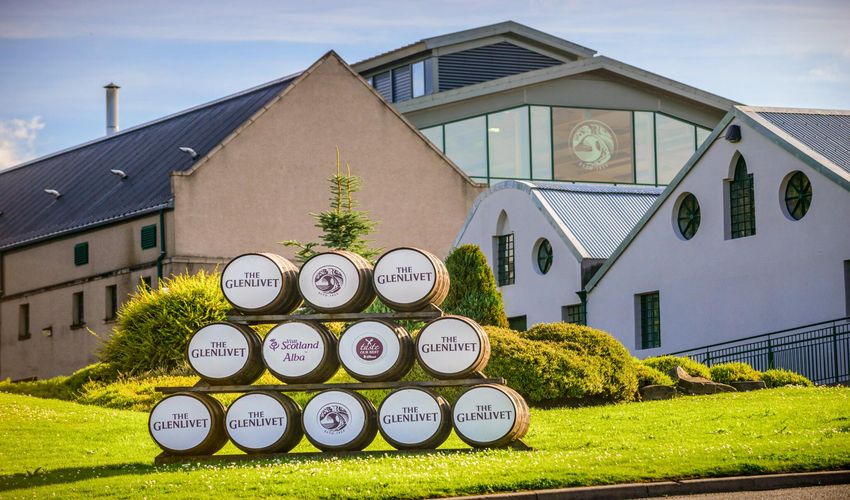 For those who like their alcohol, Scotland will immediately conjure images of arguably the finest whiskey to ever grace the planet. If you can stomach it, or if you simply find the process fascinating (which it is), there are a multitude of options for a distillery tour (and tasting) wherever you are in the country. Over 120 active distilleries are dispersed over five main whiskey producing regions – each with its own distinct flavors and aromas – many of which are available to visit and explore. So if you're a bit of a connoisseur, you may want to aim for a particular area to get your favorite style.
Auchentosan Distillery is the closest to Glasgow and accessible by a train, it also produces some of the lightest whiskey in the country, so perhaps those less experienced in the powerful drink may still enjoy it here. Edradour is ever popular due to its quaint size and location, with a truly traditional production process that leads to a wonderful distillery experience.
The tour here isn't too pricey, either. One last mention is Laphrohaig, incredibly famous, over two centuries old, producer of exceptionally peaty whiskey. Situated on the beautiful island of Islay, there is a range of tour options to suit your budget and your timescale.
9. Edinburgh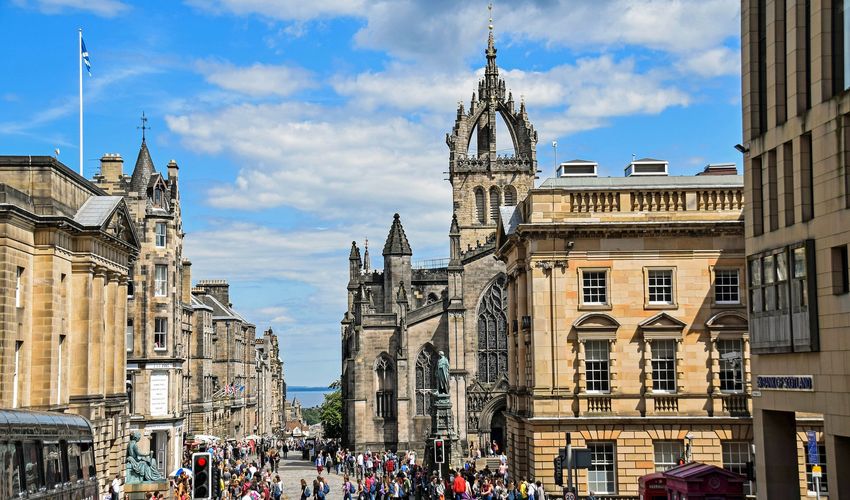 We've already mentioned the castle in Edinburgh, but the city itself cannot be ignored. While perhaps the finest way to spend time here is just wandering the gorgeous city streets, there are plenty of things to do for the more activity-oriented traveler.
The second oldest botanic garden in the UK is located here and it's well worth a visit. The national museum of Scotland, The Museum of Edinburgh, and a range of excellent galleries are all on offer here. The walking opportunities too, are nearly endless, and always customizable to your tastes and abilities. The pubs, bars, restaurants, and shops here are world-class, often independently owned and creating an excellent city-center experience.
Consider popping into one of the many tobacconists that also tend to supply high-quality whiskeys. You could get yourself a dram and maybe even a cigar to go with it for the next time you're admiring a classic Scottish view.
10. Skara Brae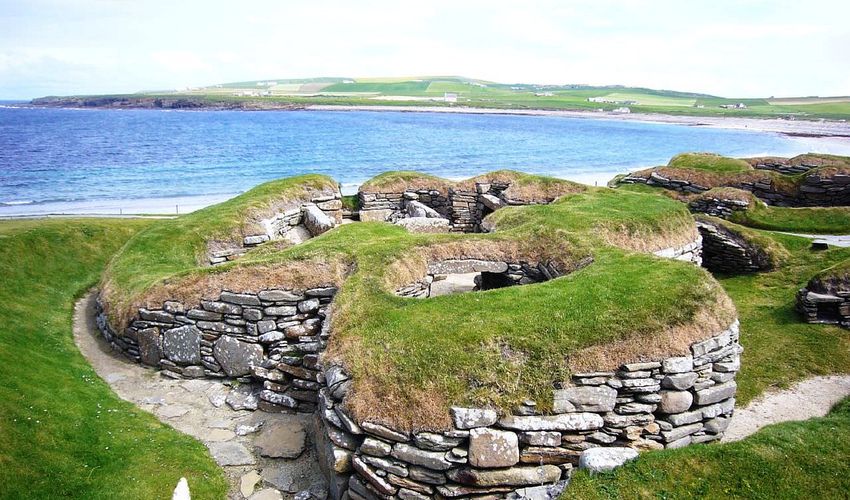 This captivating and relatively little known site predates both Stonehenge and the pyramids of Giza. First, visit the fantastic exhibit and watch a short video that will make what you're about to see come to life. Next, you'll visit a reconstruction of one of the houses, as it is thought to have looked around the time it was built.
This gives the excavations themselves so much more poignancy, and these potentially simple-seeming ruins of an ancient civilization really start to come to life. Sitting just above the waves, surrounded by the sand and grass it was once buried under, the site was only revealed in 1850 when waves from a severe storm eroded the beach and made the site visible. It had sat there, probably completely unoccupied for about 5000 years until that point.
11. Hermitage Castle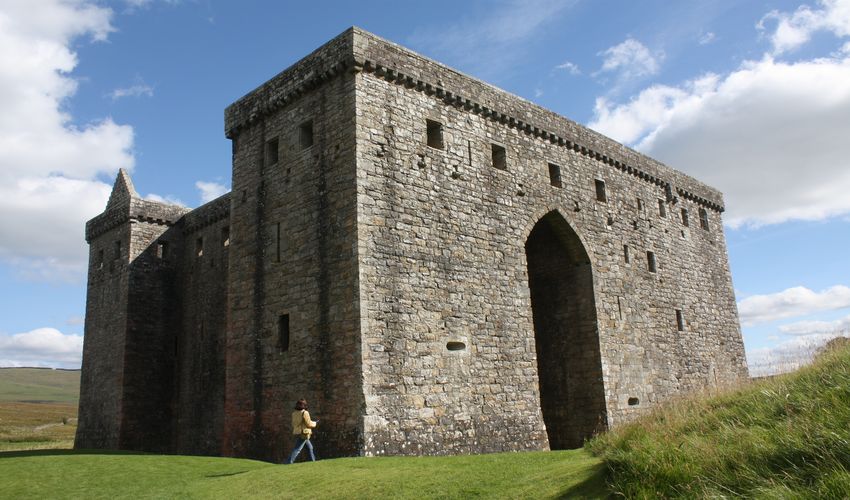 One of the best places to come to get a real feel for the violent and horrific conflict that existed around the Scottish/English border for centuries is at the guardhouse of the bloodiest valley in Britain. It doesn't exactly look like other castles in 'safer' areas – that are usually far more decorative and sumptuous, more like luxurious safehouses for the nobility. But this castle is true to military necessity – bleak, with relatively simple architecture and an obvious, grim purpose.
The history of this place is full of war, deceit, and treachery, over the course of many centuries. You can get a feel for it just standing outside, looking at the brutally solid walls, just a small vantage point in the endless and desolate seeming moorland that stretches for miles beyond. If you find the often dark and sinister history of Scottish/English relations interesting, this castle comes highly recommended – especially with a guided heritage tour that will really help you to unlock some of the mystery.
12. Loch Ness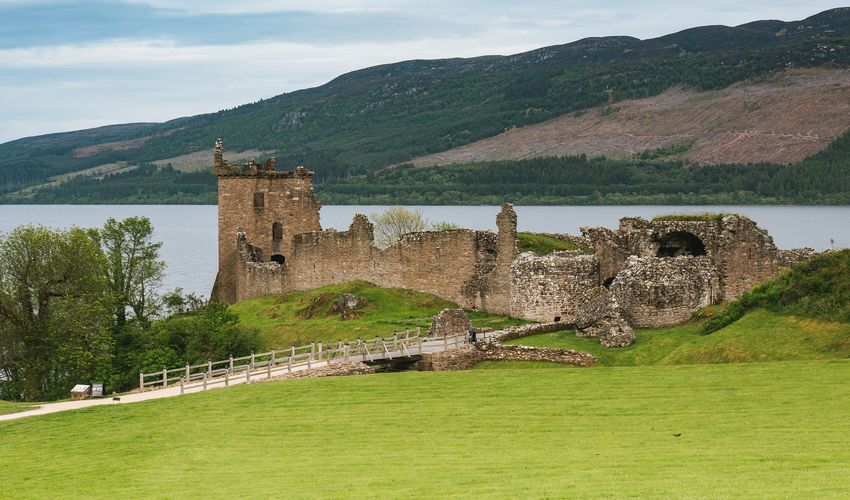 It would be difficult to write this list without mentioning one of the most famous places to visit in all of Scotland – Loch Ness. Inverness (where the Loch is situated), like most of Scotland, has breathtaking scenery and is well worth walking around or exploring in whatever style you prefer.
The Loch itself is especially famous of course for legends of a mythical beast – The Loch Ness Monster – that allegedly still swims its depths. Drumnadrochit Hotel has an exhibition dedicated to this legend and helps to keep the story alive. Urquhart Castle sits on a jutting-out strip of land so that it is partially ensconced by the tranquil waters. Much photographed, the ruins sit serenely above the waters, framing the beautiful natural setting and adding to the overall magical feel of the place.
13. Loch Lomond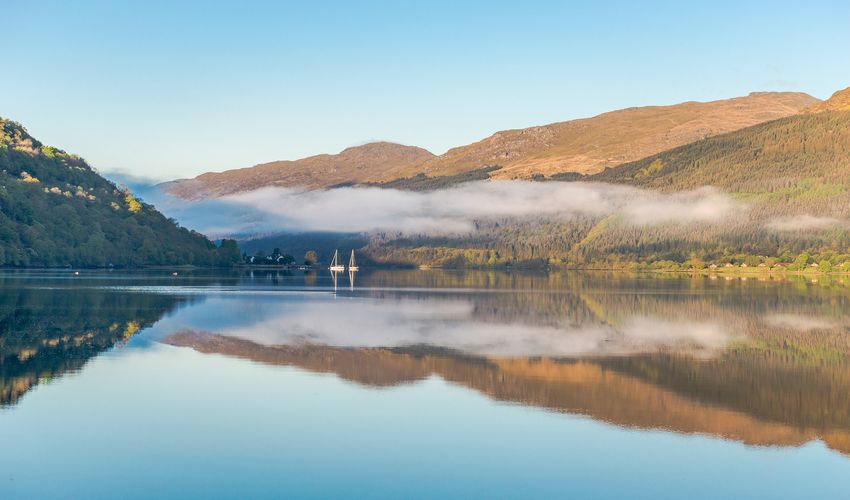 If you love your Lochs, Scotland has a lot more to offer than just Loch Ness. Consider Loch Lomond, a beautiful area that is easily accessible from Edinburgh and offers gorgeous forested walks as well as amazing mountain views from atop nearby Ben Lomond. Maybe even consider trekking a few miles from the car parks to the Bothy and staying the night there.
Bothies are traditional mountain huts, usually very simple – that typically have a fireplace and somewhere to lay your sleeping mat – and are dotted throughout the wild areas of Scotland. They are free to use but have no booking system and so you may end up sharing it with other people. Just make sure you bring some food and a sleeping bag and let's hope it's not too busy by the time you arrive.
Sailing, fishing, swimming, boating, and canoeing are also very popular activities here. There are far more, less well-known Lochs to explore than just these two, but We'll leave those peaceful places to the locals and to the intrepid travelers who are prepared to do some extra searching.
14. Visit the Highlands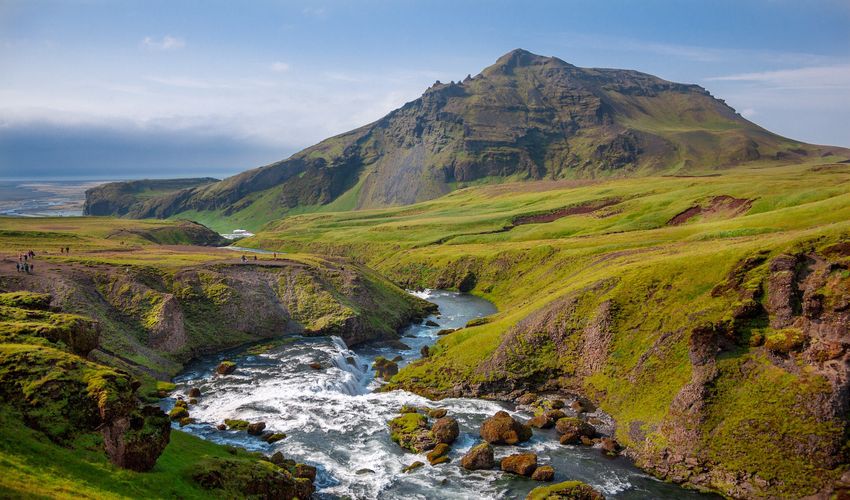 This is a pretty open-ended activity, the highlands being a huge swathe of the Scottish land area. However, you really should do yourself a favor and experience at least a portion of them in person. It doesn't really matter which particular area you visit, but make sure you get close enough to see some of the tallest peaks and deepest valleys.
The further north you go, generally, the more wilderness and isolation you'll experience. As mentioned briefly above, there are Bothies scattered around the country which offer an excellent adventurous escape for the braver travelers and hikers among us – just make sure you do your research and prepare, as well as always respecting the sites, which are kindly provided for free.
Consider walking a part of the 96 mile West Highland Way, that stretches from Milngavie to the above mentioned Fort William. Every section of this cross-country trail is beautiful in its own right. There are a multitude of huge walking trails like this around the country, many of which cross the Highlands, and are well worth doing some research of your own on before your visit. Especially popular with foreign tourists are the slopes of Ben Nevis as well as the Cairngorms National Park.
16. Maeshowe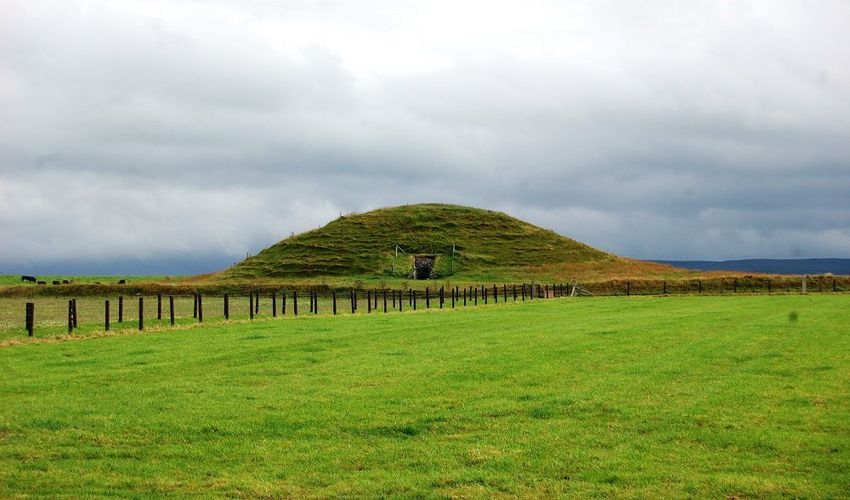 Another incredible piece of history that was long hidden in the Scottish wilderness is Maeshowe, a five millennia-old stone-age tomb that is constructed from huge sandstone blocks. Weighing many tonnes, they had to be transported using neolithic technology over miles of rough terrain. Quite a feat.
Entry is gained by booking a 45-minute tour (pre-booking online is highly recommended), nothing is known about the people who are buried here, nor why they hold such significance, but it is obviously a very special place.
Norse invaders broke into the ancient tomb in the 12th century, looking for treasure. 'Graffiti', stone carvings and etchings on the wall, tell stories of these Vikings and are an interesting insight into the country's history – some are beautiful and intricate, some rather vulgar, with echoes of graffiti from the modern-day – Thorni bedded Helga comes to mind.
16. Aberdeen and the Castle Trail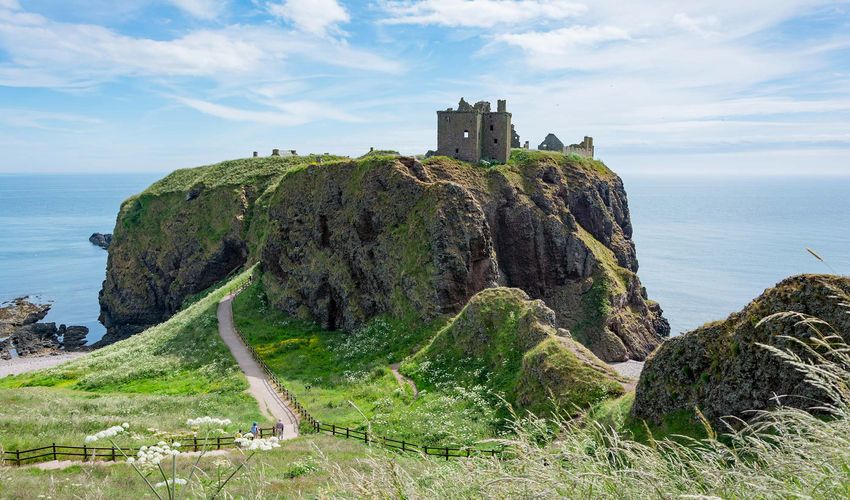 So far in this list, no mention of Aberdeen has been made. It is smaller and less visited than the two larger cities in Scotland (Glasgow and Edinburgh) but it is still a fantastic place to explore, full of rich history, varied culture and a multitude of things to do – both in the city streets and the great outdoors. One of the best reasons to visit the region, and of course one of the most iconic aspects of Scottish tourism, is the castles.
The Castle Trail uses Aberdeen as a base and the itinerary largely explores the incredible castles in the Aberdeenshire area, with 19 of the most iconic and majestic castles being a part of the trail. The county boasts a total of over 260 castles, stately homes and ruins and has more castles per acre than anywhere else in the UK.
Brown and White road signs help you identify the trail and the Visit Scotland website suggests a 6-day itinerary to see it all, although you can, of course, alter this to suit your tastes.