Whether you live in the Alpha-world City of Montreal or just visiting the commercial capital of Canada- finding out more about Montreal's weekend getaways at a jaunting distance may be of interest. The cosmopolitan's rich history and culture have brought forth many fascinating sights and elements in both neighborhoods of Old Montreal and Mont-Royal.
To discover the cultural morsels, or break from the traffic-bustling streets into the serene wilderness of southwest Quebec, here is an extensive list of top 15 getaways at proximity to Montreal.
1. Orford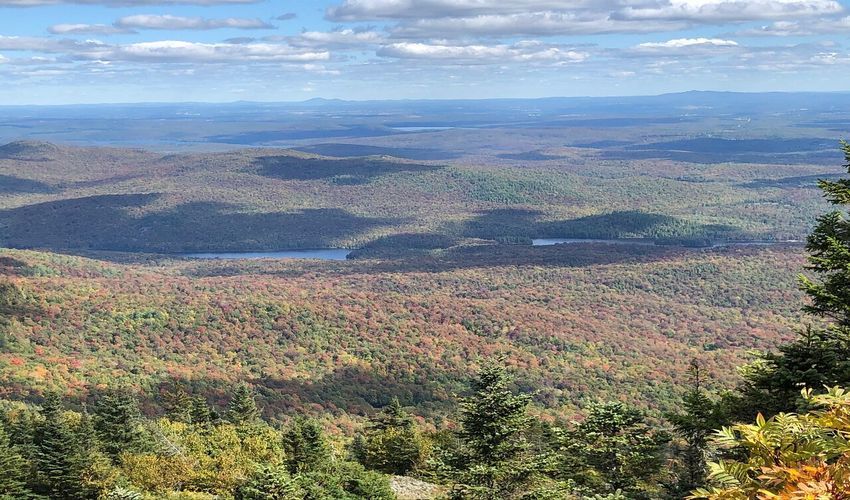 Only a hundred kilometers to the east of Montreal, Orford is best known for its luxury entertainment, recreation, and outdoor camping. As one of the country's established ski resorts, the town sprawls on the slopes of Mont-Orford, complemented with the local's many winter specialties.
From rugged mountain passes to the encircling slopes, Mont-Orford National Park is streaked with hiking paths, highlighting meadows, scenic creeks, and waterfront entertainment such as Club de Golf. While serving as Basecamp to the surrounding lakes, hiking paths, and variant recreations, Orford is laden with cozy restaurants, romantic hotels, and welcoming hospitality. To experience the wondrous landscape only paces from your hotel, visit Rivière-aux-Cerises Urban Park, at the town's center.
Mont-Orford Nature Reserve hosts regular events at Orford or nearby hamlets and towns; such as summer outdoor music events including Proudly Mont-Orford, and sports competition throughout winter.
2. Magog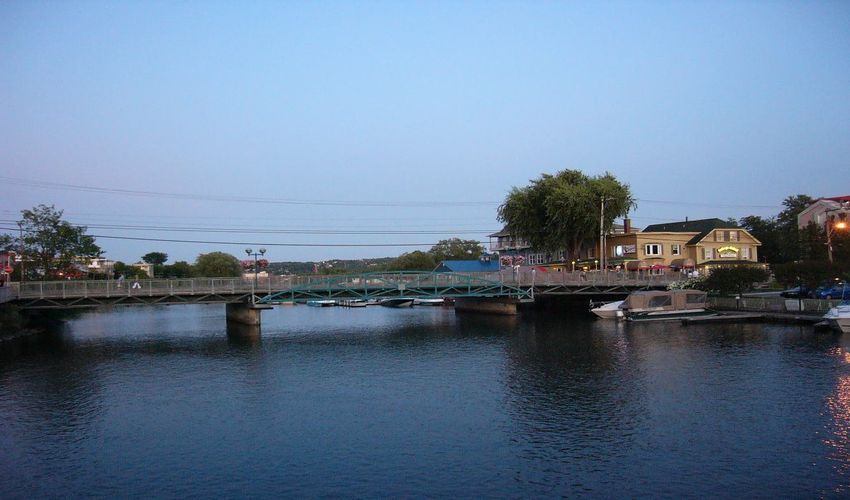 The art-ridden township of Magog parades from small artisan markets, posh art galleries- as the world-renowned Magog Visual Arts Center- to exceptional art museums, including Maison Merry museum. Built-in 1821, the museum stands as the most antiquated structure in Magog, and the meeting point of the Memphrémagog Arts Circuit. To hear the town's first-rate art and music performances at Le Vieux Clocher.
The inspiring ambient of Magog's community marks a luring destination for art connoisseurs-although art is not all that it offers. Located in the barriers of Mont-Orford National Park, the community is surrounded by spectacular landscapes and a chain of lakes including the majestic Lake Memphremagog. Equipped camping around the lake's shores, riding a small canoe or the luxury cruise boats, watersports, and hiking highlight the lake's primary activities.
3. Montebello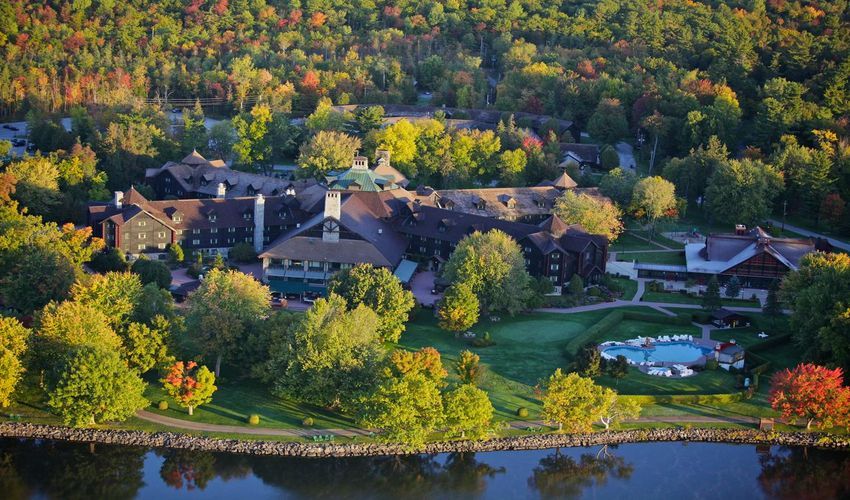 Rambling on the banks of the Ottawa river, Montebello is a delightful blend of history, posh entertainment together with a splendid landscape. Hand curated trails surround the shores, often verged by world-class golf courses. Eventually, the hikes cut across the vast game reserve of Hotel Château Montebello.
Distinguished as the world's largest wooden structure, indoor amenities and superlative comfort are found at their finest here. This historic hotel has taken the entertainment to the next level; offering hunting, golfing, cross-country skiing, dog-sledding, camping, swimming, and much more.
Parc Omega drive-through permits the visitors to discover the region's wilderness, and the heritage remains of the indigenous residences, and several totems.
The township itself offers a serene getaway for a weekend, a perfect base camp to nearby nature reserves, and a handful of cultural sites including Manoir Papineau. To spend an entire weekend with unruffled tranquillity, you can stay at the private island of Turtle Lodge.
4. Quebec City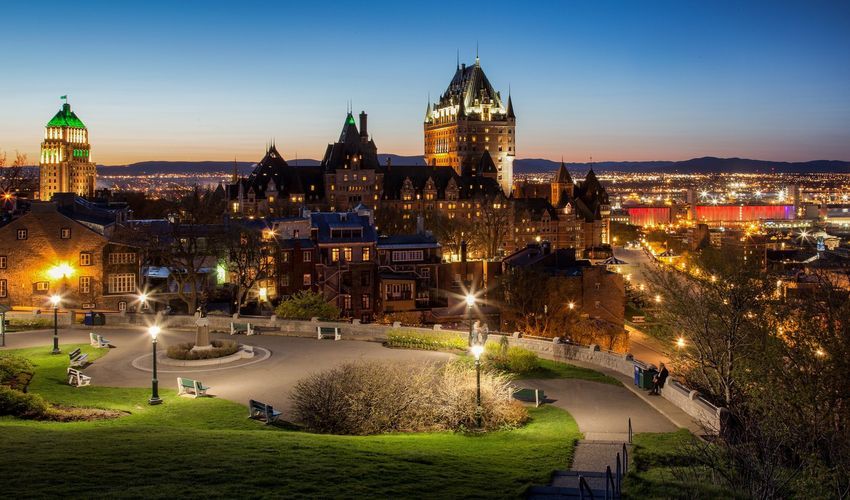 A fusion of contradicting elements, antiquated and modern sit side by side in Quebec City. travel to Old Quebec quarters is described as a journey back to medieval Europe, yet at the convenience of Canadian ethnicity.
Whether staying at Le Château Frontenac or other historic hotels of Upper Town, making a journey to the culinary heritage of the city at Petit-Champlain neighborhood, or spending a weekend shopping at the modern districts- la Capitale Nationale conceals a number of national heritage wonders and an unmatched mise-en-scène worldwide.
5. Sherbrooke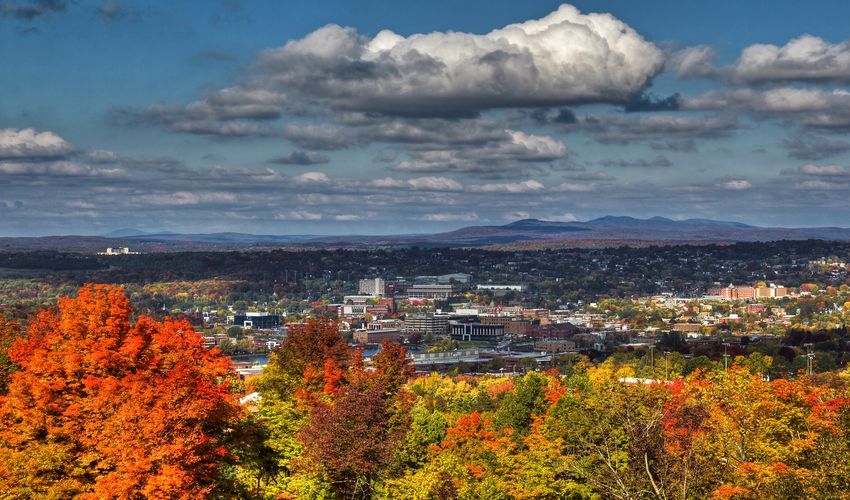 Nicknamed the Queen of Eastern Townships, Sherbrooke contributes to the country's art and culture. The picturesque metropolitan perches on the shores of Lac des Nations: an artificial lake dedicated to the town's recreation tourism.
With stretches of streets painted in inspiring mural arts, many visitors are attracted to the urban gallery and displays of masterworks by international artists. Moreover, crafty breweries and other-timely vineyards, cultural museums and artistically designed urban gardens- in Sherbrooke even restaurants and hotels have benefited from the town's artistic essence.
6. Lennoxville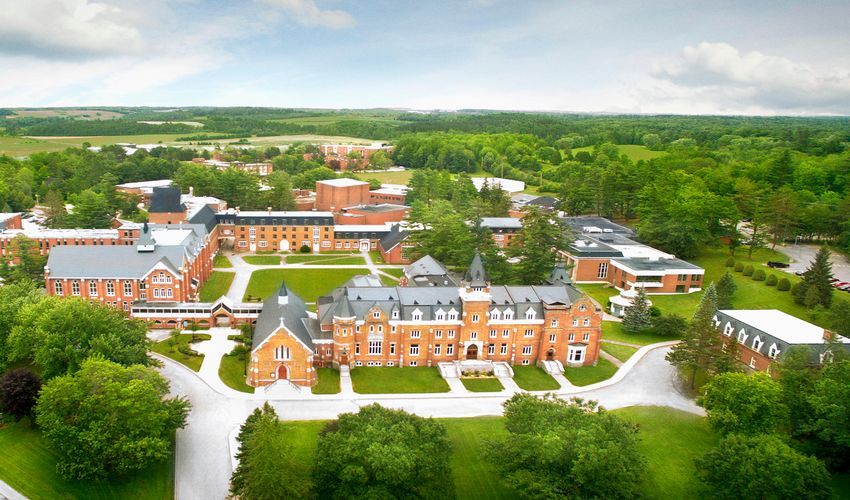 Lennoxville is a part of Sherbrook's municipality, pinpointing the most serene weekend getaways of the Eastern Townships. Farming has been the town's profession since its initial establishment over two centuries ago, hence presenting one of Quebec's most flavorful cuisines. Unruffled streets and free from bustling traffic and tourists are verged by authentic restaurants that live by the farm-to-table policy. A few shopping centers and cozy hotels are a delightful addition to the small-town charm of Lennoxville.
Round-year recreation at Lac des Nations and urban parks integrated with playgrounds, golf clubs, and a few war memorial heritage sites comprise the town's outdoor activities.
7. Bromont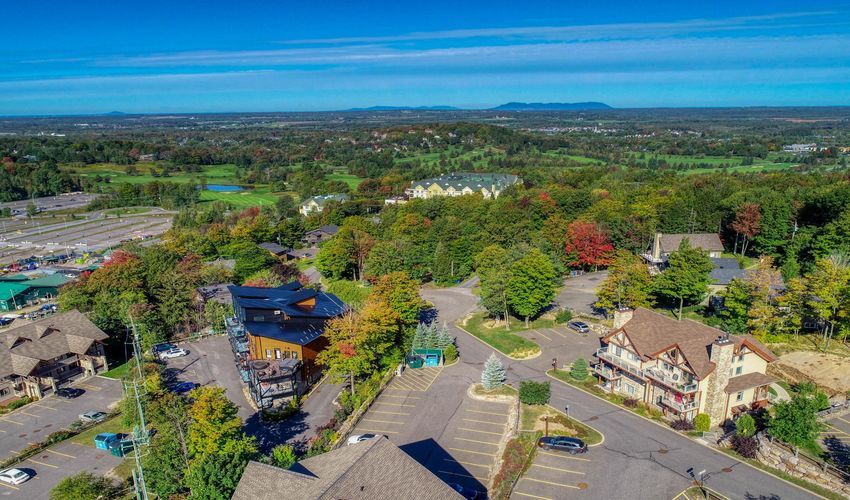 At a distance of 70 kilometers from Montreal, Bromont highlights an ultimate day's travel destination for Montrealers. The mountain resort town is home to a few high-rising summits. Although most of the slops resemble soft hillocks, marking an optimum ski destination for beginners.
The mountain glaciers drain into Bromont Lake and its sister lake, Lac Gale. Flanked by waterfront restaurants, scenic hotels, and water sports centers, the shorelines of these lakes are swarming with summer tourists.
Quebec's largest bathhouse at Gale lake, BALNEA Spa, offers a relaxing experience integrated with wellness packages and quality services. Bromont also stands as a foodies hub for its many restaurants, often prepared by French cuisine culinarians.
You can dine your whole way down Mont Brome, lakesides, and lastly, at the cultural heart of the township- all providing a unique perspective of the region, both within flavors and landscape views.
8. Rigaud
A township entirely aligned with Canadian adventure spirit, Rigaud has developed around four-season recreation tourism. Only a half-hour drive from Montreal, the soaring summits of Mont Rigaud marks an interesting destination for ski enthusiasts, cultural travelers, and admirers of earth science.
The world-renowned ski resort lies at the top, while the hiking paths pave the way to the slopes, the century-old monastery and Church of Virgin Mary, and the remarkable naturally accruing rock gardens, ambiguously known as Champs de Patates.
At the confluence of Ottawa and Rigaud rivers, Voyageur Provincial Park protects the sandy shorelines and surrounding woodlands. The park is best noted for its scenic sunsets, water activities, and exceptional campgrounds. Maple sugar snack is Rigaud's specialty, together crafted beer, local wine, and the typical delicacies of east Quebec cuisine.
9. Laval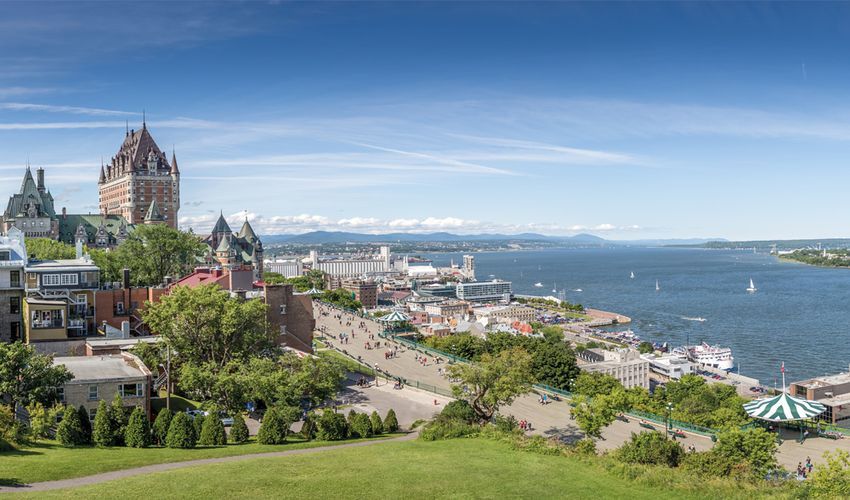 Covering the largest suburban area of Montreal, Laval is one of the cosmopolitan's major weekend getaway within a radius of only 11 kilometers. From the medieval structures of faith inherited from the initial Jesuit monks to the futuristic entertainment centers such as the Cosmodôme whether a cultural journey, a nature excursion, or modern entertainment arrays of activities are found here.
You can visit the historic mansions and churches, indulge in posh recreation at Centre de la Nature and golf clubs, or stopover at Old Sainte-Rose historic quarters.
The bordering waterfronts of Parc de la Rivière-des-Mille-Îles and the encompassing nature of Bois-de-Liesse Nature Park stand as the natural attractions of Laval-packed with hiking trails, spectacular landscape, and outdoor recreation facilities such as backcountry camping areas.
10. Mont-Tremblant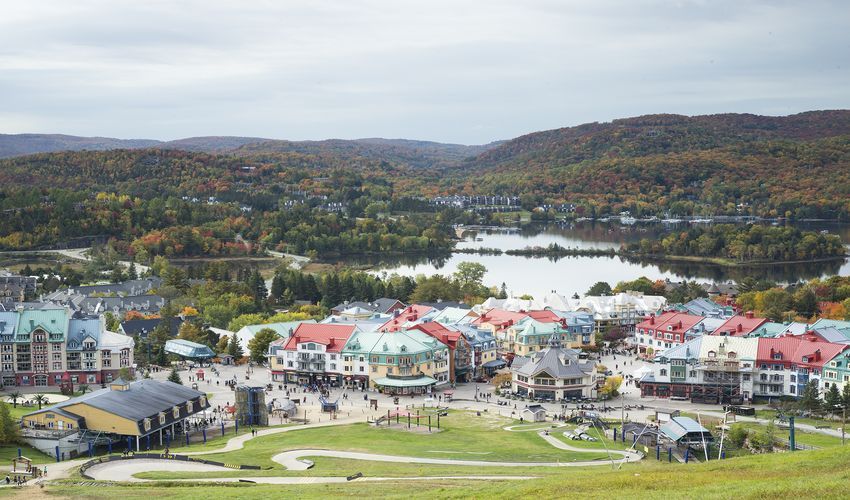 Enumerated among the affordable ski-resorts in Canada, Mont-Tremblant is lauded for its snow-capped summits and ski-favorable slopes. groomed trails of Parc Linéaire Le P'tit Train du Nord run through Mont-Tremblant National Park and ultimately ascend to the pedestrian village.
Boasting from luxury to mid-range accommodations and contemporary French cuisine restaurants, the charming hamlet serves as a base camp to the ski area. Cabriolet open-air gondola ride connects the community to top and skiing pistes while providing spectacular vistas.
Aside from skiing and winter recreation, the reserve and its village portray a perennial getaway, complemented with a distinctive nature through each season. Mont-Tremblant glaciers drain into its namesake lake, verged by deciduous forests of Saint Lawrence Valley. It features equipped campgrounds, aquatic recreation in summers, and splendid views of Laurentides summits.
11. Ottawa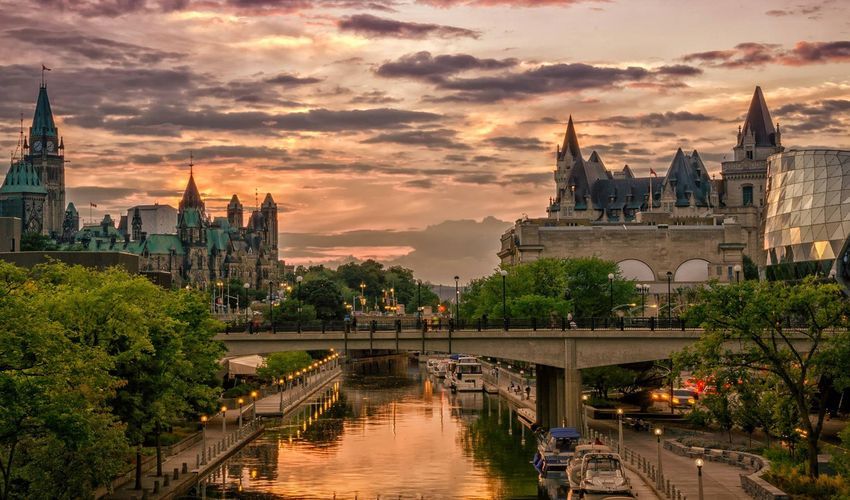 Canada's capital city has much to offer to its visitors; although activities for a day's travel in Ottawa depend on the season. The year starts with Christmas markets, food and wine festivals, and the world-renowned skating over the frozen canal.
As the weather grows warmer, verdant nature and aquatic activities are in full swing; Ottawa's famous tulip festival, aquatic sports and leisure around Dow's Lake, and walking around the verdant trails of municipal gardens highlight spring and summer ventures in Ottawa.
Regardless of the season, visiting the capital's countless museums, national art galleries and indoor cultural expositions are independent of weather conditions; the year-round favorites to make the acquaintance of Canada's incredible heritage, geologic interests, and art.
To stay, budget-friendly neighborhoods of Glebe, romantic quarters of Westboro Village, or even at Sparks Street, the city's touristic core there are plenty of accommodation options.
Ottawa is home to numerous spas and wellness centers, among which Strathmere stands out. It presents a complete weekend package with delightful hotel rooms, rejuvenating wellness packs, and a luxury spa experience.
12. Saint Sauveur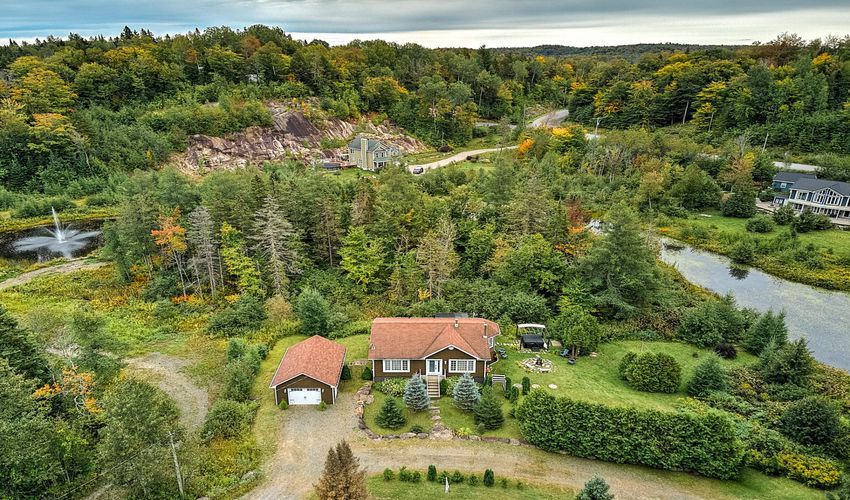 Ziplining through Laurentides valleys, skiing, or hiking on the slopes, join the adventure at Sommet Saint-Sauveur adventure club- this Laurentian village is a four-season destination, offering countless activities. Although the mountain resort town has earned a reputation for its scenic vistas and ski resort, the hamlet embraces some of the region's best gourmet restaurants, authentic diners, and characteristic condo accommodations.
At rue Principale, handcrafted souvenirs are found in many artisan boutiques, together with bars, inns and diners, and occasional festivals.
13. Piedmont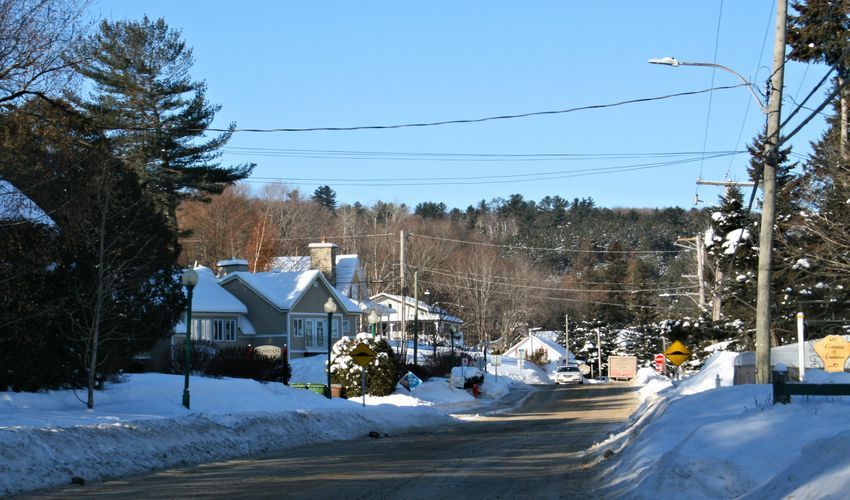 Another well-kept secret of the Laurentides region prevails on the banks of North River in the Piedmont region (not to be confused with Italian Piedmont). The sparsely populated municipality is characterized as a quaint locale in summers and winters, housing hearty restaurants, romantic hotels, and a peaceful getaway from Montreal's traffic-jammed roads.
Piedmont welcomes the visitors of surrounding slopes, ski resorts, and hiking trails. Although a chore-free weekend, accompanied by superlative utilities is too possible in Piedmont. The polar bear club features one of the premium spas in Canada, with both natural thermal pools and frigid plunges of Rivière du Nord.
14. Terrebonne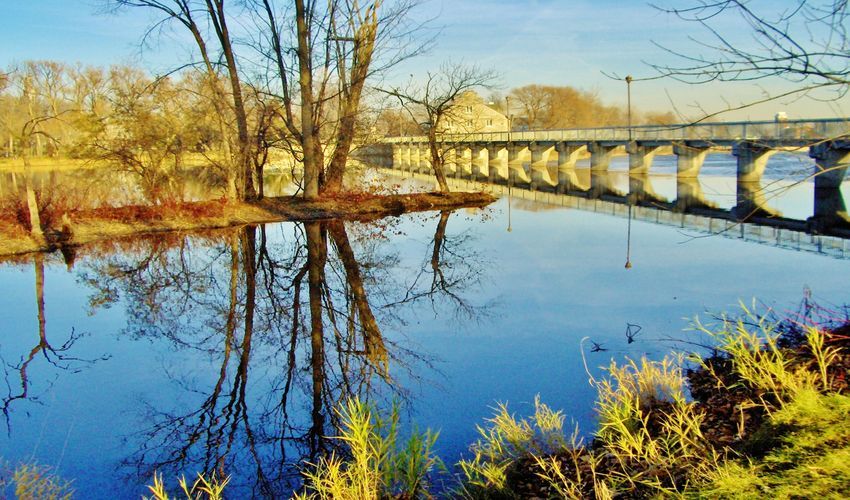 The town lounges on Rivière des Mille Îles, one of the scenic tributary streams of the Saint Lawrence River. Terrebonne symbolizes the southern gate of Lanaudière plains. Since the borough's foundation in the early 17th century, it has gathered a great assemblage of archaeological sites, spectacular churches, and a network of over ninety urban and provincial parks.
Entrainment in Terrebonne ranges from sophisticated art performances, music concerts to teeing around the golf course, and outdoor recreation on the slopes of Laurentian ranges.
15. Thousand Islands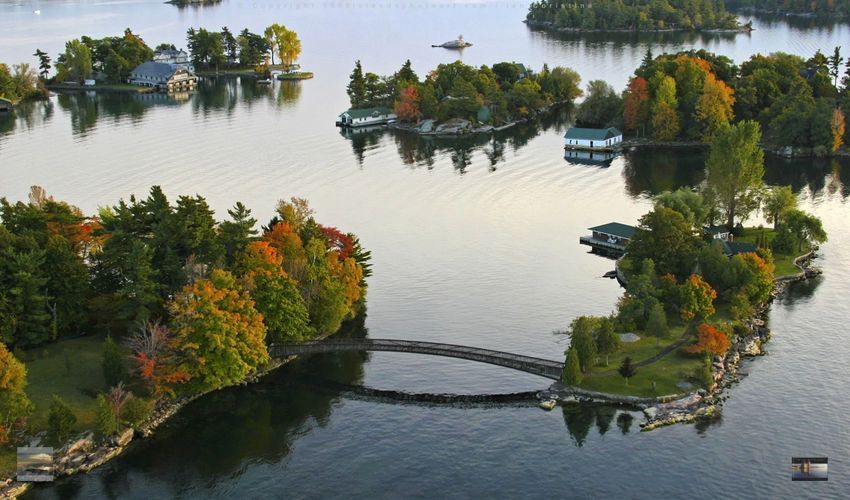 For a change of environment on a weekend trip, having several options at hand is ideal. Thousand Islands archipelago is located in the Saint Lawrence River, graced with extraordinary islets, structures, and designs. Protected within Thousand Islands National Park, the archipelago furnishes boat harbors, hiking trails, and backcountry to facilitated campsites.
Situated at the natural boundaries between Canada and the US, Gananoque is the gateway to the internationally famed island. Many spectators visit the peculiar elements; such as a small island with solely enough space for a wooden cottage and a single tree, visiting the alone castle, and camping at the untamed islets at a distance of a romantic boat ride.
Wolfe Island highlights the largest and most developed islands, providing fine tourism- from its sweeping sandy beaches, to gastronomy specialties, to the monumental structures including the Sacred Heart of Mary Church.
Between Canada's and the United States' borders, the rugged coastlines and mountain ranges have long been the center of attention for Montréalais. On the slopes of New Hampshire's the White Mountains, Lincoln is an all-year destination for a day's trip from Montreal.
Additionally, the township of Burlington is a bohemian community, producing the regions' best craft beer. Please remember to carry your passport and check for visa requirements before crossing over the borders into the US.
Furthermore, Prince Edward County may be requiring a slightly longer drive to access, but it spots an exceptional weekend getaway for the wine lovers and swimming and bathing on the sun-kissed sandbank shores and discovering a curious nature.
From Montreal, it takes about four hours to drive to the coastlines of Lake Ontario, and the mesmerizing vista of limestone cliffs.