The interesting name of this historic city can be traced all the way back to its earliest days – almost two millennia ago. Thanks to the geothermal activity in the area the Roman invaders prized the land – calling it Aquae Sulis (The waters of Sul) – when they built the original baths and temple, around 60 AD. These baths, among a whole host of other important sites, are the reason the city was declared a world heritage site in 1987.
There are lands in the surrounding countryside with even more ancient and pagan roots. Huge Neolithic monuments such as Stonehenge are to be found only a short drive from the center of Bath – making it a perfect location from which to explore some of the country's most fascinating prehistoric relics.
As well as being host to a fantastic Abbey (originally built in the 7th century) the area enjoyed a significant revival during the Georgian period. This has resulted in a beautiful city, home to lovely honey-colored buildings in grand architectural style. These days Bath also provides an excellent range of cultural experiences as well as fantastic food, drink, and places to stay. Listed below are some of the very best things to do in this excellent little city.
1. Ancient Roman Baths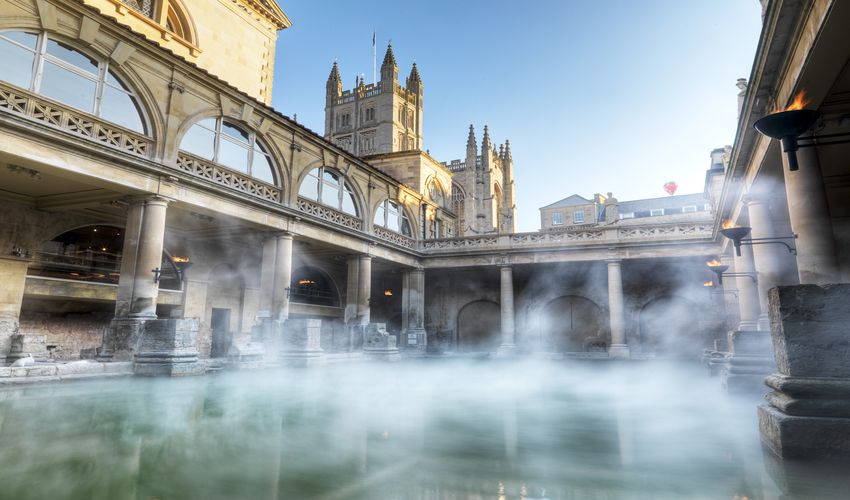 There are only two sites left in the entire world where the Romans have built baths, and hot spring water still flows into them. Built around 70AD, the ancient Roman baths in Bath is one of these places. Over 1,000,000 liters of water still fills the site every day, reaching 46 degrees Celsius. One of the best-preserved Roman ruins in all of Britain, walk the very same pathways that the pampered citizens would have tread on their relaxation days almost 2,000 years ago.
The site now functions as a large and interactive museum that spreads throughout the ruins. Sadly, the water is no longer in a safe condition to bathe in (don't worry, the next item on the list will solve this problem!) but there is still plenty to do. Visit the Pump Room and be offered a (safe) sip of the water that contains 43 different minerals and has been famed for millennia for its curative properties.
Walkthrough ancient chambers that once housed changing rooms or icy plunge pools for when the superheated water became a little overwhelming. During the height of summer, the site stays open until 10 pm, lit by torchlight, in this beautiful atmosphere there are few better ways to immerse yourself in the beautiful history of England.
After your visit, consider a meal at the Pump room restaurant, with in house musicians the Pump Room Trio. No trip to Bath is complete without an exploration of these ruins – the reason for the city's very existence.
2. Thermae Bath Spa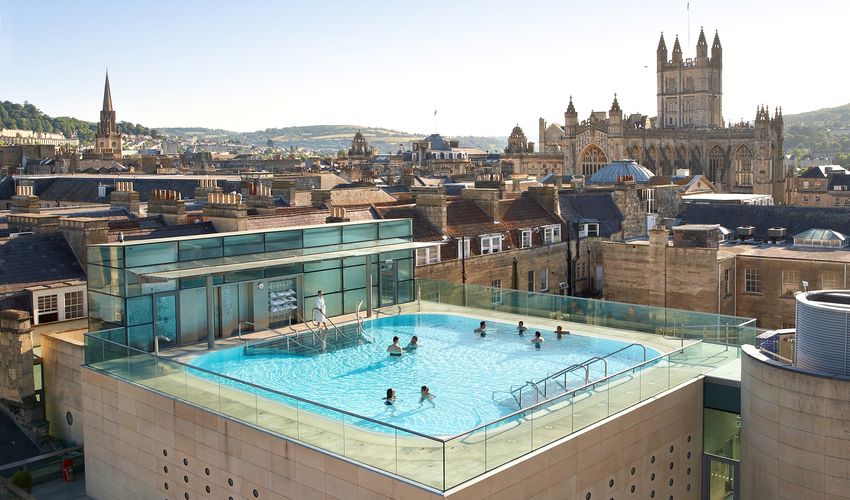 Bringing a touch of modernity to the timeless tradition of rest and relaxation in the city is Thermae Bath Spa. The only naturally fed thermal baths in the entire of Britain, this luxurious complex carries the 2000-year-old tradition into the 21st century – and a spa day has probably never been as refined as this.
A typical visit would include a dip in the open-air rooftop pool – what better way to take in views over the beautiful city than in natural and famously restorative hot baths? A 2 hour Thermae welcome package would also include access to the Minerva Baths (named for the Roman goddess of Health and Wisdom), the largest in the complex, with grand columns, massage jets, a whirlpool, and lazy river.
Also on offer in this fantastic package is the wellness suite a complement of five intoxicating options – a Roman steam room, a Georgian steam room, an infrared room, an Ice Chamber, Celestial Relaxation Room, and Experience showers. If you get peckish, have a relaxing meal dressed in a robe at the Springs Cafe restaurant.
If you really feel like splashing out, for £93.50 there are few better options than the Spa's ancient and modern package – access to the ancient Roman baths, 2-hour access to the Thermae Bath Spa and your choice of either a 3-course lunch with English Sparkling wine or Champagne afternoon tea in the Pump Room restaurant. There is no better way to combine the most iconic of the city's experiences in one blissful day out – especially for those who aren't able to stay for long.
3. Stonehenge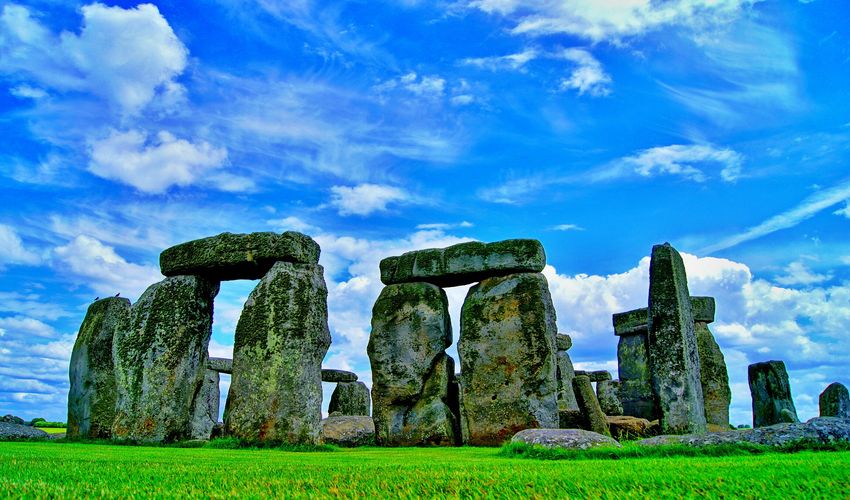 After you've spent a day in utter relaxation in the 2000-year-old baths, why not take a trip a further two and a half millennia back in time to Stonehenge? This 4500-year-old monument is the most famous prehistoric site in all of Europe. The prime aim of your visit would, of course, be to the incredibly impressive stone circle. The people who built this had only simple tools and yet it is a marvel of engineering prowess.
It will have taken hundreds of people, working in close cooperation to achieve a building of such magnitude, so far in the distant past. Why would they do such a thing? It is still a mystery, but being indefensible, and having no evidence of being lived in, it was presumably built for spiritual reasons. There are still pagans alive today who consider this a sacred religious site. We do know that the stones intricately track the movement of the sun and of the seasonal solstices. The site contains far more ancient excavations and constructions than just this central masterpiece, however – visit to learn much more of this most fascinating history.
There is also a great array of offerings around the site's visitor center. Alongside an illuminating exhibition further revealing Stonehenge's secrets, there are reconstructions of five neolithic houses, showing in a very interactive way the lives the ancient communities responsible for this marvel may have had. There is also a cafe and shop on the site. A day in Stonehenge is well worth the journey.
4. Avebury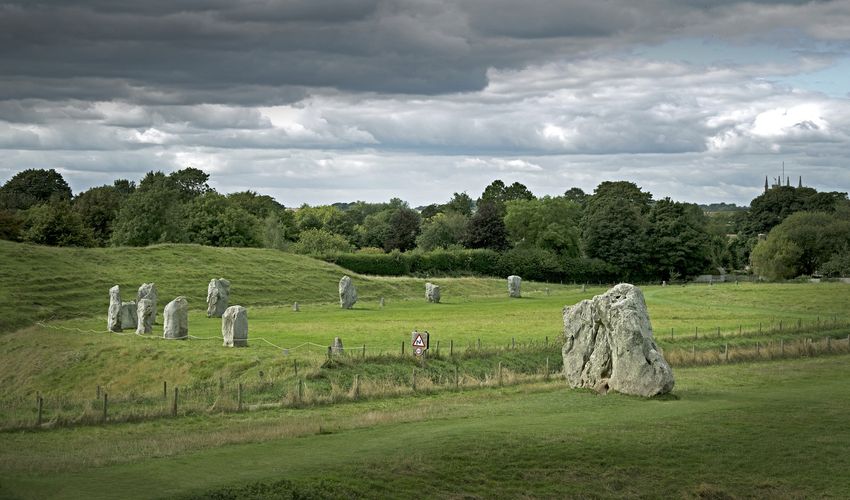 Less well known than Stonehenge, Avebury is a world heritage site and is actually home to the world's largest prehistoric stone circle. There are loads of walks available as well as guided tours to help you fully understand the significance of the area. Also of great interest is the lovely village of Avebury itself as well as Avebury Manor and the Alexander Keiller Museum.
Nearby Windmill hill was home to one of the first-ever farming communities on the British isles, and over 2000 years after it began, so did work on the enormous henge at Avebury. Encompassing an area of nearly 30 acres, over 120,000 cubic meters of chalk had to be dug from the ditch using crude tools such as antlers and cattle shoulder bones, 60 times more than had to be dug at Stonehenge.
Nearby Silbury (also highly recommended for a visit) required over twice the amount to be removed. Huge stones (the largest being over 65 tonnes) had to be dragged for miles with leather straps from the Marlborough Downs, over wooden rollers. It is estimated that over 1.5 million man-hours were taken to finish the site, which originally housed 400 individual, enormous stones. Visit the national trust website for more information on the range of experiences available here as well as prices and opening times.
5. Bath Abbey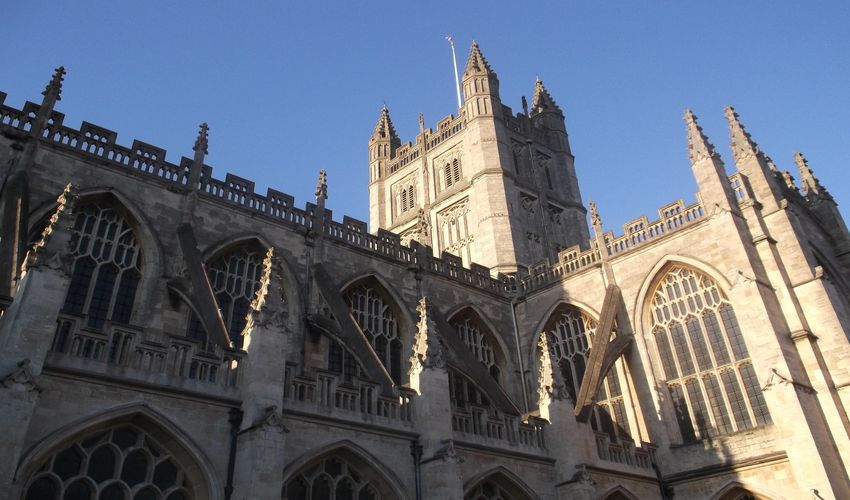 For over 1200 years, Bath Abbey has been a center of English Christianity, and that tradition continues to this day. It was originally constructed way back in the 7th century, in the early days of English Christianity – it was rebuilt in the 12th and 16th centuries. A major refurbishment was undertaken in the 1860s by George Gilbert Scott, resulting in the beautiful abbey we see today.
Many of the famous and beautiful features, such as the fantastic fan-vaulted ceiling and a large number of the gorgeous stained-glass windows are from this prolific 19th-century revival of the building. It is built from the iconic honey-yellow Bath stone, firmly rooting it to the homeland in which it was built. 52 windows occupy over 80% of the wall space, creating an incredibly light, airy and spiritual environment.
Provided you don't visit on a Sunday (active worship still takes place here) you can take a Tower Tour, and soak up excellent views from one of the highest promontories in the city. These also include a visit to the Abbey bell and ringing chamber, as well as a behind the scenes, look at the clock face and the intricate engineering structure above the fan-vaulted ceiling that helps secure it in place.
6. Pulteney Bridge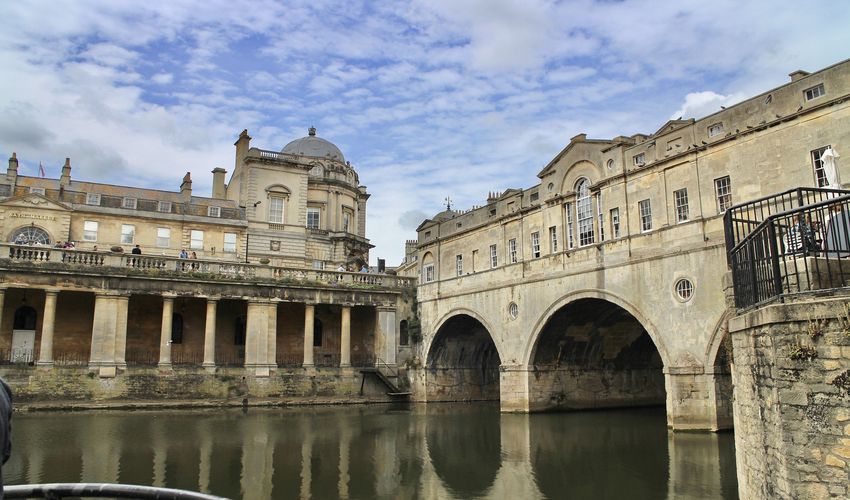 One of the big pulls to Bath is the gorgeous Georgian architecture. One of the most stunning and interactive examples of this is the old Pulteney Bridge, designed in 1769 by Robert Adam. It is a bit of a rarity – one of only four bridges in the world with shops across its full span – if you like to do a bit of shopping on your trips, there are few more interesting places to explore in Bath than this architectural icon. The excellent Victoria Art Gallery is situated nearby.
Made even more famous by a scene in 2012's film version of Les Miserables, it is named after Frances Pulteney. Her husband, William Johnstone Pulteney, was a powerful and wealthy landowner in Georgian Bath who wanted to create a town across the water that rivaled John Wood's on the west side of the city. Upon opening it was an immediate success.
Amongst the small shops are a variety of independent retailers, excellent restaurants and even the official store of the Bath rugby team – an old and very successful club. If that's not enough for you, consider boarding one of the boat trips that leave from here and travel up the river Avon to the quaint rural village of Bathampton – an excellent place to stay near the city that offers a peaceful taste of village life, with lovely pubs and excellent walks in the surrounding countryside.
7. Museums and Galleries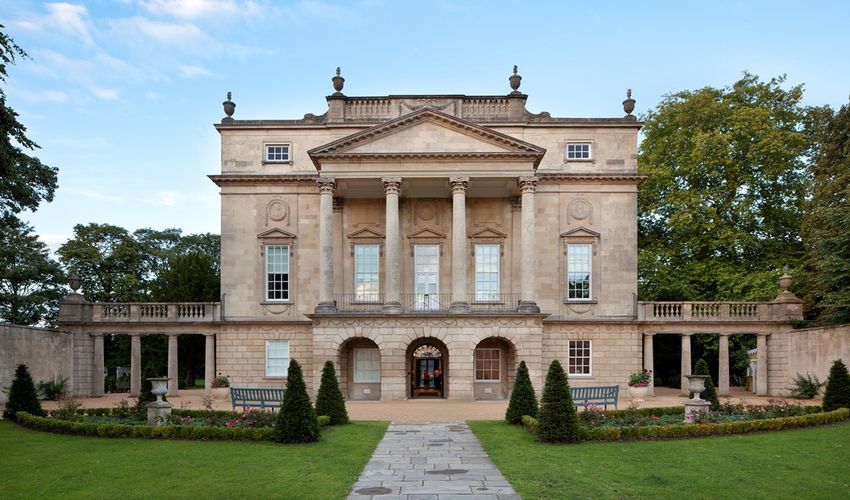 Lovers of culture will not be disappointed in Bath. Aside from the fact that the city streets – with their ancient history and wonderful architecture – act as a living museum themselves, there are also plenty of dedicated exhibitions and galleries to explore.
Try the fashion museum, housed in the grand Assembly Rooms, that contains over 400 years worth of the most cutting edge couture for each respective time period it represents. A ticket also grants you access to the rest of the Assembly Rooms, once a favorite haunt of society ladies and gentlemen and an all-round rather fancy affair.
The Holbourne museum is situated in grand style and houses an excellent collection of fine art, set amongst beautiful gardens in a building that was once a hotel for the city's most privileged visitors. Learn about Bath's most famous resident at the interactive Jane Austen Center. The Victoria Art Gallery (as mentioned briefly above) is home to an exciting and ever-changing array of temporary exhibitions as well as a free to enter permanent collection that includes the work of icons such as Gainsborough and Turner.
8. The Royal Crescent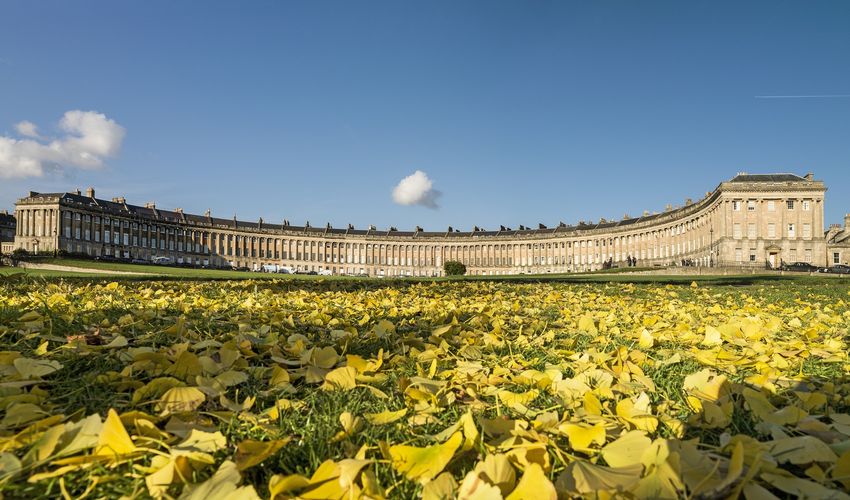 Another example of the city's beautiful Georgian architecture is The Royal Crescent. Built between 1767 and 1775 by John Wood the younger, it is one of the most awe-inspiring and iconic examples of what the world heritage site of Bath has to offer. Its iconic crescent shape is set around an exquisitely manicured lawn, overlooking the lovely Royal Victoria Park.
30 Grade I listed houses constitute the 500-foot sweep of fantastic Georgian architecture, which has housed some iconic figures over the years – many of whom are celebrated with plaques to be found around the buildings. It is also a favorite area to shoot film and TV shows, for example, Jane Austen's Persuasion.
Nowadays it houses private residences, a five-star hotel and spa, as well as yet another fantastic museum – No.1 Royal Crescent, which explores the Georgian lifestyle. Also bear in mind the fantastic architecture walking tours available, that will guide you round this and many more of the city's myriad stunning buildings that are on offer, providing a much more illuminating insight than you will be able to find when visiting alone.
9. The Circus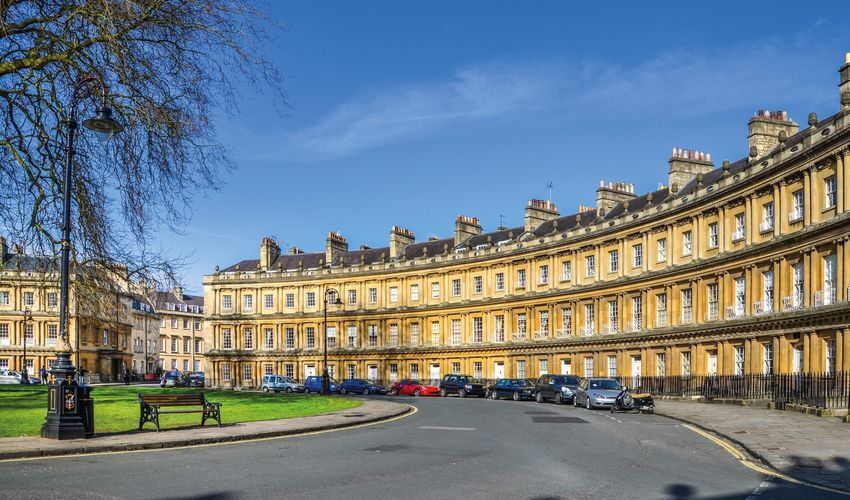 The final piece of architecture listed here is The Circus. In some ways rather similar to the Royal Crescent listed above, it has some very interesting history and unique features in its planning that mark it out from the rest.
Designed originally by John Wood the Elder (father of the architect who designed the Royal Crescent), construction began in 1754, however, it's architect sadly died less than three months later. It was completed by his son, the esteemed John Wood the younger, in 1768.
The three curved segments (containing grade I listed townhouses) form a circle with three gaps that serve as entrances. Strangely, when viewed from above, a masonic key shape is formed by the combination of this and the adjoining Gay Street and Queen Square. The buildings are dotted with mysterious symbols – acorns, serpents and more. It turns out the designer, largely due to the influence of nearby Stonehenge, had a keen interest in the druids who created the henge – the circular shape of the townhouses shares the same diameter as the prehistoric monolith.
Famous artist Thomas Gainsborough, who still has works displayed in the nearby Victoria Art Gallery, once lived here. Surprisingly, at one point so did famous Hollywood actor Nicholas Cage! There is a spot somewhere near the center of this great circular piece of architecture in which anything you say will be subject to a curious echo – see if you can find it for yourself.
10. Eat, Drink and Unwind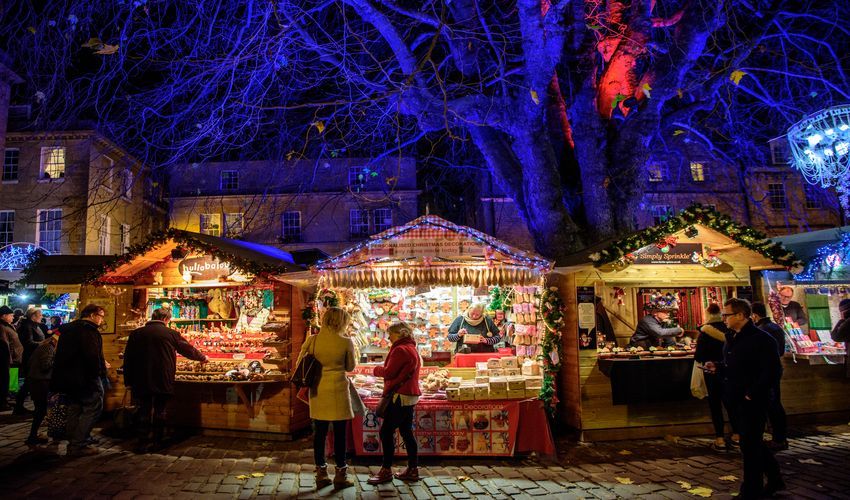 There is a veritable cornucopia of interesting places to visit in Bath for something to eat or to drink, perhaps even to unwind to a little bit of music. From Michelin starred restaurants to intrepid street food stalls, you'll be sure to find something that suits your tastes. Here is a small selection of some of the finest options the city has to offer – but don't be afraid to take a walk and find some for yourself – there is so much quality stuff on offer it is impossible to list it all here.
Sally Lunn's historic eating house is the only place to find a Sally Lunn bun – compare them to the famous Bath buns available at bakeries all over the city and see which you prefer. The famous Green Park Brasserie occupies an old Victorian railway station – award-winning food and drink is served to the sound of live Jazz being performed 4 nights a week.
The Bath Brew House contains a microbrewery (tours available) as well as a huge bar that serves up its own excellent creations alongside craft beer from around the world – it also has a restaurant. The Olive Tree is Bath's only Michelin starred restaurant and serves up exquisite fine dining in a relaxed and friendly atmosphere.
In terms of accommodation, there are plenty of options to be found. The Windsor, situated on the very prestigious Great Pulteney street, is a Grade I listed townhouse that will host you in utter refinement. There are a variety of excellent spa hotels available for those who love intense relaxation – try the Gainsborough Bath Spa, for example.
If it's peace and quiet you're after, there are many excellent options in nearby Bathampton, have a look at New Leaf Farm, offering a variety of gorgeous holiday cottages overlooking rolling farmland just 2 miles from the city center.