The Italian Peninsula is indisputably admired for boundless stretches of coastlines in the south, famed for their Mediterranean beauty; In Sardinia region however, the collective representation of landscape, culture, language, cuisine, and legacy have flourished in a manner unlike any other place in Italy and the world. Luxurious in its essence, Sardinia beams with Caribbean-resembling sabulous beaches, verged with white-washed cliffs and swish touristic amenities.
While entertainment stands as the core attraction for the sightseer, the island has inherited manifolds of history and antiquated vestiges, since the first Paleolithic and indigenous Nuraghe tribes traced back to the 18th century BC; bequeathing a fascinating heritage and over 7000 archeological sites throughout the archipelago.
From the arduous peaks of the region's mountains, the landscape is checkered with outstanding hiking trails that interconnect Sardinia's national parks, artistic hamlets and fishing villages, overlooking the renowned coastlines. Laden with elegant resorts, the festive ambient of this year-round destination is enriched with succulent cuisine and authentic wine.
Direct flights from several international airports are today's costumery route to this spectacular island; although, for sailing the Sardinian waters as the olden tradition, exciting cruise boats and ferries join Greece, Italy, Spain, and Morocco, to Cagliari port. To learn more, see our comprehensive list of top must-see destinations in the wondrous Island of Sardinia.
1. Ancient Port of Cagliari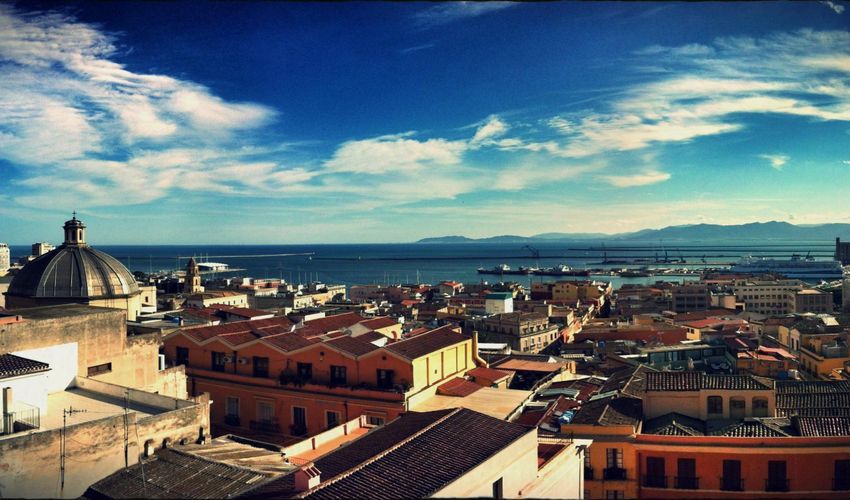 Ancient and yet lively metropolitan of Cagliari is imprinted with significant historic badges; representing the capital of the ancient Sardinian kingdom, standing as the largest and most advanced city of present-day on the island and establishing over 5000 years of art, statecraft, and commerce.
Markings the town's historic center, Castello quarters display medieval neighborhoods, banded together with narrow and cobbled streets. Under the facade of this buzzing tourist hub in the day, at the nightfall mingles with dashing ambient and alternative night clubs- a delightful and yet unlikely scenery of antiquity and modernism. Varied styles of architecture testify the cultural influence of the town's ruling foreign governments; encompassing structures such as Pisan towers of San Pancrazio and dell'Elefante, and Catalan Sanctuary of Our Lady of Bonaria.
Founded on the ancient city of Karalis; Tuvixeddu Necropolis regarded as the largest Punic burial ground, a hundred-steps roman amphitheater, remnants of a series of Greek temples and an aqueduct, depict the city's prosperous past.
Nominated as the green city of Sardinia, Flowers and trees brood over Cagliari in every boulevard, balcony, and little terrace. Displaying the township's green thumb, botanical garden of Orto Botanico dell'Università di Cagliari and an extensive city park are the green hideaways from the rumbling traffic and buzzing tourist hubs. Countless cultural activities, from religious and folklore fests, to an annual Carnival, the Cittadella dei Musei housing eleven museums and contemporary art galleries, all illustrate the refined spirit of the city's tradition.
This southern harbor is accessible by direct international flights and by the sea, and frequently points the starting destination for a roundabout tour in Sardinia, or a pleasurable stay at the multidimensional Cagliari and savoring the cultural and touristic opulence at its finest.
2. Giara Horses and Nuraghe of Barumini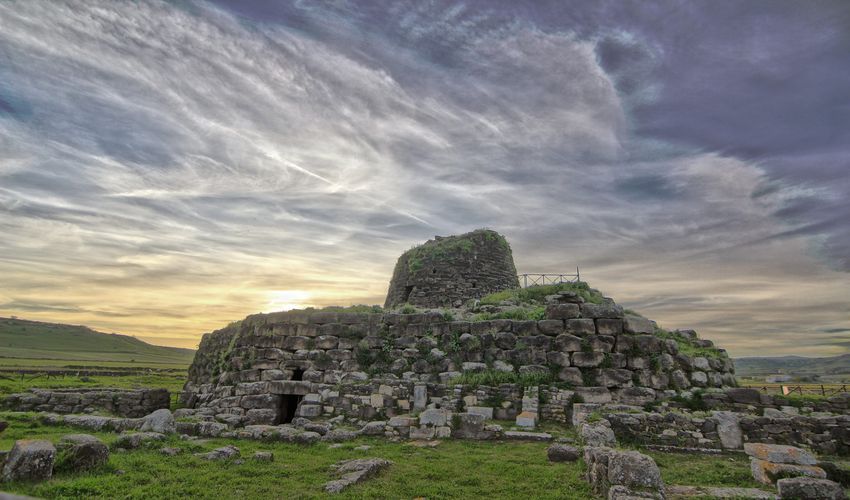 At Giara di Gesturi, the exotic dream of gazing at a herd of wild horses that gallop on the shallow vegetation of highland valleys comes to reality. Giara wild pony is the last of its kind in the world, sheltered in oak tree forests and bush vegetations, at the side of numerous fascinating bird, animal and reptile species. La Giara stands as one of the ultimate hiking and wildlife spotting destinations for adventurous adults and children.
Few kilometers to the south sits the otherworldly village of Barumini or Su Nuraxi, appointed as the best-preserved site of Nuraghe civilization and a registered UNESCO World Heritage Site. Prehistoric monuments known as Nuraghe are located across Sardinia and often described as stone-built beehives.
At the topmost part of Barumini villages, the heftiest structures represented the spiritual spirit and the focal point of the tribe from Bronze age until the 3rd century BC.
3. Sassari and Monte d'Accoddi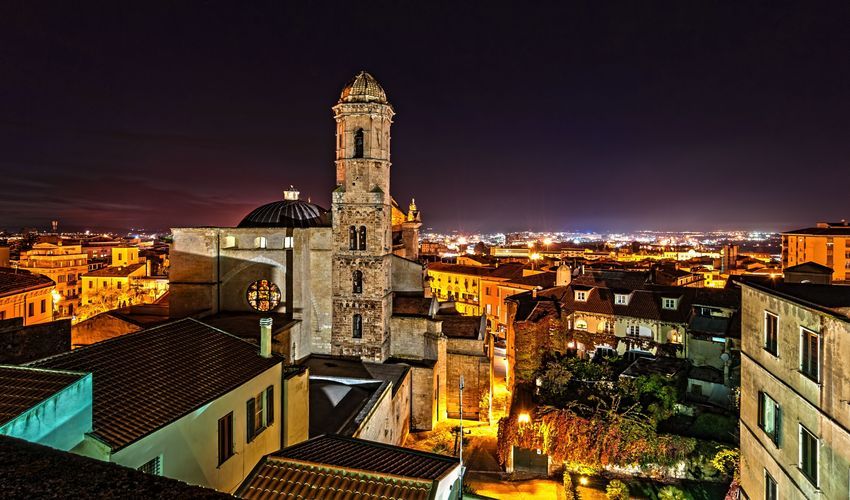 Ranking as the second-largest city in the region with a roaring tourist hub, Sassari retains the cultural seat of Sardinia since the medieval era; housing the oldest Sardinian university, rococo churches and the cathedral with a combination of baroque and eastern architecture touches; giving birth to a sequence of the architectural phenomenon to gaze upon.
Other highlights of the city are Palazzo Ducale harboring Museo della Citta, the grand collection of medieval paintings at Pinacoteca Nazionale di Sassari and the classical architecture at Piazza Italia and its neighboring monuments.
Throughout Sassari, an immense wealth of archeological sites and natural attractions perch in the foothills of Monte d'Accoddi. Hiking trails amid outstanding sceneries connect to charming villages and occasional historical ruins.
Monte d'Accoddi archeological site is situated within the territory of Sassari, with a peaceful and quiet surrounding. This stone platform rises pyramidally to a high altar, much resembling the ziggurats of ancient Persia. While discoveries have been limited over a span of 4000 years, since the initial establishment, considerable parts of Accoddi's story remains a mystery; to define the origin of this temple or the massive egg-shaped stones scattered in the circling velvety meadows.
4. Gulf of Orosei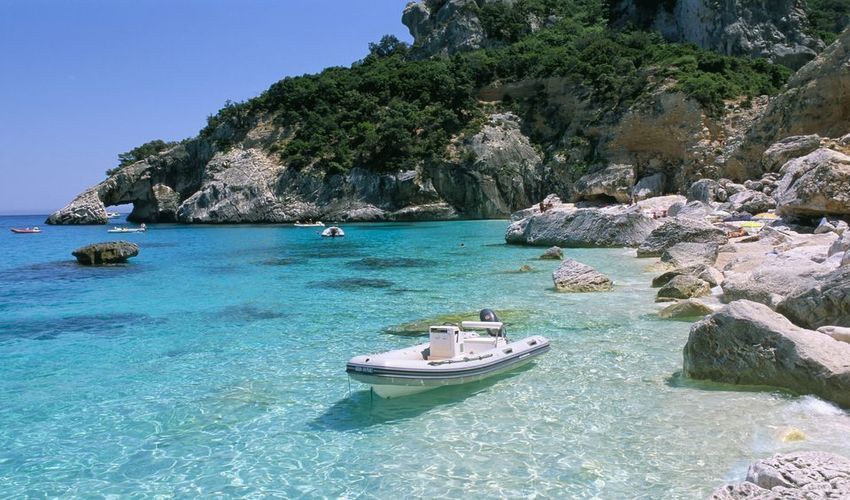 The fable of Sardinia's captivating coastlines is far-reached and perhaps the sole motive for many travelers to set sail to this outlying Mediterranean island. At the southeastern edges, the dazzling beaches of Golfo di Orosei verge with one of the most popular beaches in Sardinia.
Grey body of the eroded rocks and sea coves, cloaked with shallow vegetations, the turquoise sea- blending into the scenery that many describe as transcendental. Moderate to hard hiking trails on Orosei perky hills, lead the way to the rewarding and secluded beach of Cala Goloritzè.
Cala Luna, Cala Fuili, Bidderosa, and Cala Mariolu are other crystalline beaches, washed with velvety white sand; a perfect spot for swimming, snorkeling, and other aquatic recreational activities. Bidderosa beach, on the other hand, carries the cultural flagpole of the gulf, offering the artistic and medieval village of Orosei.
5. Costa Smeralda and Arzachena Prehistoric Sites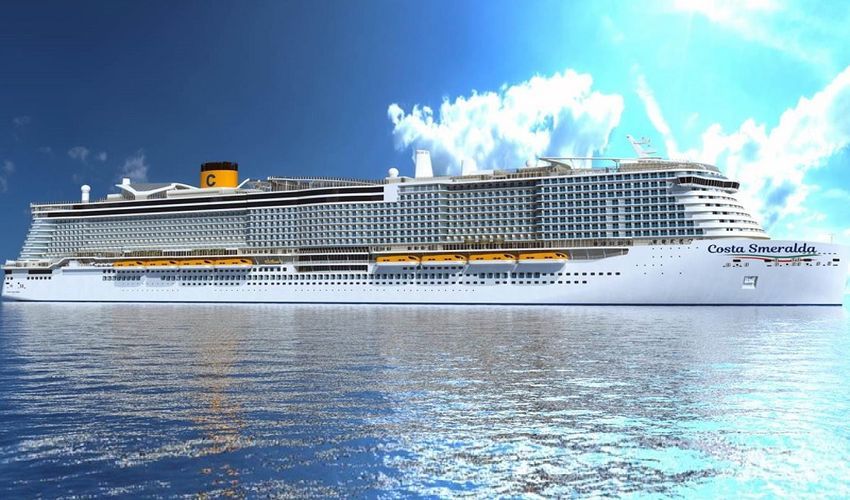 Recognized as the most beautiful waterfronts in the northern Sardegna, Costa Smeralda is named after its emerald waters, between remarkable beach resorts of Olbia and Palau. From convivial atmosphere and music to serene and breezy evenings and needless to say, an abundance of sunshine throughout the year for swimming and sunbathing, the emerald coast wins as the true touristic heart of the region.
Isolated coves and secretive rock formations at the edges of transparent waters have mended Costa Smeralda into a romantic spot and a lovers' getaway. At the neighborhood of renowned coast, fascinating relics and testaments; including the marine reserve of Archipelago di La Maddalena National Park and Arzachena Prehistoric complexes of 8th major Nuragic settlements.
Nuraghe Albucciu, the eminent heritage site at Arzachena, are exemplary Nuragic constructions; including Coddu Vecchiu that shelters a series of giant tombs belonging to high ranked Nuraghe.
6. Alghero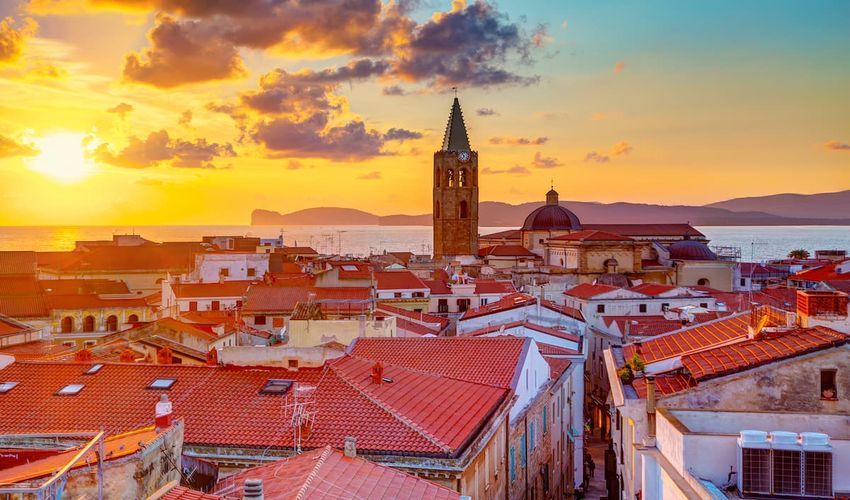 A quick jaunt from Sassari town rises the port of Alghero, packed with fine diners, hearty cafes, and shopping quarters. At the city's medieval center, buildings with their earthy shades of color assemble at the verges of the sea's pellucid waves. Enriched with archaic history, the necropolis of Anghelu Ruju, remains of Nuraghe Palmavera towers, to the sun-kissed Bombarde beach and precipice of Punta Negra, and museums, theatres, and many magnificent basilicas are only a few highlights of this picturesque borough.
Sauntering in the narrow alleys at the city's historic quarters, the rewarding cultural experience mingles with handcraft stores for purchasing a souvenir and authentic restaurants, often with live music, and a memorable taste of food.
7. Capo Caccia and Caves of Neptune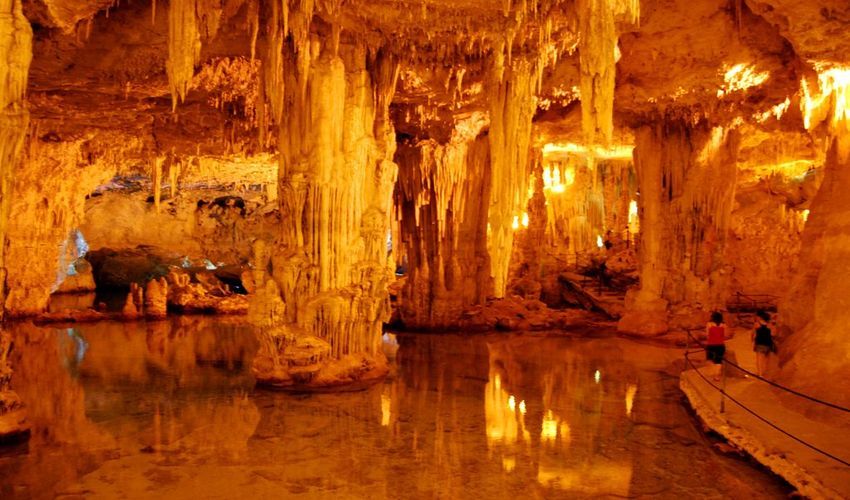 Where wilderness, heritage and mysterious aspect of Sardinia's landscape came together, set forth the sanctuary of Capo Coccia. It is a series of oddly shaped limestone rocks that have formed several submerged and over water Grottos. Overshadowed by the majestic figure of birds of prey atop, this protected area is listed as the wildest sector throughout the region.
Visitors can take boat rides, or hike over the southern Algherese mountains, with astonishing views, occasional caves, and wildlife spotting- inspiring a luring landscape for Cinema and TV castings at Riviera del Corallo.
Grotta di Nettuno, Grotta Verde, and Sala dei Ricami, distinguished as the prominent cave of Capo; although the bewitching allure of these caves remains indescribable by words.
8. Carloforte
At the eastern island of Saint Peter, Carloforte is adorned with the artistic spirit within the texture of its castles, churches, and even the medieval urban building- woven tastefully into a photogenic township. Once a small fishing village with a legacy of manufacturing wooden boats, this resort town is one of the most sumptuous beach retreats in the world, today.
Capo Sandalo is the 19th-century lighthouse of Carloforte, a historic landmark and a viewpoint over the red terracotta roofs, cobbled roads and the scenic cliffs and white sabulous beaches.
9. Cabras and the archeological site of Tharros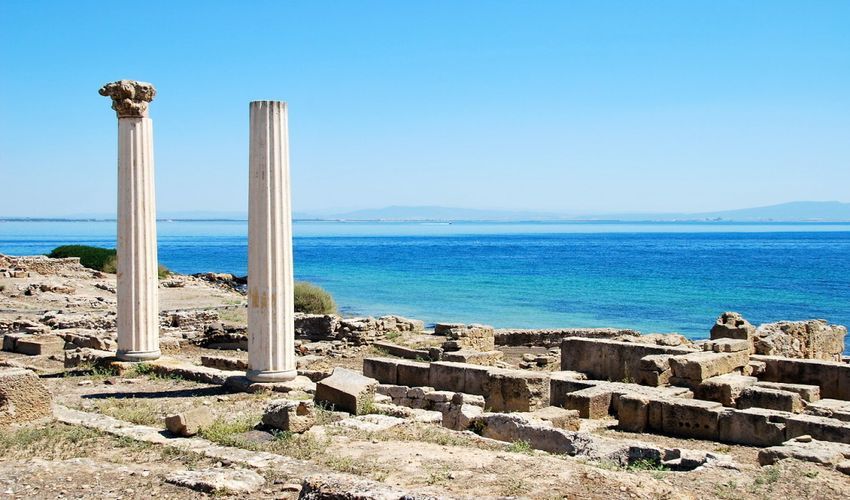 Lounging at the fine-grained core of Sinis Peninsula, Cabras is a beach resort with bustling crystalline beaches, streets filled with enchanting architecture, and fancy boutiques, together with several significant historic vestiges. The metropolitan's exceptional aquatic ecosystem and significant historic structures are safeguarded within the Protected Marine Area of Cabras; encompassing a fascinating archeological museum and the sight of naval warfare in Mal di Ventre and Catalano islands.
From shallow waters for children to barrel waves and surfing sections, Cabras beaches are welcoming and cheerful; even for simply indulging in a sunbath followed by treating oneself to exceptional seafood topped with authentic aperitifs.
The ancient village of "Cuccuru is Arrius", or the present-day Cabras, neighboured the venerable city of Tharros, both as old as 8th century BC. Once a flourishing trade center, this Phoenician village was consequently ruled by prehistoric to medieval rulers; leaving behind a rich wealth of architecture and artifacts from various archaic civilizations.
10. Maddalena Islands and the National Park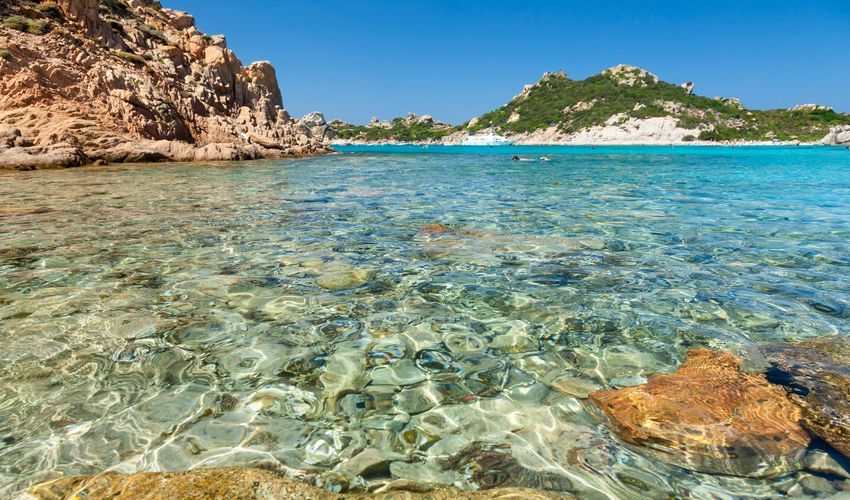 The search for a peculiar and all-encompassing coast, with sapphire lagoons, uncontaminated coves and islets stop at La Maddalena Archipelago– an exquisite infusion of Mediterranean terrains and Caribbean marine vegetation. Pure air, transparent waters, and the serenity of this island, situated between Sardinia and Corsica, create a tranquil refuge from the chaotic world.
Snorkeling and boating are popular aquatic sports in Maddalena, granting a translucent visit to the underwater world and reaching out to any of the uninhabited collection of 55 islets. In Sardinia, refinement is tied with the very substance of tourism, including La Maddalena; posh beach resorts, spectacular cuisine and luxurious cruise rides-attributing a premium experience on the Isoleti.
11. Bosa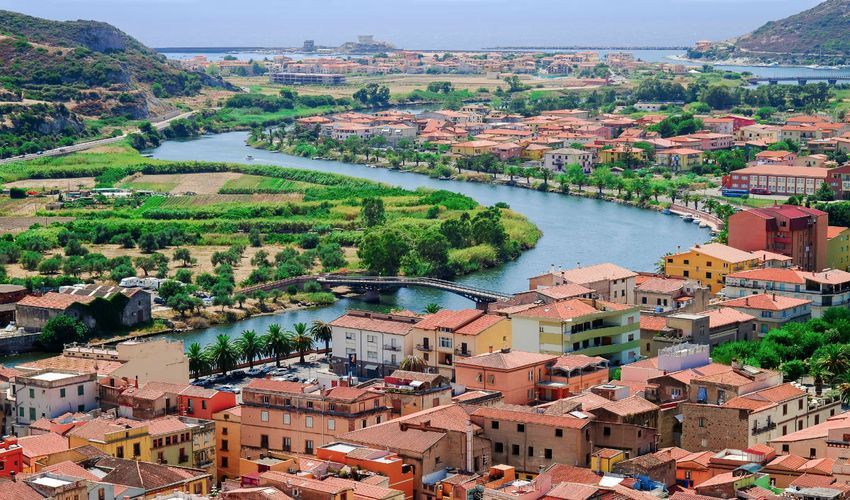 Enlisted among the most beautiful hamlets in Italy, Bosa has raveled through an archaic past, with intriguing inheritances in culture and relics. Embraced by splendid natural landscapes, the village sprawls on the banks of river Temo and on the soft slopes of Bosa Marine.
Marking the medieval quarters, Serravalle Castle is flanked by colorful gothic buildings, accompanied by stone-paved alleys. From the top, the way descends to the outstanding shorelines of S'Abba Druche, Portu Managu, Turas, and Cumpoltitu; while crossing the authentic coral jewelry shops, charming cafeterias and bistros, and nostalgic tourist accommodations.
Either wandering in the medieval district and enjoying the spectacular decorations on the walls of San Pietro Chiesa and the Immaculate Conception church, or stepping into a dashing restaurant complemented with a glass of sparkling Malvasia, or even stepping in nature and bird and marine life sighting, Bosa is splendid in all directions.
12. Bay of Chia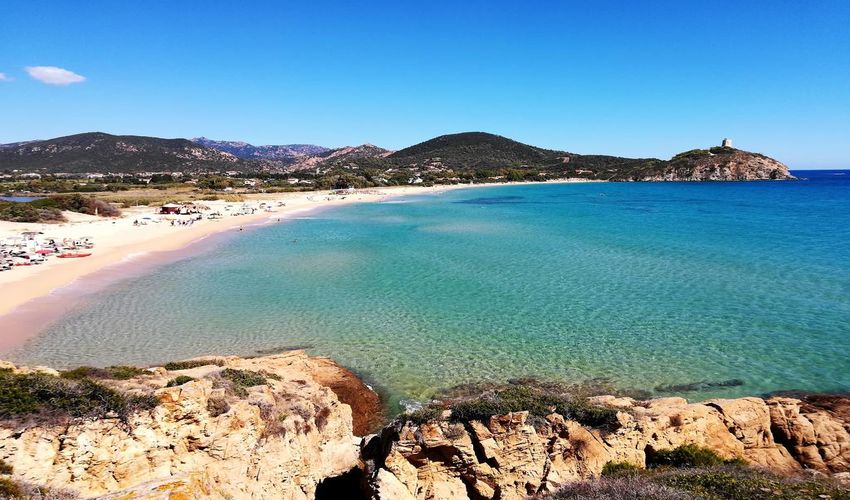 Whereas Cabras and Gulf of Orosei are regarded as fanciful and romantic beaches, Bay of Chia is a long and wide sand line and known as an ultimate family retreat destination for its shallow waters. The coastal stretch covers sorts of diverse landscapes, biodiversity, and natural gravitation. Su Giudeu Beach is distinguished for the wild herd of flamingoes, and Sa Colonia represents the most child-friendly with an adjacent juvenile beach, a few restaurants, and a beaming tower.
Between these two outstanding coasts lies the small but deeper Porticciolo beach, draped with pine forests of Porte Conte. For admirers of nature, L'isolotto Su Cardolinu is yet in the hands of wilderness with two conspicuous coves and remarkable rock arrangements.
13. Nora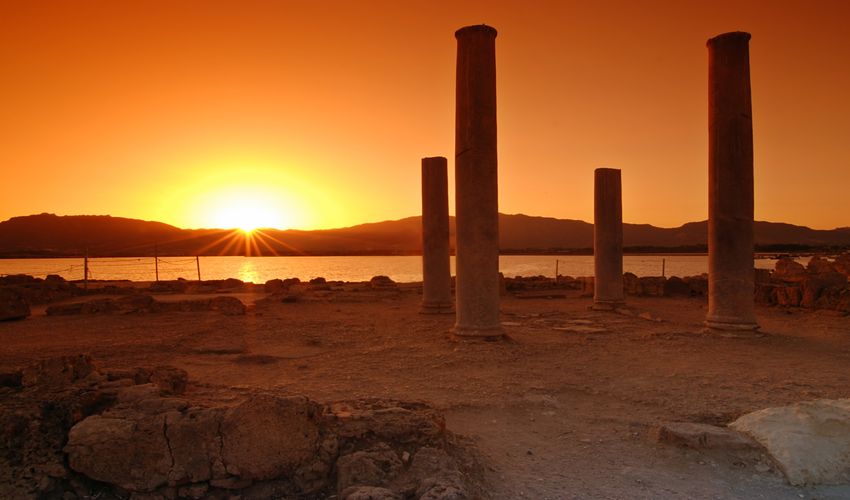 In contradiction with the modern amenities found just a-stone-through at Bay of Chia, upsurges the Greek Pillars of Nora, marking a 15,000-year-old establishment. As a characteristic defensive construction, Nora advanced at the far edge of a soaring vertical cliff, overlooking the Sardinian sea.
At the archeological park of Pula, Museum of Patroni parades unearthed relics and scriptures of the prosperous Punic civilization who dwelled in Nora nearly 25 centuries ago. Ancient roads, Carthaginian Temple of Tanit, Nora's giant Stone, and households reflect the ethnographic features of Punic and consequently roman societies.
Today, sea levels have risen and resurfaced over most of the enduring structures, providing the opportunity for snorkeling among a submerged Romanos town- an unlikely combination that binds the enthralling nature, ancient wisdom, architecture, and aquatic sports altogether.  
14. Sardinian Stonehenge and Domus de Janas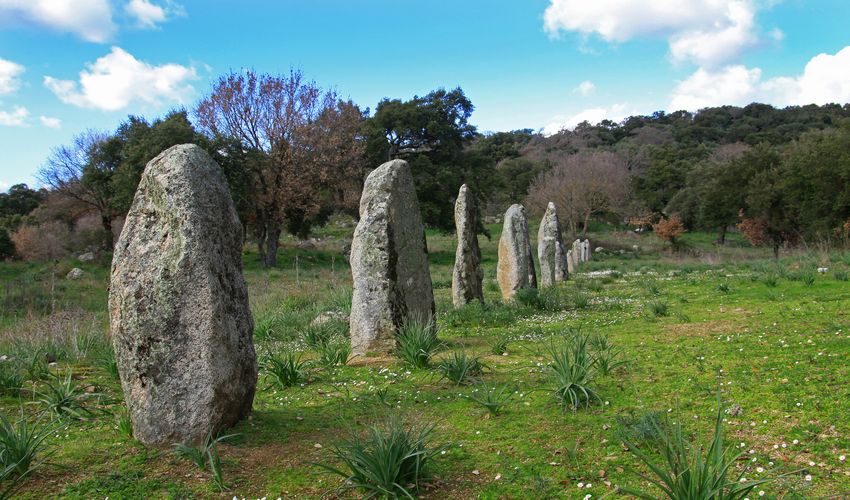 Throughout the Sardegna region, countless evidence depicted the stories from prehistoric humans, and possibly the first tribe ever existed in Europe. Some of these noteworthy elements are standing stone of Menhir, megalithic tomb of Dolmen, Nuraghe structures, and the taciturn giant tombs.
Sardinian Stonehenge is a synonym for the ancient stone towers of pre-Nuraghe civilization at the vicinity of Goni village, concealed in the territory of Pranu Mutteddu archeological Park. Besides representing a settlement, these towers flag the ancient focal point located in over 7000 towers, which is often accompanied by other historic edifices.
Domus de Janas is the antiquated chambers that belonged to pre-nuraghe civilization, serving as burial chambers. These scenic tombs were engraved in the heart of giant rocks, using ancient construction mechanisms, in order to furnish an eternal place for those respected by the living Nuraghis.
15. Ogliastra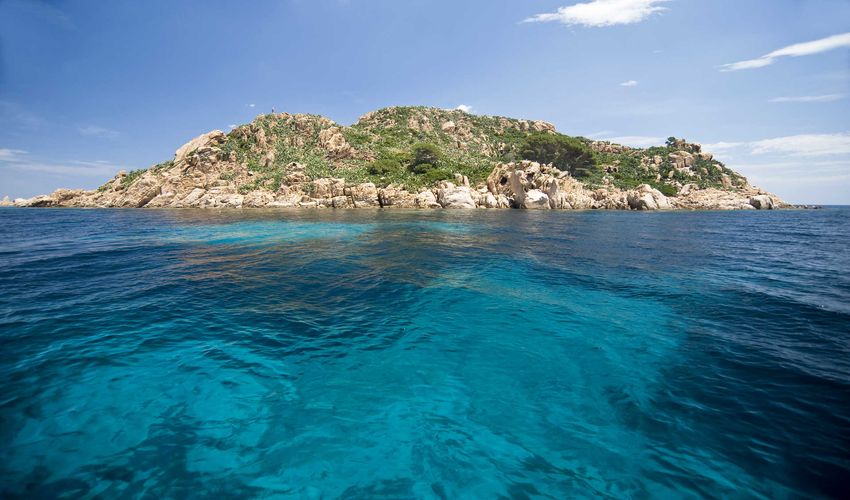 Embraced by the high massifs that roll down to verdant skirts and crystalline beaches, Ogliastra province is mapped within a natural park territory, besides the thrilling and yet poetic cliff of Pedra Longa and the infamous Cale- referring to the port of inhabitations; the City of Tortoli is a coastal town and a commercial center, complemented with refined beach entertainments, mouthwatering food, and nature. Striped with hiking paths, highlands of Gennargentu National Park confine undisturbed hamlets, nuraghe archeological sites, and a myriad of natural bounties within its barriers.
At the city's proximity, the ancient township of Lanusei dominates the valley of Ogliastra with a colorful array of cultural inheritance, impressive architecture, and delicious cuisine- noted as a perfect day trip from Ogliastra's bustling port.
Cagliari, embodying the first residuum in the region, is furnished with cherished history and archeological sites. A massive complex built in limestone is sheltered at the archeological park of Isili, as a well-preserved memorial of Nuraghe civilization and Bronze Monuments.
A scant distance from Cagliari, is the ancient Carthaginian-Roman temple of Antas, withstanding thousands of years with all its glory at the commune of Fluminimaggiore. Noted as a Mediterranean pearl, the natural park of Asinara is wild and unspoiled, pronounced for several historic thumbprints.
Visiting Sardinia is said not to be completed without tasting the authentic flavors in characteristic dishes like a bowl of Zuppa Gallurese and Fregola seafood pasta.