Shaping the heel of the Italian boot, Apulia region is levered with long stretches of blue flagged beaches, characteristic whitewashed villages, and an ethnicity entrenched in the prehistoric Italic tribes. In harmony with the country's essence, culinary art is valued in the pantry of every household to international-grade restaurants, while representing Italia's most plant-based-diet friendly cuisine.
Holding the ancient title of "the gate of the east", Antiquity is conveyed in every attribute of Pugliese terrain, embracing a few protected grape strains and ancient wine productions and countless religious or governing edifices inherited from the Greek colonies to medieval rulers.
Landscape in Apulia covers from Mediterranean highlands at the north, sweeping down into ancient olive, citrus and wine grooves, sided by mesmerizing shades red soil and Seas of Adriatic and Ionian and lastly, the mythological Gulf of Taranto. To learn more about the Apulia region, here is our take on the top 15 must-see destinations.
1. Bari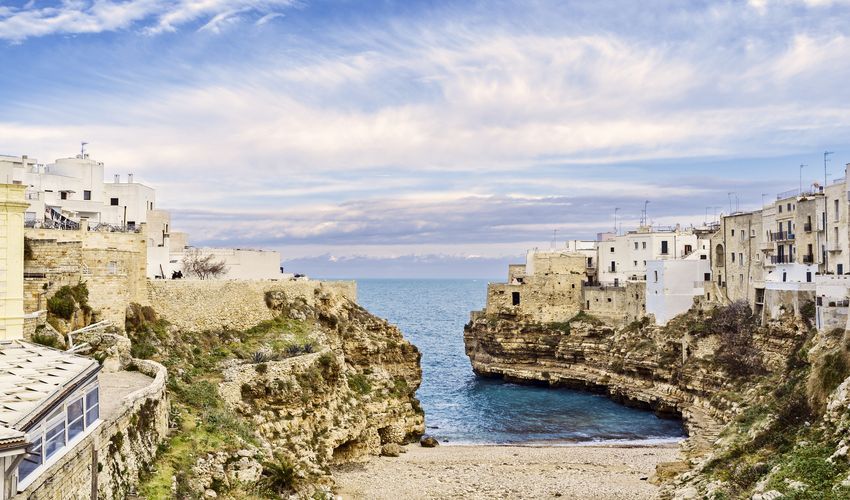 The time-respected port of Bari is the capital and the beating heart of the region since the 18th century BC inhabitation of Peucetii tribes. A profusion of cultural and natural treasures, and its strategic geographical position, has enticed many noblemen to conquer and command the seat of Italy's gates to the east; Greek culture was the first influential development in Bari, followed by Byzantine, Arab Amirs, Lombards and succeeding medieval rulers. A wealth of archeological sites and a thriving culture unmatched in the country are the vestiges of the city's legacies.
At Bari Vecchia, a maze of stone-built medieval houses intermingles with the city's historic center, known as Murat; encircled by the 13th-century cathedral of San Sabino and the holy saint's crypt, Basilica of San Nicola Bari's Patron saint, and the ancient fishing harbor. Buzzing markets at the vicinity of the old port provide fresh seafood, handmade pasta, and other fresh produce goods; aromas of herbs and spices, the bustling streets filled with the cheerful shoppers, and typical bistros for a flavorful bite of authentic delicacies; it is an experience particular to Bari.
Apart from the radiant history, the metropolitan serves as a cultural pole and university hub in the country. In addition, this splendid seaside city offers posh entertainment and luxurious amenities, reflected in its state-of-art alternative clubs, casinos, and nightlife, world-famous diners. Lounging on the Adriatic sea, remarkable coastal resorts are located only paces from sabulous beaches, astonishing coves and hillsides, optimum for a gentle hike.
2. Lungomare
Municipality of Bari covers a vast area of Adriatic coastlines, comprising some of Italy's most beautiful beaches. Adjacent the ancient harbor, Lungomare marks the initial landing place of Bari's Greek forefathers. It is best known for the 13th century Norman castle with astonishing fortified walls and turquoise beaches.
Ample sunshine, fine-grained beaches, and outstanding sea coves are edged with cafes offering refreshments; an optimum destination for family fun- along with posh beach resorts, elegant restaurant, and night clubs.
3. Pugliano a Mare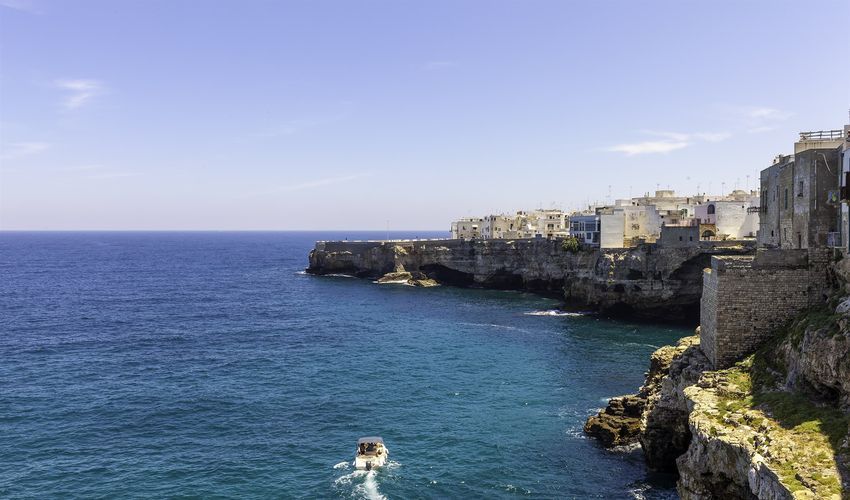 Thirty minutes of the drive towards the south of Bari leads to Comune of Pugliano a Mare, noted as the most beautiful shoreline of Pugliese capital. The pristine beach of Cala Porta lies in a triangle of soft sand that rises to rugged cliffs and form the foundation of Pugliano's urbanscape. while safeguarding the town's foundation, these cliffs also pose as a popular spot for cliff diving fans.
Church of Matrice at Piazza Vittorio Emanuele II, symbolizes the town's tradition of faith and focal point for Pugliano's residents. The settlement's ancient arch, Porto Grande, opens the door to a picturesque labyrinthine of castles, basilicas and monumental structures, and ends at the roman bridge on the Via Traiana.
Often described as "Pearl of the Adriatic", Pugliano hosts thousands of tourists every year for its captivating pitted coves and coastlines, serene atmosphere, and several aquatic adventure clubs.
4. berobello and Valle d'Itria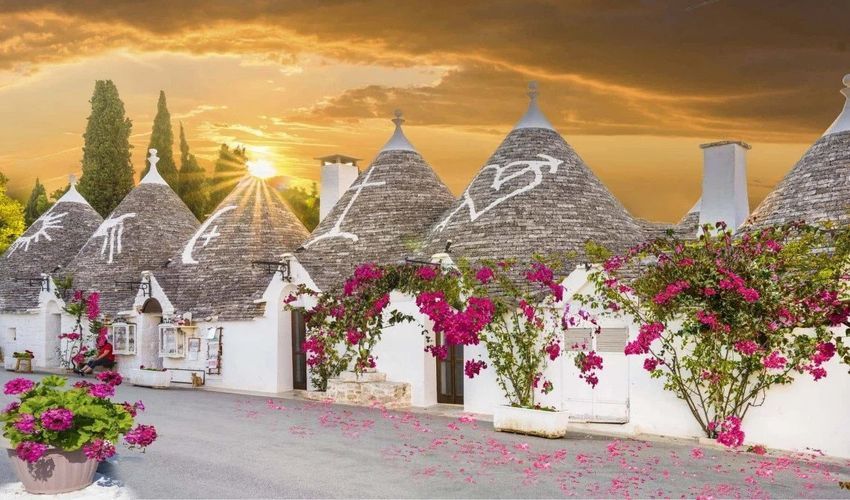 The ancient valley of Itria binds the most significant Apulian cities of Brindisi and Bari; harboring the fabled settlements with white-washed houses in Puglia, knowns as Trullo. The valley is shaped by the collapse of Murge Plateau and forming a karst depression with exceptional natural settings such as grottos and odd cliffs and antiquated hamlets.
The ancient town of Alberobello is registered as UNICEF heritage site for its exceptional Trulli structures; featuring a comprehensive collection of 1400 Trulli structures. These white-washed buildings forego to Greek and Italic tribes, characterized with circular rooms and a conical rooftop; a blend of masterful ancient engineering and resilience of limestone rocks that resulted in one of the most well-preserved Trulli colonies worldwide.
Although antiquated, the heart of Alberobello still beats with life; some of these astonishing structures are occupied, or house welcoming restaurants, souvenir shops and remarkable hotel rooms made by archaic techniques.
5. Martina Franca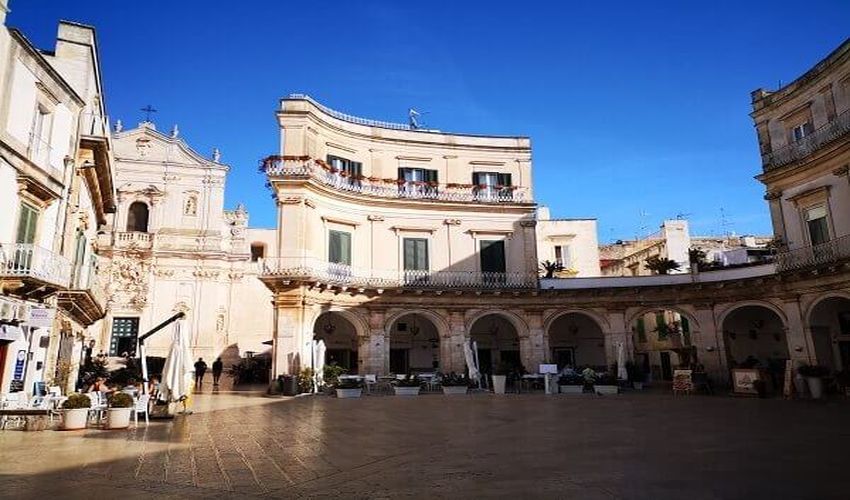 Hitherto a prosperous medieval town, Martina Franca is a trove of over 20 castles and mansions, 24 defensive towers, churches, and countless other significant edifices. Ducal palace, located traverse Piazza XX Settembre ranks as the city's main castle, adjoining to Villa Comunale and the basilica of the city's patron saint, San Martino; the 18th-century basilica flags the historic quarters of the city, at Piazza Plebiscito.
Gastronomy specialties of Martina are the renowned and rare DOC-level white wines served with il Cappello, cured raw ham.
6. Castellana Grotte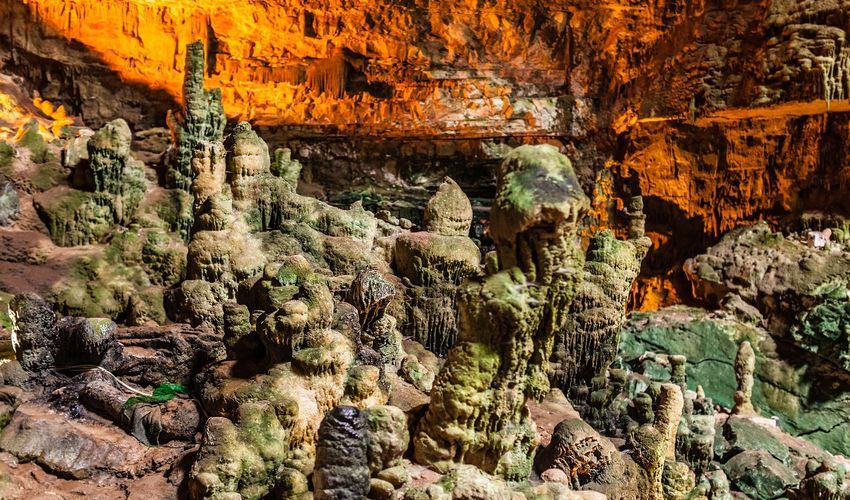 A three-kilometer stretch of breathtaking underground caves, not far from Alberobello, mesmerizes each viewer with its otherworldly sceneries; a series of canyons, caves roofed with the icicle-shaped formation and occasional sapphire lagoons, rest in the depths of 60 meters below the surface.
Castellana Grotte, also described as Grotta Bianca for its pale appearance, is a collective phenomenon due to seasonal rains and limestone bedrock oxidation- posing as an emblematic natural sight of Puglia region.
7. Ostuni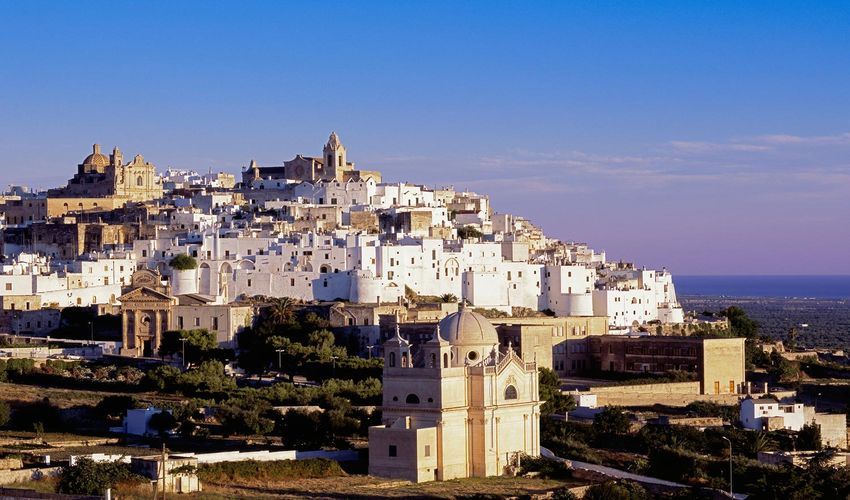 Charismatic town of Ostuni perches on the slopes of Salento's highlands, out-skirted with vast plantations of grapes, olive and lemons. With over 3000 years of heritage, the city's architecture hints to the influence of the Trulli neighbors, with Greek and Byzantine touches. these inspirations set forth an astonishing urban structure with pearl-like mien, thus earning the nickname, the white city.
The beaming pinnacles of Ostuni's cathedral rise high on the city's medieval center, encircle with numerous historic structures; from Vescovile and La Loggia Palaces at the side of the cathedral, Church of Santo Spirito and Franciscan Municipal Palace to the Roman wall that once secured the ancient township.
For outdoor activities, surrounding hunched back meadows are integrated with horseback rides, hiking, and spending the day at Ciuchino Birichino, Ostuni's adventure park or walking into the wilderness of the region's national parks.
8. Altamura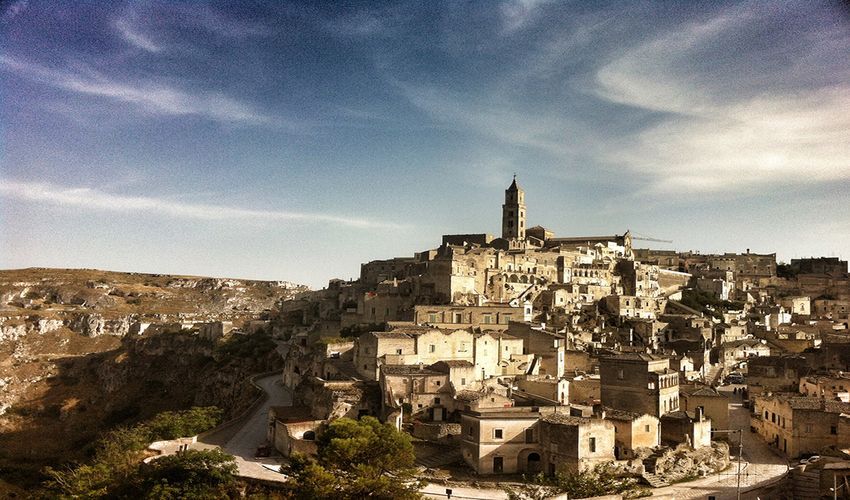 Altamura, inhabited since primary Neandertal, embodies an abundance of well-conserved evidences in geological, archaeological and ethnological fields. Famed as Altamura man, the calcified specimen is a rare discovery of a cave dweller predating to 250, 000 years ago, at Grotta di Lamalunga.
At the historic heart of Altamura, the streets are lined with a series of well-curated courtyards, medieval houses, and the town's historical monuments. Symbolizing a significant and historic call of faith, Cathedral of Santa Maria Assunta is devoted to Saint Mary and the only cathedral built by the holy roman emperor, Frederick II.
Altamura has preserved its antediluvian memories in its costumes, urban structures, and caves, transforming this place to a wealth of archeological and geological findings; A long trail of footprints of various dinosaur species are fossilized on to De Lucia bedrock quarry at the Pontrelli.
When visiting Altamura, taste the famous authentic bread, kneaded to a flavorful perfection from Grano duro, or the golden wheat.
9. Gulf of Taranto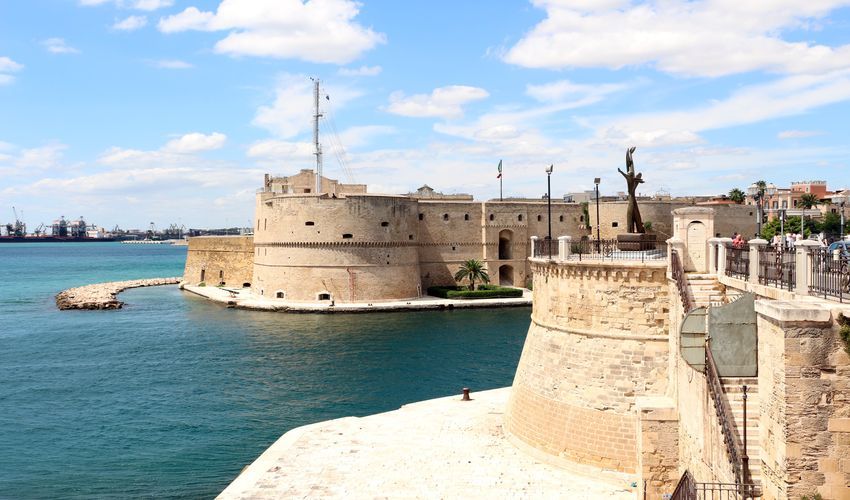 Mentioned as one of the world's most charming coastlines, Gulf of Taranto is the main Italian naval port, stretching from Cape of Santa Maria di Leuca to with Capo Colonne Cape. During the flourishing of ancient trade from the east, Italy was the communicative gate between the occidentals and orientals.
Standing as an ancient commercial port, the Gulf of Taranto played an important role in trading goods such as steel, iron, and even ships. Although Taranto maintains its economic status today, it also highlights monumental attractions, encircled with outstanding shorelines including turquoise waters at Marina di Ginosa and uncontaminated San Pietro Spiaga.
At the northern inlet to this magnificent Gulf, the city of Taranto is a curious mix of antiquated legacies and attributes of a modern port. Merged with captivating sceneries of surrounding hills and coastlines, the metropolitan features an ancient Doric Temple, the Aragonese Castle, a splendid bridge, an old-age Arsenal, and several archeological and anthropoid museums.
Specializing in seafood preparation, Taranto is filled with hearty restaurants, often run as a family business, offers a robust experience of authentic Taranto's cuisine.
10. Lecce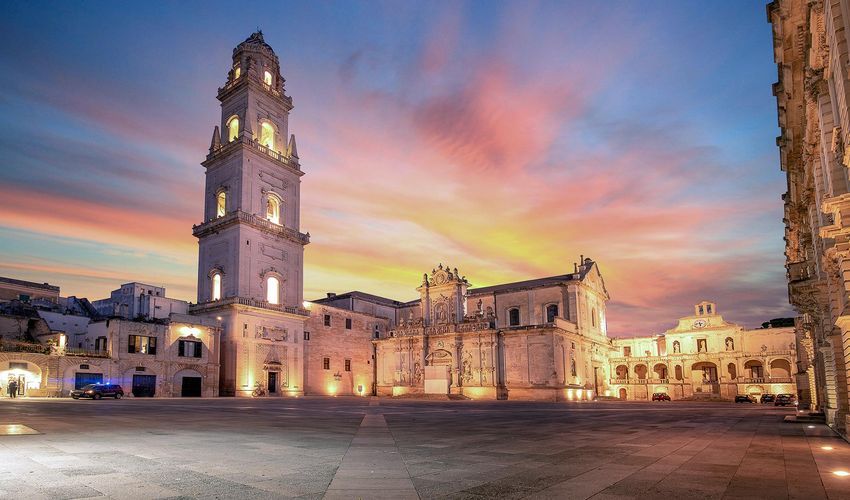 Lecce reflects the aristocratic and prosperous past of the city, within its impressive castles, courtyards, amphitheaters, and the town's historic quarters- hence the nickname Florence of the south. The roman amphitheater, with an adjacent museum, is perhaps the oldest remaining structure in the city; whereas Lecce's national museum parades regionally excavated artifacts from Messapian, Greek, and Romanos ruling eras. Lecce's architectural masterpieces were founded from the 13th century onwards, favoring baroque influence to perfection.
Palaces of Vescovile and Seminario and city's cathedral, exhibit unimpeachable cloisters, decorated walls, and pinnacles. The town's legacy thrives on the bedrock of cultural intuition and art, various art galleries, theatre, and distinct music events contribute to the antiquated culture of the city.
11. Tremiti Islands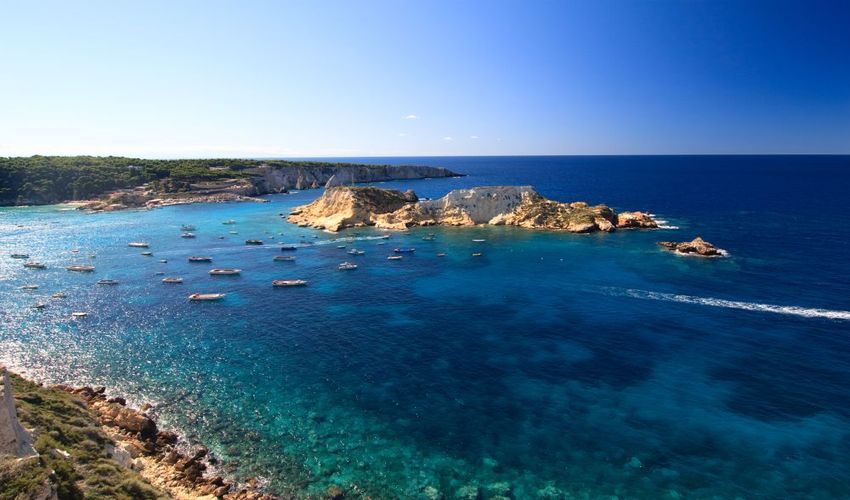 The landscape in Tremiti islands holds characteristics of Sardigna, fused with Mediterranean nature. From flawless beaches, and pristine waters, to the soaring karst cliffs, discreet grottos, and lush green hillside, Tremiti captivate connoisseurs with its all-encompassing charm. The Isoleti include San Nicola, San Domino and Capraia Islands, pose as a chic coastal destination in Italy; offering cruise boats, scuba diving, and snorkeling in its submerged coral world.
Marked as a popular spot for honeymooners, luxury resorts and fine diners enhance the exclusive experience at this island hideaway. The small archipelago island of San Domino, along with sparkling waters at Cala Tamariello and the scenic boat harbor, houses a collection of caves with enthralling beauty including Sea Calf Caves and underwater grottos-marking a world-famous sight for diving.
12. Gallipoli and Salento Peninsula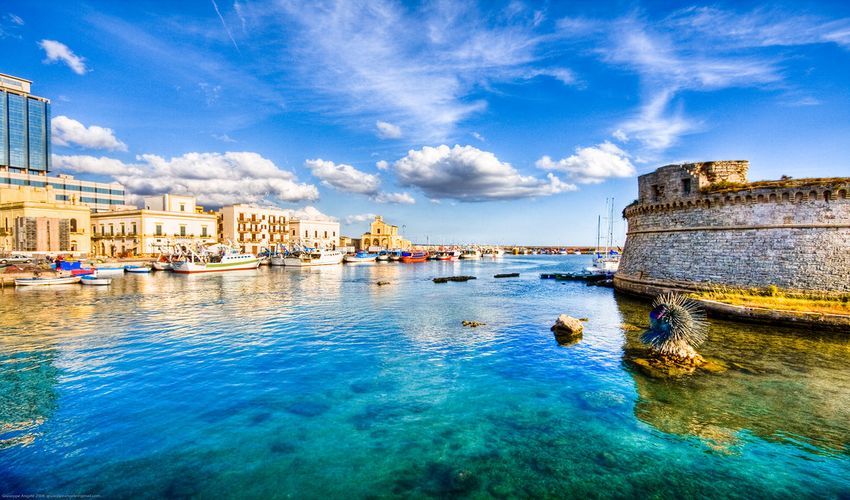 The sub-peninsula of Salento homes some of the country's most appealing towns and picturesque coastal locales. Entwined with ancient Greek ancestry, urban-structures, gastronomy, art and even local dialects have perpetuated their Hellenic roots, with a touch of baroque influence. Culinary of Salento is abundant in vegetables and locally grown fresh goods, and no legacy in seasoning and preserving meat; hence viewed as "poor food" for other country's regions. This vegetarian-friendly capital of Italy is home to baked goods, creamy fresh mozzarella, crisp Muscat wine, and other plant-based treats.
Once a powerful Greek colony, Gallipoli lodges on the shorelines of the Ionian sea, translating roughly to "Narrowed-Street Locale". After facing multiple intrusive wars, resulting in the destruction of the ancient port's historic monuments, Gallipoli gained its glory in the 16th century. During Puglia's flourishing era, Baroque rulers contributed to the cultural value of the borough's history by restoring many of the harbor's ancient vestiges. Castle of Gallipoli with its defensive barricades was built on an Angevin seaport fortifications, together with restoring of Grecian fountain, and Saint Agatha Cathedral.
The picturesque harbor is numbered with churches, castles, and medieval houses that revolve around narrow alleys. Crystalline beaches of Gallipoli are depicted in names such as Purity Beach, is the epicenter of the region throughout the summer months.
13. Port of Monopoli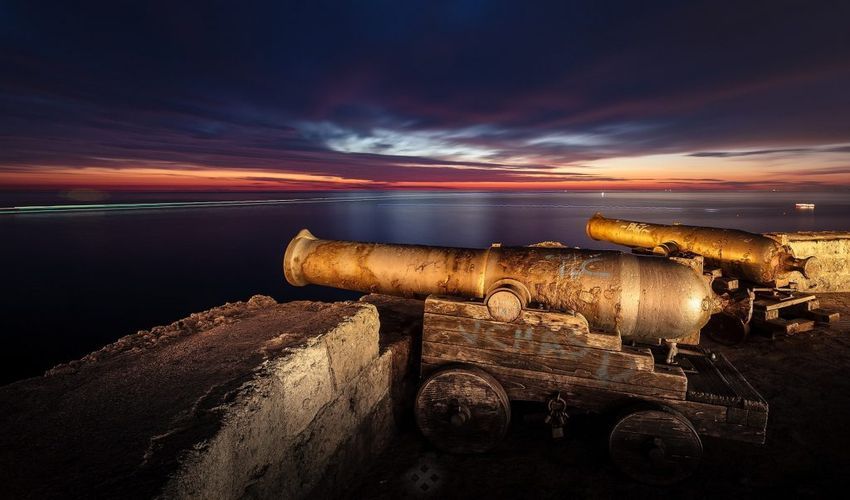 Dominating the eastern Adriatic coast, Monopoli is an ancient port and today's characteristic Pugliese naval port. From fortified Il Rivellino at the shores and monumental bridge of Ponte Seicentesco, Stone-paved moorings of the timeworn harbor lead to the city's focal point at Centro Storico.
In tune with authentic costumes, rises the benedictine structure of Monopoli's cathedral, overshadowing the township and Castle of Carlo V with embedded figurines that recount touching stories. Popular outdoor activity in Monopoli is visiting the four striking coves at its basin, bathing in dazzling shores of Zen beach, and hiking on the scenic trails of Regional Nature Park Isola di Sant'Andrea.
14. Gargano National Park and Parco Nazionale dell'Alta Murgia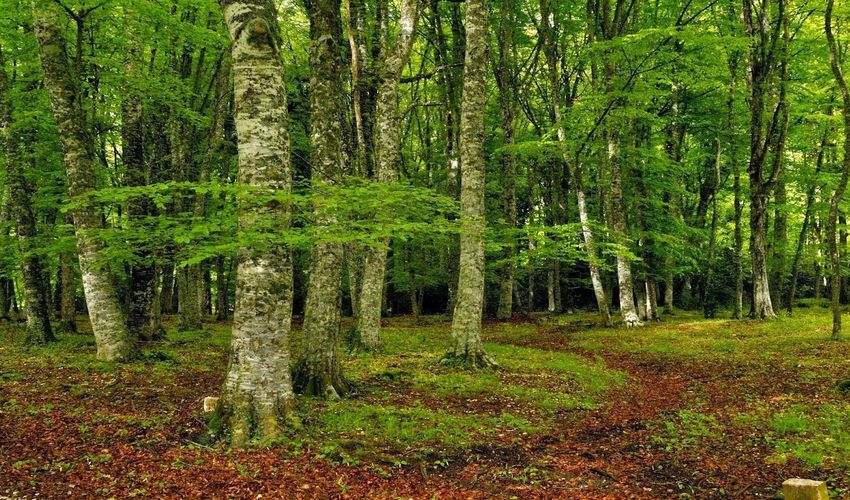 Covering an extensive area of 120,000 hectares, Gargano National park is the green jewel of Puglia with Tremiti islands to protected marines, highlands, lagoons and kilometers of dense ancient forests that reach from Adriatic to central Apulia at Forest of Umbra. the park shelters rare plant and animal species, and is distinguished as one of the largest and most biodiverse national park in Italy. Aside from the natural wealth of congenial hamlets, a cuisine with exceptional Mediterranean flavors and historic inhabitation.
Starting from San Leonardo and Santa Maria di Siponto ancient churches, consecrate the way to the monumental city of Manfredonia or "the door to Gargano". Further down, lies the Hamlet of Mattinata, a fairyland of white butterflies, ancient living olive trees, sabulous beaches and outstanding urban architecture with medieval charm. The seaside town of Pugnochiuso, the elegant city of Vieste, the religious township of Monte Sant'Angelo are cultural settlements in this nature reserve.
15. Brindisi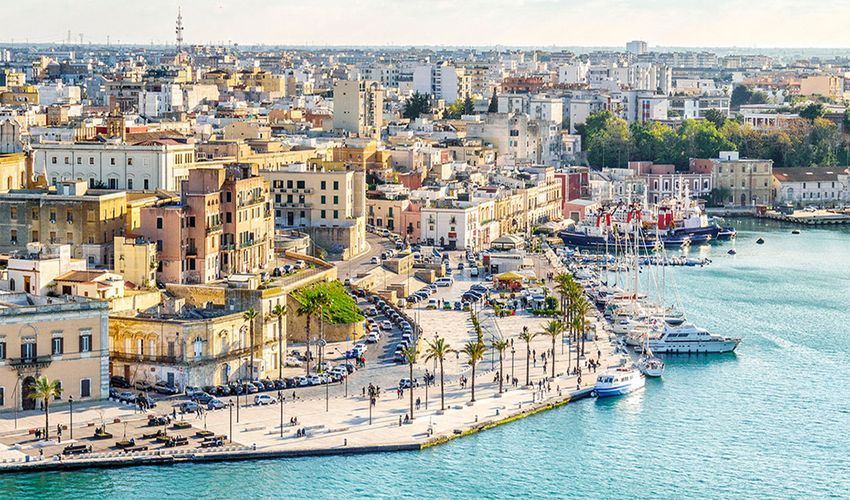 Formerly a prosperous roman port, buoyant metropolitan of Brindisi is one of the most significant commercial routes in Italy since for thousands of years. The city holds the thumb prints of Spartans, Greeks and ancient Apulian forefathers. Traces of Appian Way lay outside the urban boundaries and is the sole roman relic that connected Rome to Brindisi naval port.
Despite the comprehensive development of roman colonies in this area, the Romanos monuments were devastated during a lot of invasions; the Ostrogoths, Byzantines, and Normans troops frequented port of Brindisi until it was defended by the title of a Holy Port in Crusade Wars and furthermore, the baroque period of Puglia.
Manifolds of cultural inclinations have enriched the metropolitan with colorful shades of ethnicity, reflected in mixed styles of architecture and art. Cattedrale della Visitazione e di San Giovanni Battista is a remarkable Romanesque church, integrated with the ancient Roman columns. At the historic quarters, visitors can immerse in the cultural sentiments of the town, savor the authentic delicacies like Ciambellotto, Tiello, fresh pasta, and seafood.
Bound to the territory of Pugliano o Mare, Abbey of San Vito served as a Roman camp and later dedicated to the monks of the convent. The abbey is stationed near the port of San Vito Cala, and a notable tourist attraction with glittering waters, fine-grained beaches, and vibrant history.
Outlined by the defensive walls of Ostuni town, the ancient Sanctuary of San Biagio dates from the 9th century, developed around a monastic past. Paces from the sanctuary stand the towering Morrone Hill, with Sanctuary of Sant'Oronzo, dedicated to the city's patron saint. The pilgrimage route to the sanctuary streaks a popular trekking trail today, with a secluded cave and outstanding perspectives.