The culturally rich history of British Columbia is embedded in centuries of the legacy left behind by the Canadian First Nation Tribes. Hiking and snow sports are the prominent recreational activity in the region while leading the way into the spectacular landscape of the south, and less traveled pathways of northern regions. To discover the ultimate outdoor activities, most distinguished cultural hubs, and BC's superlative activities, here is a list of the top 15 destinations in British Columbia Province.
1. Vancouver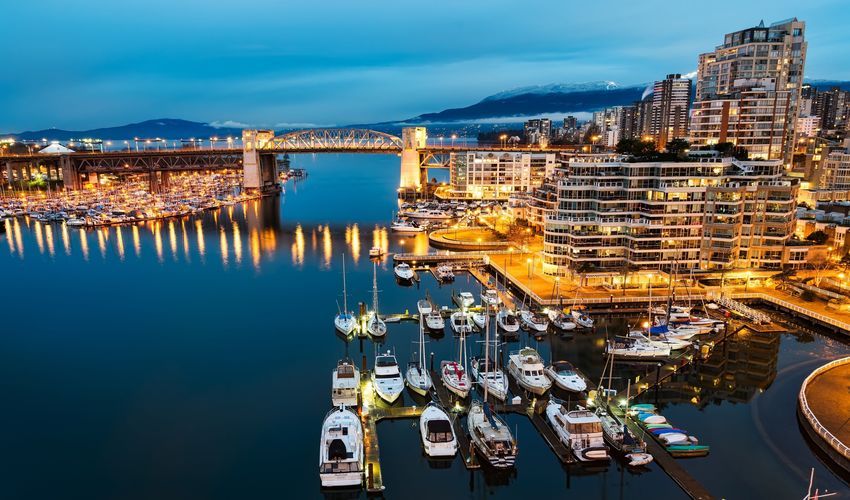 From Art Galleries and international film festivals to heritage museums and modern entertainments at its finest, Vancouver is truly a multi-dimensional city. Enlisted among the top five cities for life quality and standards, the contemporary history of Vancouverite settlement does not go beyond the 1850s. Gastown was the initial town's name, which today marks the downtown quarters and historic district of the metropolitan.
Museum of Anthropology dives even deeper to the depths of regional history, representing vast collections of ethnographic artifacts, indigenous totem pillars, and other ethnographic relics of First Nation tribes, internationally collected relics, and Koerner European Ceramics exhibitions.
Stanley Park sprawls amidst the rural bustle, presenting a green refuge from the bustling streets of the third populous Canadian city, located at a stone's throw from the mesmerizing collections of Pacific marine life at Vancouver Aquarium. Marking the second-largest urban green zone, Queen Elizabeth Park is encircled by the northern mountain, noted for its astonishing perspectives over the urban landscape.
Kilometers of gorgeous shorelines bid an outstanding summer holiday destination with ample sun and long days- highlighting beaches of Stanley Park.
2. Squamish
Lounging on the fertile banks of Squamish River, this small town once housed the indigenous folks of the Pacific Northwest Coast, known as Squamish Nation, and eons of inherited tradition. The townscape renders characteristic looks of Canadian hamlets, moreover delightful hotels, restaurants melding traditional recipes with contemporary culinary art, the Britannia Mining Museum, and the Railway Heritage Park; the museums portray the journey of town through the industrial revolution.
While it conceals limited cultural exhibitions, Squamish is identified as "Recreational Capital of Canada", facilitating countless outdoor activities. Gondola rides from the eroded granite peaks of Stawamus Chief to coastlines of British Columbia, extensive hiking routes; that cover from footpaths of Squamish First Nation, Garibaldi glacier volcano, to Shannon cascades and lakes of Alice and Browning.
The salmon flooded streams of this unique location host thousands of Bald eagle each spring- creating a truly majestic image and an optimum bird-watching spot.
3. Wells Gray Provincial Park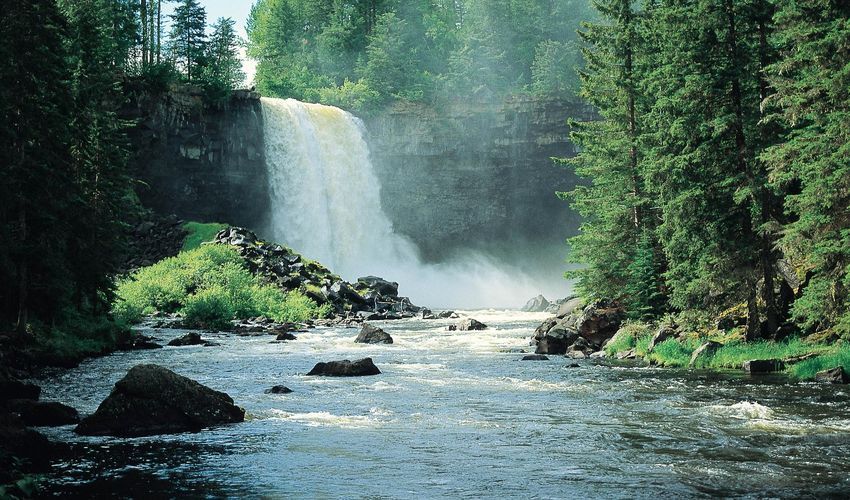 Once a hunting ground for the first nation kinfolks, Well Gray Provincial Park shelters the wilderness of southern Cariboo Ranges and its highest summits. Recognized as a premium hiking destination in the world, it comprises otherworldly sceneries; from barren glacier passes to blooming valleys and alpine forests, velvety vegetation encircling sparkling lakes and waterfalls. The most renowned landscape of the park lies at Helmcken Falls, an 8-kilometer hike that reaches to a magnificent cascade, three times higher than Niagara Falls.
Narrow bridge pass of Spahats Creek Falls and the highland trail of Trophy Mountain and wildlife sighting features the main attractions of Wells Gray. It is recommended to visit the park's website for up to date information before setting foot on the journey, due to its geographic position, the park is subjected to occasional landslides and trail blockages.
4. Tatshenshini-Alsek Provincial Park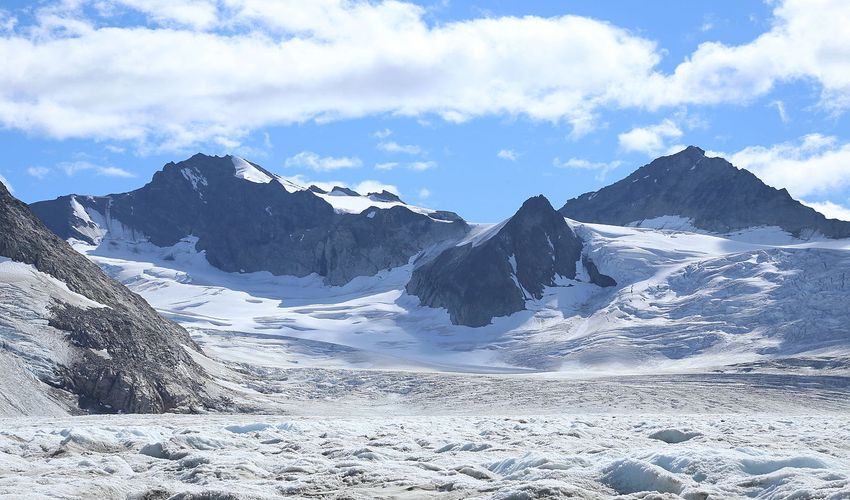 Tatshenshini-Alsek Provincial Park adjoins the Alaskan and Yukon landscapes and reflects similar characteristics and natural settings. The primary settlement foregoes to Tlingit and Southern Tutchone fishing tribes, hence registered as a UNESCO World Heritage Site to shelter the remains of proximate archaeological relics. Because of its position, the landscape has retained its wild demeanor, housing a large population of Grizzly bears, alongside other Nordic species.
Geographically, this nature reserve displays one of the most unique river systems, countless waterfalls, and small and large Water Bodies. Kayaking, rafting, and canoeing highlight the epitomized recreational activities in the summer, in addition to hiking along the well-groomed trails and paddling up the mountain routes- that reward the visitors with panoramic views of British Columbia's pristine wilderness.
5. Field Hamlet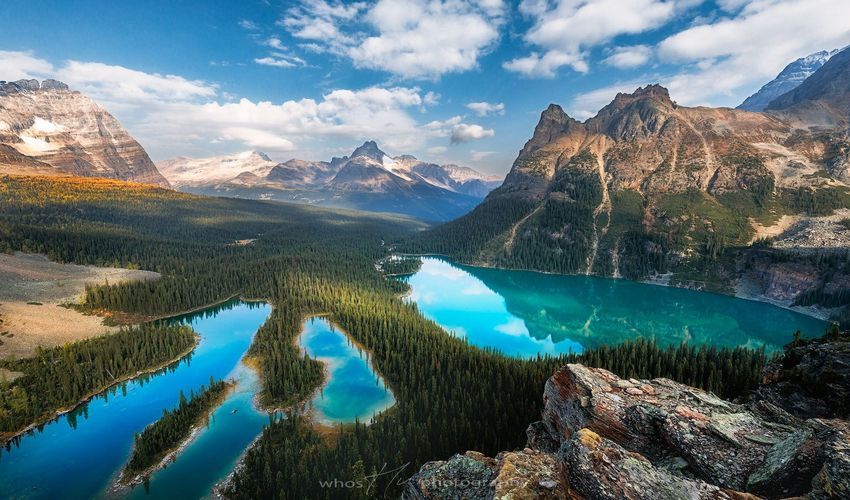 The small village of field perches at the heart of Yoho National Park, known as a hospitable locale with authentic culinary delights and typical hotels. While the village provides no more than heartfelt hospitality and lip-smacking food and souvenir shops, it serves as a Basecamp and a gate to the wilderness and scenic trails of Yoho.
Crossing the naturally built stone bridge, the way leads to a world-famous hike of Burgess Shale fossils, available with guided tours. The hike ascends to the highlands of Great Divide and mountain summits, reaching to crystalline Lake McArthur. Numerous lakes, waterfalls and alpine valleys encompass particular landscapes; although except for the exquisite nature, plenty of recreational activities are available in Yoho National Park including hikes on foot, cycle and even horseback, together with winter sports.
6. Victoria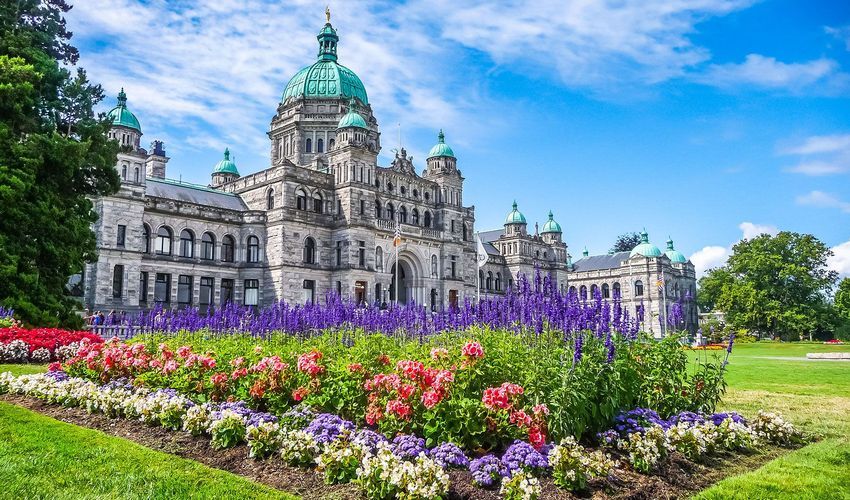 There are a few townships in the world that count the urban flowers each year. Victoria's fable of blooming flower gardens has earned the nickname "City of Gardens" for this artistic metropolis while tallying each spring's blooms. The most friendly city of the world and Canada's most romantic city are another diminutives of Victoria, hinting to the very essence of Victorian urban culture. Concealing three water ports, the most beautiful neighborhood lies in proximity to the inner harbor, ladened with restaurants and terrace views.
Since the 18th century European settlement, several castles, and medieval buildings hint to the baroque and gothic origins of architecture styles. Such instances are best seen at the Parliament old building, Empress Hotel, and the Catholic Church of Christ. Likewise, these cultural impacts and infusions have given rise to countless intellectual centers; from music halls, art galleries and museums, modern and ancient history museums, and exquisite culinary.
Nightlife in Victoria is vibrant and pulsating with new age music at Downtown quarters, sided by historic monuments such as Centennial Square and the oldest Canadian Chinatown.
7. Vancouver island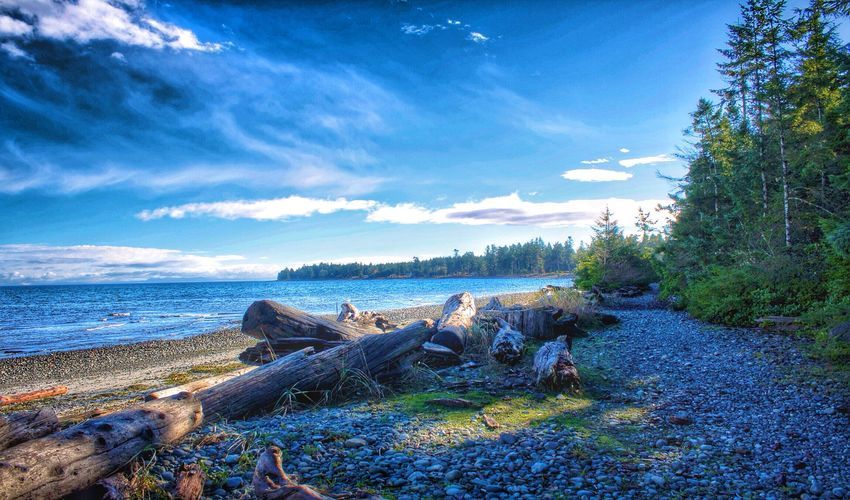 A few kilometers from Victoria, visitors can access the untamed beauty of Vancouver island by a ferry or seaworthy small boats. While Canada is mostly known for its winter and ice activities, this island hosts the summer vacationers of British Columbia for its sun-kissed shorelines; although the cays' spectacular storm sights and surf-suitable waves lure many adventurous travelers each year. Hundreds of islands and islets collectively create a treasure trove of small hamlets and art-ladened communities with encircling farmlands that sweep to the boundaries of verdant rainforests.
Numerous hiking routes connect the region's scenic landscape of waterfalls, canyons, and rivers to long stretches of pristine beaches. The north is a wild territory of rugged landscape, whereas the center offers unique accommodations and stands as the intellectual hub and an artist get-together point in the region. Southern Gulf's identify the whale sighting spots in the springs, sided with characteristic wooden cottages and campsites; to accommodate the casual visitors and occasional backpackers of Vancouver islands.
8. Nanaimo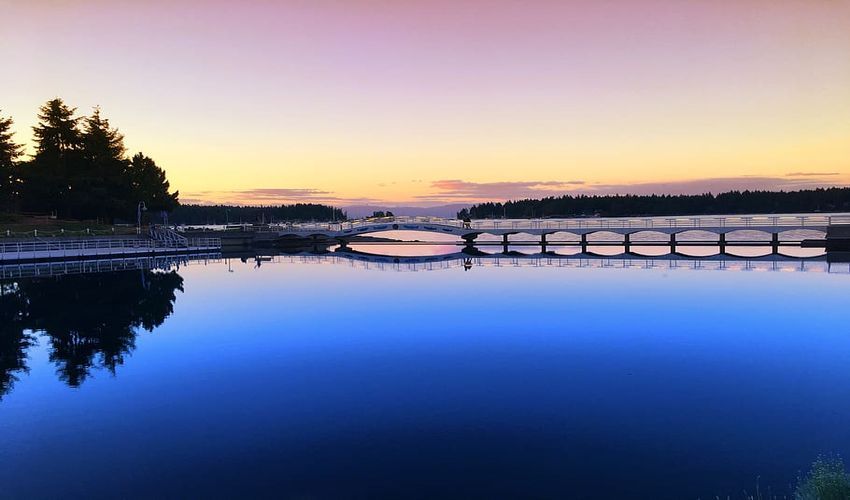 Canada's is a home to many particular sports, among which stand motorized bathtub competitions. Known as the Bathtub Weekend, the festive event celebrates this cultural sport in Nanaimo, during the annual Marine Festival. Distinguished as an intellectual center, artistic attributes across the cosmopolitan are found in abundance; such as the Snuneymuxw First Nation museum, Nanaimo Art Gallery exhibition, and store, and performing arts at Port Theatre and Vancouver Island University, and countless art galleries and underground music performance clubs.
When visiting this eastern township of Vancouver islands and before setting foot to the next destination, taste the national dessert originated in this locality, called Nanaimo bar.
9. Okanagan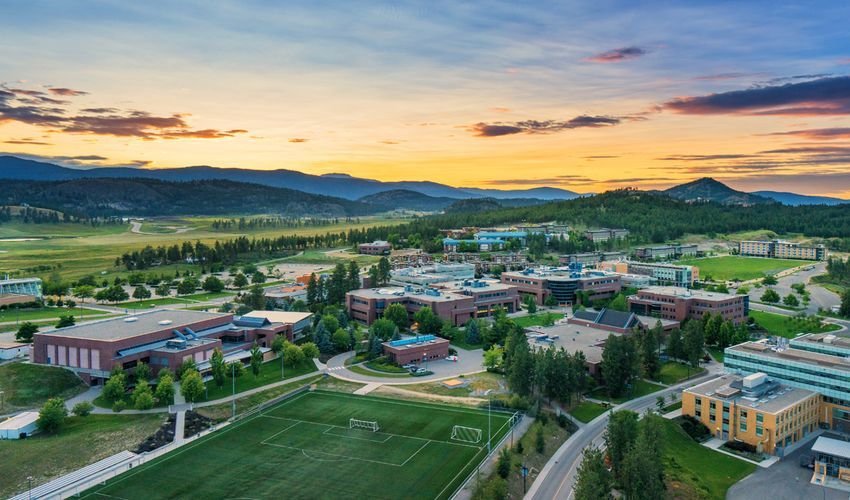 Recreational sports and spectacular sceneries are a delight, but the most delightful activities in life may rest at the simplicity of a glass of quality-brewed wine and savoring a plate of authentically cooked recipes; Okanagan Valley combines both elements together, marking the most important farming and viticulture region in the country. The fertile banks of Fraser River and basin of Okanagan Lake, houses the fabulous vineyards of British Columbia, together with fruit-bearing orchards and organic vegetable farms.
Serene ambient, Tuscany-resembling landscape, and farm-grown vegetables prepared only hours after harvest has turned Okanagan Valley into a serene holiday destination, complemented with occasional wine festivals, food rallies, and an additional dose of adrenaline at Myra Canyon adventure capital.
10. Harrison Hot Springs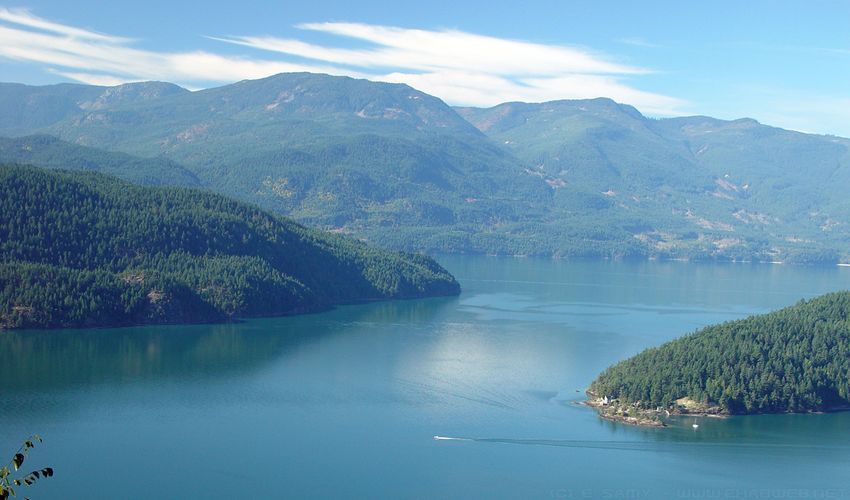 Close to Okanagan and the eastern Fraser Valley, the small village of Harrison Hot Springs expands at the side of Harrison lake. The healing properties of these spring waters, jointly with mesmerizing nature at the enclosing Sasquatch Provincial Park, feature the municipality's chief attractions.
Besides wellness resorts and spas, and aquatic adventure activities at Harrison Waterpark, the small community displays artistic masterpieces by Canadian artists at Ranger Station Public Art Gallery, and summer music and art festival. During the winters, the prestigious hot spring destination offers hot mineral pools-providing a delightful experience after skiing down the frozen slopes.
11. Pacific Rim National Park Reserve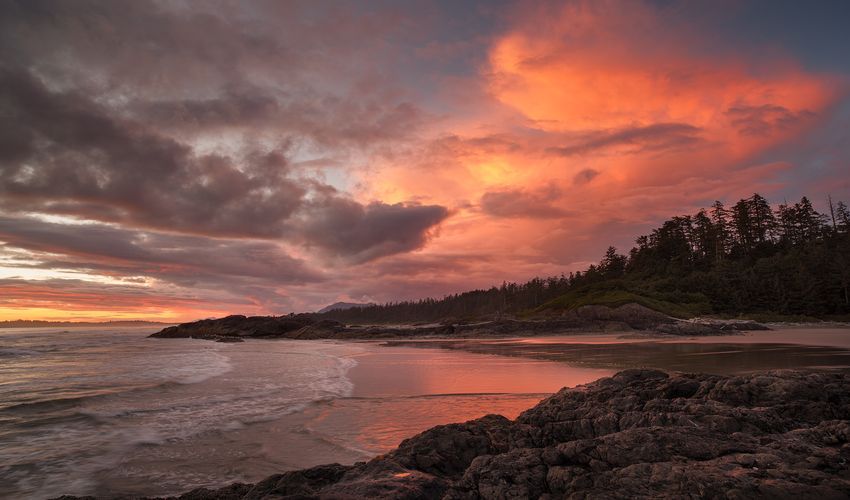 Encircled by West Coast mountains, Pacific Rim National Park Reserve blends history and nature together. It is home to 21 distinct indigenous tribes, hence recognized as Indian Reserve; yet, kinfolks of these ancient settlements remain as thriving communities. The entire park apportions into three regions; the longest stretch of shores, known as the Long Beach, Broken Group Islands, and the most dramatic landscape of the West Coast region.
Extensive sabulous shorelines, short hikes, and hearty campgrounds and hotels have transformed Long Beach into a family frequented destination, in particular through summer months. Broken Group Islands portray an exceptional series of marine-setting and a popular sea kayaking spot. Esteemed as backpacker heaven, the rugged shores of West Coast Mountains are veined with hiking trails and surrounded by breathtaking backdrops.
Described as one of the most scenic hikes in the world, this route was previously a life-saving trail for the survivors of accessional shipwrecks, comprising archeological sites, the tallest Canadian tree titled as "The Carmanah Giant".
12. Barkerville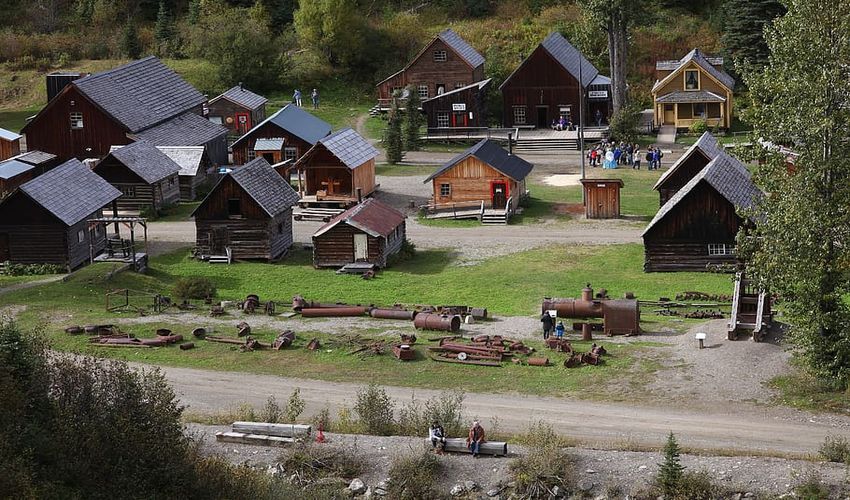 Consequent to the finding of the first gold nuggets at Hills Bar and Cariboo Gold Rush, the historic town of Barkerville played an important role in the industry. Once a flourishing town, elements of gold mining, dating back to the 1850s, have remained intact at Barkerville Historic Park. The sight of over a hundred century-old Batten structures and heritage sites, horse chariots, mining artifacts, and the entire outlook of the historic town, all provide an experience often expressed as a time-traveling journey.
The heritage town sits on the foothills of Caribou Mountains and connected by Wells-Barkerville Mountain Trail to surrounding photogenic lakes of Barkerville and Bowron, scenic forests, and mountain pass.
13. Nelson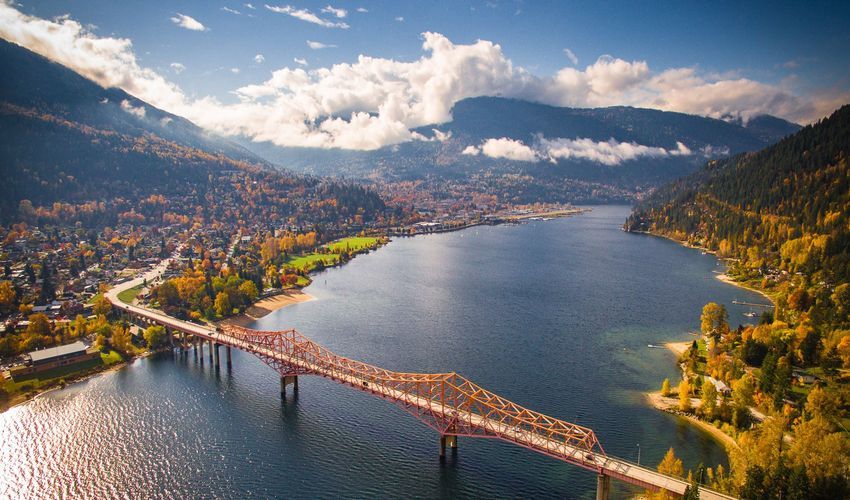 A thriving art community, Victorian architectural charm, and recreational activities amid wholesome wilderness- the metropolitan city of nelson combines it all. Titled as the city of Queen, the urbanscape boasts a large assemblage of Victorian heritage sites, particularly around the Bakers street. Ranked as the number one small Art Town in Canada, national and international artists and intellectuals perform and share their art in perfection at many art galleries or performing art centers.
Downtown districts, sided by monumental sites, mark the center of intellectual and alternative visions, housing Capitol Theatre, history and art museum, art schools and galleries, and various elegant cafes and fine diners.
While the summer blooming valleys and views of Kootenay Lake are a source of artistic inspiration, in winters, Kootenay National Park and surrounding summits host thousands of winter sport enthusiasts- for skiing, skating and climbing the frozen walls of Selkirk summits.
14. Whistler
The Mountain town of Whistler sits on the slopes of Fitzsimmons summits of Coast Mountains, setting forth one of the most favorable winter destinations. With over ten meters of annual snowfall, the entire valley and rugged peaks hide under a thick snow blanket, most popular for skiing fans. Winter activities here are premium and varied, offering from bob-sledding, zip-lining over frozen valleys, fishing, and ice canoeing, to Gondola rides to ski drop- off points and the largest ski resort in North America, known as the Blackcomb.
The village itself stands as a pedestrian-only locale, with cobblestone alleys that connect souvenir shops, wooden lodges, and elegant cafes and restaurants for a quick bite of après-ski or a fine dining experience with authentic food and wine of whistler.
15. Tasu and Haida Heritage Site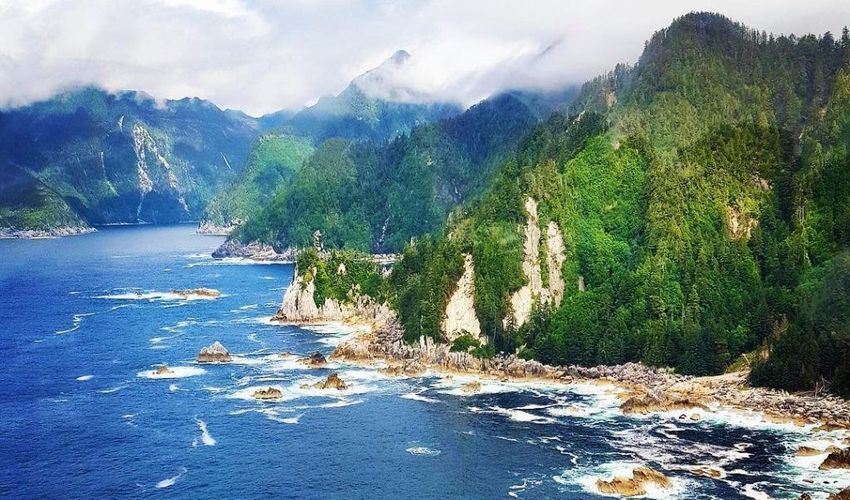 Once a flourishing iron and copper open pit mine, Tasu was abandoned in the 1980s. The remains of the ghost town lie in the vicinity of Tasu Sound, in Haida Gwaii Archipelago. While this town was established in the early 20th century, the initial settlement in the region dates back to at least 13000 years, housing the migrated tribes identified as Haida tribes, with over 100 archaeological fishing and hunting villages.
National Park Reserve Gwaii Haanas, translating to beautiful Island, conserves the archeological sites of Haida people and a wealth of undiscovered beauty including the neighboring islets; Hot spring Island with steaming natural hot pools, and Anthony Island with exceptional wildlife together with remnants of ancient totem poles and artifacts of Haida. Visitors require a permit to enter and remain on any of the reserve's islands, accessible by air or sea.
British Columbia stands as a popular tourist destination in the modern world with a rich wealth of art and culture, well-planned reaction centers that conveniently accommodate the visitors while preserving nature. Although, the northern territories of BC are often overlooked by travelers, tucked between the wilderness of Hart and Muskwa Ranges. Skeena—Bulkley Valley spots one of the most uncontaminated nature of the province and Canada. Whereas Nass Valley bids kilometers of emerald lakes and hot springs, at proximity to scenic natural rainforests.
Flanked by the shores of the Pacific Ocean, gastronomy of British Columbia evolves around seafood recipes, together with Canadian typical dishes such as Poutine and varieties of braised and barbecued meat. BC houses the Canadian Wine industry, many wine countries and century-old breweries, yielding from Red to Rosé and sparkling white wines, such as rich Merlot wine and crisp Chardonnay.