Neighboring with the Pacific, the Arctic, and Atlantic Oceans, collectively Canada possesses the longest shorelines across the world, housing thousands of islands, inlets, and Sweetwater beaches. The mesmerizing coastal landscape conceals some of the rarest geographic phenomenon, such as the thermal spring waterfalls at Vancouver islands, or the oldest rock in the world at Hudson's Bay.
Nonetheless, the country offers an integrated network of highways, still, some of these peculiar destinations are accessible only through minimal hiking routes-while others require sailing. Although there are hundreds and hundreds of beaches across the Canadian territory, here is our guide to the top 15 must-visit coastlines of Canada.
1. Long Beach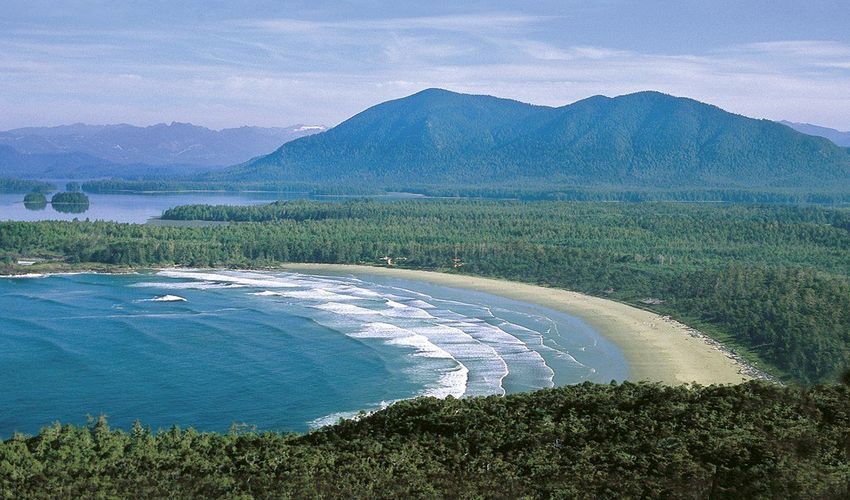 Enlisted as the most beautiful Canadian coastal destinations, Long Beach is the longest stretch in the Pacific Rim National Park, amid the untamed terrains of Vancouver Island. Together with many natural historic and artistic attractions throughout the Island, Long Beach is the region's flag holder of summer tourism- hosting thousands of visitors annually to its sparking and sabulous seaside.
After the summers, Long beach's seasonal tides start to increase, alongside frequent storms. Accessing the beach and swimming is restricted through the winters, although provides plenty of opportunity for photographers interested in dynamic landscapes. Creative lodge accommodations are an eminent feature of Vancouver Island tourism, found mostly on the southern and eastern coast.
2. Basin Head Provincial Park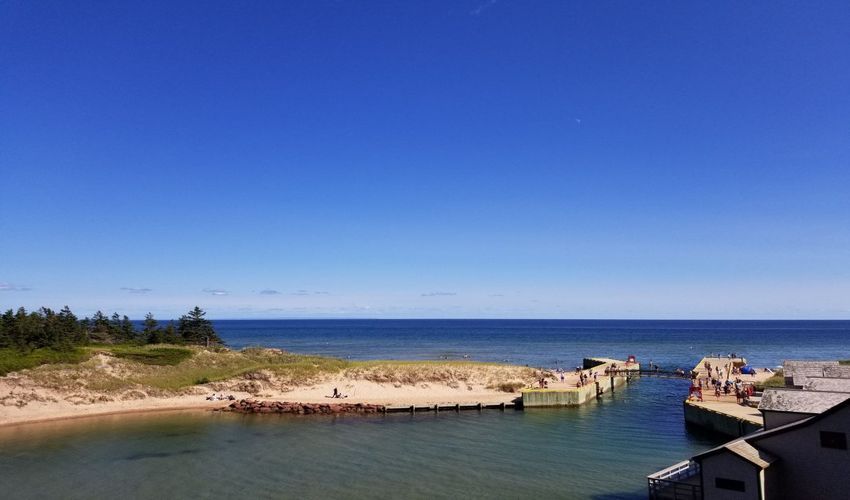 Located amid the geologic wonders of Prince Edward Islands, Basin Head Provincial Park offers some of the warmest salt waters in the northern hemisphere. Long sweeps of white sand, sun-kissed beaches through the summers, and dazzling sunsets delight the visitors from around the world.
However, the most spectacular feature of the park marks an unexplained phenomenon described as the Singing Sand. While walking, or at a blow of frequent coastal winds, the shoreline sand creates a sound similar to whistling.
With a 800 kilometers stretch of singing sands, combined with tourist amenities, this is one of our favorite destinations for families, photographers and spectators of earth's wonders.
3. Grand Beach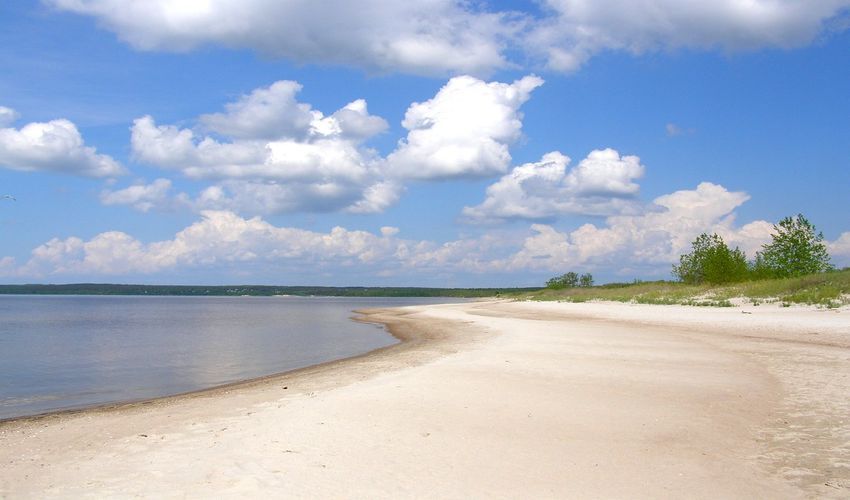 There are a few locations in Canada where culture mingles with nature. Verged by Manitoba Lake, Grand Beach is a freshwater shoreline, featuring extensive white sand dunes, grass-top sandbanks, and a handful of cultural activities.
Besides annual music festivals, Grand Beach hosts a sand sculpture competition every year, through the second week of August the beach is ladened with glittering sandcastles, surreal to neo-realistic figurines, and masterworks of the conceptual artist to amateur creations.
The easternmost section of the beach is designated as a facilitated campground. Whereas the western areas house shopping centers, posh tourist amenities, and restaurants.
4. Tribune Bay Beach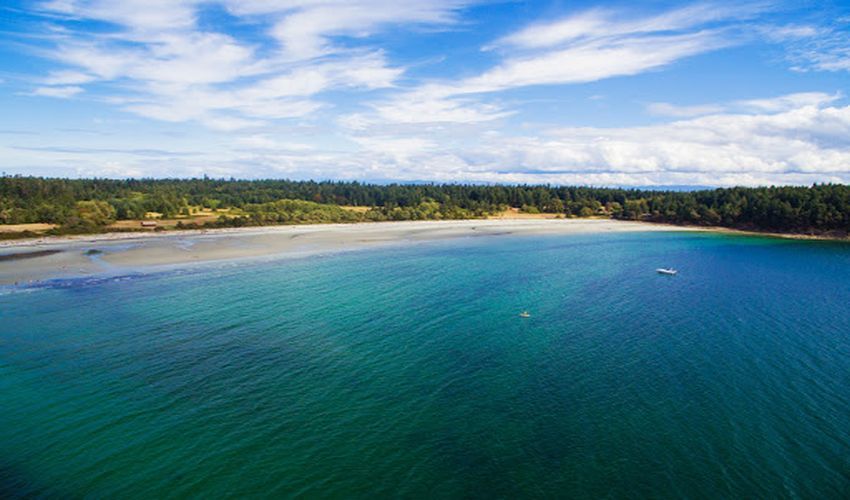 Idling on the shores of Hornby Island, Tribune Bay is nicknamed as Little Hawaii for its aquamarine hues and crystalline waters. Accessing to this elegant coastline is rather demanding and calls for a ferry ride from Vancouver Island or sea kayaking for the more adventurous visitors. A kilometer-long of white sand shores, flanked by odd and interesting rock formations, mark the major highlights of Tribune Beach Bay.
The mesmerizing landscape and warm temperature of the bay's waters during summer has turned this beach into a tourist hub and an unparalleled vacation destination. Whether for camping in the wild, or enjoying a relaxed holiday at the comfort of your hotel, there are several designated campgrounds and hotels in proximity.
5. Wasaga Beach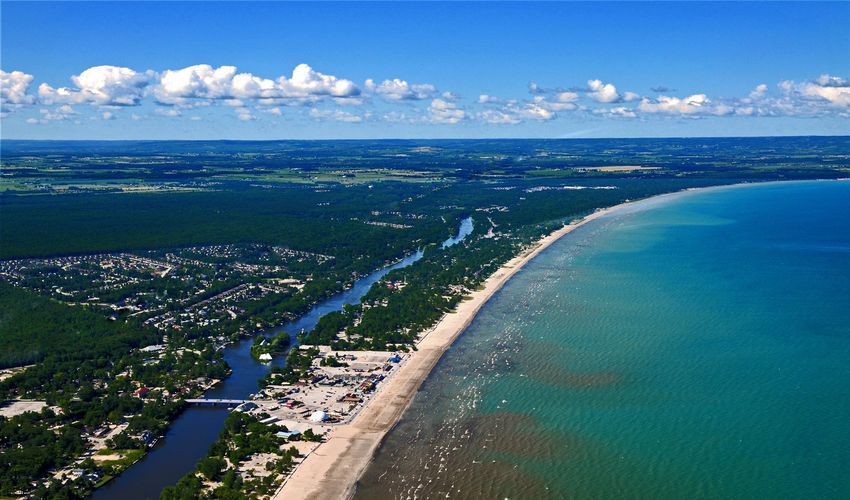 Significant heritage reserves, a remarkable landscape, and one of Canada's favorite beaches- Wasaga Beach combines it all. Lounging on the shores of Georgian Bay, it is the longest sweet water beach worldwide.
The town itself sits within the perimeters of Wasaga Provincial Park, comprising thriving wildlife, eight stretches of beaches, and the historic island of Nancy that testifies to the important Anglo-American battle in the early 19th century. Among the noteworthy elements are the remains of Nancy ship, a contributory museum, and an ancient lighthouse, at a short sailing distance from the 14 kilometers of fine sand shores of Wasaga.
6. Sauble Beach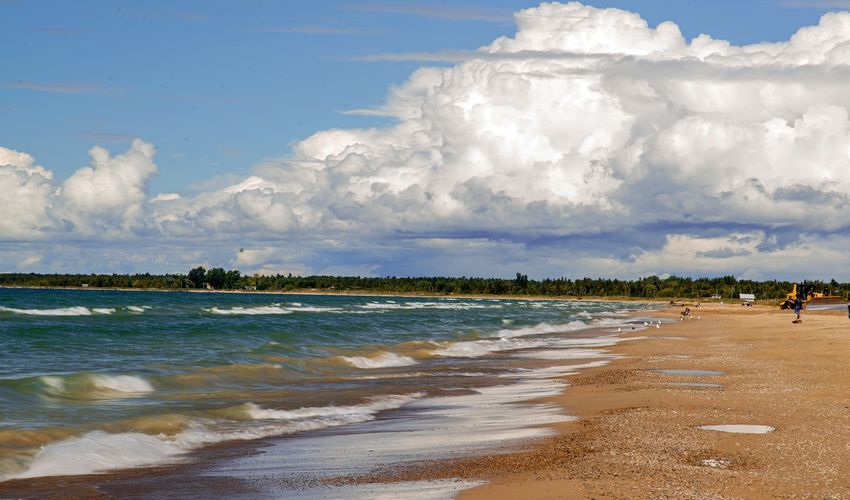 Sauble Beach is a get-together pivot for the youth, ladened with entertaining events and activities such as the famous Sauble festival of Sandfest, music festivals, and champion level beach volleyball. The shore spans over 11 kilometers, housing from restaurants to family-oriented amusement parks and recreational sports centers for all the aqua-fun activities; windsurfing and gliding, kayaking, and fishing on the pristine waters of Sauble River to name a few.
As the world's second-largest freshwater beach, Sauble is fabled for its spectacular sunsets and broad golden horizons.
7. Ingonish Beach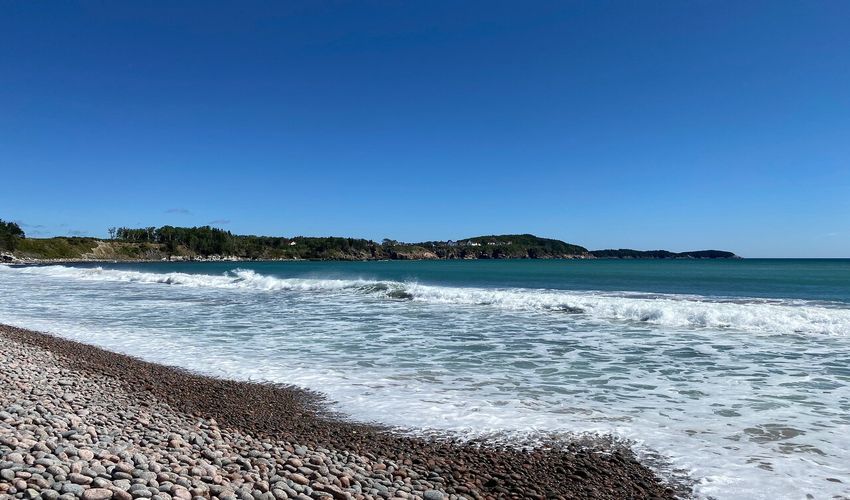 The fascinating terrain of Cape Breton Highlands National Park presents a thin tract of land between the Atlantic Ocean and the Freshwater Lake. This land section spots one of the most popular summer destinations in Canada, known as Ingonish Beach. While swimming, sunbathing, and enjoying campfire meals are the major attractions, surf-adequate waves are found from June to August.
For those seeking a comparatively secluded beach experience, North Bay Beach with grass-covered sand dunes and Broad Cove Beach and its adjacent Sweetwater Creek and La Bloc Beach offers a serene ambient, combined with breathtaking vistas.
8. Magdalen Archipelago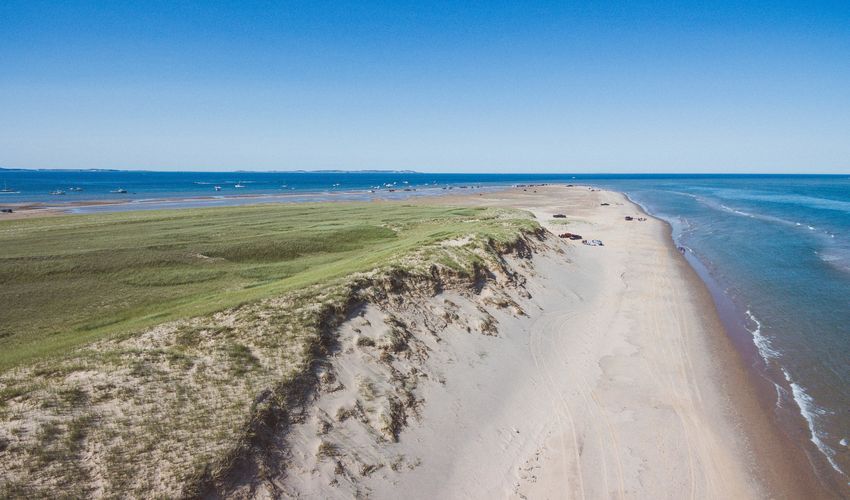 Canada, the land of untamed nature, reflects its essence in all landscapes, including the far-reaching Magdalen Islands of the Gulf of Saint Lawrence. After a few hours of ferry ride from Prince Edward Island, visitors can access one of the swim-friendly beaches of Canada.
Together with the stunning vista of sand dunes, eroded red cliffs, and rock formations, these shorelines contain delightfully warm water through the summer months, in particular September. With 300 kilometers of coastlines, there several enthralling beaches across the archipelago; red dunes of Dune-du-Sud, the thin stretch of Île Boudreau, and cultural shores of Île du Havre aux Maisons- are among the notable beaches.
9. Martinique Beach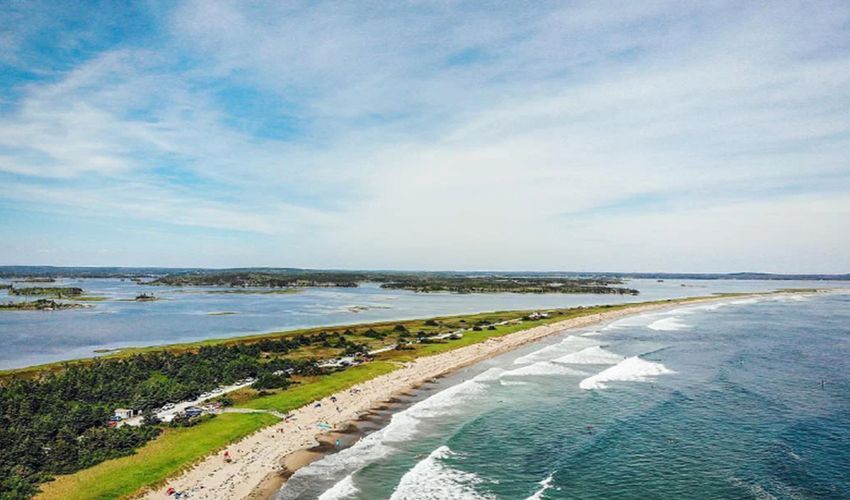 The crescent-resembling beach of Martinique Beach Provincial Park covers a span of five kilometers of white-sand shores. The beach is a diver's heaven, harboring vertical cliffs at both sides of the crescent. While the middle accommodates soft sand and calm waves- suitable for sunbathing and small family members. The best time to visit the park is at the end of the summers when the marine water temperature reaches 18 degrees Celsius.
In addition to swimming and recreational aquatic sports, the provincial park is a bird sanctuary of rare and endangered species. Picnic grounds, children playgrounds and wildlife camping sites are accessible for visitors throughout the year.
10. Parlee Beach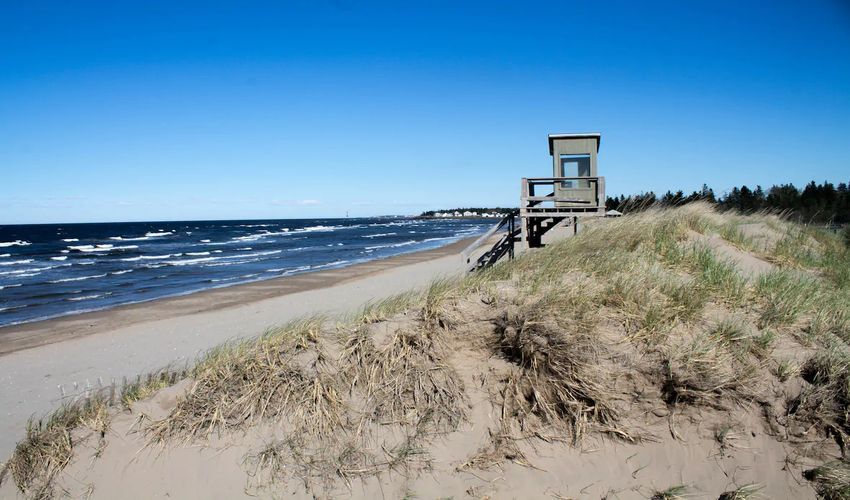 Enlisted among the warm-water beaches of Canada in summers, Parlee Beach has taken its tourism to another level. Well-managed lifeguard supervision, in particular through early morning hours and sunset, has transformed this beach into one of the safest swimming spots across the country.
Furthermore, frequent showers, locker rooms, and environment-friendly facilities leave the visitors a satisfactory beach experience; enhanced with fine diners and a grand campsite for outdoor camping fans. As a blue flag beach, Parlee Beach is an optimum family destination, with exceptional sunsets and ecologic shoreline with rigorous monitoring of the health of waters.
11. Sandbanks Beaches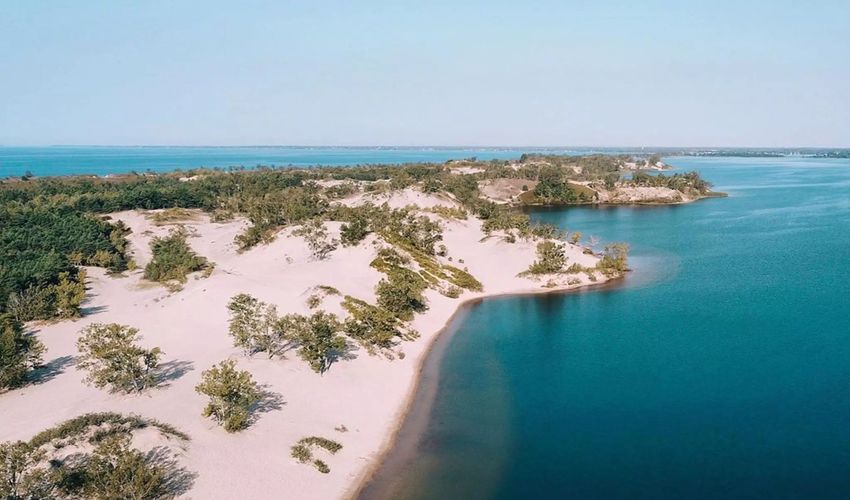 As a sweetwater coast, Sandbanks offers kilometers of sandy beaches on the banks of Ontario Lake- holding the world's largest Sweetwater sand bars. It is a home to recreational sports such as swimming, surfing, kayaking, wind gliding and much more. Each summer, the three beaches, Outlet, Dunes and Lakeshore, are swarming with crowds of photographers, beachcombers and nature enthusiasts each year.
In accordance with the essence of Canada, a gentle hiking loop runs along the picturesque beaches; crossing charming cafes and fine restaurants, a few adjacent campsites, together with the vista of Sandbanks' scenic shores.  However, other available trails are both more difficult and rewarding, such as Cedar Trail and Woodland Trail.
12. Brackley Beach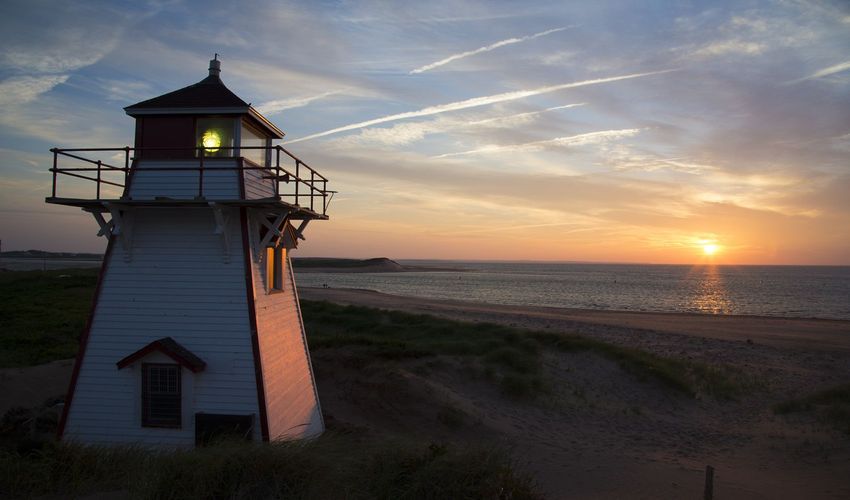 Only a few minutes' drive from Charlottetown lies the swimmer-friendly shores of Brackley Beach. It is sheltered within the boundaries of Prince Edward Island National Park, flanked by kilometers of sandy hillocks, salt marshes, and red-hued dunes.
There are plenty of locker rooms and bathing stalls for a quick bath, alongside restaurants, hotels, and distant campsites. The capital city offers a charming environment, laden with shopping centers, Avant-garde restaurants, and clubs.
The surrounding nature of the park is rich in bio-diverse wildlife, exceptional sceneries and off-beaten paths. Several panels guide the way from the beach and campsite to the park's hiking routes.
13. Vancouver Beaches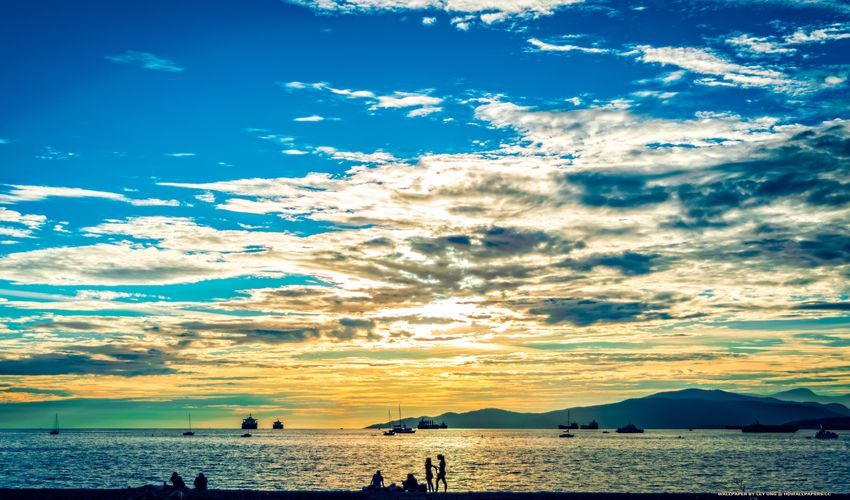 Sprawling on the picturesque coastlines of the Pacific Ocean, Vancouver is a swimmer-popular spot, sided with a wealth of art culture and fine urban management. There are an ample number of sandy beaches, scattered across the municipality including family-oriented Kitsilano Beach, North America's most regarded naturist beach, Wreck Beach, and shores of Stanley Park.
Although Vancouver's waters are recognized for the cooler temperatures, during the scalding days of mid-summer, swimmers find this characteristic fairly pleasing. High urban administration is too portrayed in marine management, offering an eco-friendly and convenient experience for the visitor. Vancouverites are known for their hospitality and heartfelt friendliness, and mouth-watering recipes, including seafood specialties.
14. Tofino Beaches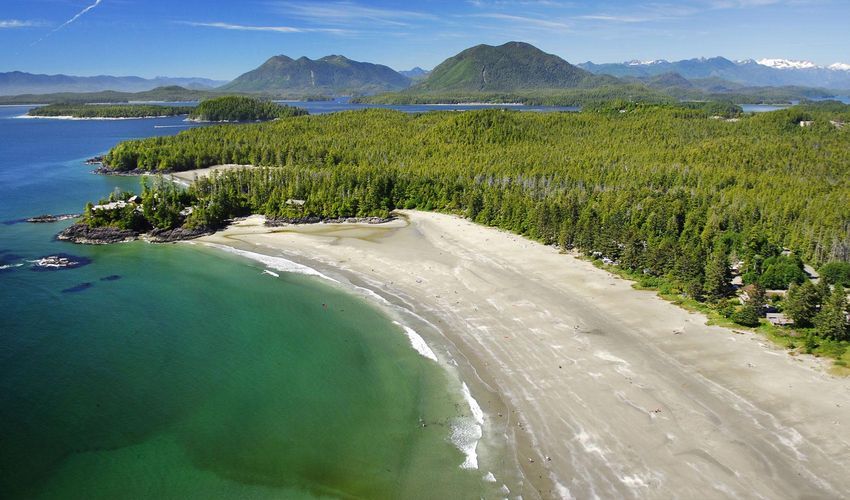 Sitting on the western coasts of Vancouver Island, Tofino is a coastal town, cultural center, an entertainment ground, and the main connective route to several fascinating islets in the vicinity. Florencia Bay harbors the longest stretch of beaches across the island, noted for its peculiar marine landscape.
It embraces the crystal clear waters at Chesterman Beach, fine waves for surfing and drift boarding at Cox Bay Beach, and the tranquil sand lines of MacKenzie Beach. From Pacific Rim Whale Festival every March, to the art-oriented and man-made island known as Freedom Cove and the scorching saltwater waterfalls at Hot Springs Cove-Tofino is a land of many unique wonders.
15. Cobourg Beach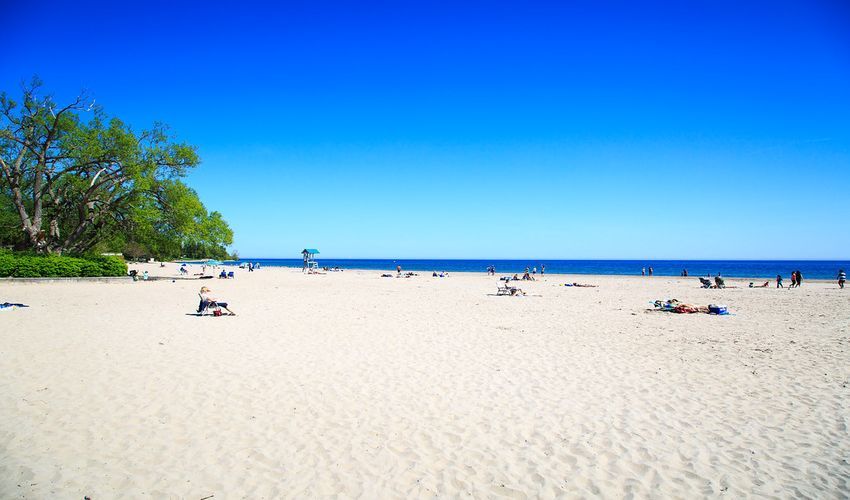 Broad sandy borders of Cobourg Beach are an all-time family favorite in summers; for picnics, lifeguard-supervised swimming, sunbathing and an evening stroll to Victoria beach, and visiting the century-old harbor of the township. The beach is bound by many recreational centers, a splash park, playgrounds, and authentic to continental restaurants; the coastal tourism of Cobourg truly suits all tastes.
An easy stroll on the promenade leads to the town's center with museums, art galleries, and serene hotel accommodations. Canada's oldest drive-in cinema is here in Cobourg, known as port hope drive-in.
Canada is often grouped with the world's coldest countries and often associated with giant glaciers, boreal forests, and vast icefields. contradicting the common image, the country exhibits strung out stretches of marine shorelines and sweetwater beaches with tropical temperatures and effectively, a memorable littoral destination.
Devonshire Beach, for instance, boasts a one and half kilometer long sandy shores, on the banks of Lesser Slave Lake. It is one of Canada's popular beaches for its splendid landscape, relatively warm waters, and adequate facilities such as campsites and washrooms.
Kellys Beach is an optimum location for witnessing marine life and spectacular landscapes while benefiting from the sparkling coastlines. surrounded by eco-certified resorts and campsites, Kellys Beach is frequented by backpackers as well as families and group travelers.