With over thousands of named rivers, and literally innumerable creeks and streams, visiting Canada through its paddling routes is a rewarding experience. Anything from discovering new vistas, off-grid islands, wildlife sighting, and the sheer pleasure of adventure.
To paddle your way through the wonders of the world's second-largest country, here are Canada's 15 kayaking and canoeing routes that are famed for their scenic beauty worldwide.
1. Churchill River, Manitoba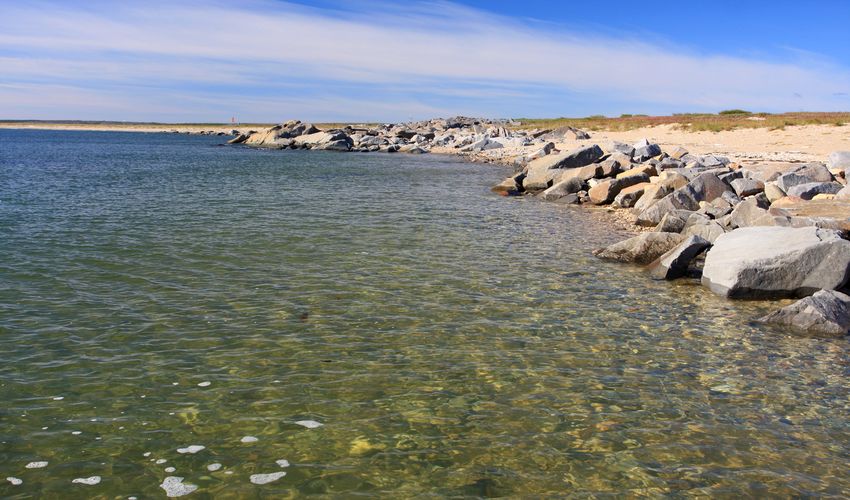 Discovering the magnificent vistas of the Canadian shield while paddling is categorized as a classic Canadian activity and described as an otherworldly experience. Apart from the scenic gravitation, these routes were formerly used by aboriginal tribes that paddle their way through spiritual, foraging, or hunting quests.
Several recreation centers provide basic gears, useful information on the updates of this dynamic terrain, and drop-off points with floating planes. The entire region is streaked with streams and whitewater rapids, providing different options for short and longer rides.
Catching a glimpse of the Nordic animal species native to the Hudson Bay area, camping, and fishing on the desolate islets and much of wilderness to discover. Gourmet food, full serviced lodges, and other amenities await the visitors of Churchill River Outfitters- one of the region's best recreational clubs.
2. Lady Evelyn River, Ontario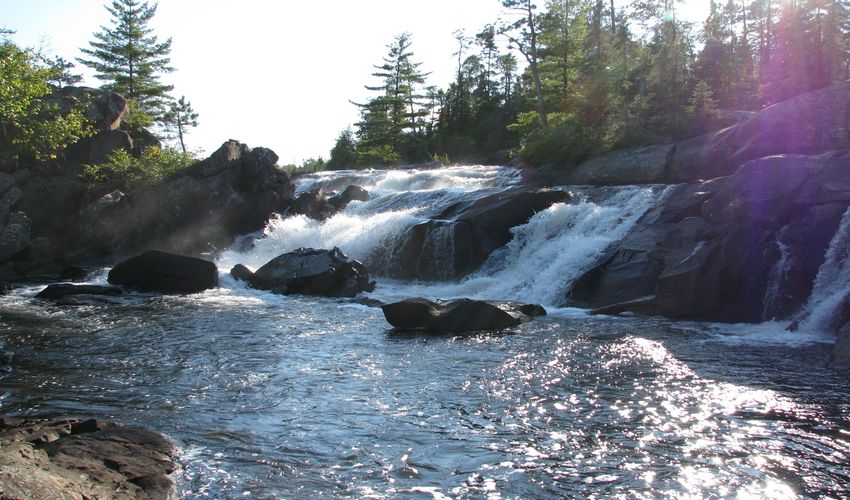 Encircled by Ontario's loftiest summits, alpine forests, and an iconic topography, Lady Evelyn River is an outdoor recreation playground. The river sweeps down several creeks, waterfalls, draining lakes, setting forth countless kayaking and canoeing routes. The sabulous shores are filled with summer swimmers and sunbathers, elegant restaurants, and entraining water parks.
Adjacent to the beaches, Lady Evelyn-Smoothwater reserve and conservation area is famed for its southern channels. Noted for the unparalleled wilderness and a wealth of wildlife, these channels mark a terrain of fierce nature; where the rapids run faster and the landscape becomes more rugged.
Other mentionable routes cross through an extensive chain of lakes and rivers. Smoothwater Lake to Scarecrow Lake, Makobe River, and Temagami streams- just to name a few. Lady Evelyn-Smoothwater Wilderness Park manages the reserve's Waterparks, paddling routes, and all-round facility centers for kayakers.
Translated to the Trout Speckled River, the natives named the river for its abundant waters, particularly myriads of Brook Trout. Fishing, swimming, and camping are the inseparable activities, as well as paddling through the days-long kayaking adventures. In Spring, the region transforms into a bird sanctuary, when all the courting and nesting rituals of the birds are out in the open.
3. Nahanni River, Northwest Territories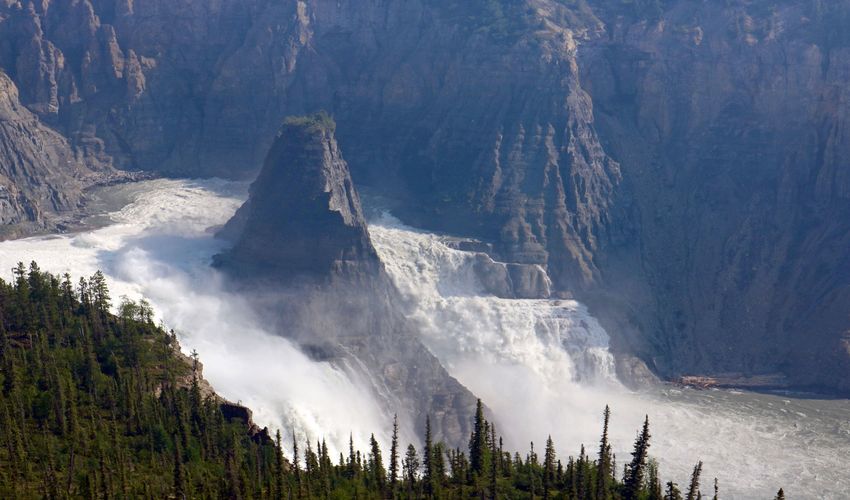 Among the most famed and desired to paddle destinations worldwide, Nahanni's routes are unique in their kinds. While boasting a breathtaking highland topography, the rugged bedrock is sided with eroding hot springs, sharp curves, and sudden torrent shifts; paddling down this stream is left only to professional canoeists and kayakers to Trim and harness the river's strong torrents.
Adventure centers have designed relatively easier routes for beginner and intermediate athletes or a laid-back floating tour of the region's spectacles. Iconic routes border NWT's rich wildlife, designated campsites, and relaxing on the natural forming bathtub pools along the river. Whether for leisurely paddling, or adrenaline rushing whitewater rafting, Nahanni River Adventures club meets all demands- from gears to maps and even slipping in additional tips.
4. Killarney, Ontario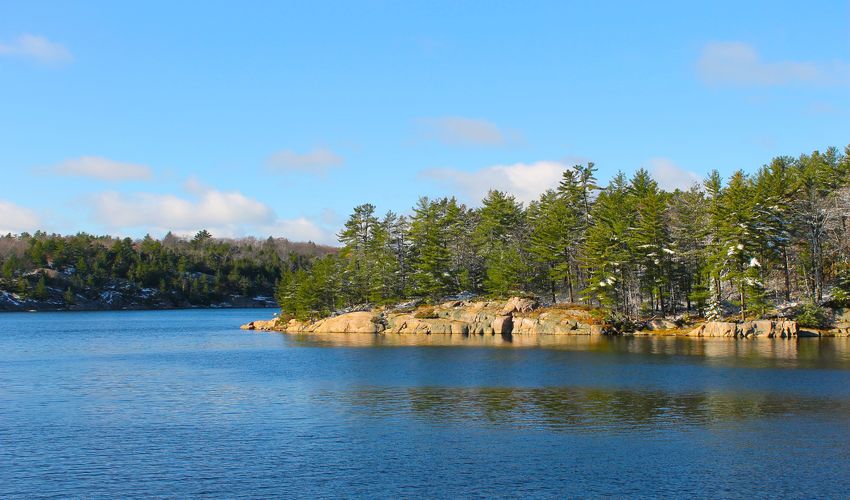 Killarney provincial park shelters the inland basins of Georgian Bay and several draining streams into Lake Huron. Kayaking routes loop around the region, accompanied by the lush backdrop of La Cloche Mountain Ranges' slopes and heritage sights in nearby ghost towns. The region's best paddling courses stretch from sandy shorelines of the reserve to the heritage French River, dotted with granite islands, camping spots, and serenity in all directions.
It takes about ten days to paddle through the park's wilderness with careful programming. However, the primary mode of transport here is by water; visitors can easily call up for a water taxi and immediately back to the comfort of your hotel room.
In addition to accommodation, Killarney outfitters promise a classic experience of Georgian bay, gear and facilities and all the experience gathered while centuries of paddling over the region's kayaking routes.
5. Milk River, Alberta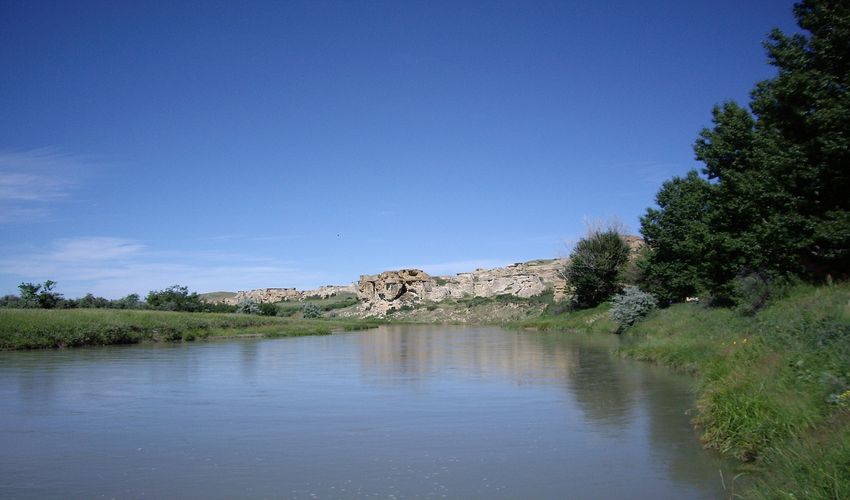 Characterized with its opaque waters and striking rock formations marked by the thumbprint of First Nation Tribes along the stream- Milk River is a lesser famed kayaking route in Canada, with much to offer. Most of the coasts are walled with sandstone rocks, perforated with a thousand of swallow nests- the region's feathered emblem.
Over the edge, expansive grasslands cover the riverside until the Golden Springs campgrounds and a few tent sides around the Golden Creek. Campsite at the Poverty Rock is an off-grid camping ground reached by a six-kilometer long scenic route, encompassing most of the heritage sites of the region- providing a chance to blend culture and adventure kayaking together.
An intermediate level of experience is the minimum skill requirement to paddle here; where calm and shallow waters swirl around ancient rock formations and underwater boulders, creating sudden changes and rapids along the route. In addition, the terrain claims a dynamic landscape and is subjected to change throughout seasons. Consulting the regions' experience adventure centers such as Milk River Raft Tours is highly recommended.
6. Keele River, Northwest Territories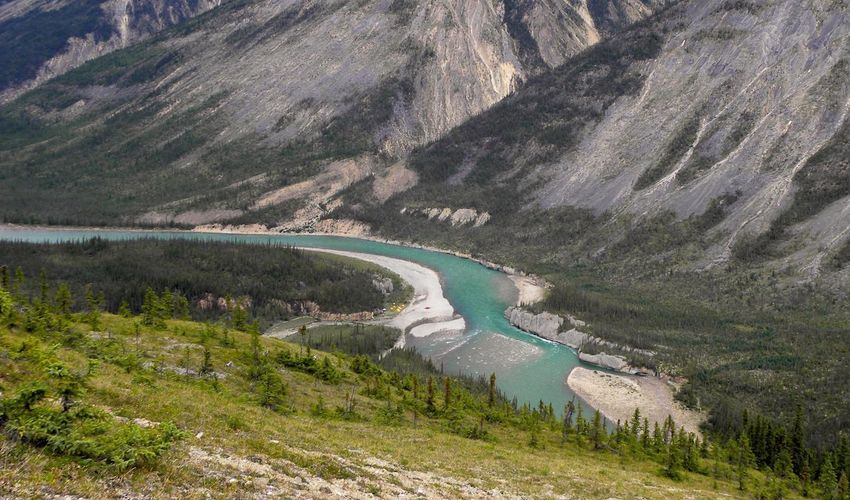 In the search for uncontaminated wilderness, Northwest Territories is abundant in options. Once traveled by the indigenous people, Keele River streaks through the valleys of Mackenzie ranges, tucked away from man-made intrusions.
Calm currents, gentle curves snaking around rugged slopes-kayaking experience here is noted as laid-back and scenic. This turquoise glacier river paves the way to campsites, for a night of backcountry camping and exploring the region's mountain trails.
At Keele River Canoe Adventures, ethnicity and modern tourism have come together. Visitors can benefit from the aboriginal wisdom of the terrain by indigenous guides and instructors, while enjoying the state-of-the-art camping facilities and paddling gears.
7. Haida Gwaii, British Columbia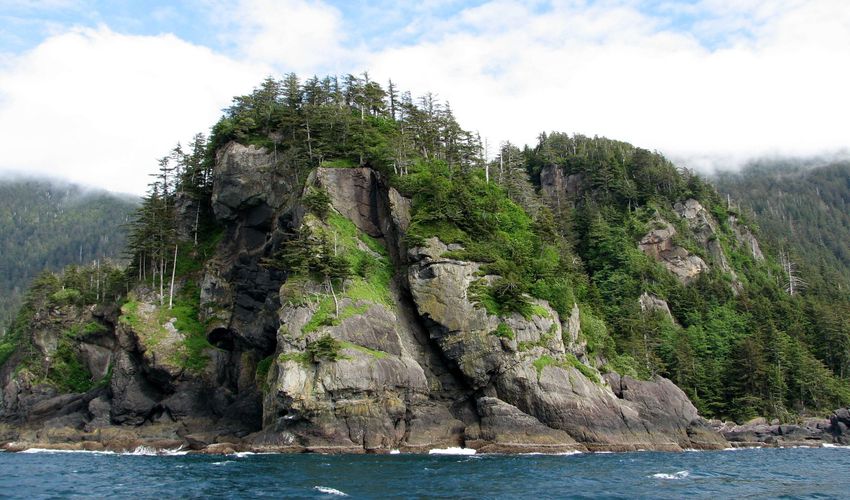 With a large string of islets and islands, Haida Gwaii stands as a world-famous kayaking destination. The Queen Charlotte Islands are sewn together by paddling routes, each presenting a distinctive charm. From totem poles fused with wilderness, vestiges of Haida heritage, undiscovered coves accessible only through certain tidal periods, to an unmatched flora and fauna- paddling to these islands resembles an adventurous treasure hunt.
While most of the connective routes are recommended for Sit-on-top kayaking, west coast islands embrace a series of rather challenging courses. Haida Gwaii Kayaking Adventure, Butterfly Tours, and other recreation centers provide maps and guides to avoid missing on the island's many attractions, together with exploration services.
8. Spanish River, Ontario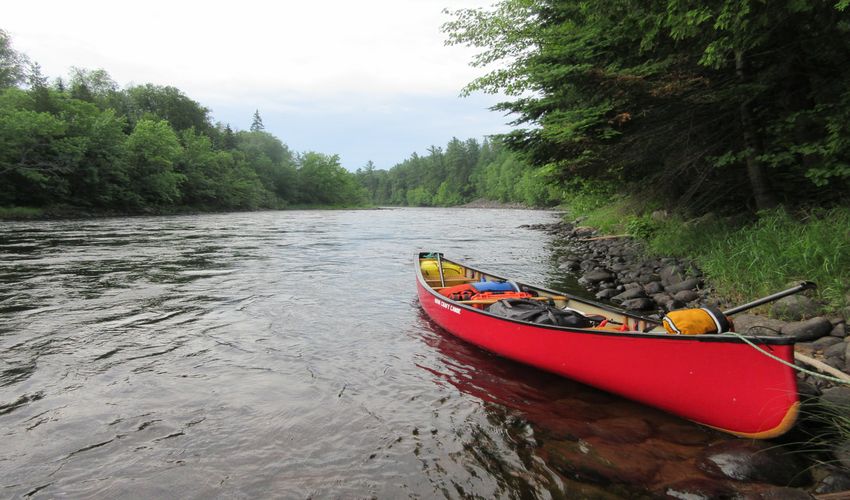 Ranked as one of the most scenic kayaking and canoeing routes in northern Ontario, the Spanish River swirls around the lush wilderness of Lake Huron. It covers many stream confluences, watersheds, and many other branches, representing an interesting kayaking spot. Even before the days of recreational tourism, First Nation people paddle their way to access their vital necessities.
Later, the European settlers continued the aboriginal legacies and techniques; Floating over giant logs as means of transportation and still one of the seasonal attractions to see men ride the fierce stream on a large tree trunk, or catching a glimpse of the ancient log anchors while paddling.
Fishing, hiking, building bonfire around outdoor tent pitches highlight the region's side-kayaking activities. The river is considered safe for self-guided tours on its swift currents, with the help of a kayaking route map.
9. Iceberg Alley, Newfoundland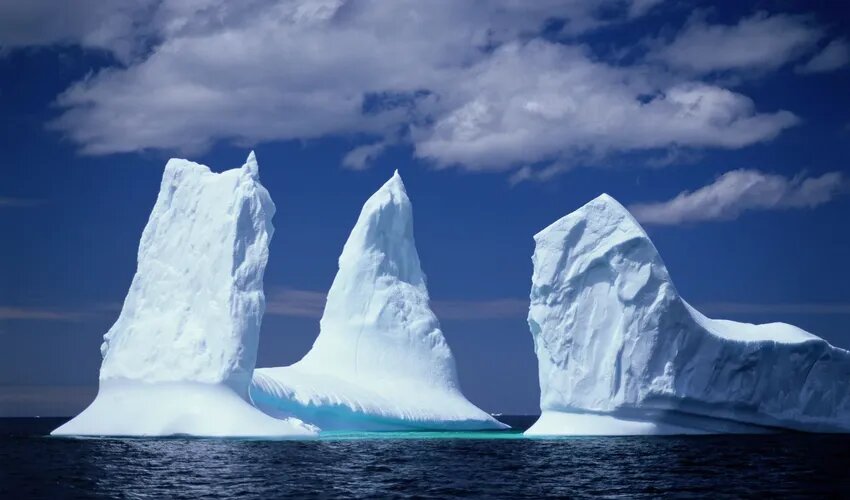 Kayaking along the giant floating pieces of ice marks an icon of Canadian sports, at the world's capital of iceberg viewing. In Newfoundland, the confluence of the Arctic ocean with Atlantic waters is flecked with chipped-off pieces of ancient glaciers-creating a truly mesmerizing vista. Spanning over 35 kilometers, the entire region is veined with kayaking routes, best seen from April to July.
After a day of paddling over the waters and next to the bobbing ice chunks, iceberg cruise ships offer a different experience of these waters; grand vistas, live music, on-board pools, and gourmet cuisine- while tasting glacial ice in peculiar beverages.
10. Bonaventure River, Quebec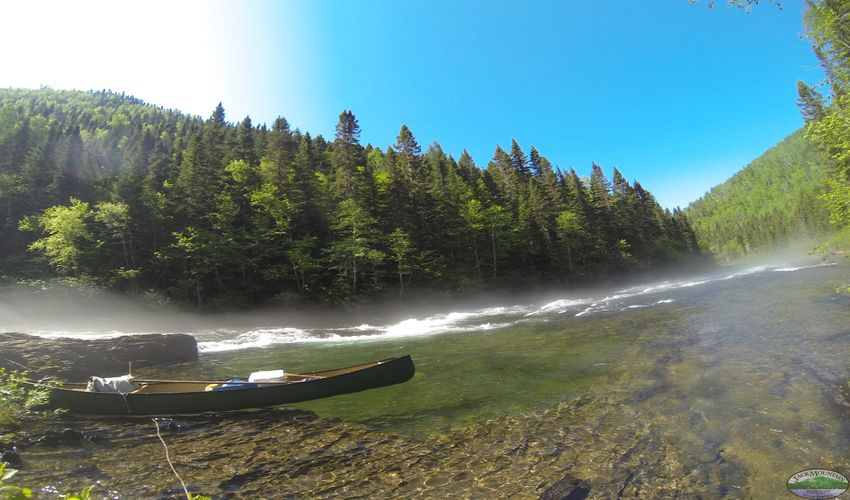 The Bonaventure River features some of the clearest waters of North America, characterized by aquamarine waters and transparent bedrock on the highlands of Chic-Choc Mountain. The river's prizewinning landscape highlights the finest kayaking, canoeing, and rafting destination in eastern Canada.
Throughout the river, difficulty levels change with the current movements; from easily maneuverable currents at the top, descending to rushing rapids and sudden curves of Black Spruce Valley, and crossing the fishing basins of the Bay of Chaleur. Backcountry campsites are designated around fishing spots, although for roofed accommodations and modern comfort after a day of demanding activities, visit the Cime Aventures.
Besides Full-services chalets, craft gears, equipment, maps, and welcoming staff await the visitors here at Buenaventura Riviera.
11. Maligne Lake, Alberta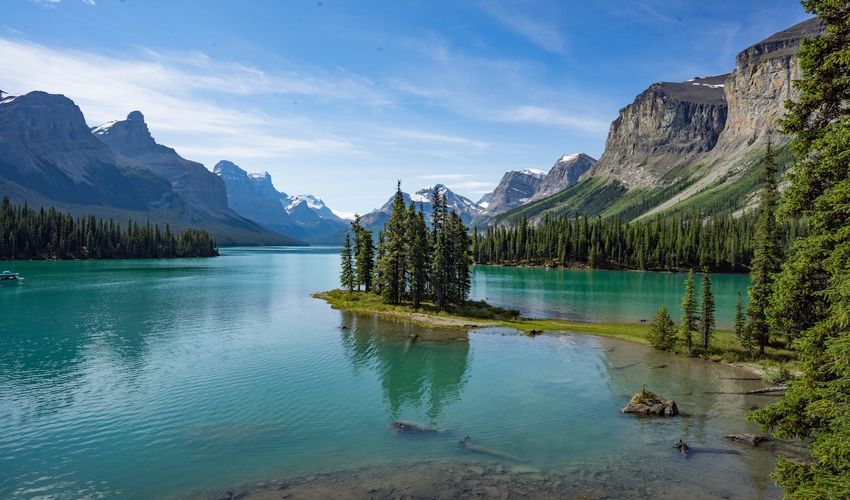 Cerulean-blue glacial lakes, sapphire streams, the verdant canopy of alpine woodlands, snow-capped glacier summits mirrored in the draining lakes, and Jasper National Park's iconic wildlife in summers- Maligne Lake marks a world-famous destination among the paddlers.
Kayaking and canoeing are akin to the region's indigenous culture, upheld within the cultural relics of ancient tribes and modern tourism. The scenic lake is gentle in essence and exclusive of harsh rapids and challenging routes; resulting in pleasurable paddling routes and plenty of opportunity to get lost in the surrounding nature.
Spirit Island is the lake's secret gem, located at a short paddle from the northern shores. Backcountry campgrounds are designated in three locations along the lake, sided with basic facilities and hiking trails for additional on-land adventures.
12. Okanagan Lake, British Columbia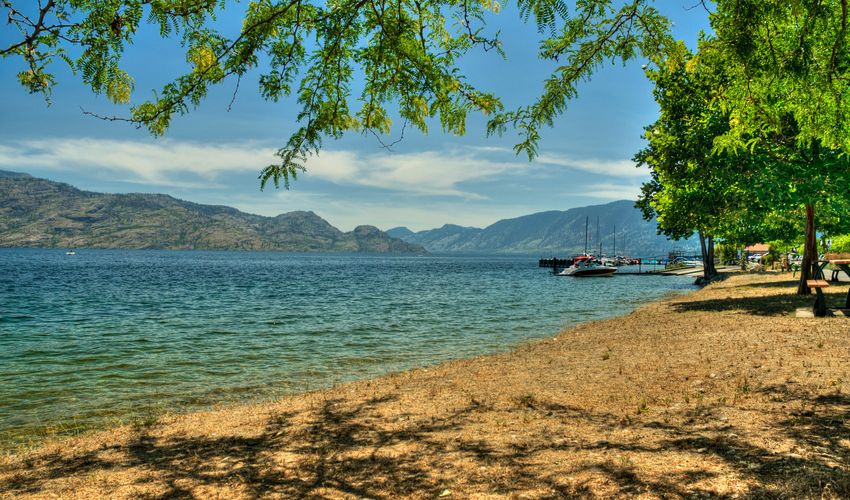 With rolling hillocks draped with vineyards of Canada's wine country, sandy beaches coiling along the route, and a backdrop of high rising summits-Kayaking in Okanagan Lake and its ancient fjords bid a rewarding vista.
Hospitality is a cultural theme across the valley, joined with wine brewing crafts and sumptuous cuisines for a day's cultural trip ashore; together with fishing, sunbathing, and savoring all the comfort of roofed campsites around the picturesque shores between Penticton and Kelowna.
Okanagan Lake is one of the most family-friendly kayaking destinations on our list.
13. Harbour Passage, PEI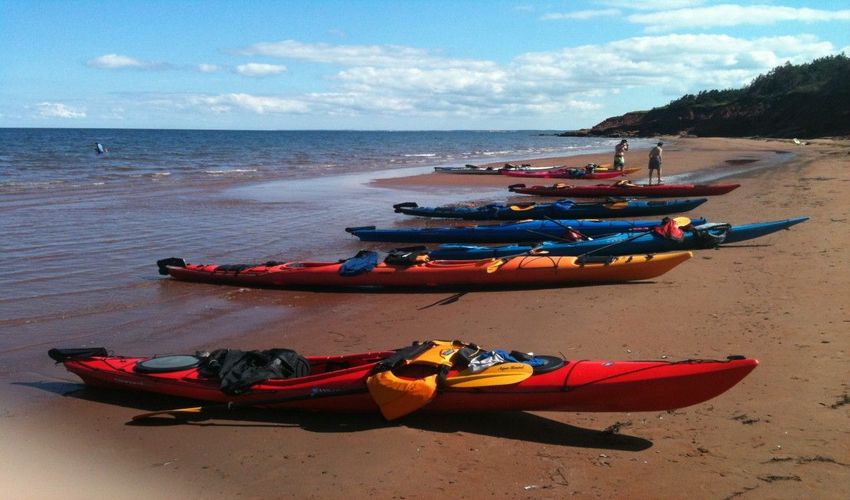 The red of iron oxide sediments along the shorelines are the most quintessential feature of prince Edward island- from an off-land perspective. Noted as one of the world's finest sea and ocean kayaking destinations, Harbour Passage lies on the northern terrains of the island. It embraces red-hued cliffs and sand dunes, covered with lush prairies and boreal forests, sheltered in PEI National Reserve.
Harbour Passage Tours start at Rustico, the kick-off point for a scenic paddle through the Gulf of St. Lawrence, and continue to the park's mesmerizing topography, islands, and beach coves, hidden from the world's eyes. With basic kayaking skill requirements to see through the calm waters of the bay, self-guided tours even bring about a customized experience, at proximity to many waterfront resorts and backcountry cottages.
14. Whitehorse River, Yukon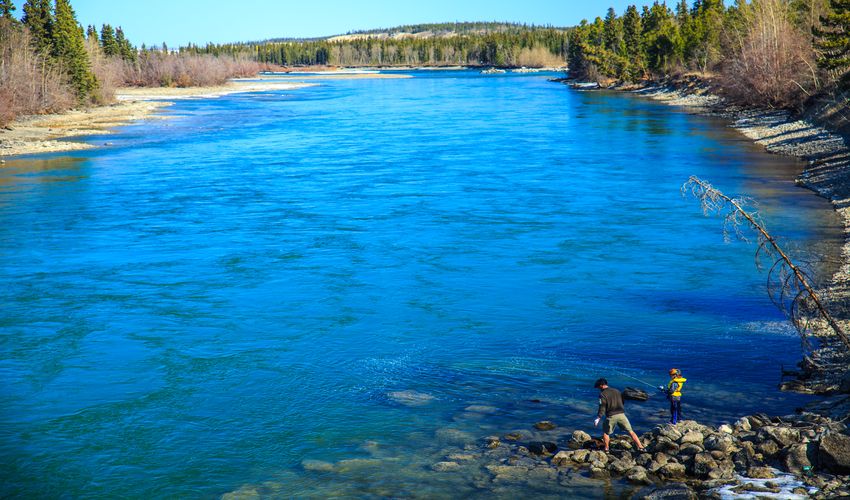 Similar to NWT, Yukon boasts an outlandish topography, a landscape seen only in the high latitude regions, and truly splendid vistas. Kayaking over Yukon's route from Whitehorse leads to the poetic Lake Laberge, dramatic fjords, barren valleys, and forested creeks.
Six hours of moderately demanding paddle, narrow water passages unbar into the endless horizons of the lake. Cozy campsites on the lake's shores are a perfect place for fishing, setting a campfire, and enjoying Yukon's midnight sun.
15. Algonquin Provincial Park, Ontario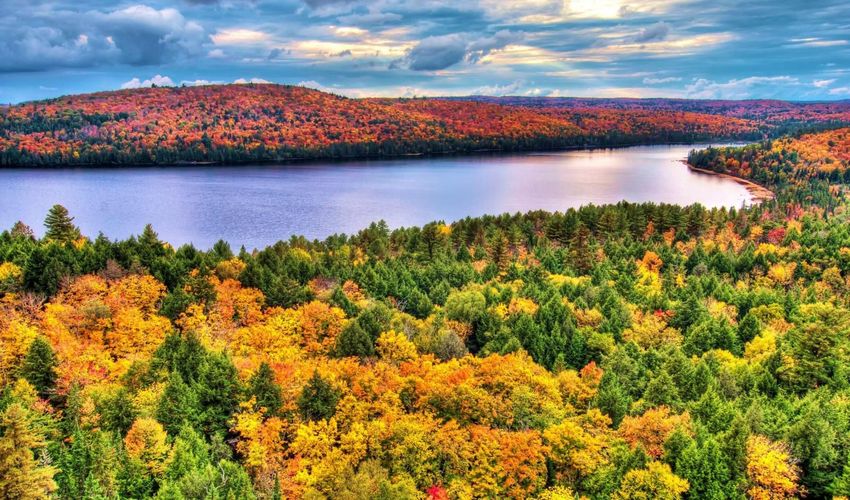 With hills covered in maple forests and Canadian spruce, Algonquin Provincial Park is lined with innumerable streaks of rivers and lakes- portraying a scenery much authentic to Canadian terrain. It boasts over 8000 square meters of canoeing and kayaking routes, eco-lodges amid the wilderness, and kayaking tours to deliver both gear and instructions.
From visiting the heritage sights to wildlife sightings, notably the Canadian moose, fishing variety of cold water trout, and spectacular hikes from the backcountry docks highlight the park's after-kayak recreations.
In conclusion, here are three other kayaking routes to paddle on, at least once in a lifetime;
Deep Cove stands as British Columbia's premier kayaking destination, at the convenience of urban modernities. Nicknamed as the Vancouverite paddling playground, most of the routes are facilitated with docks and day-use amenities, along with waterfront cottages and campsites for longer stays.
Woodland Caribou national park is entitled as a paddlers' dream destination with innumerable streams and water bodies. The regions' over two thousand kilometers of designated routes are complemented with spectacular boreal landscape and an abundance of wildlife.
Athabasca River curls around the southern valleys of the Obed Mountain and boreal forest-covered slopes, ultimately draining into its namesake lake. Established as a popular kayaking destination today, the route was previously used by the aboriginal tribes for the fur trade.