Choosing Canada for your next winter vacation, hands you the golden key to a trove of winter recreation and unending skiing slopes. Almost every snow-topped summit in this country bears its own powdery ski trails; while some are small and cozy, others have flourished into world-famous mountain resorts, encompassing winter leisure at its perfection.
To discover Canada's best powder trails from blue to black runs, topped with the best of après-ski fun, here is a list of the top 15 high-profile ski resorts.
1. Lake Louise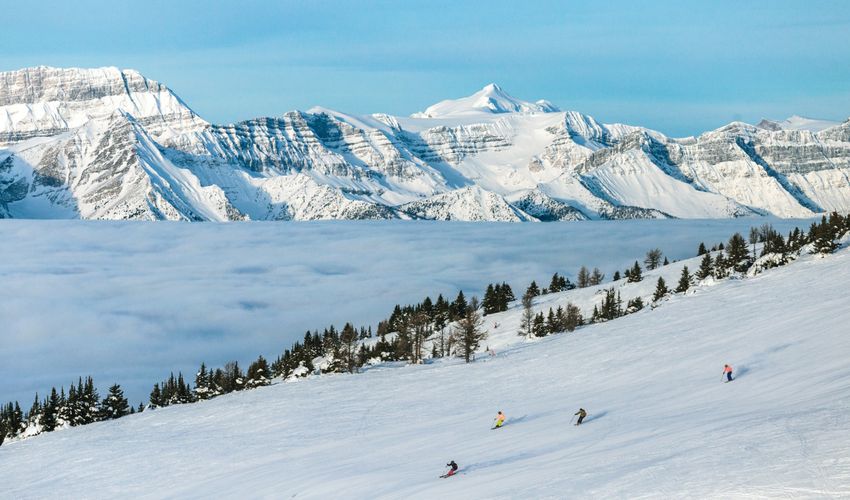 Ranked as the number one ski resort in Canada, Lake Louise glacial lake and its verdant surrounding freeze in the winter into a packed powder haven. The encircling slopes have carried a ski culture since centuries ago, especially epitomized around the national historic site at Skoki Ski Lodge for almost a hundred years. From Biathlon, Nordic competitions, Slalom, World Cup alpine skiing- Lake Louise marks a world-eminent ski resort with myriads of qualification races and entertaining events.
Besides sportive participation, these competitions provide an opportunity to witness stunning performances of champion-grade athletes first hand. Apart from groomed trails, the lake is a four-seasonal gem, gleaming with winter festivity, live music, and exceptional food.
Fairmont Chateau Lake Louise is perhaps the most elegant mountain accommodation across the country, sitting at the heart of the Rockies' snow-capped summits. The hotel's luxurious suits are integrated with thermal spas and a tranquil surrounding.
2. Sunshine Village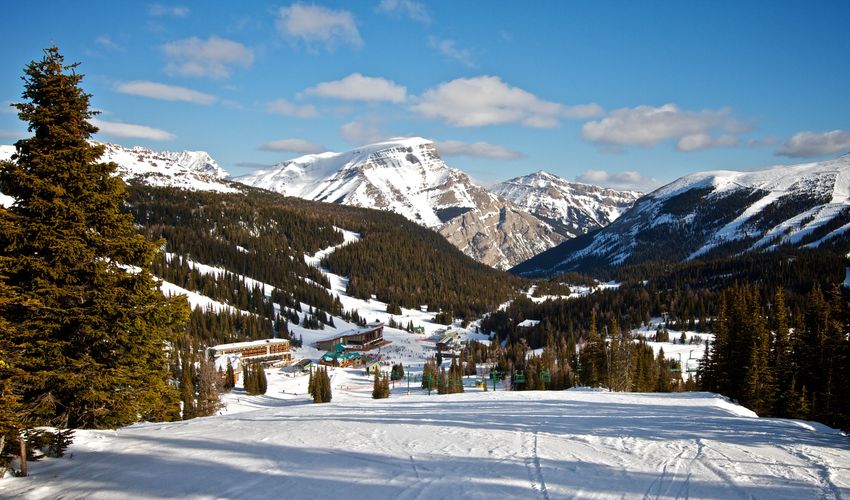 The country's highest ski resort rises to 2700 meters in the vicinity of Sunshine Village. Located between the towering summits of Banff's Rocky Ranges and Mt Assiniboine's highlands, the charming hamlet is more abundant in snow and hence, over 3.5 acres of feathery ski runs. With an abundance of half pipes and blue runs, the entire mountain lodge marks a well-suited destination for beginners and an optimum family destination.
Best views of Banff sunshine village are seen from the aerial perspectives, while riding the scenic gondola or the heated chair lifts, overlooking the Canadian Rockies and Lake Louise area. The ride eventually ends at the ski drop-off points, or the resort hot.
Several characteristic lodges provide cozy eateries to gourmet dinners, elaborate accommodation options such as thermal ski chalets. Besides the skiing facilities, other entertainments here include fat biking and snowshoeing down to the lake trails and cross-country pistes. At the end of winter, whistler celebrates the annual slush cup festival, where the melting snow plays a part in the competitions.
3. Mount Norquay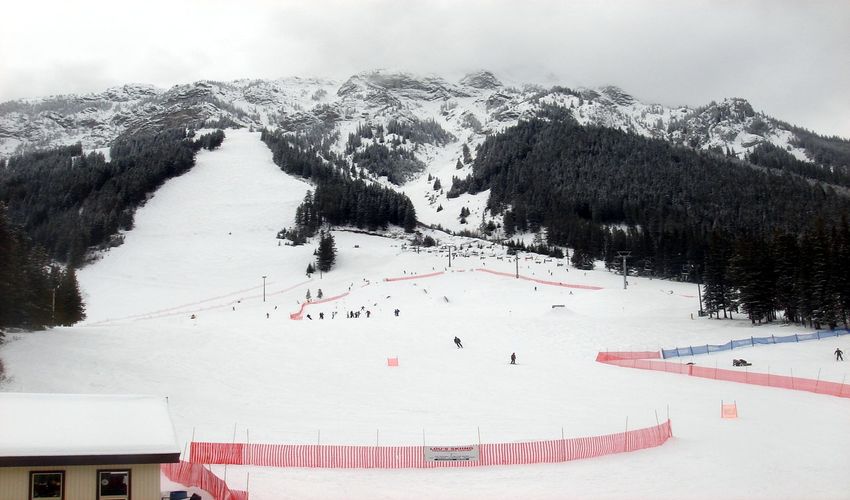 The entire Banff national park is akin to ski culture and seasonal mountain sports. Recognized as one of the three world-famous ski resorts in Banff, Mount Norquay sits at a jaunt from Lake Louise and sunshine resort. With nearly a hundred years of ski reputation, the mountain gained fame for telemark ski racing, ski jumping, and red to black runs. After the development of groomed ski trails and hosting the Olympics, Mount Norquay turned into both a family destination and champion-level practice ground.
In addition to alpine skiing, snowboarding, fat biking, and annual races are the highlights of this charming resort. The most iconic feature is Canada's largest tubing park, at a short drive from Banff.
4. Fernie Alpine Resort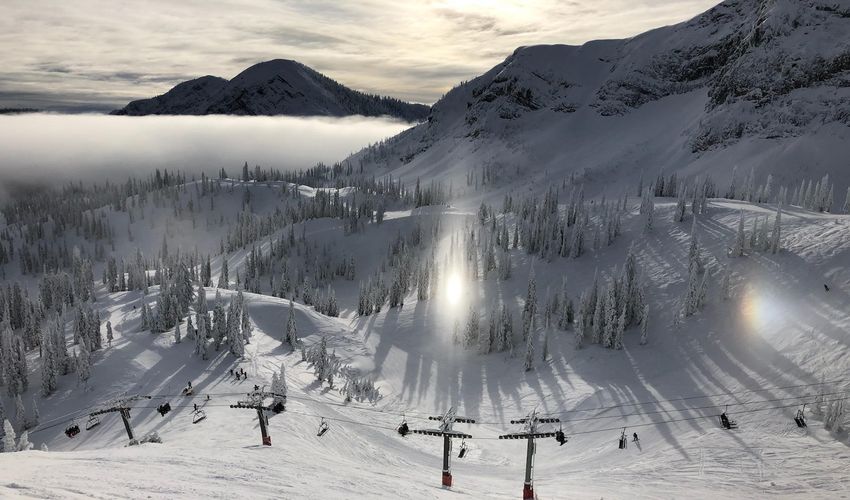 Epic skiing vistas, veining ski trails, and ornamental ice sculptures characterize Fernie Alpine Resort. Distinguished for its fine powder and waxed trails, the resort holds the highest ranking of snowfall across the country's skiing destinations and a must-have on skier's bucket list. Apart from impressive vistas of the Lizard Ranges, it encompasses one of the most challenging ski runs worldwide, particularly around its five Legendary Bowls.
kicker points are distributed in various spots, connected with chairlifts and rope lifts. These thrilling slides are situated nearby the City of Fernie, with much après-ski to offer. It features a charisma typical to East Kootenay's highland townships, with quaint hotels and cozy restaurants.
5.  Whistler and Blackcomb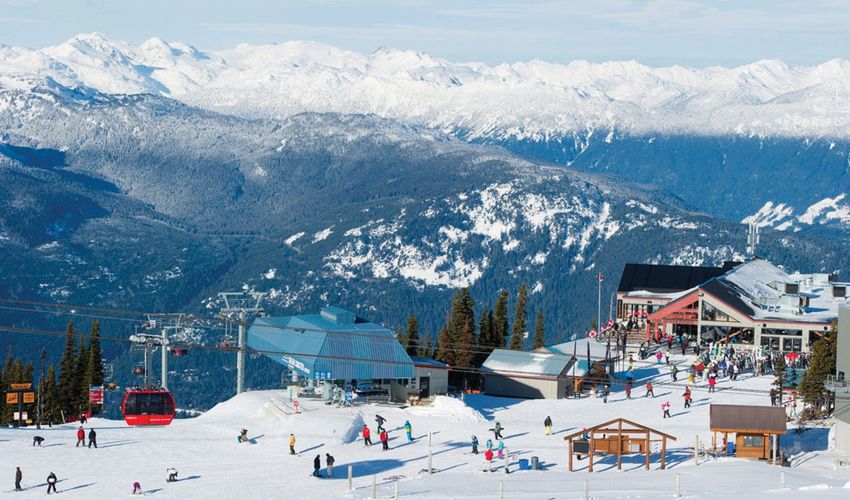 Among the world's most luxurious ski resorts, Blackcomb is Canada's largest ski zone, with trails spanning over 200 kilometers. Finest restaurants, mountain top ski chalets, picturesque viewpoints, world-class ski facilities- all nominate Whistler's Blackcomb for an ultimate ski vacation. It boasts from towering glaciers, wide powder bowls, to champion level parks for freestylers and hundreds of curated trails for smooth schussing.
The mountain village is a pedestrian-friendly hamlet that offers more than accommodation; cultural tours throughout the year, elegant restaurants and bars for a delightful evening, and shopping centers- for taking home a token of whistler. While Whistler's mountain resorts are delightfully sloped for blue slides and beginner-level skiing, a peak-to-peak chairlift provides access to black combs' black piste- for a more challenging skiing experience.
With over half of a century of professional winter sports history, Whistler hosted the 2010 Olympics which contributed greatly to the enhancement of its amenities and world ranking.  One of the most challenging runs of the country lies at West Cirque, housing a renowned double black diamond piste.
6. Canmore Nordic Centre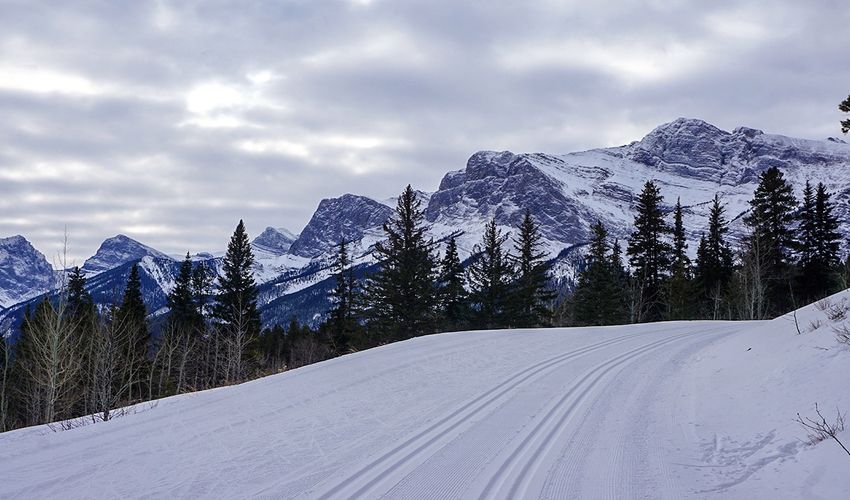 Between the peaks and highland valleys of Kananaskis Country, Canmore is tucked in between the Canadian Rockies and at a short distance from Banff. except for a handful of world-famous ski resorts, Canmore Nordic Centre is known for many peculiarities; from the early season ski trails, leveled with artificial snow, winter passes for all five ski resorts, skate routes to cross-country ski trails. Skiing facilities, gear rentals, ski trails along the pistes are sided with rest points and après-ski centers.
Most spectacular views are spotted while riding the gondola, overlooking Banff National Park, Bow Valley, and Kananaskis Rockies. Several champions to beginner-level races take place here, both interesting to watch and participate in. The nearby region is mottled with hot springs; an ultimate remedy for relaxation and treating the sore muscles, at a short drive.
7. Calgary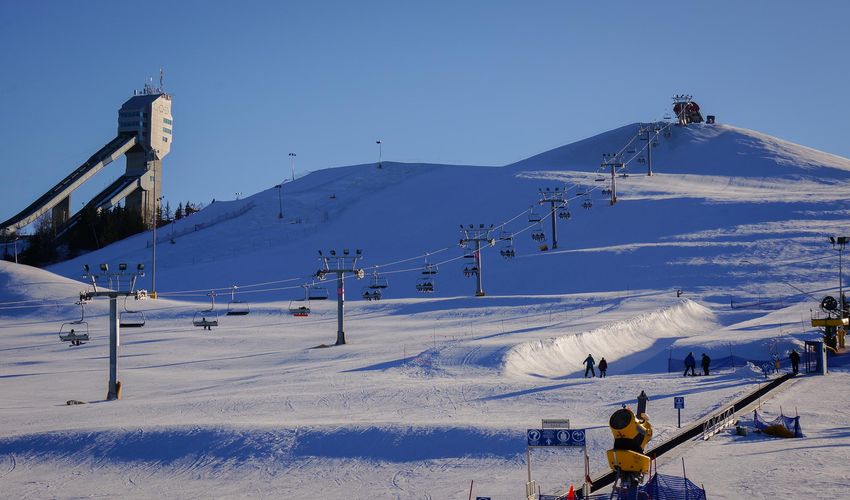 As the country's cultural hub, tourism pole and recreation capital, Calgary embrace many high-profile ski resorts, sided with cultural attractions. The town is a blend of new-age tourism, entertainment, and wilderness recreation at its perfection. The town bears the historic memorial of many winter specials, such as Nordic Trails, the Olympics, world-cup champion contests, and rolling competitions that sieve through Calgary's best talents.
Just outside the rural boundaries, Calgary accompanies four kilometers of skiing slopes at Canada Olympic Park, an epicenter of reaction mixed with intellectualism, in museums, the Ski Hall of fame displaying the very first skiing apparatuses. At Olympic Park, recreation is the protagonist, offering winter sports gear, training classes and workshops, accommodations, and dinners.
For the best of indoor events, visit the state-of-the-art space at Olympic Oval, often hosting international championship racing. Fairmont hot springs and many other attractions sit at a day's trip from Calgary, offering a delightful addition to your skiing itinerary.
8. Mont-Tremblant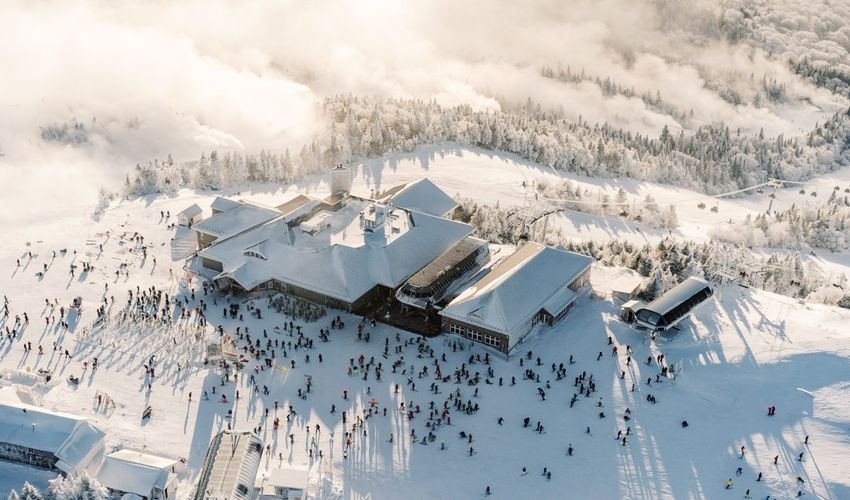 Skiing at Mont-Tremblant rewarding experience with its finely groomed trails and the vista of extending over Laurentine Ranges. On the foothills of the mountain resort, the namesake hamlet entraps an irrefutable charm with pedestrian-friendly passages, snug restaurants, and festivity throughout the year. Chairlifts and snowshoeing trails pave the way to the ski resort, where over a hundred ski and snowboarding trails slide down.
Difficulty levels differ in distinct facades, presenting blue, red, and black pistes. Visitors can rent a full-service condo, ski and slide all day, join the evening festivity and enjoy a warm chat with the hospitable residents at a local bistro or seek a tranquil refuge at the secluded mountain chalets. Recreational activities in winter go beyond cross-country skiing and skating; fun tubing, traditional dog sledding, ice-climbing in a good deal of nearby ice-falls, snowmobiling, and heli-skiing for the more experienced participants.
9. Nakiska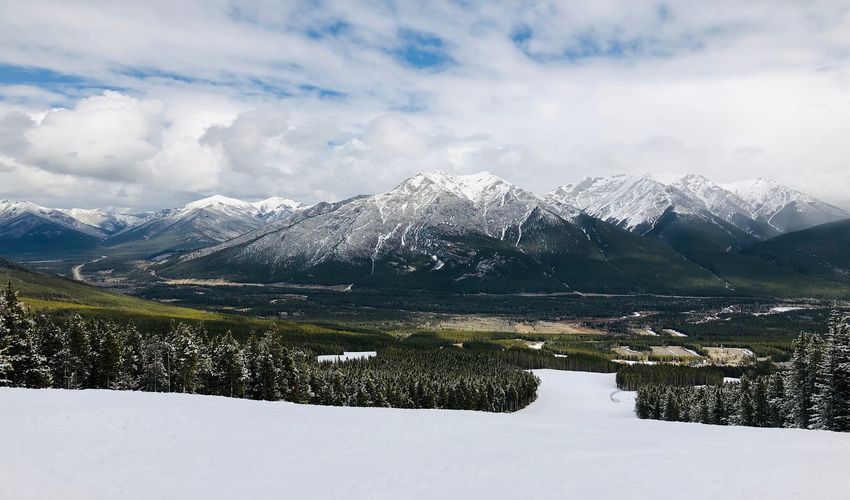 With the long-lasting ski season of Alberta, Nakiska is known for its early and record-breaking snow, high-speed lifts, champion-level ski runs, and snowmobiling trails. Most off-piste trails here embrace eco-friendly entertainment while preserving nature's integrity. At a hopping distance from Kananaskis Village, the resort took part in the 2010 Olympics of Vancouver, leaving many thumbprints behind including; uplifted quality of the trails, the Monster Magic Carpet, tree-covered alpine trails, Nordic and Telemark skiing, and the statue of Olympic's man, holding the flame of peace and friendship.
The entire resort offers many on-the-go dining options, together with luxury restaurants at mountain lodges, overlooking panoramic views of the snow-dusted mountains. Adjacent to the professional ski runs, a vast snow park is filled with giggling children and laid back winter fun with snow tubes, beginner camps, and pre-season training programs.
10. Red Mountain Resort
The western mountains of the Kootenay region are home to Rossland and the prizewinning Red Mountain Resort. Once a gold mining trail, the resort conceals the treasure of winter recreation today. Three summits of Red, Grey, and Granite, and their surrounding slope provide about 4 acres of skiable terrain, warm houses, an authentic ambient at Roseland Township.
It possesses over a hundred powder dry and waxed ski and skateboarding trails and vast terrains for all difficulty levels. However, Red mountain resort stands on the less crowded side of skiing season, hence a popular destination for families and those seeking a nonchalant winter vacation at the comfort of posh hospitality.
11. Kicking Horse Mountain Resort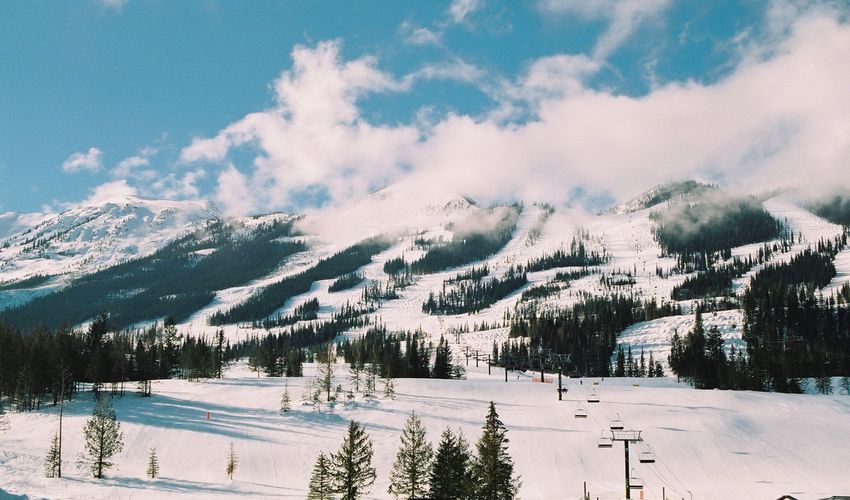 At a strolling distance from the township of Golden, Kicking Horse Mountain Resort is where winter recreation mingles with globe-trotting tourism. Known as the sixth largest resort in entire North America, Kicking Horse country bids unique features; over three kilometers of a high-speed gondola ride on the Eagle Express, a 1315 lift-served vertical drop, numbers of inbound chutes- noted as some of the steepest in the country- and powdery slopes nicknamed as Champagne Powder.
The alpine resort offers an array of accommodation from mid-range condos, family-friendly cottages, and posh hotels, often completed with ski-in/out areas and thermal spas. After an entire morning of skiing, visit the Kicking horse timber bridge, noted as Canada's first and only bridge of its kind.
12. Revelstoke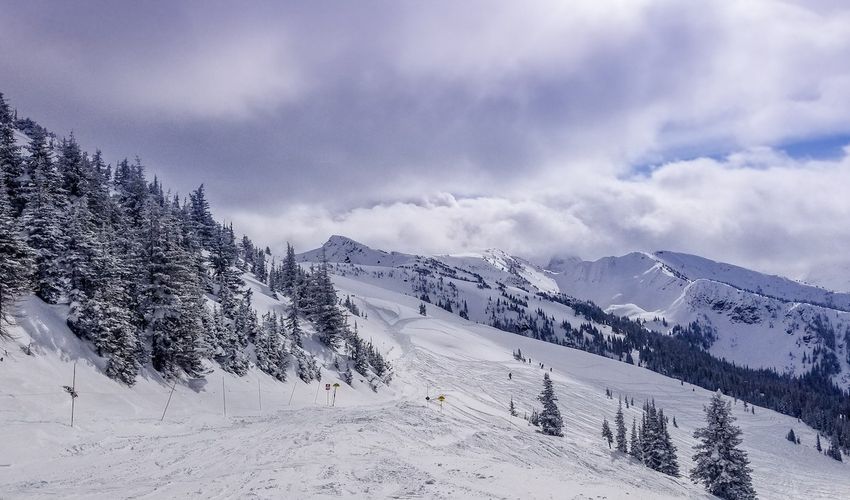 With a vertical drop of 1713 meters, Revelstoke ranks as the steepest ski accessible resort in North America, with over two centuries of ski jumping and winter reaction. Nestled amid Monashee and Selkirk summits, the resort provides a variety of activities for all visitors.
Beginners can enjoy the gentle slopes and snow park's practice area for freestyle ski jumping. In addition to Heli and cat skiing runs, red pistes offer moguls and forested alpine bowls, often frequented with champion level athletes. Accommodation options vary from mid-mountain lodges to Revelstoke's hotels, only six kilometers from the ski resort.
13. Marmot Basin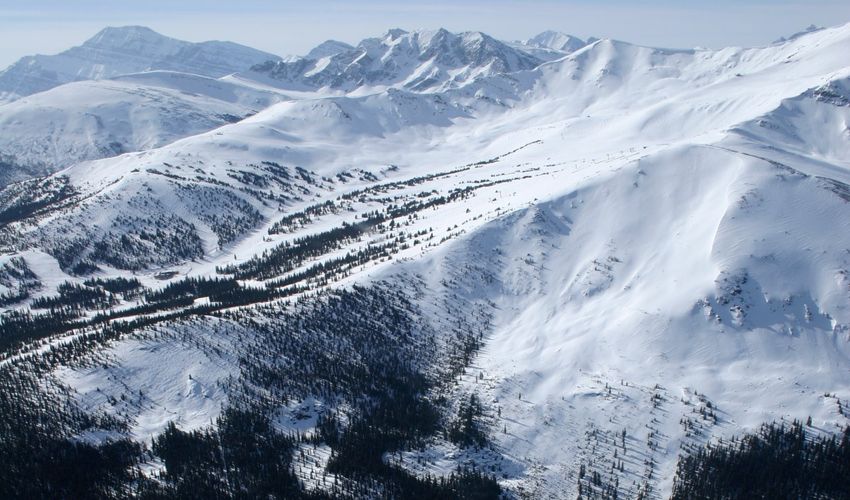 Towering above at the scenic topography of Jasper National Park, Marmot Basin ranks among the most popular ski zones in Canada. It is integrated with large powder valleys and world-class trails, complemented with high-speed lifts, panoramic views, and after-ski activities. The parking lot is directly linked to snowboarding and ski trails, to accommodate single-day ski visits.
Besides a children's ski area, many other elements highlight the Marmot Basin as a family destination. The ample number of takeout restaurants at a convenient distance, ski gear shops, and the delightful accommodations at Caribou Chalet.
14. Le Massif de Charlevoix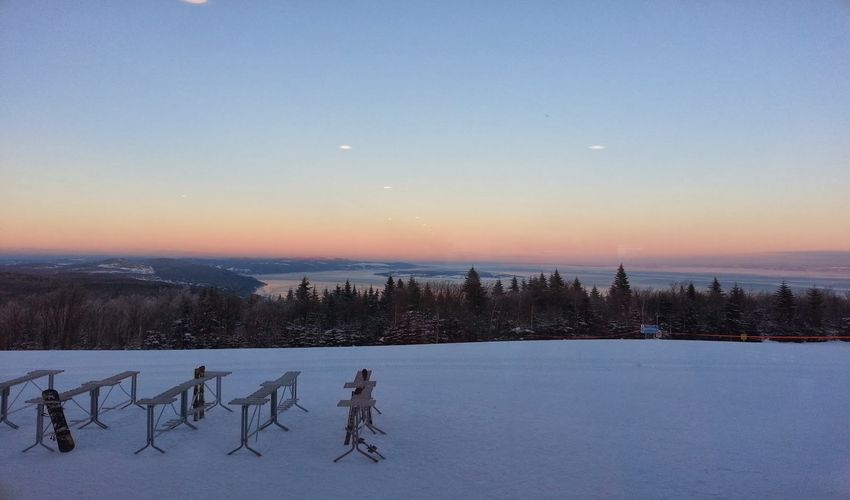 Only an hour's drive from the romantic neighborhoods of Quebec city, Le Massif is the winter playground of Quebeckers. Nestled between the eastern summits of the Rocky Mountains, the resort's most iconic feature lies before its viewpoints. While skiing, the trails seem to roll down to the sea and Lawrence river on the distant horizons- a display described as both thrilling and awe-inspiring.
Numerous champion-level trails and groomed stations mark Le Massif as an entertaining and luxurious ski destination. Dog sleddings, heli-skiing, skateboarding, and a freestyle park- and the list of winter activities goes on. Quebec City and Le Massif de Charlevoix are connected via a tourist train, and visitors can stay amid the pristine wilderness of the resort, or join the city's time-respected festivity during each winter.
15. Big White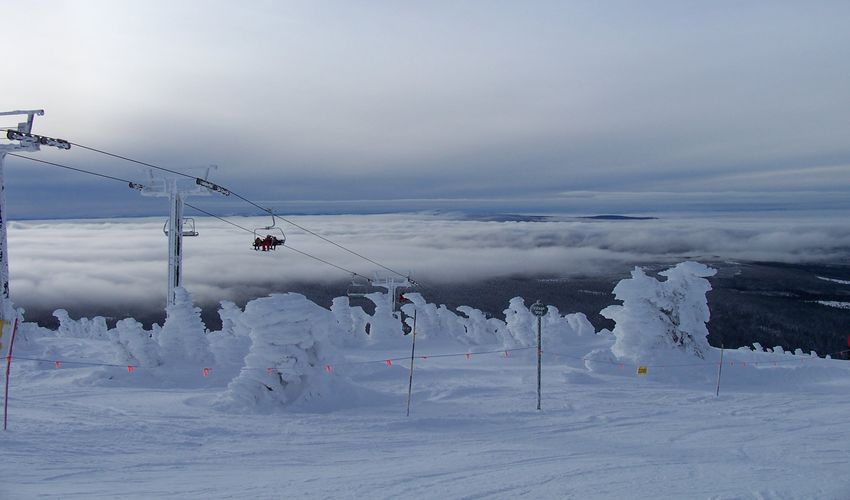 Housing the country's largest ski-in and ski-out village, Big White's winters are plentiful in dry powder and expansive ski runs. Situated on the Okanagan Highlands, the groomed trail swirl around the slopes, draped with frosted alpine woodlands, panoramic views of the vine valley, and frosted lakes- compiling one of Canada's most scenic ski runs. For the night skiers, this resort ranks as one of North America's largest night skiing areas.
Big White is an extremely family-friendly location with multiple gravitating elements for a fully fledged winter fun. Mega Snow Coaster, sled riding and dog sledding, outdoor skating rinks and a ski school- only to name a few.
The premier ski resorts above. each grant an Avant-grade ski experience, accompanied with a colorful array of après-ski activities. In conclusion, we have added two other list-worthy ski destinations, distinguished by their authentic feel and scenery.
From ice wine and food festivals to eminent skiing slopes, Sun Peaks boast the second largest skiing terrain in the country. Not far from the renowned Silver Star Ski Resort, this alpine skiing zone blends posh tourism and champion level snow recreation together.
Panorama ski resort keeps up to its name, providing panoramic vistas of the splendid Kootenay Ranges. The resort is noted for its family friendly ambient, charming locale and premium ski runs.