Dining in heights is upscale Canadian leisure; where the traditional culinary art often inclined to French and Dutch cuisines-with cordon bleu international menus, modern architecture, and the unmatched vistas of Canadian landscape together.
Notable chef de cuisine-prepared dishes, sophisticated ambient adorned with thrilling heights and postcard-resembling views, and the renowned civility and hospitality of Canadians- all combine to provide a memorable dining experience; for a romantic dinner, an Avant-garde business lunch, or an iconic photo on your next travel to Canada.
1. Skylon Tower, Niagara Falls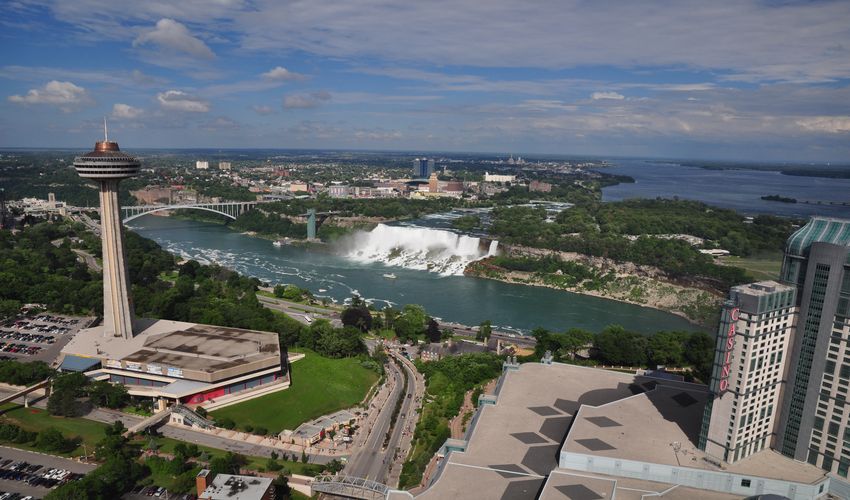 The most iconic feature of Canada is perhaps the Niagara Falls, delighting each visitor for the trembling silver cascade cloaked in mist and verdant foliage. Rising over 230 meters over the falls, Skylon Tower is a mix of culinary perfection and iconic vistas.
Far below, Canada's fastest moving river sweeps into the Niagara bedrocks and continues towards the horizons of buffalo and nearby urban structures. As an observation tower, Skylon's sophisticated Dining Room revolves, providing panoramic perspectives every hour.
The tower's non-rotating restaurant, Summit Suite Buffet, epitomizes around affordable and premium cuisine, offering terrace seatings overlooking the falls. Additionally, an observation deck lies at the highest point of Skylon, flanked by fast-food restaurants for a quick bite on the heights, Niagara-themed gift shops, and beast of the fall's views.
2. Vancouver Lookout Restaurant, Vancouver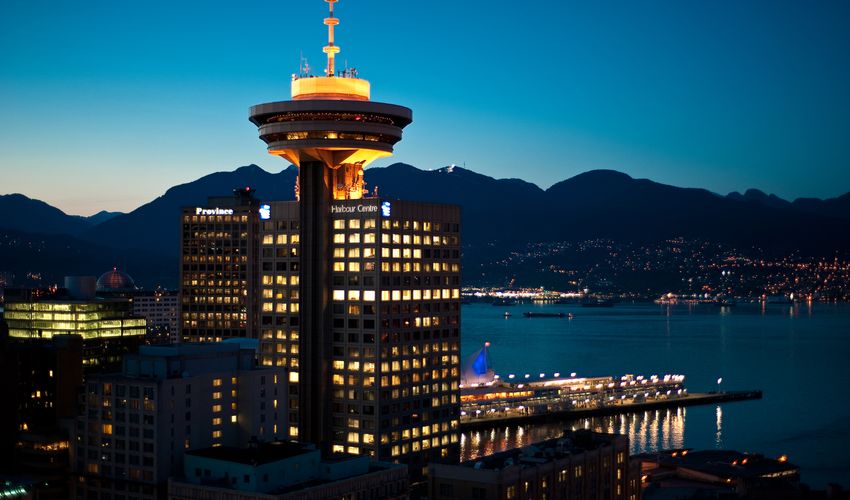 Marking a Vancouverite landmark, Vancouver Lookout was built to provide bird-eye perspectives of the cosmopolitan, the Shore Mountains and the bay, sided with affriander dishes. While the structure serves as an elegant office tower, it boasts unwavering tourist attractions.
Myriads of visitors each year visit the tower for its epic viewpoint deck and modern restaurant; a mixture of culinary art and revolving vistas of Vancouver. Presenting the coast's robust flavor, delectable dishes which food connoisseurs describe as gourmand.
3. 360 The Restaurant, Toronto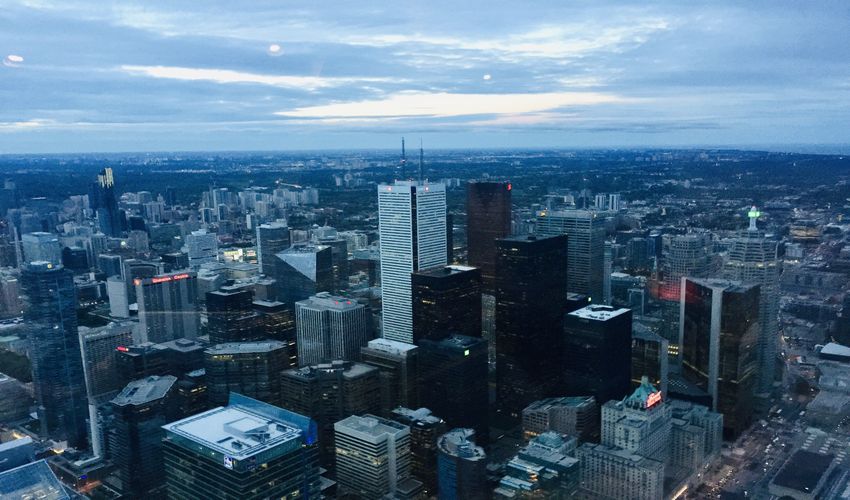 Dominating Toronto's sky, CN Tower rises over 500 meters, marking the western hemisphere's tallest structure. As an architectural phenomenon, the tower is famed for modern amenities and the world-famous restaurant. From the legendary edge walking, one of the world's highest wine cellars, stepping over thrilling glassed floors at the world's highest public galley, to Toronto skyline viewpoint in several terraces and decks- heights, sophistication, and fine entertainment are the inseparable essence of CN Tower.
With its revolving vistas, the culinary experience at CN Tower highlight's one of the downtown Toronto attractions. Hinting to its cultural essence, freshly harvested and seasonal ingredients are the specialty of the restaurant and its executive master chef, John Morris. Apart from being a popular joint for Torontonians and an iconic attraction for international tourists, 360 is esteemed as the favorite diner of many celebrities.
4. Sky 360, AB, Calgary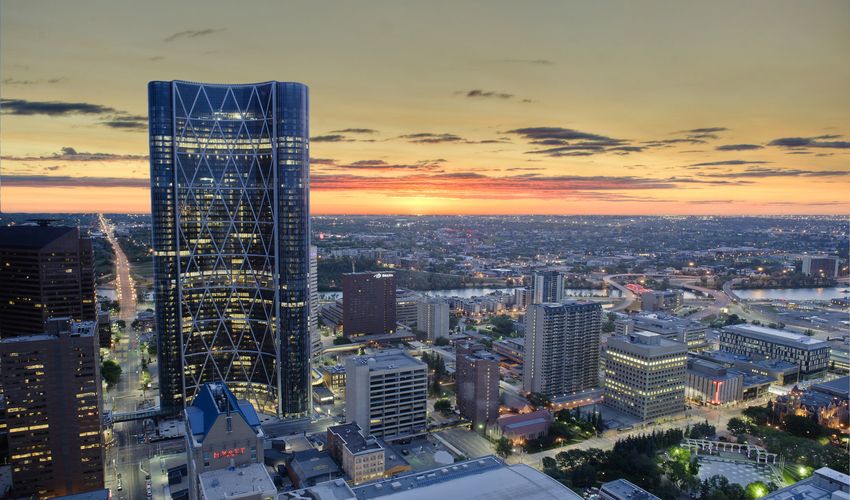 Recorded as the western hemisphere's tallest observation deck, Calgary Tower was built over a century ago- as an honorary contribution to the Canadian Centennial. Walking over the tower's high glassed floors is a quite daring experience, sided with multilingual tours that provide a depth in the city's outlook, seen from the observation deck.
After a fine dining experience at the restaurant's haute cuisine, the tower often puts on a show, illuminated in millions of flamboyant led lights; occasionally a digital torch above is lit as a colossal reminder of Olympic flame.
At the top, the panoramic restaurant circles around Calgary's skyline, offering Sky 360 restaurant. Besides the authentic flavors and nouvelle cuisine, this upscale diner is all about presentation; whether the urban vistas, interior's delightful design, and gourmet composition of the dish. Ruth's Chris Steak House is located on the tower's ground floor, for a more laid back and family-friendly dining experience.
5. The One Eighty, Yorkville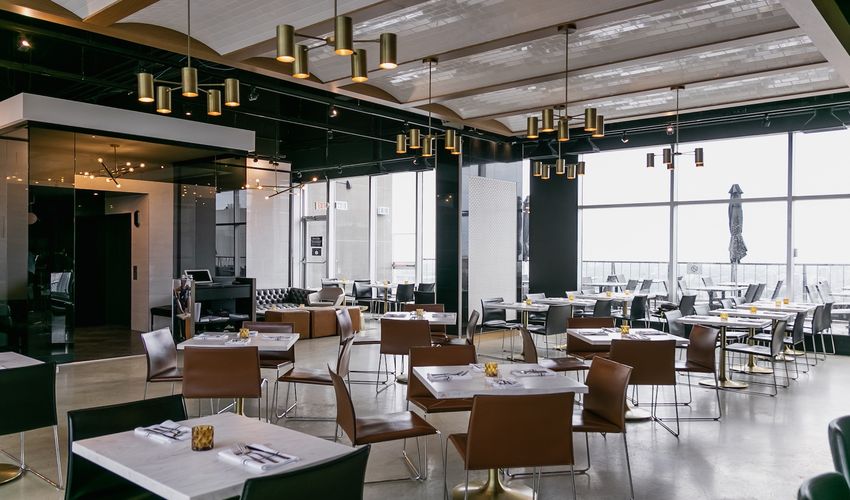 Rising amid the modern shopping quarters of Yorkville, Manulife Centre is enlisted among the top ten shopping centers worldwide. It offers from sophisticated boutiques and the world's most fashionable trends to the gym, elegant cafes, and even movie theatres. Although the most peculiar aspect of the tower sits on the 51st floor; portraying canvas-resembling vistas of the multicultural metropolitan.
The dining area sits on a rooftop terrace with views described as the best of Toronto's skyline. An adjacent prize-winning bar boasts an interior design, graced with simplicity, a DJ stand and a bar top- to watch and drink the master creations of Flair Bartenders.
6. Hôtel Le Concorde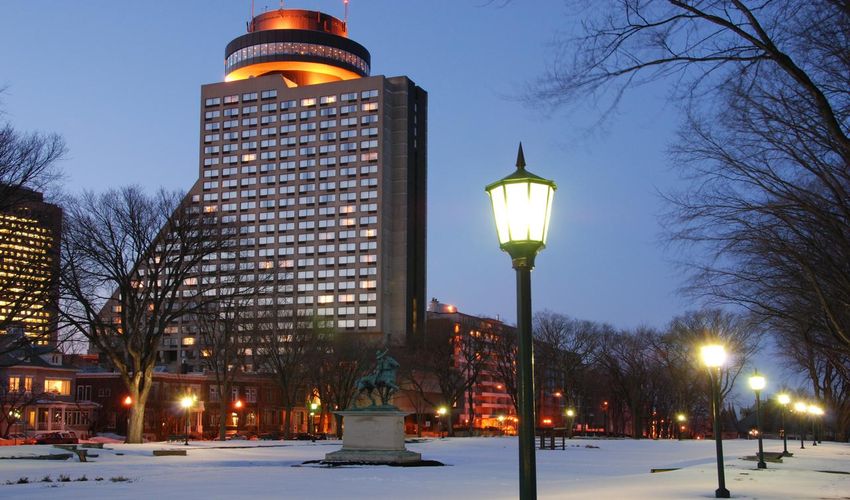 Luxury tourism is found in all facets of Hôtel Le Concorde, from its deluxe suits, to the panoramic restaurant and its spectacular locale. Standing as a national landmark, the hotel sits just paces from the barricaded quarters of Quebec's old town and Grande Allee Avenue- encircled by shopping centers, restaurants, stylish cafes and a peculiar livelihood throughout the year.
At the top, the hotel's revolving restaurant is an elaborate diner with panoramic views of the medieval French-built structures, Fleuve Saint-Laurent, and banks of St. Lawrence River. Distinct ingredients are integrated into the restaurant's menu, often characterizing the root-linkage of the city with medieval French heritage; blood pudding and sausage, braised Steak Tartare, De Jageur, or more popular dishes such as Cassoulets.
Other foodie treats here are invented recipes, barman-made elixirs, and items of international cuisines.
7. Les Enfants Terribles, QC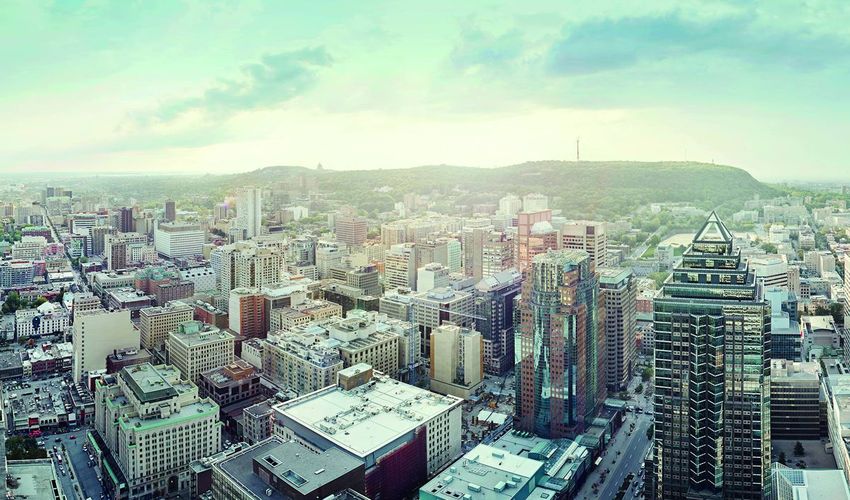 Over the heights of Place Ville-Marie skyscraper, Les Enfants is situated at the heart of Montreal's cultural neighborhood, overlooking the metropolitan's horizons, Mont Real, and the fertile plains of St. Lawrence. Ranked as Montreal's tallest diner, the restaurant is famed for its array of dishes cooked masterfully, using French culinary techniques, sided with Canada's best wine menus.
Inclined to healthy eating options, sugar, caffeine, and trans fats are often subtracted from the restaurant's menu. Surrounded by enthralling vistas and state-of-the-art interior decorations, the bar presents barrel-to-glass quality brews, and unique beverages- masterfully brewed, poured, and mixed into enchanting cocktails.
A rotating beacon sits over the skyscrapers' observation deck, incorporating the perfection of German engineering with Canadian cityscape.
8. Canoe, Toronto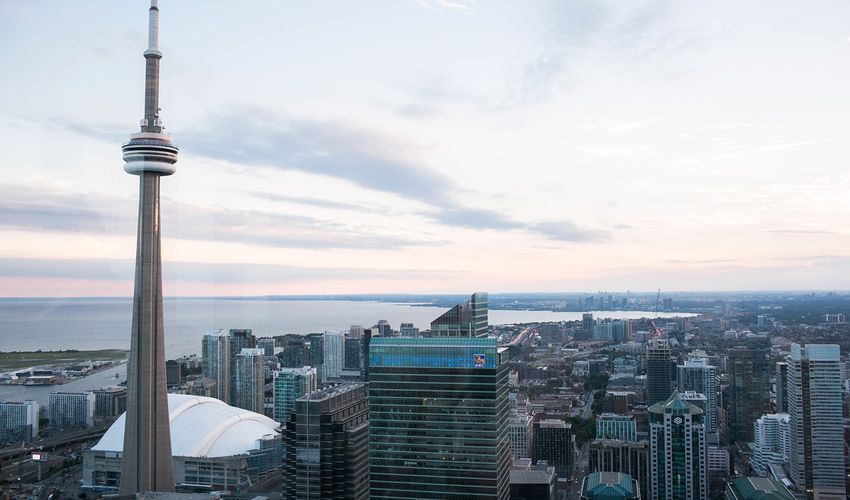 Toronto-Dominion Centre claims the skylines of Toronto, encompassed by a grand artistic lawn, portraying the renowned statue of The Pasture. The world's largest Inuit masterwork exhibition is the most characteristic feature of this skyscraper, with a peculiar shopping concourse beneath the towers, and the panoramic restaurant.
Dining with a view is Canoe's primary objective, together with the tasteful presentations of craft inspired dishes. The cuisine here is born out of Canadian essence, incorporating the finest of the ingredients from across the terrain- boasting an unrivaled authenticity.
Dishes like poached Halibut, Bison tartare, and Québec foie gras are served with gourmand wines and patisserie such as freshly churned sorbet. Except for the gourmet quality, the culinary presentation here strongly holds the characteristics of Michael Bonacini's inspirational dishes, the Torontonian celebrity chef.
9. Sky Garden Bow, Calgary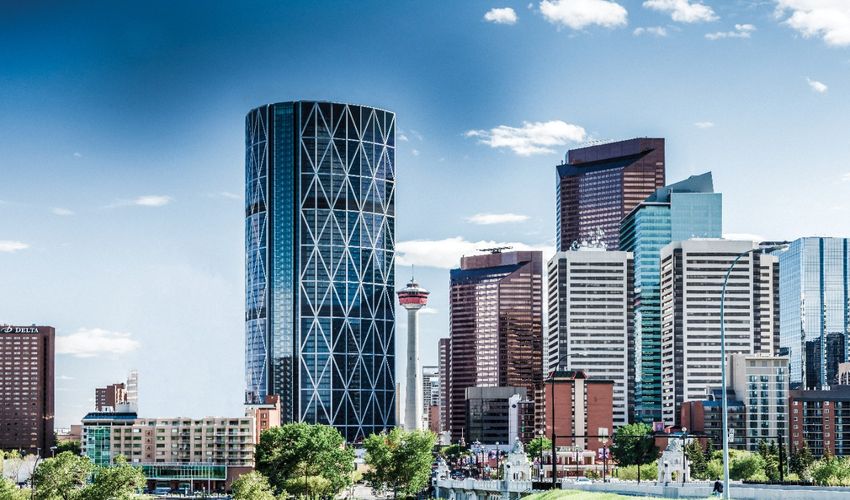 While Calgary Tower is the cosmopolitan's oldest tower, the Bow skyscraper is the city's tallest structure, beaming with futuristic architecture and leisure. Cool grey steel and glass grids comprise most of the exterior facade, with plenty of contrasting elements; such as unique boutiques and shopping floors, headquarters of rich gas and oil companies, and sky gardens.
Each sky garden lobby is complemented with auditoriums, panoramic views of urban-setting, and snow-capped summits in the background, a buffet area, and private spaces for seating. Noted as the most dazzling corporate building, it is home to several restaurants and distinct cuisines.
10. Portus 360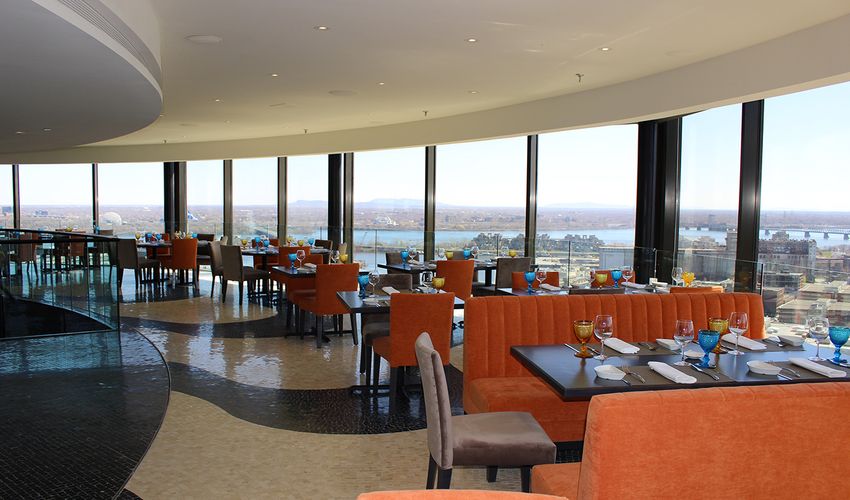 Speaking of celebrity chefs, Helena Loureiro's culinary masterworks is deeply rooted in her Portuguese culture, best experienced at Portus 360. As one of Montreal's fine multicultural attractions, the ambient and food hint to their Portuguese origins, served at its perfections.
High-end business lunches, romantic dates, or indulging in a memorable dining experience with the iconic vistas of Montreal- Portus's sophisticated ambient suits many tastes.
The panoramic restaurant perches in the Portuguese neighborhood of Montreal, paces from the old town and myriads of cultural and bohemian attractions.
11. Water Tower Grill & Bar, Lethbridge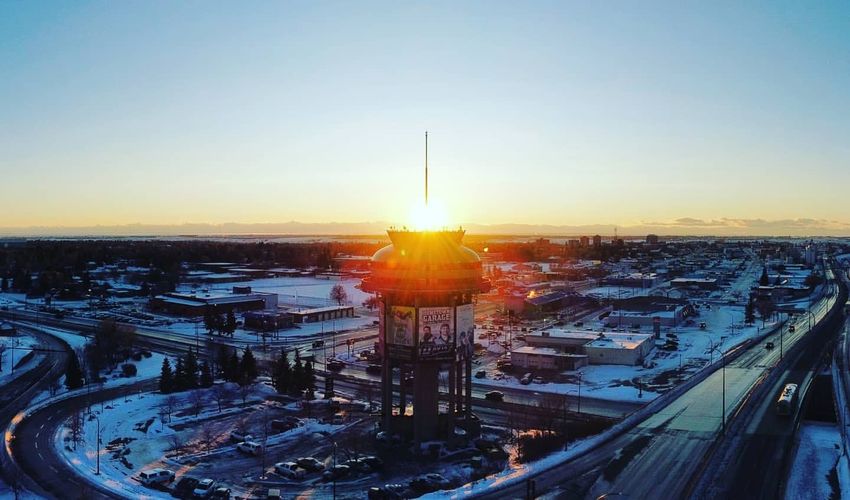 Commanding splendid views of Lethbridge and Albert's untamed landscape, Water Tower Grill perches on the top floor of its namesake hotel. Besides the panoramic viewpoints, the restaurant is fabled for their extra-juicy steaks and iconic items on their menu, often with international origins.
In winter, the diners grow even cozier by the central fireplace- a perfect destination for families on the way to powdery sky runs in the vicinity. The ambient here is rather cozy and family-oriented, located in Canada's sunniest city and a favorite winter destination for its relatively warmer days.
12. Prairie 360, Winnipeg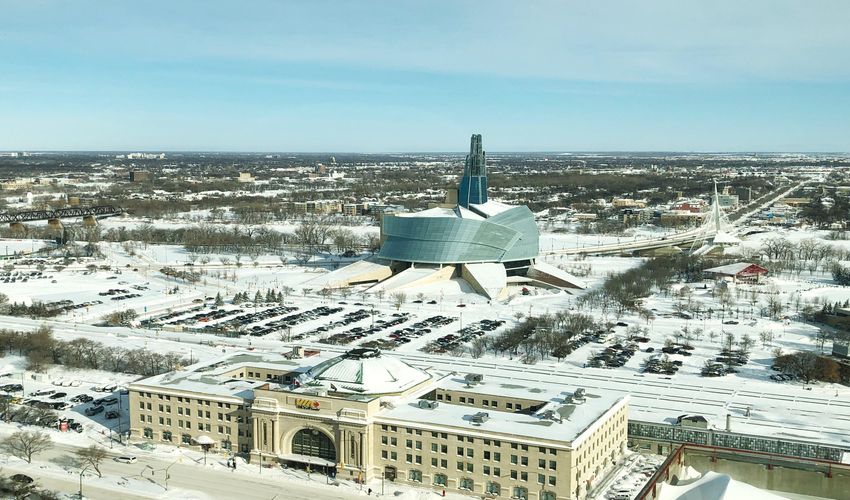 Only paces from the heritage meeting point of Winnipeg, the Fork, Fort Garry Place is a posh residential compound, offering luxury suites with furnishings. Prairie 360 revolves over the palace, overlooking Manitoba's prairie country from afar and the cultured city of Winnipeg.
The restaurant claims their aim does not merely revolve around food preparation, but epitomized around providing a dining experience! Great food and great wine are blended with the essence of classic and modern culinary crafts, fringed by unmatching skyline views.
On weekends, the elegant Sky Lounge serves from old-fashioned drinks like whisky on the rocks to cocktail creations such as a frosty Golden Boy Daiquiri.
13. La Ronde, Edmonton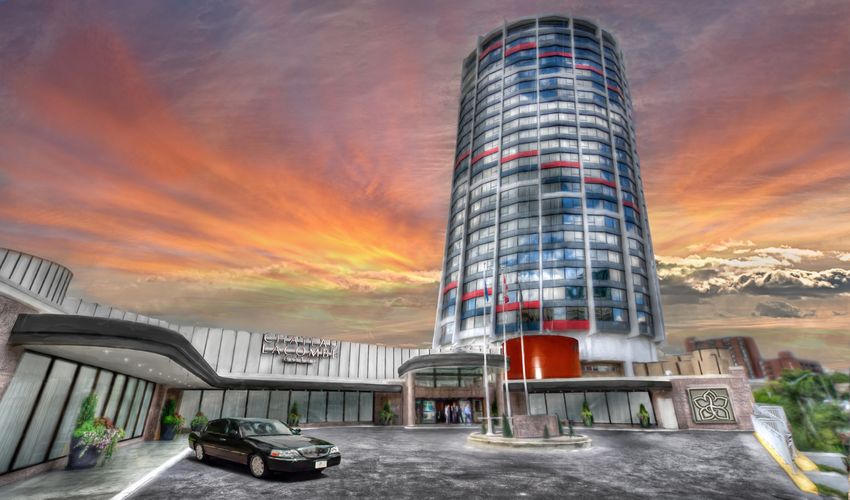 La Ronde is a restaurant atop Chateau Lacombe Hotel, named after its rotatory platform; the revolving diner offers scenic views over the urban horizons of Edmonton while enjoying gourmet-grade dishes. With over half a century of luxury tourism and dining service, La Ronde offers a premium cuisine, inspired by the riches of Canadian culture.
Portrayed in dishes: Alberta Beef, Arctic Char, traditional farm-raised lamp, and artistically crafted French pastries. Each Sunday, the hotel's blue-ribbon brunch marks an ideal weekend break for Edmontonians, at the excellence of the River Valley panoramic vistas.
14. Summit, Ottawa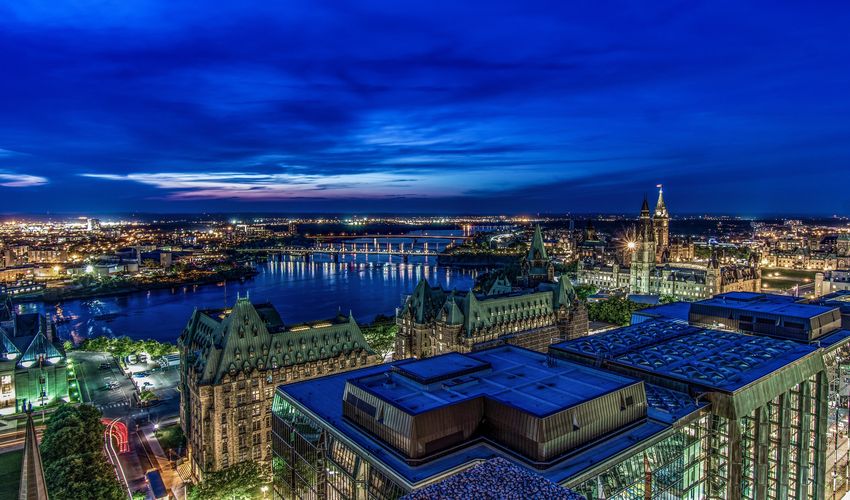 Ottawa's only revolving room and restaurant rises over Ottawa Marriott Hotel a branch of one of the world's largest chain of luxury hotels. Previously known as Merlot Rooftop Grill, the restaurant stands true to its newly adopted name the Summit, offering unique vistas of the ruling seat of Canadian terrain. Food ingredients here are carefully prepared to delicious recipes, alongside an expansive menu of wine and patisserie.
Other dining options near the hotel are at the hotel's street-level restaurant, at a short distance from parliament Hall, flanked by business-class quarters with many other fine diners.
15. Cloud 9 Revolving Restaurant & Lounge, Vancouver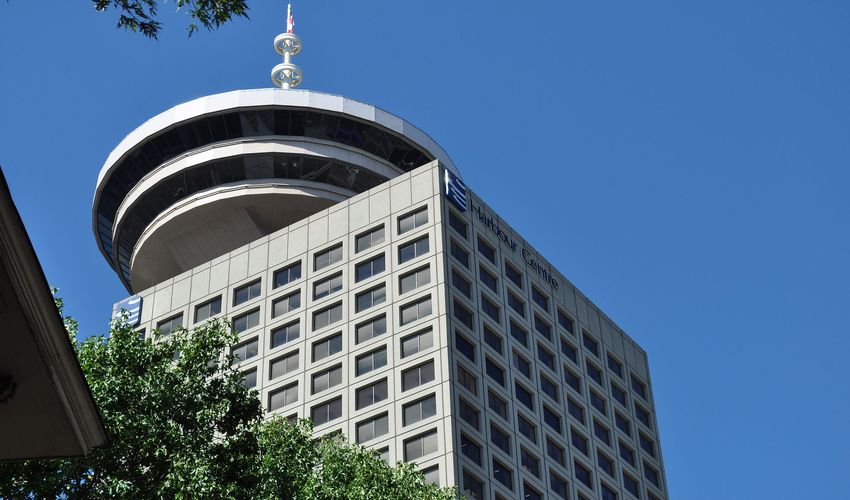 Cloud 9 Revolving Restaurant focuses on up-to-date nutrition guidelines, infused with adept culinary techniques, delightful flavors, and comprehensive vistas. It revolves over Harbour Centre skyscraper, overlooking the winding streets of downtown Vancouver and verdant verges of the Fraser Valley.
With food made with Bon vivant-quality and epic vistas, Cloud 9 is a prominent diner across the country, often reserved for exceptional occasions. Although among Vancouverites, the revolving lounge is an ultimate destination for an evening of cocktails, best described as epicurean liquid refreshments.
The list above focuses on restaurants situated on impressive heights; though we would like to include another location in conclusion, based on the vantage point aspect.
A few minutes to the north of Niagara park, Queenston Heights Restaurant is not a modern tower, but a delightful villa structure with panoramic views. Just paces from Laura Secord Monument, the restaurant offers prizewinning dishes, Victorian-style luxury, and occasional events. While dining, visitors can enjoy the breathtaking vistas of Niagara valley and the falls.
Masterfully blended cocktails, delightful hors d'oeuvres and of course, the scenic ambience are an all time feature of Queenston Heights.