The huge variety of things to do in a country like England makes it challenging to even compile a list of the best things that are available – there are just so many excellent options. Whether you like great city culture, beautiful scenic views, exploring ancient history or lounging around on beaches and in bars – there is something to do for everyone here.
This list will try and cover a range of fantastic travel options for a range of personalities. Some of them will be huge things like visiting cities – where we couldn't possibly list every single thing to see and do in the place. Others will be more specific, such as visiting a particular building or monument.
Hopefully, you'll realize just how much the fantastic country of England has to offer, for every kind of person. If you're after more specifics, check out the other articles about England that discuss in more detail certain cities or types of attraction.
Don't forget the other fantastic destinations in the British Isles – there's far too much to mention in this article, but Scotland, Wales and Northern Ireland have a wealth of excellent places to visit. It's so easy to tie them into a trip to England, be it by catching an extra flight, taking a train or even renting a car and going on a road trip tailored exactly to your interests.
Because there is so much to do in this wonderful country, and because some of the best places have so many smaller things to do within themselves, We've linked to some of my more detailed and specific articles where appropriate. Without further ado, here are 15 of the best places to visit in England, in no particular order.
1. London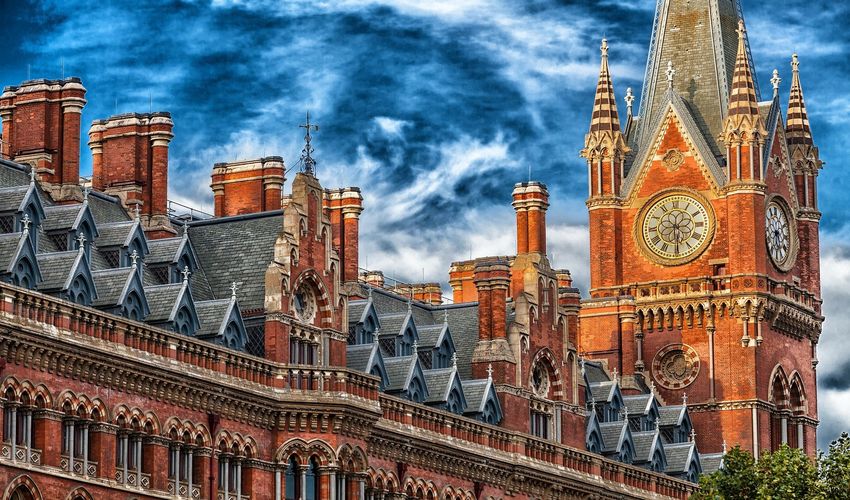 London is a city that demands attention – it is one of the largest, one of the most influential, one of the most historic and culturally important cities on the planet. If you enjoy bustle and beauty, your visit to England is not complete before you spend some time in this city.
There is an almost unlimited variety of things to do in England – some of the more specific attractions will be featured further down this list. There is no space for us here to do this wonderful city justice – but if you're planning a visit check out Top 20 Tourist Attractions in London.
2. Eden Project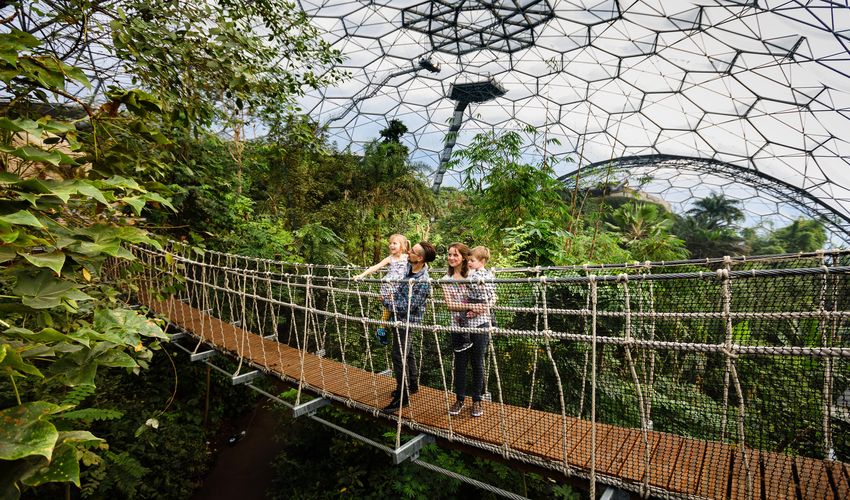 Rising sublimely from the beautiful Cornish countryside, upon the first view of Eden Project it's difficult not to conjure images of sci-fi films. Looking like some kind of lunar landing base from centuries in the future, these enormous greenhouses are the world's largest, and probably Cornwall's most notable tourist attraction (that's saying something).
Each massive space-age looking dome contains a unique biome. Travel through two of planet Earth's most iconic natural habitats in a matter of minutes. Visit the Rainforest Biome for a stunning treetop canopy walkway through the largest indoor rainforest in the world. The Mediterranean dome contains towering palms and spiky cacti.
With tonnes, more on offer in the surroundings, including outdoor gardens, informative exhibitions about our place in nature, adrenaline-pumping activities, a day here will fly by. For over 18's, experience a free fall from 12 meters (just under 40 foot) onto a huge air cushion – just one of the activities offered by Hangloose Adventure at Eden Park. Just note that the price can soon stack up, as many of the extra activities come with an additional cost, so it's best to do your research on pricing before you go.
3. Porthcurno & Cornwall Beaches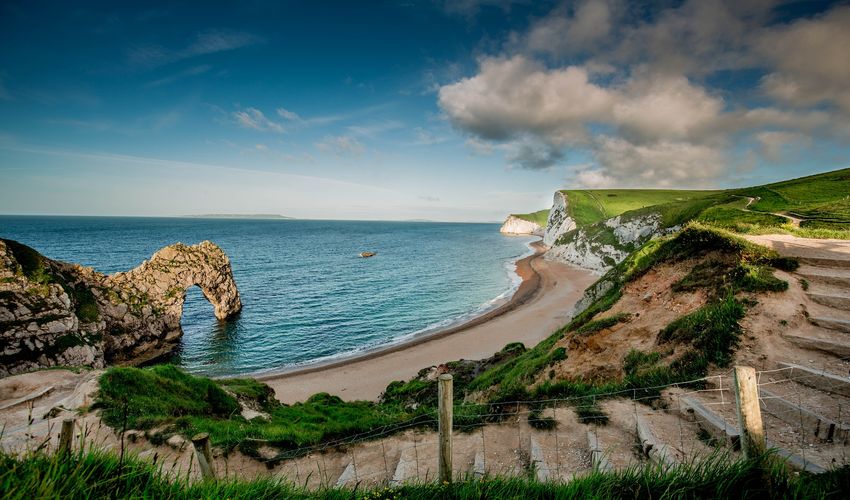 Being an island, the UK is literally surrounded by coastline – this means miles and miles of beautiful sandy bays. It is incredibly difficult to select one or two clear 'winners' from a list of English beaches because there are so many beautiful options. Cornwall is a hugely popular destination for more than just this beach and the above mentioned Eden Project, too – there is incredible natural beauty all over and it is a favorite option for British holidaymakers who don't want to leave the UK.
But Porthcurno is an absolute gem. Stunningly beautiful, the crystal clear waters are met by soft white sand, backed by majestic granite cliffs. Lifeguards patrol during the summer months, however, there is also a stream running down the beach that often forms pools – an excellent and safe option for younger children to play in. The famous and stunning outdoor venue – The Minack Theatre – sits atop the cliffs, if you time your visit you might get a chance to catch a play in one of the world's most serene and iconic settings, either way it's worth a look around.
If you can't get enough of English beaches and want to see some other equally amazing options, in various regions of the coastline-girdled country, take a look at 15 Most Popular Beaches in England.
4. Lake District National Park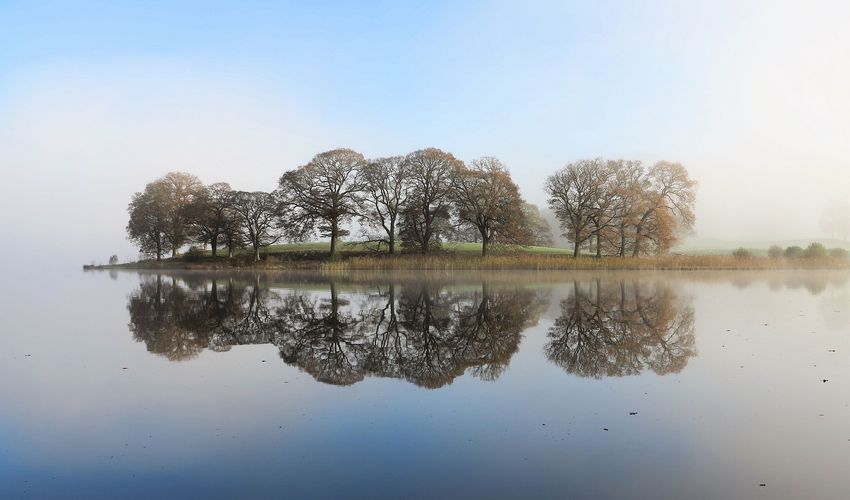 Lake District National Park is the number one spot in all of England for natural beauty and outdoor activity. It is a huge area and has been protected by its status as a National Park, meaning that much of the gorgeous scenery, mountains, lakes, valleys, and old-growth forests are in near-pristine condition. This incredible beauty is complemented by a fantastic (often outdoor-pursuit orientated) cultural scene.
The park is so large it can't all be described in a few short paragraphs, nor fully explored in a few days or weeks. The lakes are a walker's delight – try summiting England's tallest fell (a fell is a mountain or large hill), Scafell pike. Or if you prefer slightly less famous, quieter walks, maybe try to top Great Gable or Helvellyn. Every mountain has multiple routes that ascend it – pick up a copy of Alfred Wainwright's indispensable hiking guides for the area of the lakes you plan to visit and choose your day's activity like a local.
Try your hand at canoeing or kayaking, perhaps at Windermere (England's largest natural lake) or Coniston water (subject of a famous novel, Swallows and Amazons). Tonnes of companies offer great climbing tours and many more adrenaline-filled activities. If you're feeling less adventurous, check out one of the lovely, traditional towns like Ambleside or Grasmere and have a coffee or a bite to eat. This National Park might be England's closest thing to a natural paradise.
5. Windsor Castle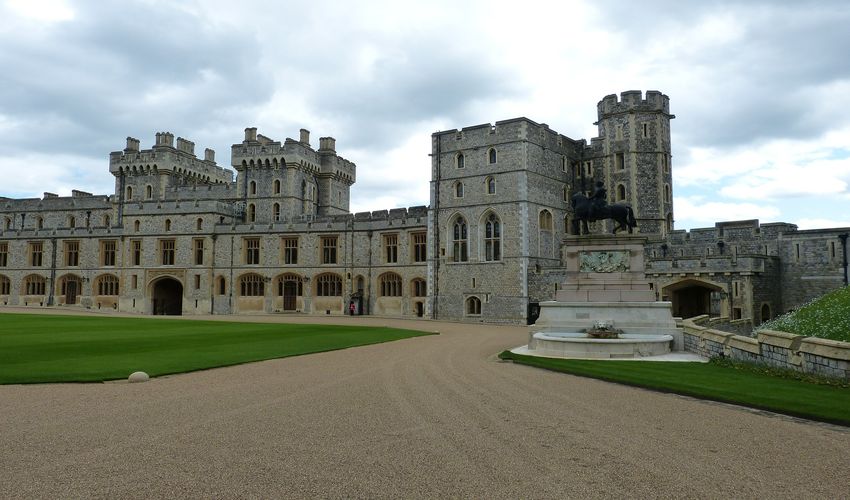 Windsor Castle is the largest and oldest still occupied castle in all of the world. It is Queen Elizabeth II's 'true home' – the place she typically chooses to reside when her services aren't required elsewhere (Buckingham palace for example). The building is huge and in fantastic condition, so you can see the inside of some incredibly luxurious rooms as well – a great bonus when compared to some English castles that are more like crumbling ruins. With a long and storied history, including a grand total of 39 Kings and Queens taking up residence here through its history – this is a castle not to miss.
If you're a big fan of history, England is the place to be. With complex societies occupying the island for millennia, from neolithic farmers to Romans to Vikings to Normans and beyond, there is a rich and vibrant story to be found in every corner of the country. You may want to check out 17 Most Beautiful Castles In England.
6. The British Museum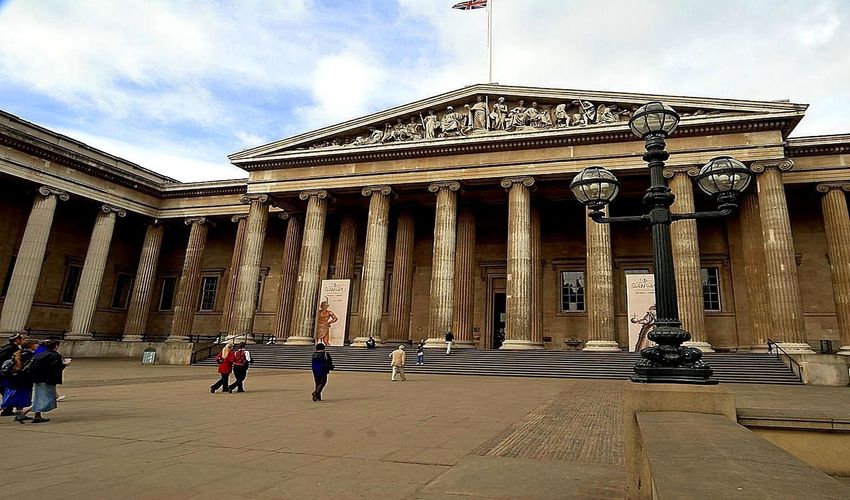 This mind-blowingly large building is situated in central London, and stands proud among the best museums in the world. Even if you don't care for history, the architecture of the building is absolutely incredible and just standing in the enormous main hall is a surreal experience.
Even better, admission is free! From ancient Greek vases to huge ancient Assyrian stone carvings of Lion hunts, there are literally millions of individual objects from around the world.
7. Peak District National Park
A close second to The Lake District as England's greatest outdoor spot – is The Peak District. It has a few advantages over its sibling National Park, too. Being in Derbyshire, it is further south than the Lake District and a fair bit easier to access from huge destinations like London – as well as being very close to beautiful cities like York and especially to Manchester, Leeds, and Sheffield.
Secondly, the fells (well, big hills, really) are a lot smaller than those in the Lakes, so for those who don't want to exert themselves quite as much, you can still reach some summits if you're in relatively decent shape. The highest of the peaks is Mam Tor – at just over 500m above sea level it's a pretty easy day's walk for an experienced hiker.
There are loads of beautiful towns, such as Edale, Hathersage, and Bakewell (home of the famous English sweet pastry – the Bakewell Tart), all of which are well worth a visit. There are plenty of places to stay and many far more gentle walks that are still very beautiful.
For climbers and boulderers, the peaks are one of the best destinations anywhere in the world, with incredible varied rocks and crags. Stanage Edge, for example, is an iconic gritstone crag, boulders littering the woods at its feet, with multiple excellent routes to climb. It's also a wonderful area to walk around, with Sheffield and Hathersage both being within easy reach. Of course, other activities are popular too here – such as cycling, camping and of course having a pint of ale down at one of the countless traditional pubs.
8. Stonehenge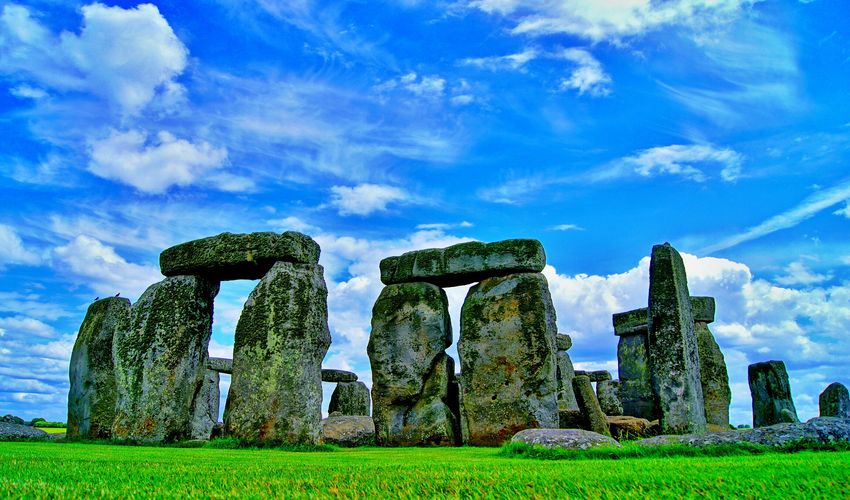 There's a good chance you've heard of Stonehenge already, or seen its picture – it is the most famous Neolithic monument in all of Europe. The incredible stone construction – an architectural and engineering marvel of its day, is the centerpiece of the site. It sits surrounded by enormous earthworks and a much larger stone circle that has partially survived, with walks and tours available taking you for a closer look.
The site's visitor center has an excellent exhibition space and cafe available. There has also been a reconstruction of 5 houses, showing you in immersive detail how the prehistoric people who once called this land home may have lived. The site is very close to another epic ancient monument at Avebury and the huge historical and relaxation offerings in the ancient Roman city of Bath, learn more below.
9. Bath – Spas Ancient and Modern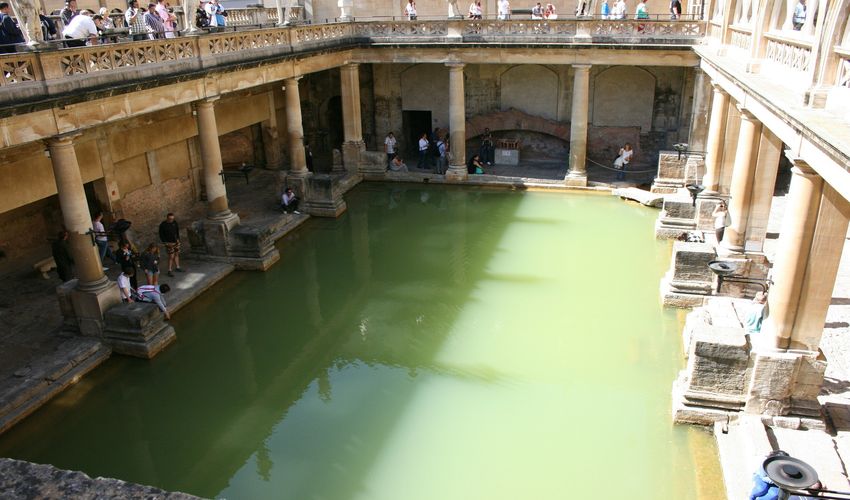 The historic city of Bath originated in Roman times when the Island's conquerors built one of their beloved bathhouses here (hence the name) due to the area's natural hot springs. It has been a popular spot since then, Christianity putting down firm roots here in later years (resulting in the wonderful Bath Abbey) and a resurgence of popularity in Georgian times that has led to some stunning architecture.
The ancient baths – in surprisingly great condition for a two millennia-old monument – now serve as something like a very immersive museum, with over a million liters of steaming 46 degrees (celsius) water still filling the pools every day.
The nearby Thermae Bath Spa is our modern societies' equivalent to the wonderful ancient Baths (which are sadly no longer safe to swim) and there are a variety of incredibly indulgent spa packages available, including ones that give you access to both the ancient and the modern spas. Check out Top 10 Things To Do in Bath.
10. Robin Hood's Bay, North York Moors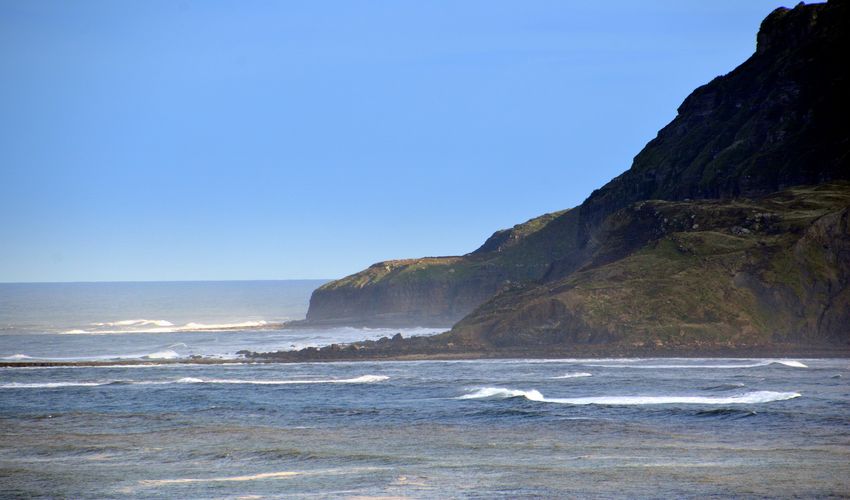 The second beach on this list is way up in the North of England – Robin Hood's Bay. For those who love the unique and quaint beauty of old-school English culture, this spot is unmissable. The traditional fishing village (it goes by the same name) is a gorgeous location to while away a day – cobbled streets replete with a variety of cafes, tea rooms, and souvenir shops.
A favorite activity for the kids is a search for the fossils that are often found in the area – and that line the shelves of the shops that look down on the bay from above. Just remember England's reputation for the weather. For the less 'hardy' travelers, you will probably want to time your visit to the warmer summer months and pray for a sunny day.
The surroundings are equally beautiful. The North York Moors are well worth a visit in their own right and very nearly had their own place on this list. A huge variety of beautiful walks, of varying length and difficulty, pass through the bay and its surroundings. For keen walkers and outdoor enthusiasts, we highly recommend staying in the village or nearby and using it as a base to explore the incredible natural beauty of the area. Nearby Sutton Bank has been given the title of "England's finest" view by one author/vet, James Herriot – a bold statement.
11. Alton Towers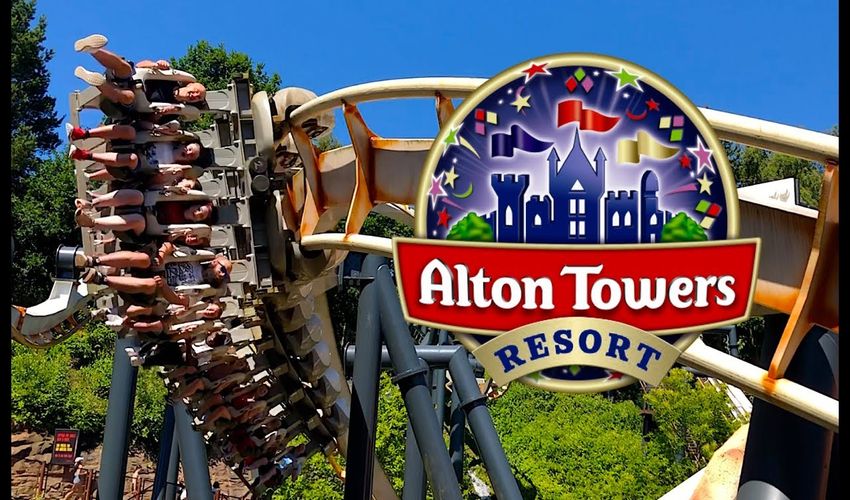 This is one of England's most exhilarating attractions and a great place to bring kids and those who are still young inside. The UK's biggest theme park has a huge variety of rides of varying intensity, from white-knuckle screamers to more relaxed children's rides.
The park is not cheap to visit, so consider bringing your own food and some bottles of water to help alleviate some of the expense. For people who love theme parks, it is well worth a visit – with bigger and better rides coming all the time. If you get bored or want to stay overnight at the on-site hotel, consider checking out the water park, too!
12. Walk the Ancient City Walls of York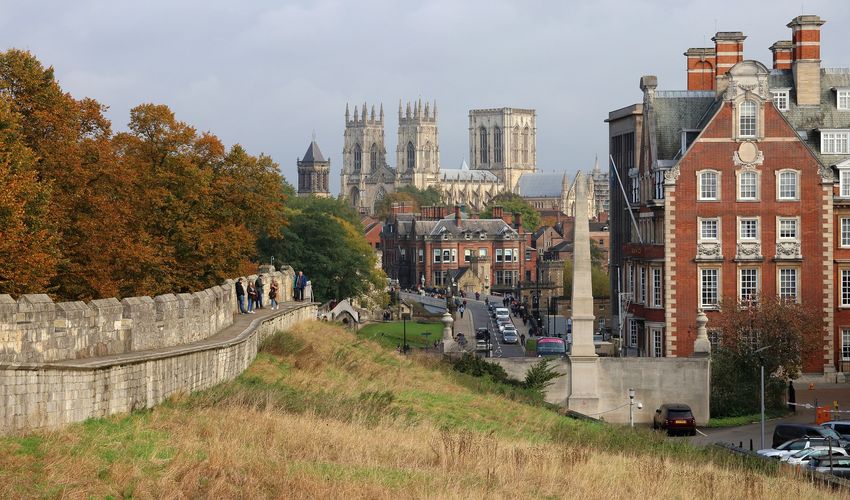 York is a relatively small and quaint city for England, with a center that's just perfect for exploring on foot. Little though it is in terms of population size, York has a big history. It has been occupied since at least Roman times, with Vikings, Anglo Saxons and Normans all playing a part in its formation and continuation.
The ruins of the castle blend seamlessly into the city – which has historical features everywhere. Check out Clifford's tower, the ruins of the old castle keep with a gruesome story behind its name. The old walls of the city are in great condition and walking the intact sections is a serene and scenic step back in time. Learn more about the incredible wealth of things to do in York.
13. Hit Up Speakeasies in Manchester's Northern Quarter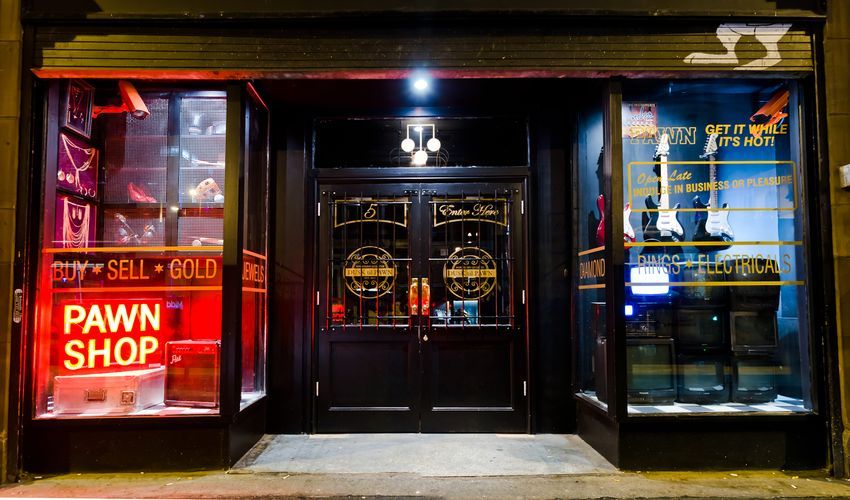 The one-time production powerhouse of Manchester (birthplace of the Industrial Revolution) has a fascinating history, told in part by its architecture. The ever-fashionable Northern Quarter takes up residence in the once disused old cotton mills and factory buildings of the city's laborious past. Hidden amongst the vibrant street art and more obvious (still brilliant) bars and restaurants, is an echo of 1920's era America.
Imitating the thrilling mix of glamour and secrecy that was used during Prohibition-era in the USA, in the days when alcohol was made illegal – for a few long years – tucked away bars give you an intoxicating taste (in a safe setting) of what that may have been like.
Hidden behind shop facades – from the outside one looks like a pawn shop, another a laundrette (Dusk til Pawn, The Wash House), some are even hidden inside other bars! Check out one of the dedicated articles on how to find them, available online, or you may be looking for a long time. Don't worry, you won't go blind from homebrew moonshine – the drinks served here are of the finest quality – We recommend maintaining the historic vibe and grabbing yourself a cocktail such as a whiskey old fashioned.
There are far more options in the city for food and drink (the glamorous 20 stories springs to mind) than can be listed here, as well as a wealth of other things to see and do. For a closer look at Manchester go through 15 Tourist Attractions in Manchester.
14. Punt along the River Cambridge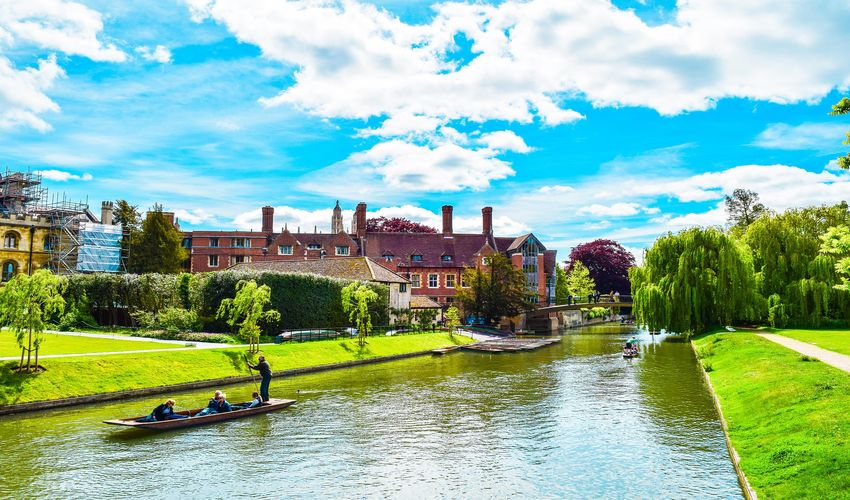 Cambridge is a city built around one of the oldest and most prestigious universities in the world. Alongside Oxford, it dominated the English intellectual scene for years and is still ranked consistently in the country's top two or three universities today. Many of the college buildings and the beautiful river bridges bear witness to this fascinating history, with a range of architectural styles and iconic things to see.
On a warm summer's day, what better way to do it than on Cambridge's answer to the Venetian Gondola – the punt. A flat bottomed little boat, your guide will push you along the riverbed with a long pole, taking you past many of the city's best sights (including the gorgeous Bridge of Sighs) and passing on their expert knowledge of the area. For more to do in Cambridge, check out 12 Things to Do in Cambridge.
15. Visit a pub
It doesn't matter where you are – if you're in England, anywhere near civilization – you won't be far from a pub. These traditional focal points of the British culture are still the beating heart of England's historic social scene – especially if you're in a more rural area.
But even if you're staying in a city, for at least one night consider swappy out the glitzy bars for a nice pint (or whatever drink you prefer) at an old fashioned public house. That's what pub is short for, but you'll rarely hear the full name being used by the locals.
This quintessential pastime doesn't have to be alcohol-fuelled. They are generally welcoming places, often with a crackling fireplace in winter-time. Grab yourself a table or a spot at the bar, and relax after a long day drinking up the views or the attractions (maybe from this list) that you've chosen to explore.
These days, a lot of the old alehouses serve high-quality food (a big improvement from what used to be the standard pub fare just a few decades ago), making them excellent places to while away an evening, or ten. Just ask the regulars. Some of them even have prestigious Michelin stars – but don't expect those ones to come cheap. No matter where you choose to go on your British holiday, you'll be able to take part in this classic experience. Perhaps you'll even feel a little more of a local by the end.