The fashion capital of the world, Milan is the city of art, antiquity, and riches. Dating back to 400 BC, Milan is the main industrial center of Italy. Along with fame, fashion and luxury, the city offers a humble essence of art; an array of astonishing architecture, ancient monuments, and gothic churches are inherited from Milan's affluent history.
Viewed from the top, Milan appears as a curious combination of ancient buildings intermingled with modern-day skyscrapers. Visit places of Napoleon's crowning, a legendary opera house and the world's first shopping mall here in Milan; while savoring appetizing gastronomy of Lombardi region in northern Italy. This article is a guide to the top 15 places in Milan that are popular among tourists and locals alike.
1. Duomo di Milano – The Cathedral of Milan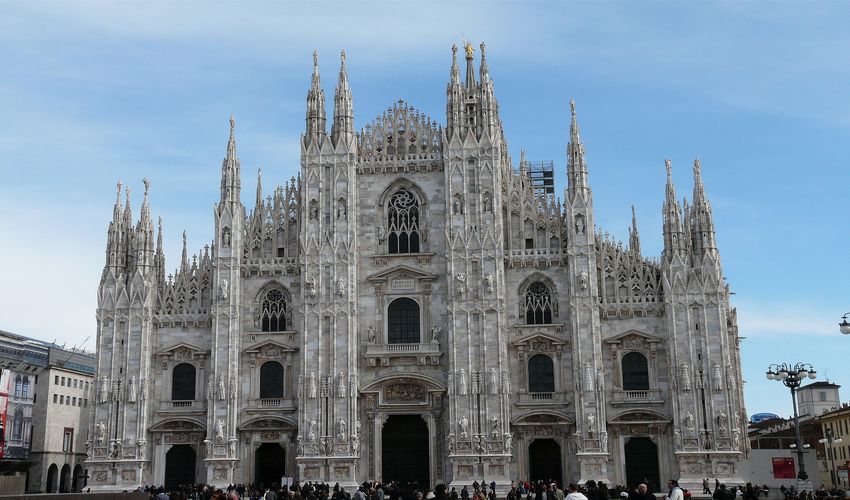 Located at the center of the city, Milan's cathedral is noted as the third largest cathedral of Europe. Milan's gothic cathedral was constructed in the 14th century and thereafter, completed through a 600- year span; giving birth to the most prominent landmark of Milan. Indicating the French infusion and hence its rare gothic structure, this cathedral is home to more than 4000 sculptures and figurines; a monumental art exposition with its base on a holy foundation.
A neat sensation reflected off the holy geometry on the marble floor, magnificent rib vault and cathedral's massive harmonica are the conspicuous aspects of its interior at first glance. Windows are adorned with stained glass paintings, reflecting the light through the depictions of bible stories. Locals refer to this cathedral as il Duomo; earning its nickname after its enthralling colossal dome. Duomo is the historical place of Napoleon's coronation and a treasure vault of relicts from 4th to 17th century. The top view of the cathedral exposes the skyline of Milan; a place to sit and witness the swarming sidewalks, the city's heritage sites and the white peaks of Alps.
2. Galleria Vittorio Emanuele II – Galleria Shopping Mall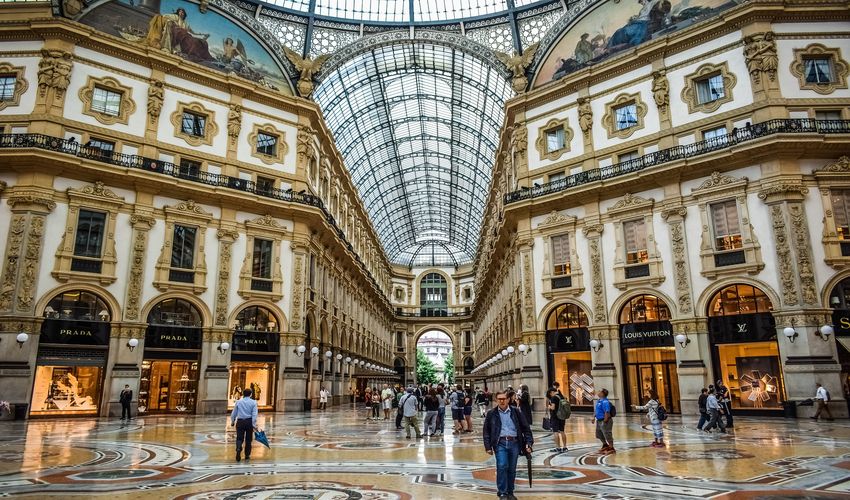 Known as the first shopping mall in the world, Galleria is the get-together point of Milan for locals and tourists. Milan's Galleria is the connective landmark between the cathedral and Milan's renowned opera house. An array of distinguished fashion brand outlets, stylish cafes, and jewelry boutiques are in harmony with the mall's splendid structure.
A hallmark of 19th-century architecture, its glass ceiling and crystal dome are the lustrous addition to the mall's elegance. On the marble floor of Galleria, a symbolic mosaic bull represents the strength of Milan. A Milanese legend has it that placing the heel on the bull's testicles and rotating three times, follows by a year filled with prosperity.
Enjoy shopping at the elite Galleria of Milan, or just saunter around one of the primary examples of Italian modern architecture in Galleria's cultured ambiance.
3. Teatro Alla Scala – La Scala Opera House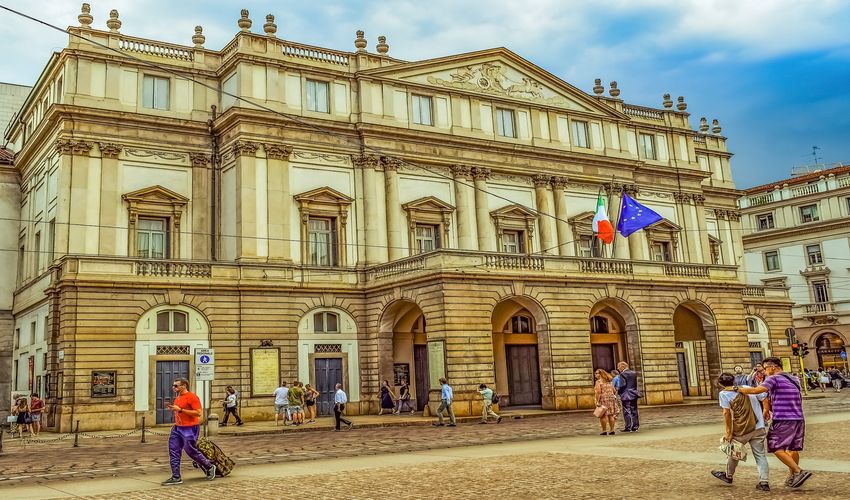 Adjoining to Milan's Galleria in Piazza Della Scala, named after its Superlative La Scala Opera house. Under the simple exterior of La Scala's building, rests a luxurious red velvet orchestra pit combined with a golden stage, and masterfully illuminated for a rich and warm ambient. With over 200 years of delightful music history, La Scala has witnessed remarkable performances from celebrated musicians such as Bellini and Verdi.
For over two centuries, La Scala Opera House was the meeting joint of noble Milanese lords for their private pastime and entertainment. Walls of the theatre's rooms are proudly adorned with pictures and paintings of numerous legendry music luminaries of the past 200 years. The most prominent feature of this opera house is an astonishing engineered acoustic system. A section of La Scala theatre serves as a museum today, displaying reliquaries of the past musicians and fabulous opera costumes.
4. Castello Sforzesco – Castle of Sforza Dynasty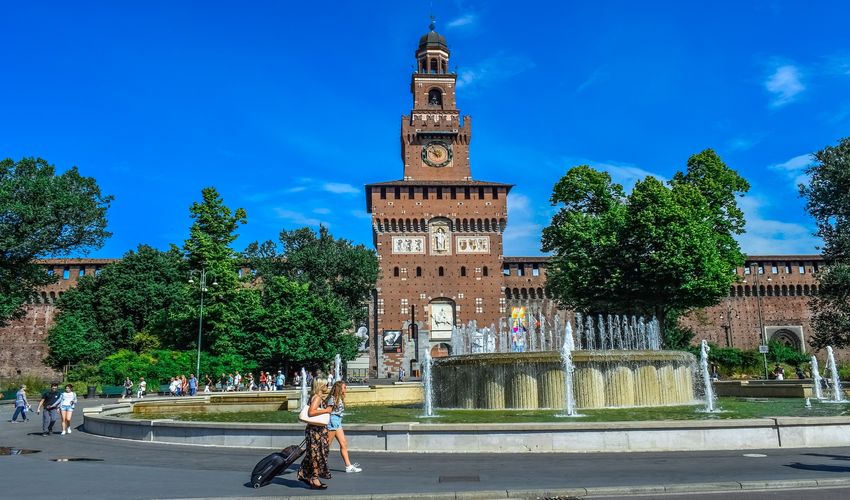 Concealing several museums and art collections today, Castle Sforza was the historic residence of powerful rulers of Milan, Sforza family. Foundations of this castle are traced back to the mid-14th century under Sforza family reign; governed further by Milan's many monarchs and political enactments. Sitting in the heart of Milan, this strategic structure is adorned with Filarete Tower at the entrance; encompassing a set of glorious courtyards, the Grand Court, Ducal Court, and royal chambers.
Interior decorations are fine artworks of artists such as Da Vinci and Michelangelo along with many other artists; compiling the castle into a paragon of art. Anticipating vast collections and detailed chambers of Sforza Castle, most of the building is divided into libraries, art expositions, and museums. The viewpoint of the castle's crenulated walls offers a recapped outlook over il Castello.
5. Parco Sempione – Simplon Park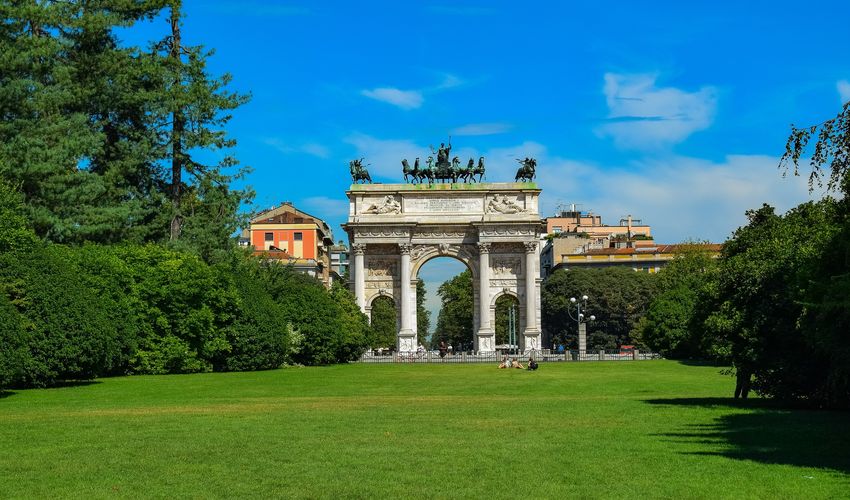 Adjacent to Sforza Palace, the grand Parco Sempione is a lush green hideaway amid the city's commotion. In tune with the essence of Milan, this park is adorned with momentous structures, sports stadiums, and aquariums along with its breathtaking landscape. Built-in the 19th century, Sempione Park's position was chosen for its vista over Sforza Castle and the Arch of Peace.
Antique stadium of Parco Sempione is a remarkable structure built in the 19th century; hosting sport matches up to present. Civico Aquarium of Sempione Park is decorated with a statue of Neptune the sea god, a home to astounding varieties of kaleidoscopic Mediterranean Sea creatures. The highest viewpoint of Milan is a steel tower in the corner of the park; Torre Branca rewards the finest perspective of the city to the visitors who climb up the tower.
6. Porta Sempione – Milan's Arch of Peace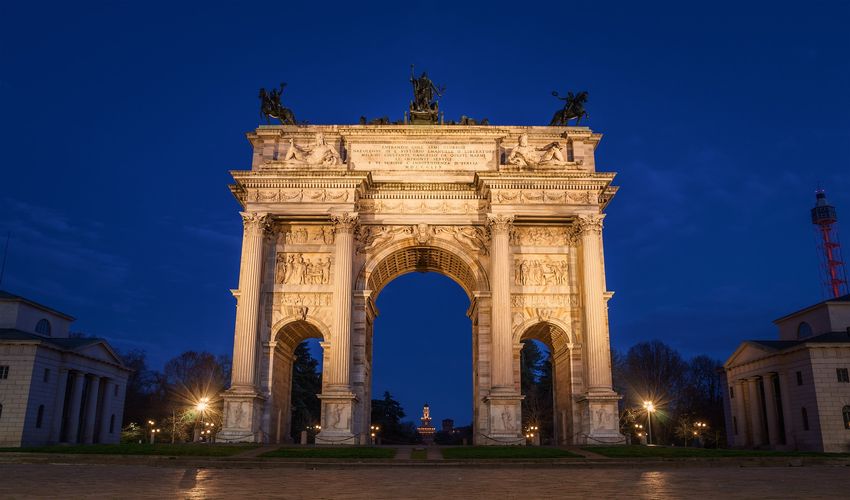 Historic road to the Alps in Milan starts from Sempione Square; marked with a triumphal arch at the northern gate of the city known as Sempione Gate or Arch of Peace. Presenting harmony and accord, Arch of Peace conveyed the message of Napoleon's victories. The blended Romanesque and modern style of this arch aimed to appear as the ancient Roman Forum.
The Napoleon Arch stands as a token of 19th-century history; adorned with four large sculptures at the side-representing four northern kingdoms of Italy- and the chariot of peace on top. Known as one of Milan's masterpieces, the stunning arch is often overlooked by Milan's visitors; keeping this attraction on the serener part of the city. Along with respiring Sempione Park's fresh air, cross under the glorious arch and glimpse at this 19th century exceptional architecture.
7. Navigli Market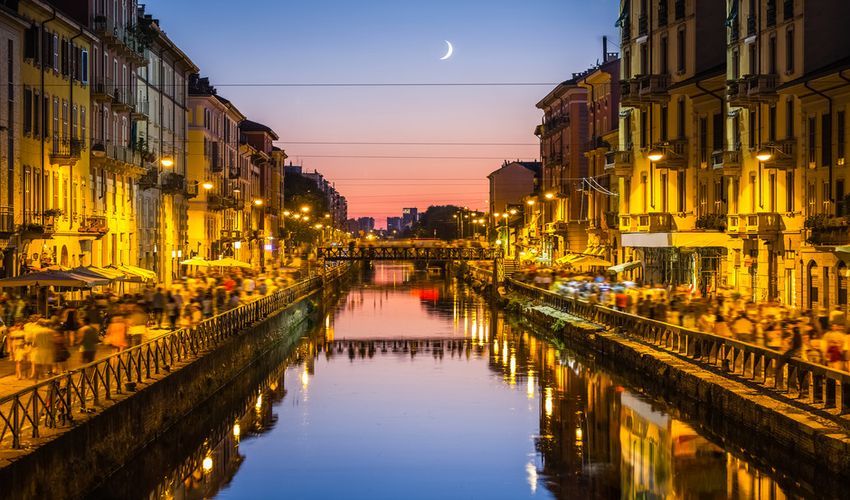 Only paces from il Duomo appears a Venice-resembling neighborhood of Milan, Navigli antique quarters. Home to two grand canals, this historic locality is packed with restaurants, offering delicious Milanese banquets and a spectacular view over the canals. Intermingled with enchanting medieval courtyards and buildings, the streets are filled with fascinating art galleries, souvenir shops, and vintage merchants.
Navigli is known for its captivating scenery at the sunset and during the evening; while walking along the breezy sidewalks of Navigli Grand Canal or relishing the authentic cuisine at a local Ristorante. Throughout the warmer months, boat rides are accessible for a memorable tour over the Navigli Canal waters.
8. Pinacoteca di Brera – Brera Art Gallery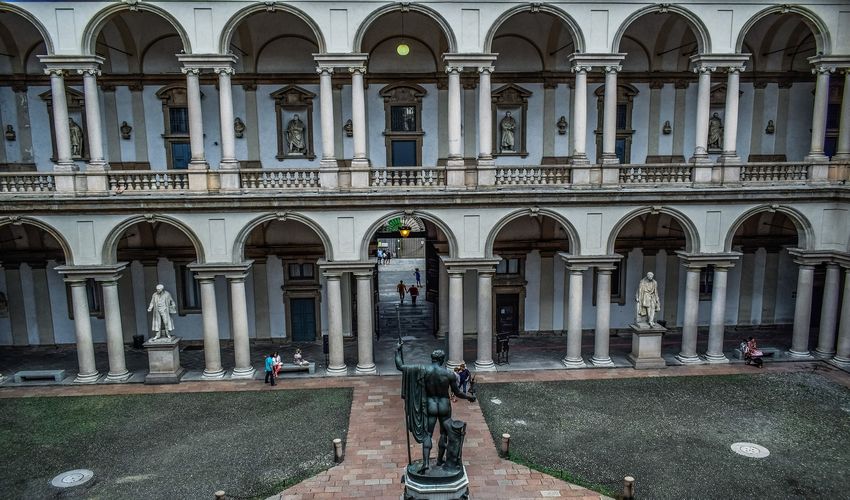 Located in the central-east part of Milan, Brera Art Gallery is marked as one of the most praiseworthy art galleries in the world. Brera gallery was established in the 18th century along with Milan's Fine Art University, also known as Brera Academy, in Citterio Palace. Harboring more than 6 centuries of stupendous Italian artworks, Gallery's building is a remarkable medieval palace and a masterpiece of architecture itself.
Outstanding canvases from the best of Italian painters, in particular, Raphael, Caravaggio, and Tintoretto are notable displays of this museum. A stunning botanical garden, a national library, and an observatory are held in Citterio Palace- enhancing the gallery's overall cultural significance. An elegant bar is an addition to the art – simulating experience that offers placid canapés and delightful refreshments for a delightful breather.
9. Basilica di Sant'Ambrogio – Church of St. Ambrose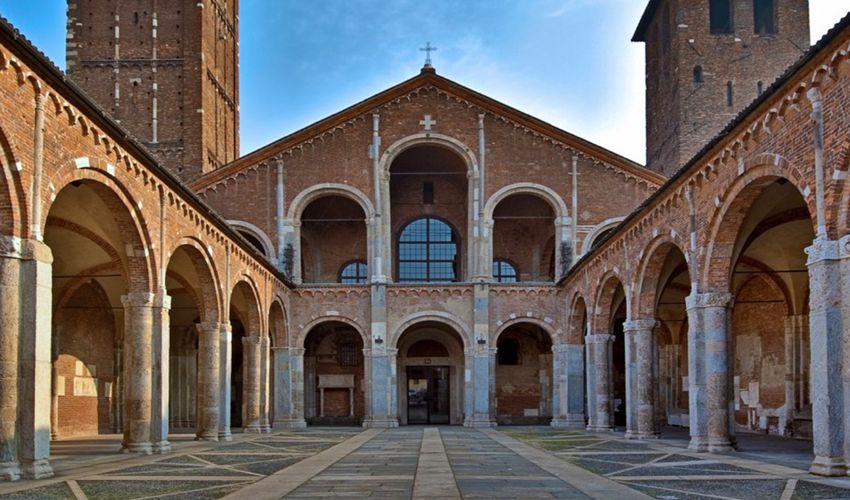 Situated at the historic core of Milan, St. Ambrose Church was sanctified by the hand of St. Ambrose himself in the 4th century; earning its acclaimed religious and archeological significance. A curious blend of red bricks and Romanesque architecture particular to Lombardi, together conceive a sensational structure to glance upon.
Antiquity of this site dates from pre-Christianity. Peculiar of St Ambrose beholds, the preserved figures of three sacred saints attired in magnificent clothing, and the Stilicho sepulcher; an ancient tomb with splendid 4th-century embellishments. Several sculptures and significant scriptures and artifacts are located in Basilica di Sant'Ambrogio.
Founded on an ancient pagoda, a Roman temple known as Tempio Della Vittoria or Temple of Victory sits next to the church's building.  
10. Museo Poldi Pezzoli – House Museum of Poldi Pezzoli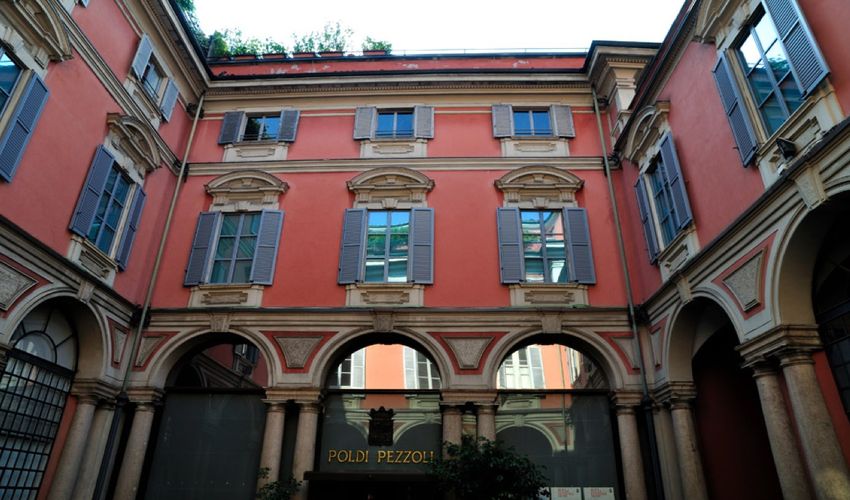 Paces away from La Scala stands Poldi Pezzoli House Museum. Under the simple facade of this building, lies magnificent Renaissance art collections performed by eminent Italian artists. Museum's art collections are gathered with efforts of the noble Milanese art enthusiastic, Giacomo Poldi Pezzoli; eventually donating his palace along with its vast art collections to Brera Academy in the 19th century.
Alongside assortments of striking paintings, varieties of sculptures, admirable porcelain jars, Persian silk carpets, a large collection of warfare artifacts are showcased in Pezzoli Palace. House Museum of Pezzoli was destroyed partially during World War II and restored for public viewing since the 1950s.
11. Cimitero Monumentale di Milano – Monumental Cemetery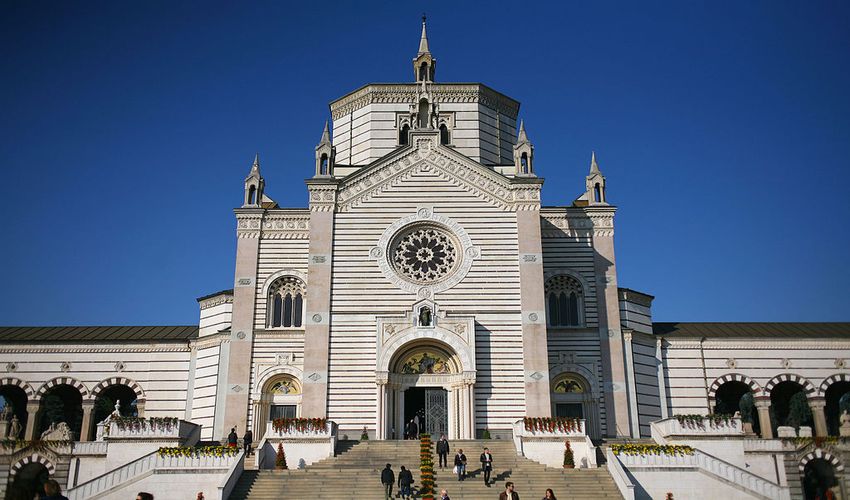 Remarkably one of the most beautiful sites of Milan, Monumental Cemetery of Milan is the final resting place of far-famed Milanese men. A combination of the majestic family mausoleum and carved tombs merged with breathtaking sculptures and monuments recalls a colossal art museum- and not similar to a cemetery. Constructed by the artistic hands of Carlo Maciachini in the 19th century, Monumental Cemetery was the collective unification of a few smaller cemeteries belonging to different timelines.
The architecture of memorials, crypts of distinguished Italian personas and an immense number of artwork decorations, all contribute to the cemetery's unique and artful aesthetics. Considering the cemetery's primordial history, Milan's Cemetery edifices, temples, and sculptures are traced back to the Roman era. Located in the north of Milan, Monumental cemetery is about 3 kilometers from the cathedral; a short drive on public transport bus or train routes.                                                                                                                  
12. Quadrilatero Della Moda – Milan's Fashion District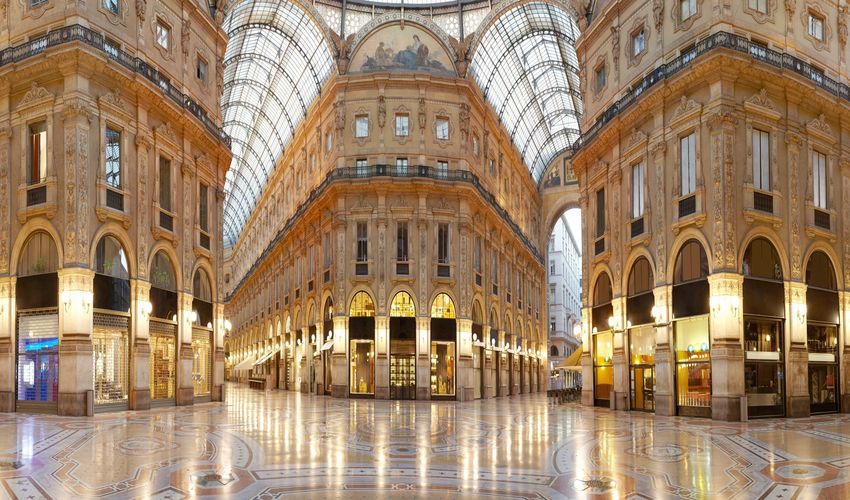 The fashion district of Milan is noted among the most popular fashion zone in Italy and Europe sits at the central zone of the city. The name of this district literally translates into a "rectangle of gold"; referring to the luxurious essence of this locality. Authentic Northern Italian palaces and medieval buildings intermingled with refined boutiques and shops; creating a medieval mix with modern-day fashion, an ambient particular to Milan's fashion quarters.
Favored mostly by shopping fans, the golden rectangle encompasses museums and historic palaces; to add generously to its cultural profundity. Walkthrough the aristocratic courtyards of the district and enjoy the most recent overhauls of the fashion world, here in Milan's fashion district. Modish cafes and world-famous restaurants are available for an overall premium experience in Milan's fashion district.
13. Santa Maria Presso San Satiro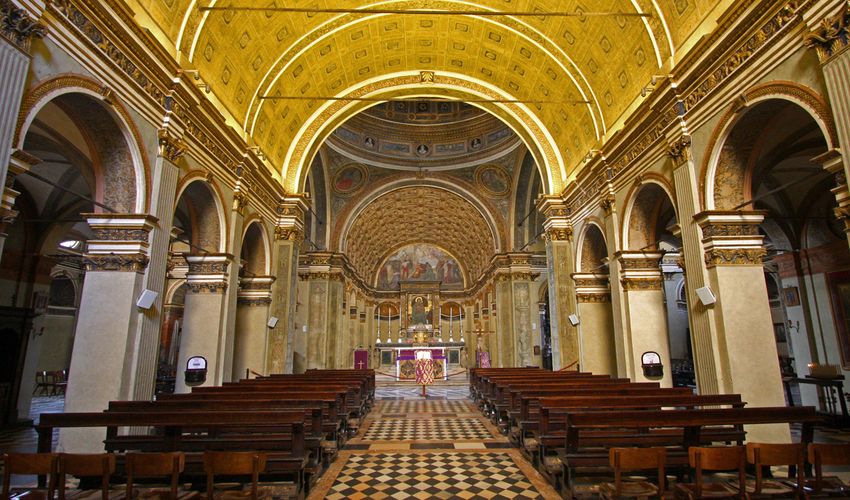 Neighboring Milan's cathedral stands the magnificent renaissance Church of Santa Maria at San Satiro. Shrine of San Satiro is the early foundation of San Maria Church, dating back to the 9th century. Additional structures of Santa Maria Church and a baptistery were added in the 15th century by Bramante, the royal architect; merging varied panaches of architecture and fresco decoration from different eras.
Inside of the church is entirely decorated with fresco paintings and life-size sculptures. Behind the church's altar rests one of the unique illusions of medieval architecture; an optical illusion created to address the problem of space scarcity.
14. The World of Da Vinci Museum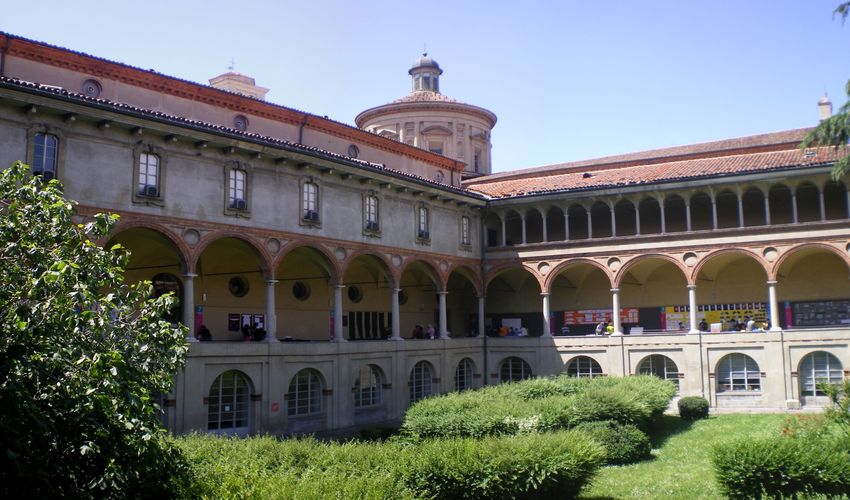 Dedicated to the illustrious Italian scientist and artist, Leonardo da Vinci museum is located at Piazza Della Scala. Leonardo Museum exhibits a massive collection of his models, scriptures, and drawings. Various sections of this museum harbor scientific expositions in the field of chemistry, astronomy, and acoustics. 
Phenomenal displays of Leonardo Museum range from the wondrous time machine of Da Vinci to maritime republic era relics and historic railway artifact. Discover the masterpieces of The World of Da Vinci while visiting the first Italian submarine at Halls of the Museum.
15. Museum of Bagatti Valsecchi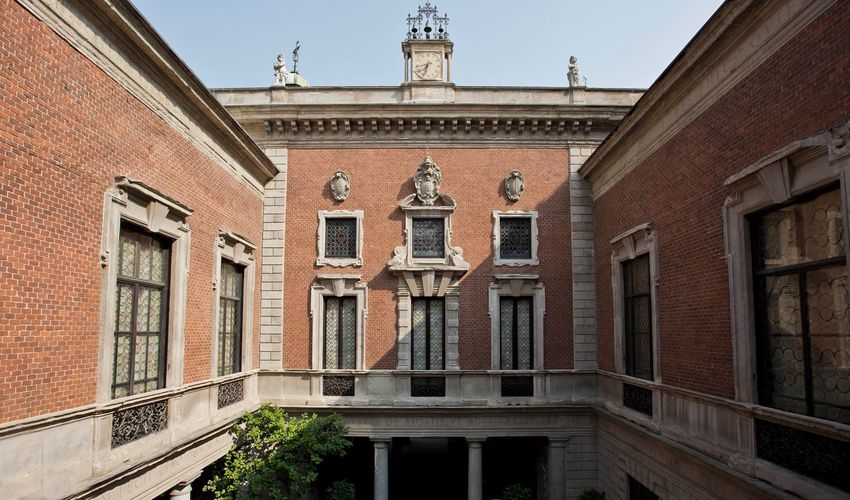 Another example of Milanese aristocratic art collection, Bagatti House Museum is situated in the downtown district of Milan. This house museum was the residence of Bagatti brothers who collected the antiquarian articles and masterpieces. A visit to this palace has been described as time travel back to the renaissance era.
With a large collection of renaissance paintings, the palace's decorative artifacts such as sculptures, armors, and watches are presented for public visits. Walk among the majestic Bagatti Palace, the renaissance brothers' collections, and familiarize yourself with the noblemen who once resided in this building.
Prevalent characteristic in Italy, each attraction in Milan must be well introduced to impede overlooking the astonishing details. A great guide along with audio tours and even joining hop-on buses around the city can provide bewildering views and well-detailed introductions of Milan's touristic sites.