Experiences of a lifetime await in Orlando, Florida, the city with the most theme parks and entertainment attractions in the world. It is best known for the famous Walt Disney World Resort, Universal Studios and Sea World which attracts millions of visitors to the city every year, but as the number of visitors to the city grew, so did the attractions and entertainment options.
It is the ideal family destination, but also a vibrant and thrilling playground for solo travelers and adults looking for something different to see and do as its attractions cover a wide spectrum that caters for all tastes. Check out this list of must-see and do's, starting with the major theme parks, to help you make the best of your visit to the beautiful city.
1. Walt Disney World Resort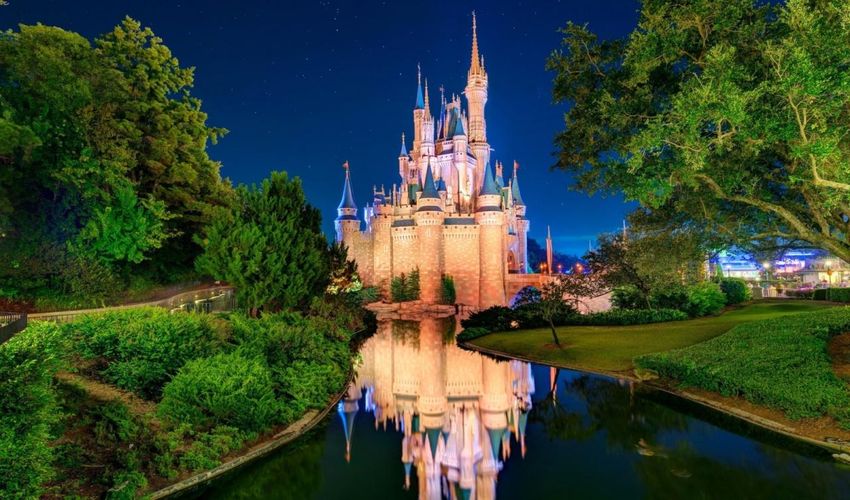 World Disney World Resort is about 20 minutes drive from Orlando in the Bay Lake and Lake Buena Vista area, Florida. The resort is built on a 25,000-acre property and comprises four theme parks, two water parks, 27 themed resort hotels, nine non-Disney hotels, golf courses, a camping resort and Disney Springs, an outdoor shopping center.
The theme parks within the resort are the Magic Kingdom, the first one to be built in the resort, followed by Epcot Center, Disney's Hollywood Studios and Disney's Animal Kingdom.
Feel the magic from the moment you board a ferry to take you across the lake to the jaw-dropping gorgeous Magic Kingdom where all paths lead to the magnificent Cinderella Castle. Explore the exquisite park, inspired by fairy tales and filled with Disney characters and be sure to stay long enough to see the Parade which starts in the evening and ends with an incredible firework display over Cinderella Castle.
Epcot Center is more than twice the size of the Magic Kingdom, dedicated to celebrating mankind's achievements and designed both to entertain and to educate.
Enter the world of showbusiness and the excitement of the making of movies when you visit Hollywood Studios. Its attractions incorporate animation, 3-D and Circle Vision 360. Get the thrill of your life and take the drop inside the Twilight Zone of Terror.
Animal Kingdom is a zoo-like themed park with its own magic and attraction. Make sure to watch Festival of the Lion King, a Broadway-style show, and Finding Nemo – The Musical.
2. Disney Springs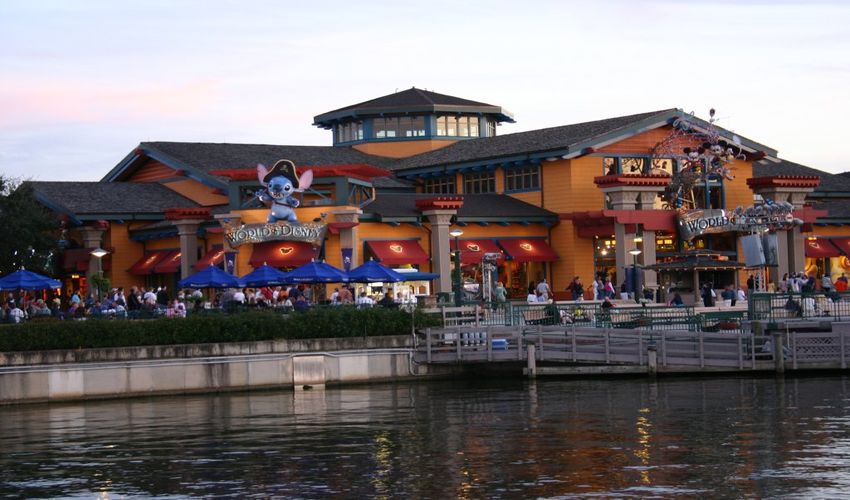 Visit Disney Springs, Disney World's outdoor shopping, dining, and entertainment mecca, with no admission fee. The area is divided into four unique neighborhoods namely West Side, Town Center, The Landing, and The Marketplace.
If it's nighttime entertainment you are after, The Landing is the place to go with 12 establishments offering food, drinks, and entertainment until 2 am. You can take a flight on Aerophile, the world's largest helium balloon for views over the resort, or a ride in a vintage amphicar.
3. Universal Studios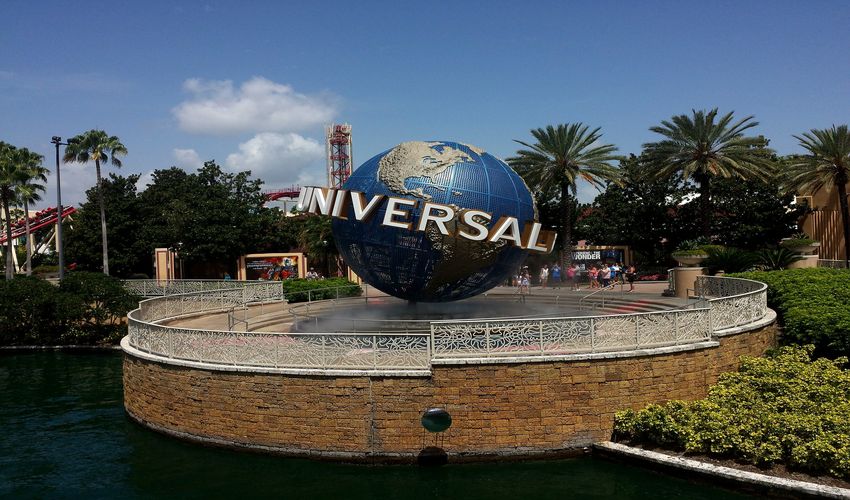 Live and feel the action of your favorite movies and television shows at Universal Studios, the park with the entertainment industry as its theme. Meant to be a backstage audio tour when it opened in the mid-1960s, the park has evolved to what it is today: an exciting experience where popular movies and television shows are brought to life through thrilling realistic rides, shows, and attractions.
Most of its attractions are based on movies that were developed with its creators like Steven Spielberg, co-founder of the park who helped to create various attractions like the E.T. Adventure. Take the Hogwarts Express at King's Cross Station to Hogwarts Castle where you can cast spells like Harry Potter or fight aliens in MEN IN BLACK.
Transformers: The Ride-3D is one of the most popular attractions, followed by Fast & Furious: Supercharged. Other attractions worth visiting are Despicable Me Minion Mayhem and King Kong 360 3-D which is a highlight of the Studio Tour.
4. Universal's Islands of Adventure and Volcano Bay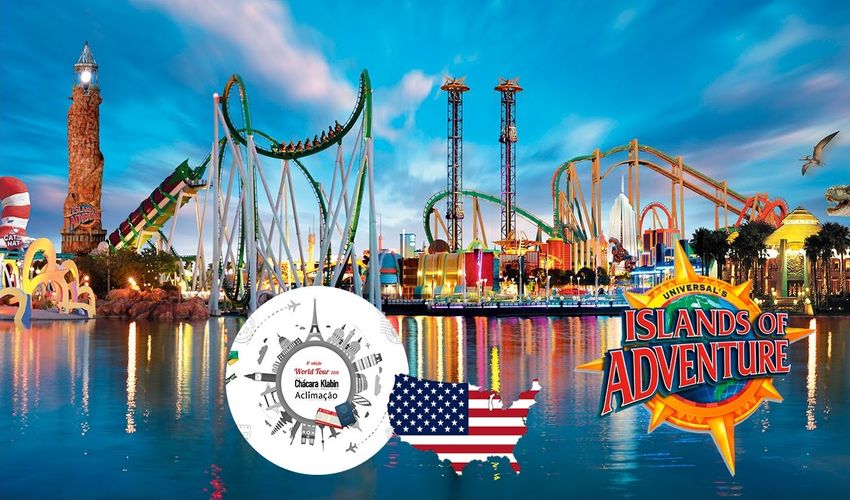 Explore a variety of themed islands on your visit to Universal's Islands of Adventure, Tripadvisor's Travelers' Choice number 1 Amusement Park in the World from 2015 – 2019.
The islands include The Wizarding World of Harry Potter, Toon Lagoon, home of cartoon and comic strip heroes like Popeye, Jurassic Park, The Lost Continent, Seuss Landing and Marvel Super Hero Island where you will find attractions starring Spider-Man and the Incredible Hulk.
You are in for hair-raising roller coaster rides, motion-based 3-D simulator rides or water fun where you will get soaking wet at this fantasy and thrilling park. Volcano Bay is the ultimate water park built around Krakatau, a massive artificial volcano and it features the tallest body slide in America, drop capsule slides and slides which will take you through the volcano.
5. Sea World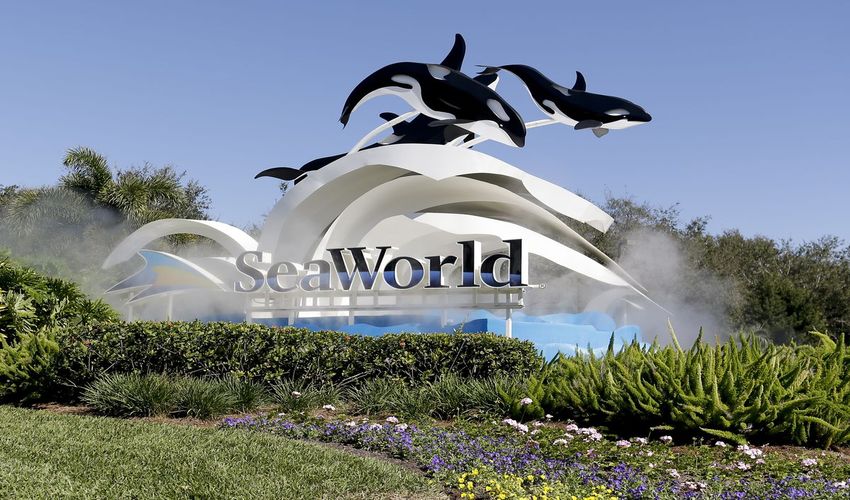 You will find that Sea World is like an amusement park, zoo and aquarium all rolled into one incredible and exciting attraction. Although it is a ride-based park featuring some of the best rollercoasters, its focus is mainly on animals and animal rescue. It is said that Sea World has helped rescue more than 26,000 animals like sea turtles, dolphins and manatees from Central Florida.
The park also houses a dolphin nursery for mother dolphins and their calves, and as you explore the park you can interact with and see a variety of animals like flamingos and alligators. The park features hugely popular animal shows.
Killer whales are the focus in its feature show, One Ocean, in Blue Horizons dolphins are the performers and sea lions, an otter, and a walrus get their time in the limelight in Clyde and Seamore's Sea Lion High show. The rides need a mention as the park features some of the best thrilling rollercoasters like Mako, the highest, fastest and longest in Orlando. In Manta you lie face-down and nosedive at an incredible speed while Kraken is a floorless coaster that takes you to heights of 150 feet.
Visit the top of Sky Tower in the center of the park, a 400-foot observation tower, for views over the park and take children to play and have fun In Shamu's Happy Harbor.
6. Old Time Kissimmee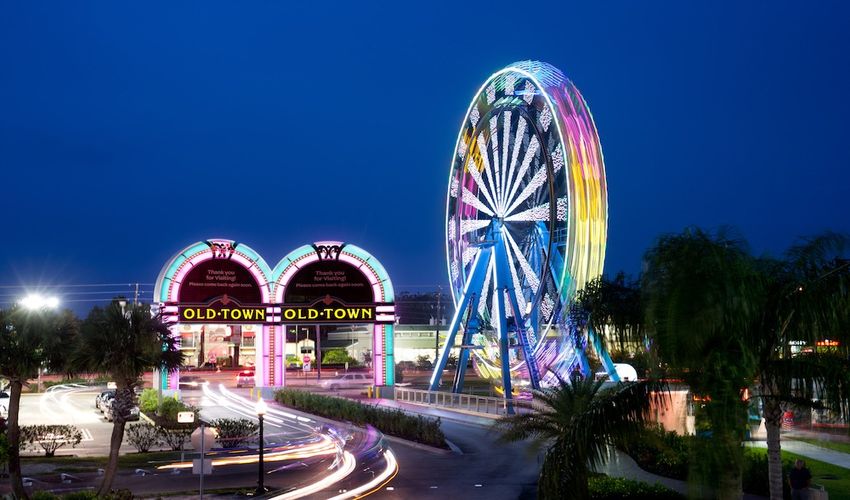 Take a break from the theme parks and a step back in time and visit Old Town, the recreation of a classic Florida town which is an outdoor shopping mall, entertainment area and amusement park in Kissimmee, also known as the Gateway to Walt Disneyworld.
Entrance is free and it offers fun and affordable entertainment like a ride on its iconic hand-built Ferris Wheel from where you have spectacular views over Orlando and Kissimmee. Play classic games in the Happy Days Family Fun Center, an old-time games arcade, or visit The Great Magic Hall and become part of the magic when you attend the magic show.
On Friday and Saturday evenings, find a spot on a sidewalk to watch classic and muscle cars drive down the brick-layered Main Street
7. Gatorland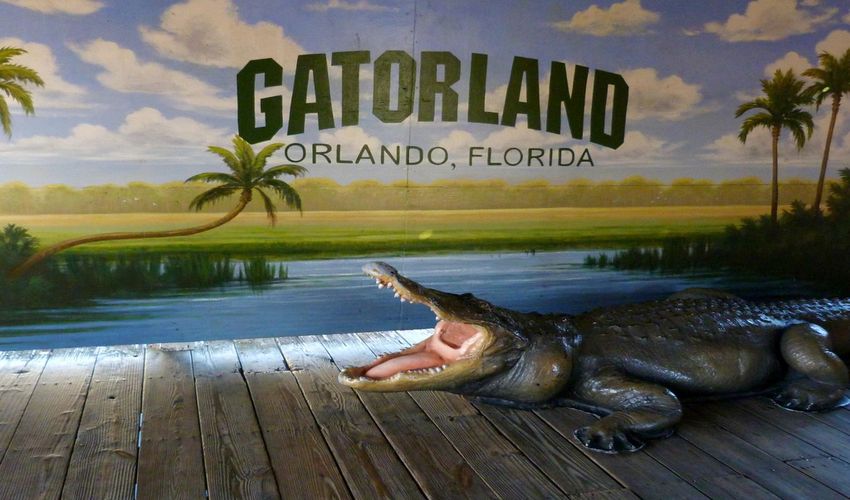 Visit the wildlife preserve and theme park on Orange Blossom Trail south of Orlando which is home to thousands of alligators, crocodiles and other animals for a unique experience. Gatorland, also known as Alligator Capital of the World, is known for rescuing and saving nuisance alligators from trappers to save them from being killed for their skins and meat.
It is also a theme park with rides, of which the latest is the Stompin' Gator Off-Road Adventure where guests are taking on a 15-minute rugged adventure in off-road monster vehicles through the swamps.
Other attractions include a breeding marsh with a boardwalk, a miniature railroad, alligator feeding and wrestling shows, a petting zoo, and educational programs.
Adrenaline junkies should not miss the Screamin' Gator Zip Line. The journey takes you on an 1200-feet flying adventure over the park.
8. Kennedy Space Center Visitor Complex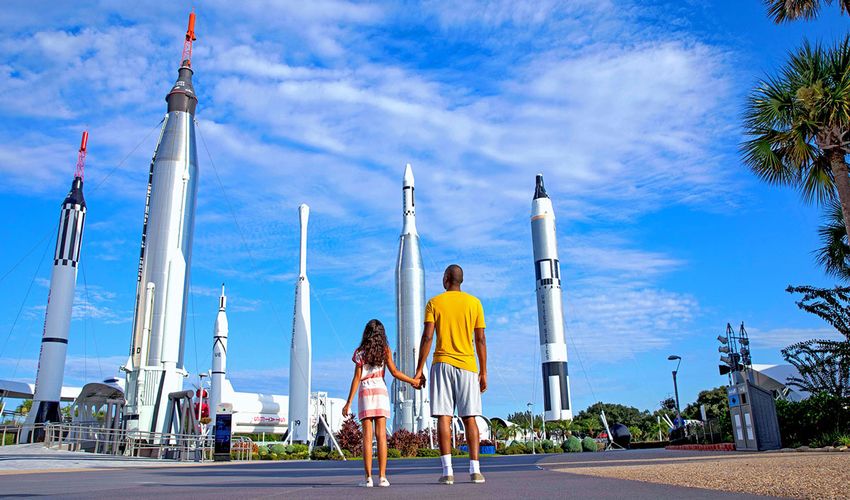 Get a peek into space exploration and meet an astronaut on your visit to the Kennedy Space Center Visitor Complex, about an hour's drive from Orlando. Visit one of Nasa's best-known operation centers to get behind the scenes and learn about the space program and the lives of those who made it possible. You need at least a day to see and experience all the high-tech interactive exhibitions that this one-of-a-kind attraction offers.
One of its main attractions is the Atlantis space shuttle, which hangs from the ceiling in the Space Shuttle Atlantis Exhibit as if it is in mid-flight. It is displayed in the way astronauts saw it in space and looks as if it just undocked from the International Space Station.
Take the bus tour through the park for access to restricted areas of the Kennedy Space Center, feel what it is like to launch into space in the Shuttle Launch Experience and take a walk beneath a real Saturn V-rocket, the type that launched humans to the moon.
9. Legoland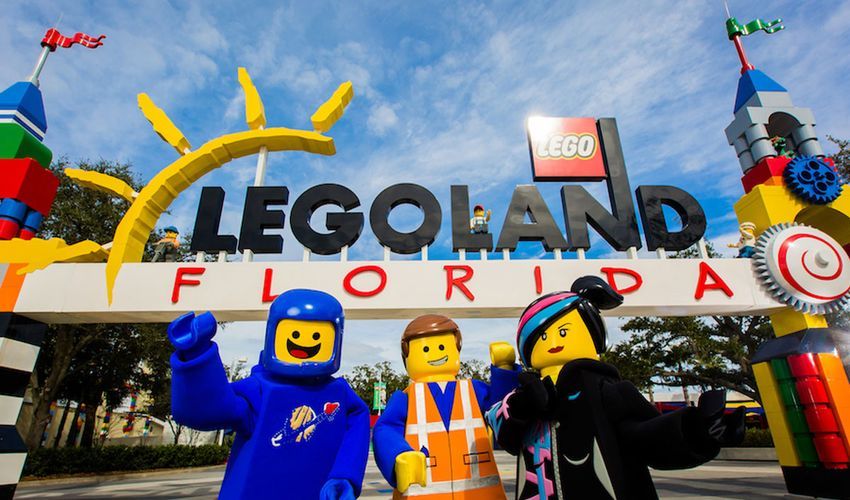 A must-visit attraction where kids can live their fantasies and become inspired to be even more creative and to dream big, that's Legoland. The resort offers more than fifty rides, shows, and attractions that are designed for families with small kids. Everything in the park has a Lego theme, including pool toys, lunch boxes and even drink cups.
At all the theme parks it is advisable to get a map showing all the exhibitions, activities and shows to make the most of your time.
The resort features 11 zones of which Miniland is one of the most popular attractions. It features miniature Lego cities like Las Vegas and New York City. At Imagination Zone, visitors can create and build various things and at Legoland Water Park children can build their own rafts and use them to float down the lazy river.
10. Orlando Science Center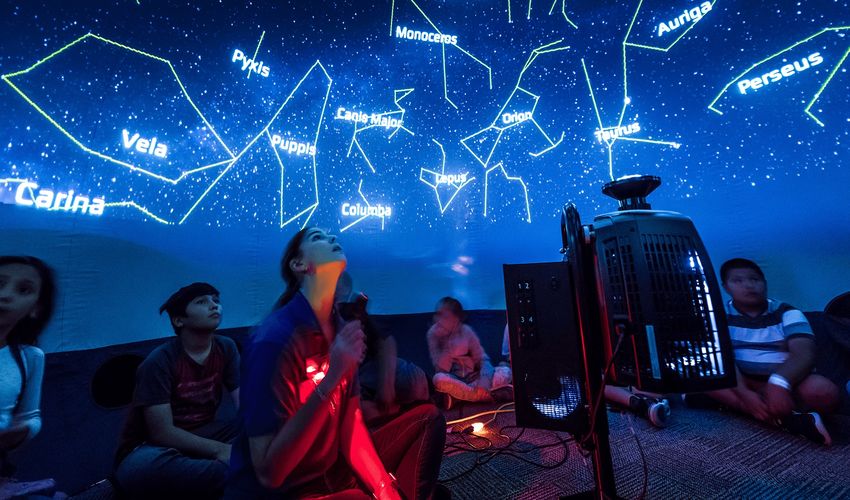 Four floors of interactive exhibit halls, which include a tornado and planetarium, make a visit to the Orlando Science Center worth the visit. It features a variety of exhibits like Dino Digs where visitors can unearth replica fossils of dinosaurs, KidsTown where children under the age of 7 can play and learn in an exciting environment and Flight Lab where you climb into a cockpit and feel and experience the life of a pilot, to name but a few.
Other exhibits are Top Secret: License to Spy; Pompeii: The Immortal City; Nature Works, Kinetic Zone; The Hive: A Makerspace; Fusion: a STEAM gallery and Our Planet. There are also two theatres showing educational films, performances, and laser light shows.
11. The Wheel At ICON Park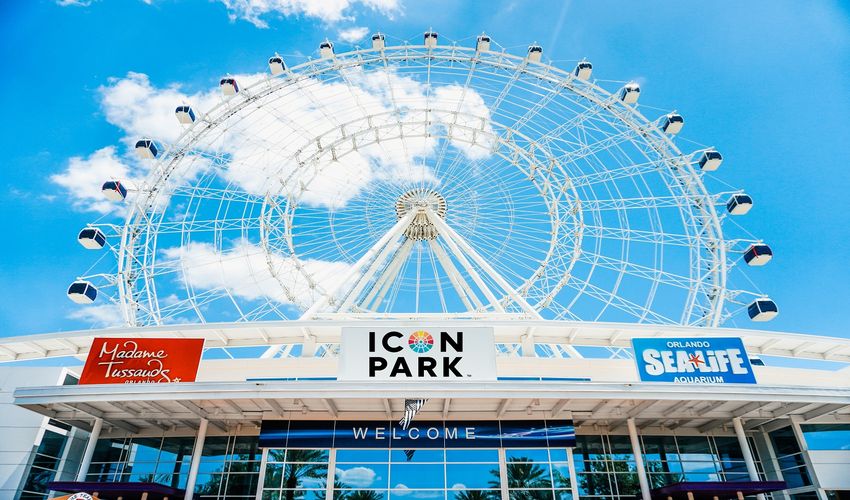 Get a breathtaking view over Orlando from the 400-feet high observation wheel at ICON park. The Wheel is one of the newest attractions in Orlando and is the focal point of the walkable entertainment destination called ICON park. It has 30 climate-controlled capsules and the rotation takes 22 minutes.
Icon Park is a huge walkable entertainment destination with lots of restaurants, bars, and shops.
12. Orlando Airboat Rides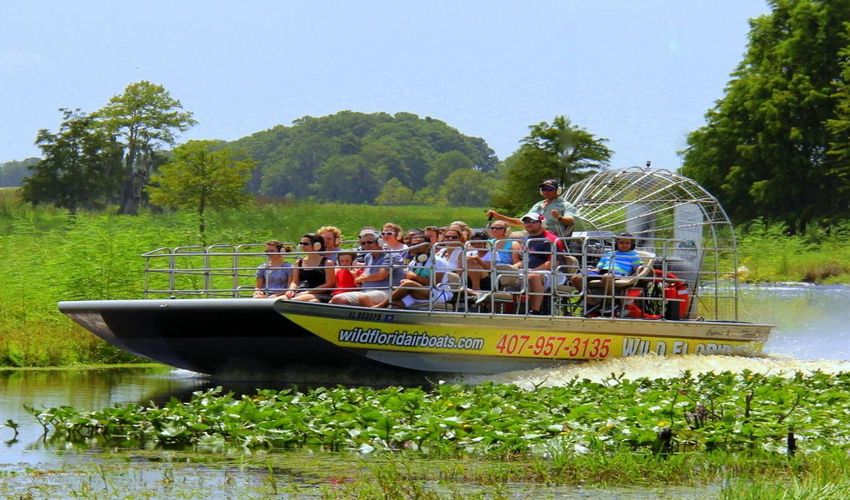 Go on an airboat tour to get out of the city and into nature! Airboats are flat-bottomed boats that are powered by aircraft propellers and they are used to navigate through marshy areas like the Florida Everglades.
It is a fun way to see Florida's wild side and provides a unique way of seeing the native wildlife and foliage from up close. There are a variety of airboat tours to choose from, depending on the time you have available.
13. Lake Eola Park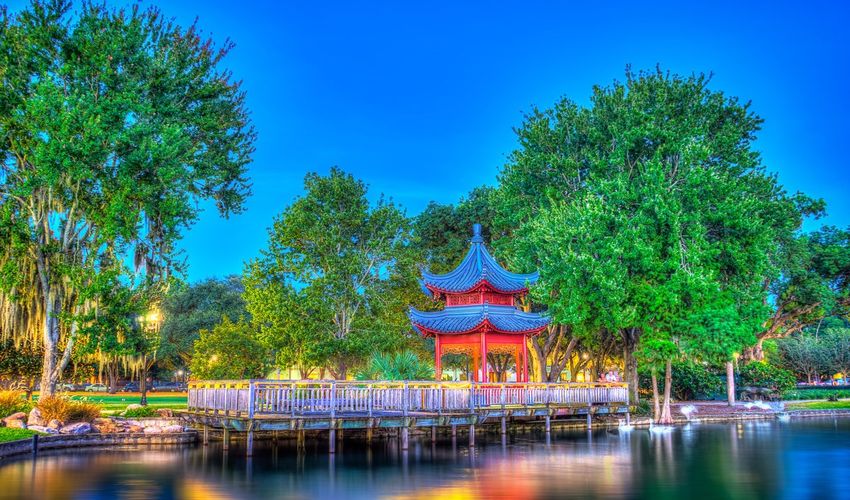 Rent a pedal-powered swan boat to go on a leisurely cruise around Lake Eola from where you can view the park and check out its famous fountain up close.
The lake is a sinkhole within the South Eola neighborhood of Downtown Orlando, circled by a sidewalk ideal for walking or jogging. The park is home to the Walt Disney Amphiteatre where movies, plays or concerts are occasionally held.
14. Titanic: The Artifact Exhibition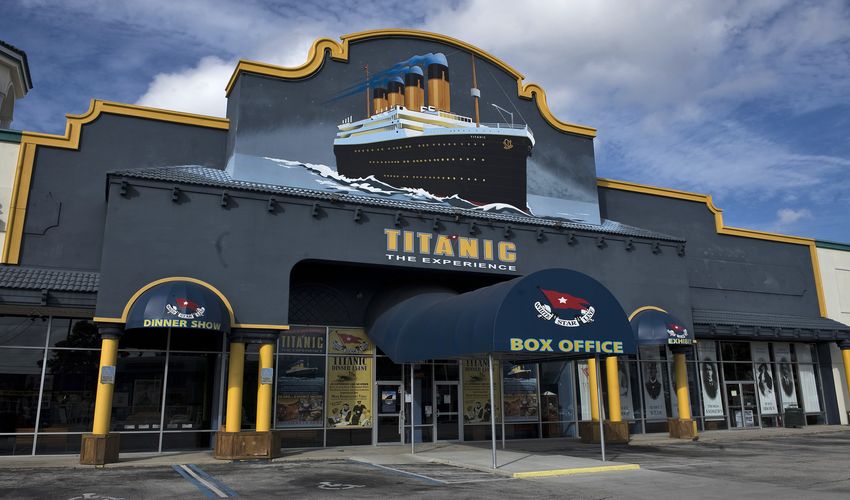 Feel like a passenger boarding the Titanic for its maiden voyage in April 1912 when you visit this exhibition. Upon entering guests receive a replica boarding pass and follow a chronological journey through life on the doomed ocean liner.
You are then taken through a series of 17 rooms in which the first two feature actors dressed like chambermaids and shipbuilders, who provide you with background about the Titanic.
From there you explore on your own, starting at the dockside ramp and through to the magnificent Grand Staircase. Your journey ends at the bridge where you watch the sinking of the ship on television monitors.
More than 300 artifacts and historical items are displayed including the Little Big Piece, the second largest piece of the ship ever recovered, namely a 3-ton section of its original hull.
15. Wonderworks Orlando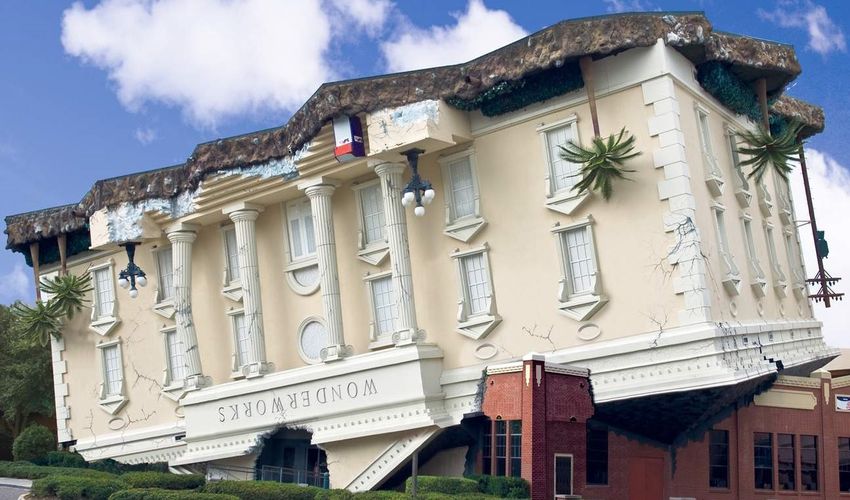 "Let your imagination run wild" – the slogan of the company explains what you can expect when you visit Wonderworks, an attraction which combines education and entertainment in its more than 100 hands-on exhibits designed to challenge the mind and to spark the imagination.
When you see the building, which stands on its head in International Drive, Orlando, you will understand why a visit to the exhibition will turn your world upside down. Explore the six Wonder Zones namely Extreme Weather Zone, Physical Challenge Zone, Space Discovery Zone, Light and Sound Zone the Art Gallery and Imagination Lab for unique learn and play experiences.
The basement holds the fun and action like the glow-in-the-dark Indoor Ropes Course, the Laser-Tag arena and a whirlwind adventure in the 4D X D Motion theatre.