Australia boasts over 25,000 kilometers of sweeping coasts, covering from surfing coasts, tranquil beaches, wilderness hemmed shores, wondrous snorkeling reefs, urban fringed coastlines, to pleasure boating and fishing destinations there is a beach for every taste and travel purpose in the Land Down Under.
Although the excess of coastlines comes with a downside; countless options to choose from. To solve this issue, our team of travel experts has gathered a countdown list of the top 20 beaches in Australia that you must visit at least once in a lifetime.
1. Rapid Bay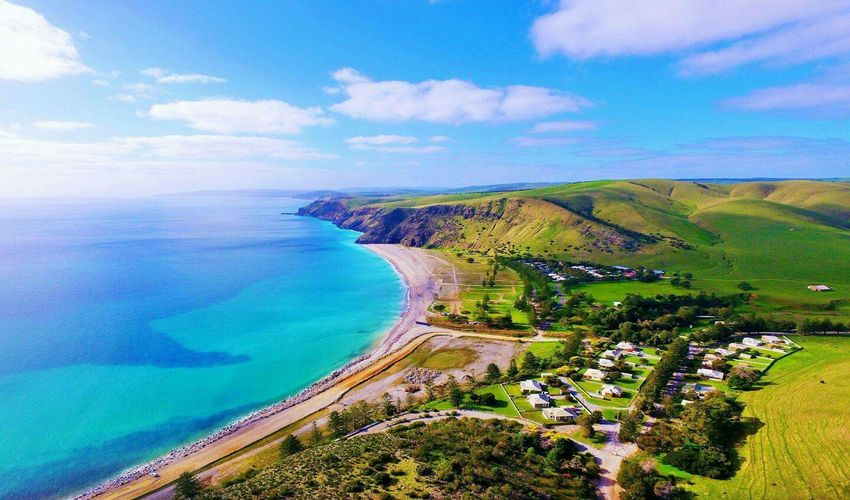 Between the stretches of sandy beaches and sculpted cliffs covered in scarce shrubberies, the Rapid Bay coasts remind one of the Sardinian terrains depicted onto red-hued Australian soil. The famous stretch covers an area of over 100 km of southern Adelaide- the artistic capital of the Yankalilla district.
Known for its exceptional reefs and several shipwrecks, the bay is a popular spot for snorkeling. The bordering beaches are dotted with scenic caves and topped with panoramic viewpoints over the imposing cliffs.
Watersports, particularly boating activities, are popular here, provided with facilities at the bay's two jetties; the public one and BHP Jetty.
2. Hyams Beach
Luxurious in nature and man-made amenities, Hyams Beach sits close to the cultural City of Shoalhaven and its spectacular wineries- famed as the beach with the whitest sand in the world. From one side, the spans of pale silica are lined with crystalline wears and the other side verged with opulent beach resorts, fine restaurants, and premium amenities.
Diving from the side cliffs, snorkeling in crystal clear reefs, whale watching, or lounging on the bed-and-breakfast resorts while dipping the toes in the powdery sand and enjoying a mid-day cocktail- having fun is the region's characteristic endeavor.
3. Noosa Main Beach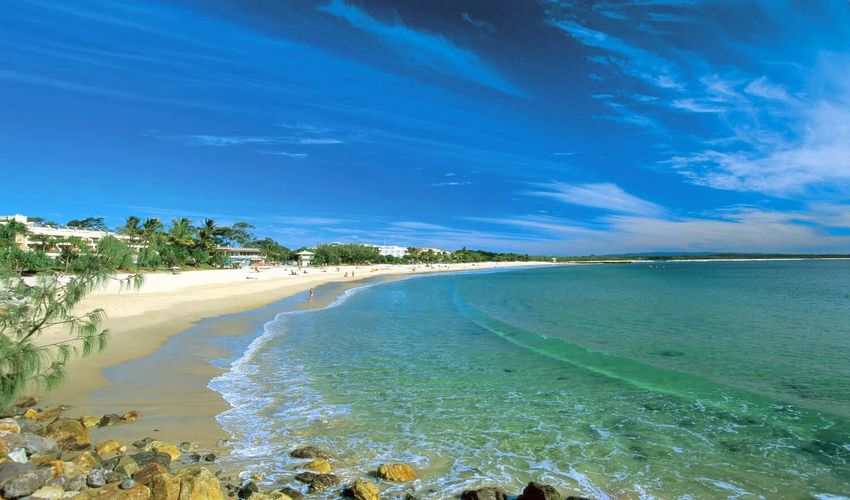 Marked as a family-friendly destination, Noosa Main Beach lounges just pace from the curated parking lots amid the namesake national park and coastal town.
Once resided by the aboriginal communities, the town is visited for the stretches of golden sand, turquoise waters, and quaint summer cottage by the tourist; whether to soak in the sun on the picturesque coasts or hit the trails that run along the ocean-side panorama to spot koalas and colorful parrots.
Each season, the iconic Noosa Festival of Surfing celebrates the athletic spirit of the coast with long boards, surfing competitions, food, music and a festive atmosphere.
4. Bondi Beach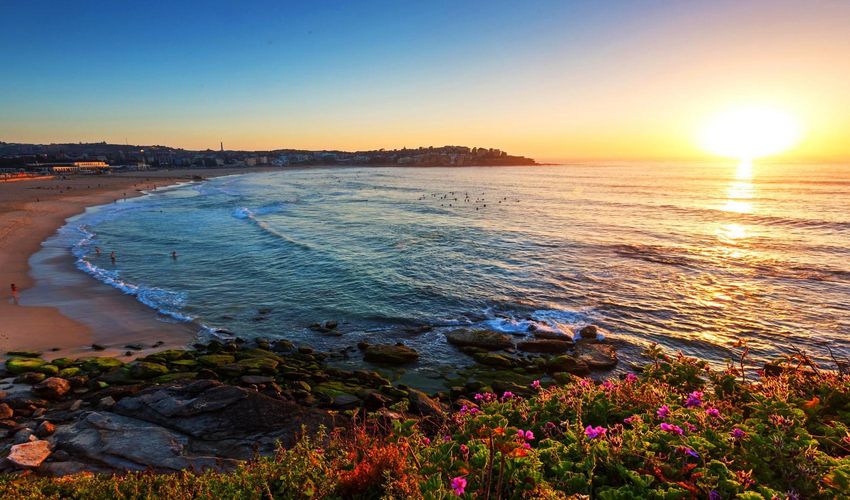 One of the most famous coastlines in the world, Bondi Beach is the aquamarine gem near Sydney, with a curved stretch of sand flanked with bars, cafes, music clubs, and relaxing beach resorts. This nationwide landmark offers culturally valuable sites such as Queen Elizabeth drive, and the historic post office.
Combining culture with a natural wealth of astonishing seaside beauty, the beach is titled a national heritage.
At a short distance, Bronte Beach presents a family friendly seaside pool, surfing waves and a quitter sandy stretch.
5. Burleigh Heads Beach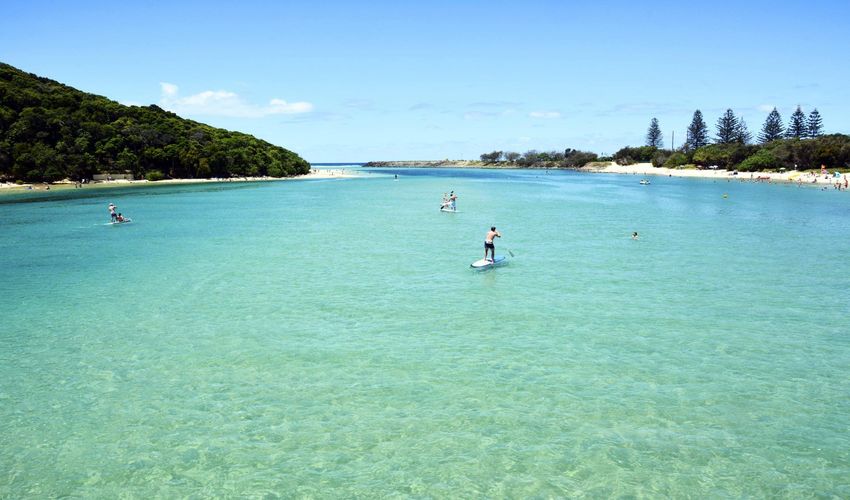 Fine amenities, turquoise blue waters, exceptional waves for surfing, and all the urban comforts of a fine suburb Burleigh Heads Beach is a fun family destination. Noted as a World Surfing Reserve, several sports clubs are available for lessons and lending surfing equipment.
This beach stands as the most popular beach of the Gold Coast and enriched with a long-lasting heritage of the Kombumerri clan, the aboriginal residents of these shores. Beach showers, playgrounds, shaded areas, clubs, fine restaurants- comfort and beauty are found in all directions here.
6. Lizard Island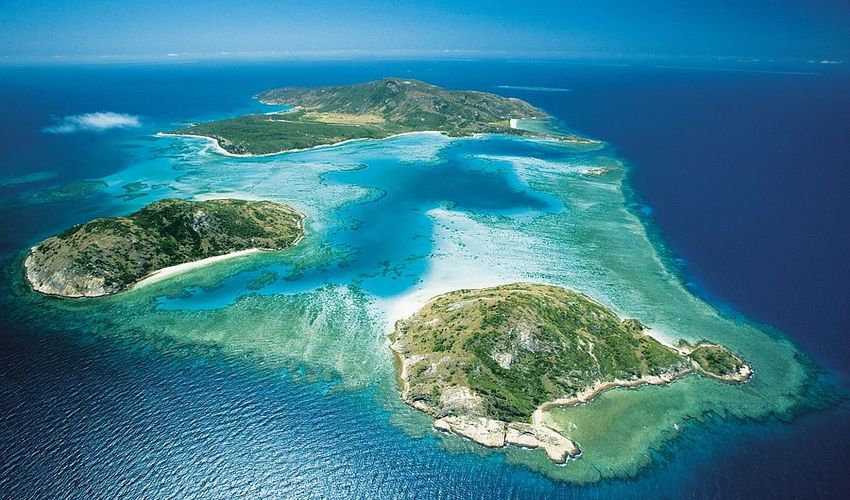 The idea of going away from the mundane everyday life and getting lost into a realm of natural luxury comes to reality in Lizard Island. Surrounded by breathtaking stretches of white sound and irresistibly crystalline waters, the island offers a surreal landscape of tropical nature and picturesque coasts.
From snorkeling in the famous underworld of the Great Barrier Reefs to being treated into deluxe comfort at some of Australia's most fancy resorts with all-inclusive amenities- these shorelines have been referred to as a true paradise by many visitors.
7. Port Noarlunga Beach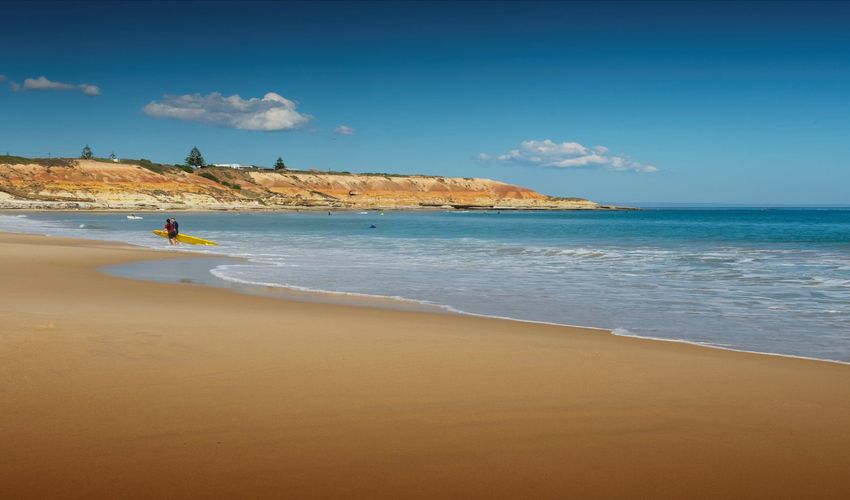 Crisp waters and coral reefs, fancy hotel accommodations, to rolling hillocks of the famous McLaren Vale wine region near Adelaide the port offers countless beach and sun activities, accompanied by exceptional hospitality found in small urban settlements with great food and wine.
Port Noarlunga is one of the country's six aquatic reserves with several rare fish and coral species beneath its turquoise surface. With the village nearby and jetty's welcoming sentiment, this destination is popular with families.
8. Bay of Fires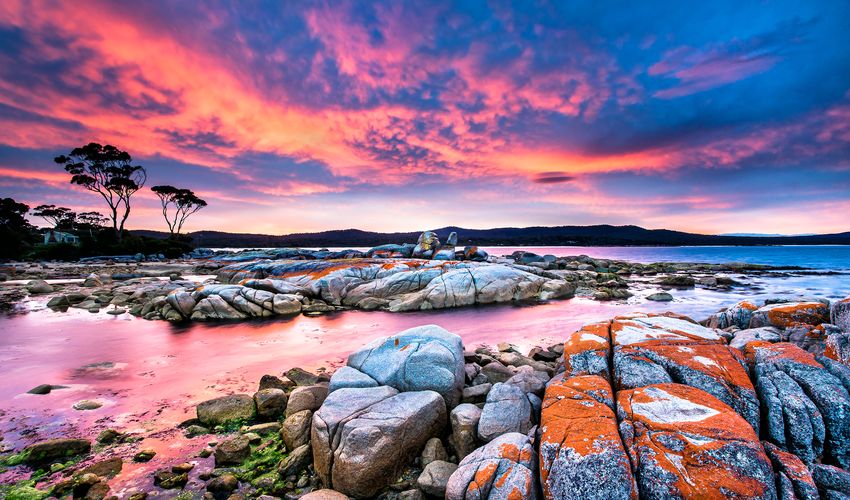 Bay of Fires is a place that nature plays with aesthetics of contrast; massive orange rocks fringing the bluest of shores and small tracts of white sand, this beach marks one of the most photo-worthy destinations in Australia.
Often labeled as a hidden gem, the beach is stretched along the north-eastern shores of Tasmania. Hitting the waters for swimming and snorkeling, hiking into conservation areas, or taking a wine tasting tour around its wineries highlight the laid-back activities.
9. Etty Bay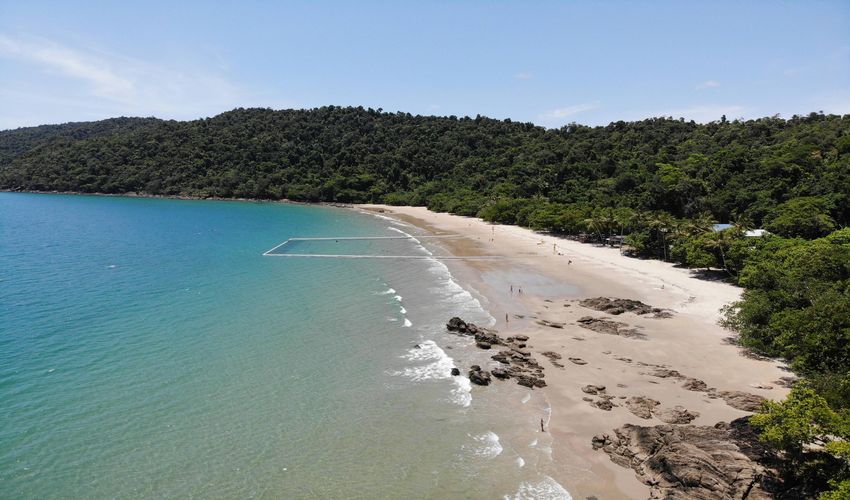 Located just kilometers from Innisfail township, Etty Bay is marked as a surfing ground amid a well-reserved wilderness. With sweeps of white sand and crystalline waters of the Pacific ocean, the bay has a unique peculiarity. The shores are encircled by dense tropical forests and Australia's largest flightless bird, the famous Cassowary.
They are often spotted while taking a graceful stroll around the coast. While sailing, swimming, and surfing, these birds add to the characteristic panorama of the region- turning the coasts into a quintessentially Australian destination.
10. Pebbly Beach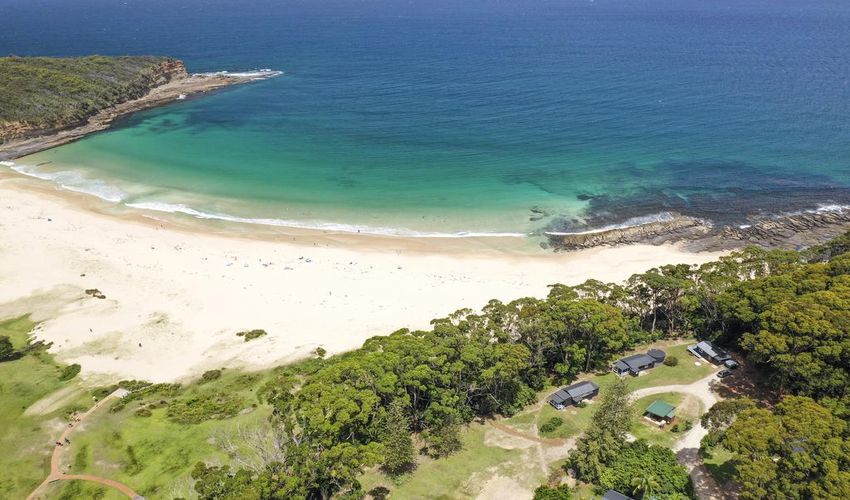 Sitting between Monterey and Carmel, Pebbly Beach is another haven that offers aquamarine waters and native animal visitors to the beach. Known for its encircling lush nature, the deep v-shaped beaches are often visited by friendly kangaroos.
Rugged beach coves in the vicinity, hiking trails, and kilometers of powdery sand coasts for surfing, boating, swimming, and sunbathing mark the major water sports.
Just paces away from the shore and panoramic luxury resorts, Pebbly Beach and the scenic Batemans Bay mark a renowned golfing destination.
11. Cable Beach, WA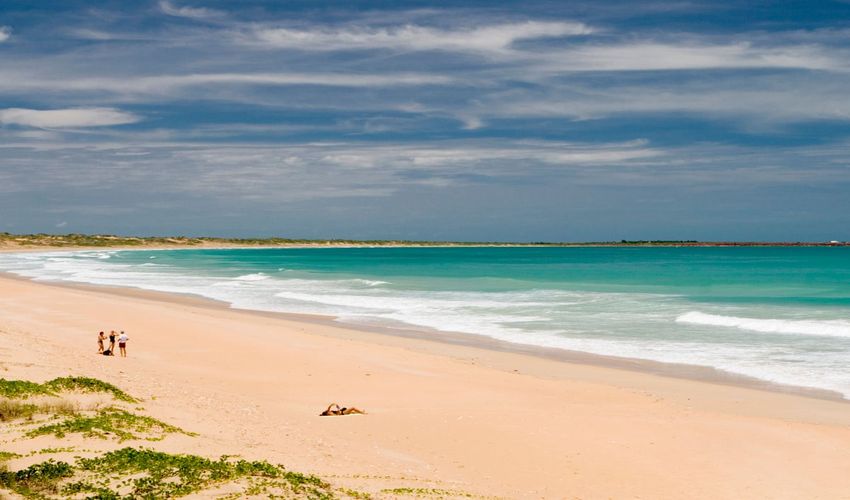 22 kilometers of white sand beach, these shores are famed for their warm waters and moreover, for the camel ride tours of the picturesque landscape.
Characteristic Indian Oceans sunsets, a vista of migrating whales and breaching dolphins, sided with flat stretches of beach rising to gentle cliffs of red ochre-this must-visit destination offers spectacular scenery and a wealth of posh amenities in the vicinity.
12. Noosa Beach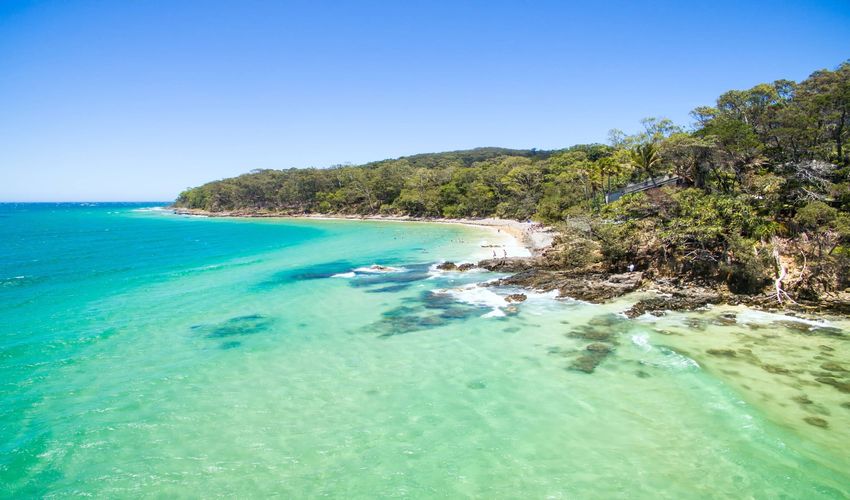 Few beaches in Australia permit the liberty of receiving integral sun, in other words, nude swimming. Noosa National Park and its scenic coastlines feature a nude swimming spot.
The beach is located near the world-famous surfing town of Noosa with countless kayaking and canoeing routes, hiking trails, and unique wildlife.
If nude bathing is not your cup of tea, visit the breathtaking Sunrise beach or the scenic Picnic Cove amid the lavish nature of the national park.
13. Twilight Beach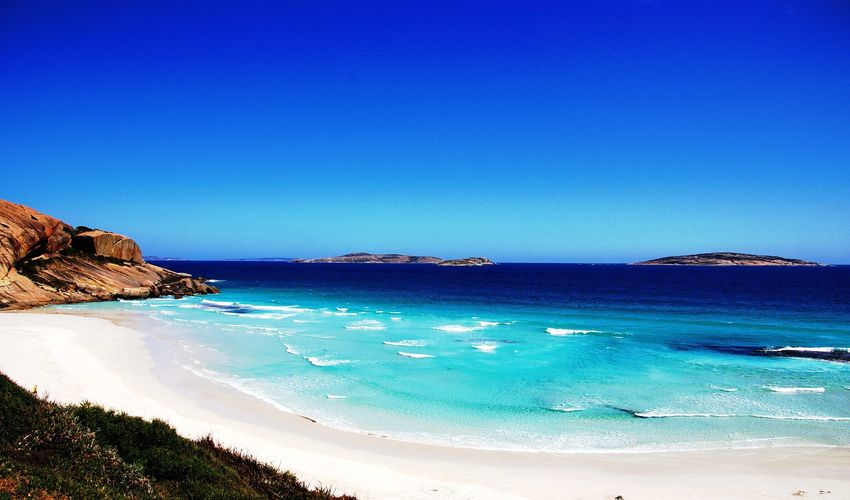 A short spur on the renowned Great Ocean Drive from Esperance, known as a home to Australia's most scenic beaches, reaches Twilight Beach. A haven of powdery white sand and crystal clear waters, the beach boasts once-in-a-lifetime views.
The sweeps of sand end at the beguiling granite formation on each far end, adorned with lively green of the nearby forests. Surfing, kayaking, snorkeling and swimming outline the favorite activities here.
14. Seven Mile Beach
Extensive spans of white sand around the Seven Mile Beach are named as a national treasure both for their innate beauty and heritage background.
The stretch is marked with private beaches that withhold the untouched wilderness combined with luxurious accommodations, as well as public spaces for swimming, surfing, and snorkeling in crystalline shores.
The surrounding dunes and low cliffs are home to several aromatic plant species and rare wildlife and bird species akin to rainforest landscapes of Australia.
15. Wineglass Bay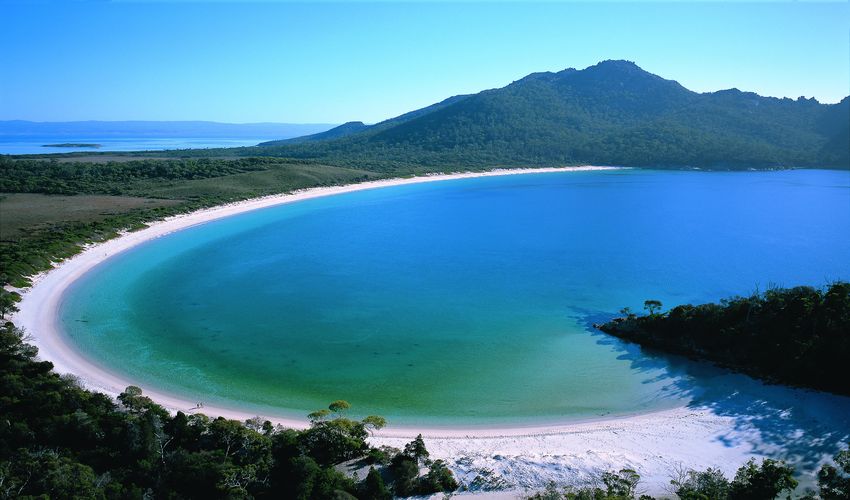 Embraced by the scenic Freycinet National Park, Wineglass Bay lounges on the foothills of the granite highlands of the Hazards Mountain Ranges. Housing some of Australia's most iconic beaches, this destination is enlisted among the top ten wilderness beaches in the world.
A 6 kilometers hike from Tasmania's epic and protected wilderness in the national park leads to the soft sand of Wineglass Bay, flanked by pink granite cliffs and lush coastal greenery.
16. Four Mile Beach
Landmarked with the heritage of Port Douglas, Four Mile Beach is bordered by tropical vegetation on one side, and turquoise waters on the other. Dotted with swaying palms, the beach itself is an impeccable stretch of white sand and favored with a variety of water sports.
Pleasure boating, swimming, surfing, and snorkeling are the most popular activities here, besides lounging on the sun-kissed beach resorts.
17. Byron Bay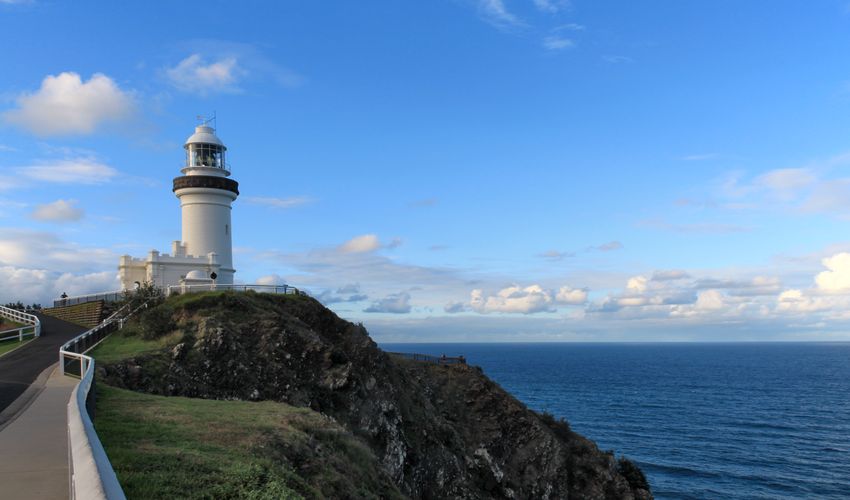 One of the most renowned beaches in the southern hemisphere, Byron Bay features an iconic Cape Byron Lighthouse, spectacular sand beaches, beach coves, scenic cliffs, and lots of playgrounds for water sports.
Besides its natural treasures, the beach also holds a historic value, marking one of the earliest landing points of the first Europeans to Australia.
18. Lucky Bay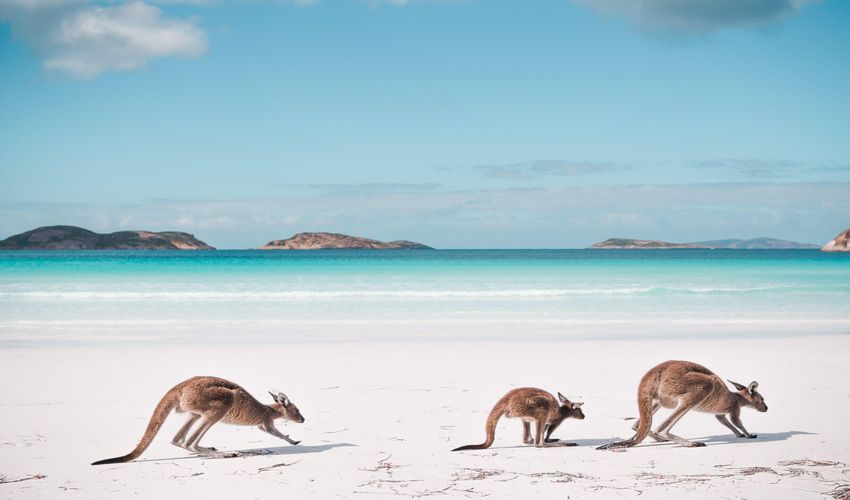 Protected in the wilderness of Cape Le Grand National Park, Lucky Bay is a recreation ground and some of the world's whitest and softest sand stretches. Pristine nature of the bay extends to all directions, connected by the panoramic Le Grand Coastal Trail that overlooks the turquoise water or the skirts of wildflower-strewn Frenchman Peak.
Beachside camping, hiking, snorkeling, swimming, and surfing- this beach is among the most uncontaminated and outdoorsy people-friendly destinations on our list.
19. Turquoise Bay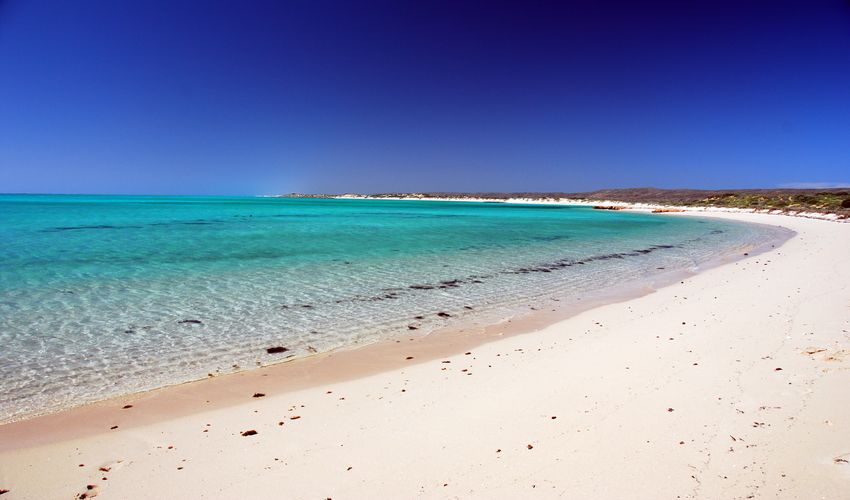 Lounging on the picturesque shores of Cape Range National Park, Turquoise Bay enlists as the most beautiful coasts of Western Australia. A magnitude of wild marine life, snow soft white sand beaches, aquamarine waters, and a wealth of ringing natures rewards the visitors with much to see and do.
Located near the watersport town of Exmouth, the regional winds make this bay favorable for kitesurfing and windsurfing sports. Before entering a natural park, visitors are required to attain a permit in exchange for a small fee- these charges are used to maintain the pristine wilderness of the national park.
20. Whitehaven Beach, QLD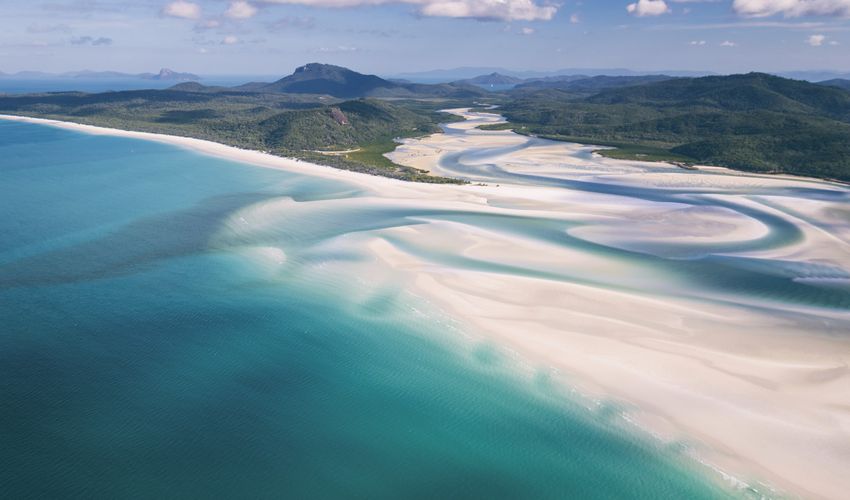 Lounging on the namesake island, Whitehaven Beach is ranked among the top beach destinations worldwide and inspires awe in the viewers with the striking palette of blue hues, created due to sand shift. These mesmerizing shades of blue are best seen with aerial tours and from a birds-eye perspective.

Extending over 7 kilometers, the beach is covered in a powdery blanket of white sand, bordered by abundant forests. Marked as a bucket-list-worthy destination, the beach offers tranquility, spellbinding beauty, and overnight camping amenities altogether.
It is accessible via planes, and boats, or for the more adventurous visitors, jet skis.
Our Final Suggestions
Sydney Beach
A capital city to New South Wales and home to art and culture, Sydney beaches are famed for surfing and their glittering beauty. Heritage sites highlight man-made attractions in the Emerald City such as Royal Botanic Gardens and the Harbour Bridge.
Minnamurra
At a meeting point of river and ocean, Minnamurra boasts turquoise water and a playful display of winding sand and blue waters. Scenic suspension bridges and the famous rainforest trail that lasts an hour of strolling amid a rich wilderness are the notable attractions on the CityRail South Coastline.