Whether wishing to swim on a rainy day or a cold season, celebrating a birthday to remember, or seeking all the hygiene and security of a world-class splash park- indoor waterparks in America provide an epic adventure, free from all the environmental restraints.
Here, innovative engineering and entertainment come together to create a pleasant environment for people of all ages.
For a memorable day at the aquatic centers, we have gathered the top 20 indoor waterparks in the US- accompanied by a few helpful reader's tips.
1. Kalahari Resort, Round Rock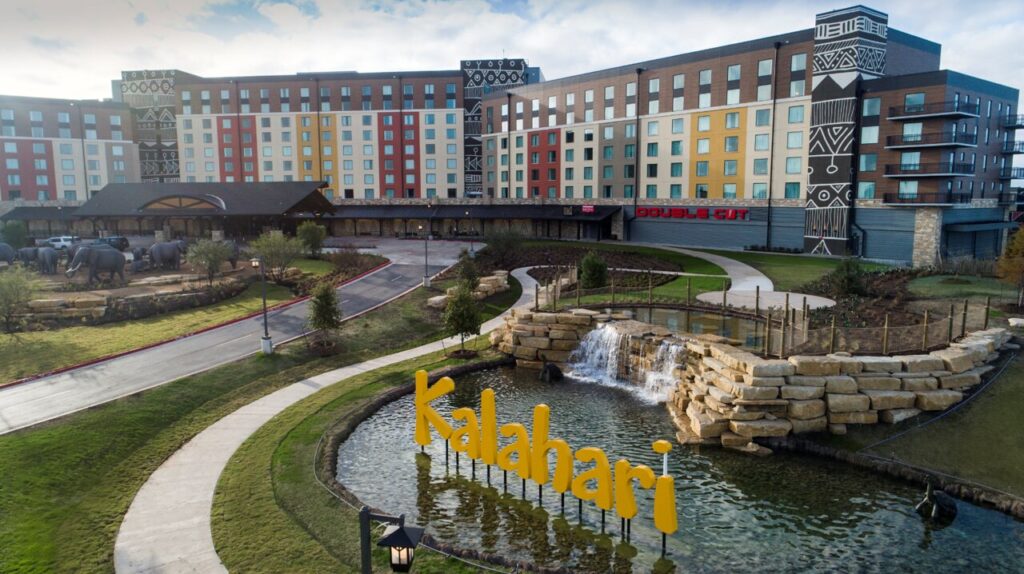 Located just paces from the luxurious accommodations of Kalahari Resort, Round Rock is America's largest indoor water park. Claiming to be the world's capital of waterparks and the coolest aquatic center, fun is an endless adventure here- sided with rolling slides, sun tanning beds with ample natural light year-round vertical drops, diving points, and even a junior play area.
Although, splash fun is not the resort's only attraction. Visitors can indulge in a gourmet-grade meal at the fine diners, hit the teeing grounds at the park's designer golf courses, enjoy a night's stay at the romantic African themed accommodations, or shop at the souvenir shops.
Tired of soggy attraction, indulge in your well-being at the luxurious spas, dry sauna, or aromatherapy steam rooms. Climb the walls at Tom Foolery's Adventure Park, or treat yourself to the gourmet-grade fineness of the resort's over 20 restaurants.
2. Noah's Ark Waterpark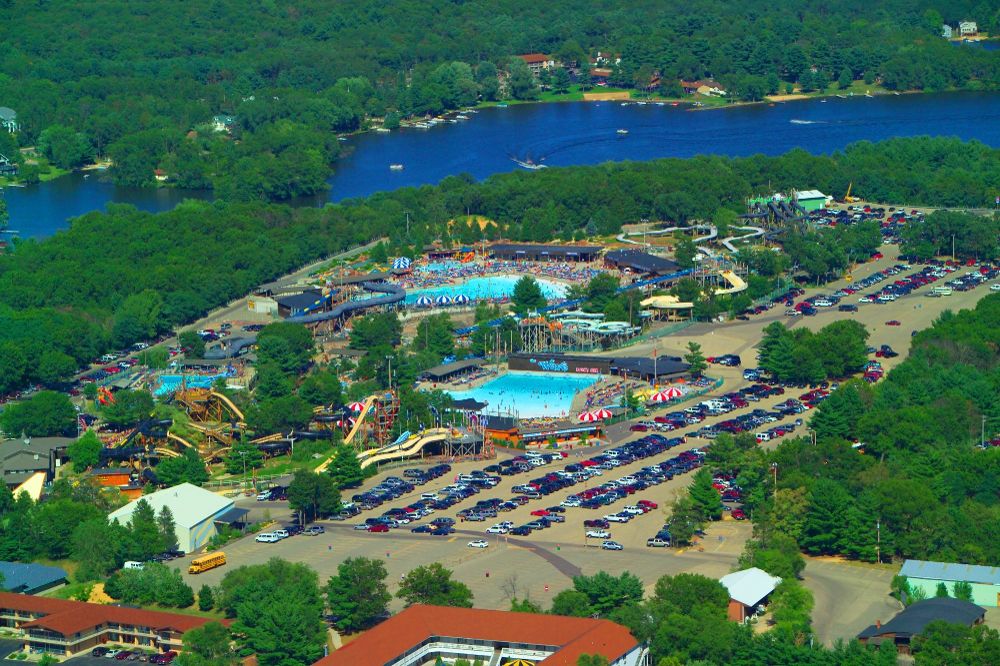 Standing as Wisconsin's largest indoor aquatic center, Noah's ark lounges over the 70-acre area, with kilometers of the water slide and innumerable activities for the whole family fun. Enlisted among the world's top indoor water parks, it mingles adrenaline-boosting thrill with entertainment, optimum hygiene, and safety.
Raja the massive cobra, the Black Anaconda water coaster, and the Scorpion vertical loop are the main aquatic slides- all combine a world-class splash experience. After a fun, cocktail bars, fancy diners and grab-and-go snack kiosks welcome the visitors with dainty delicacies and affordable prices.
Experience the fierce Niagara-like waters at Flash Flood's colossal waves, the unexplored landscape of Safari Mini Golf, or the mind-blowing 4-D Dive-In Theater for a sensory-visual concoction of fun.
3. Avalanche Bay at Boyne Mountain Resort, Boyne Falls Village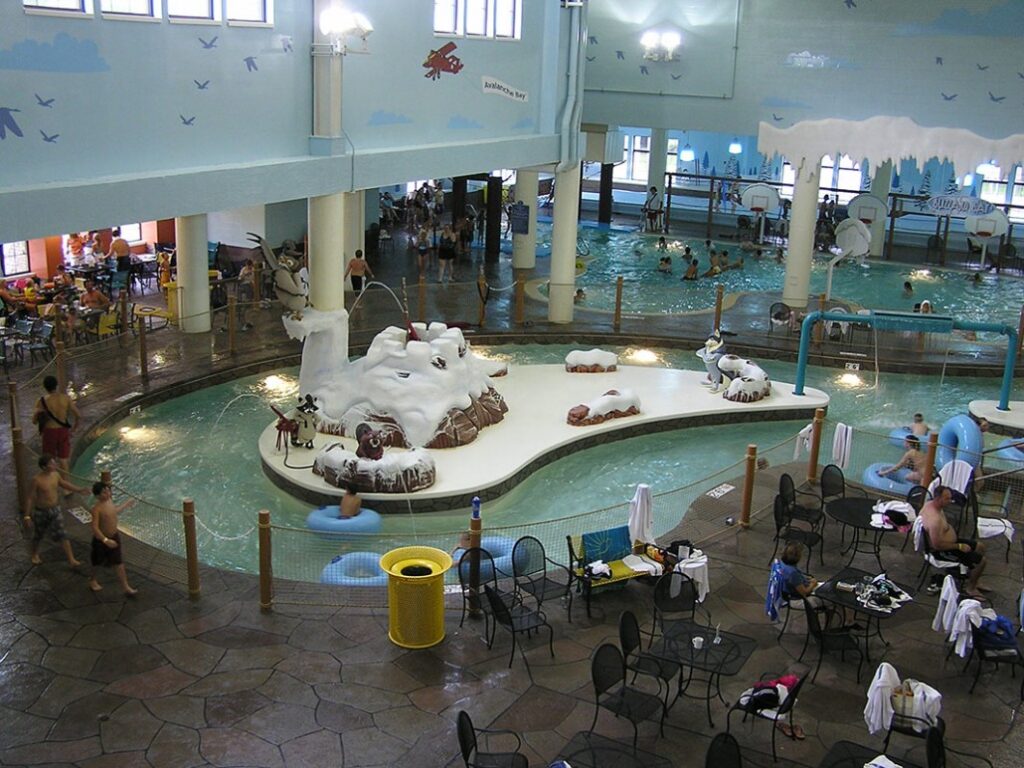 Nestled on the scenic highlands of Boyne Mountain, the namesake resort houses Michigan's largest indoor waterpark. Aquatic leisure at Avalanche Bay Waterpark extends over six adrenaline-boosting water slides, themed diving points and artificial falls, a lazy river, and heated jacuzzi tubs- much cherished during winters and after hitting the snow-covered slopes of this historic mountain resort.
For an unlimited splash, enjoy the seasonal packages of the resort, including lodges and mountain cabins, skiing and summer recreation facilities, and world-class diners.
The resort embraces the steaming pools of Glacier Hot Springs- an unmissable experience during the snowy winters, and the Zipline Adventure Tour that promises exceptional vistas; along with locally brewed wine from Little Traverse Bay vineyards, surfing zones around the extensive sandy beaches, paddling and hiking through the wilderness.
4. Kalahari Resorts Sandusky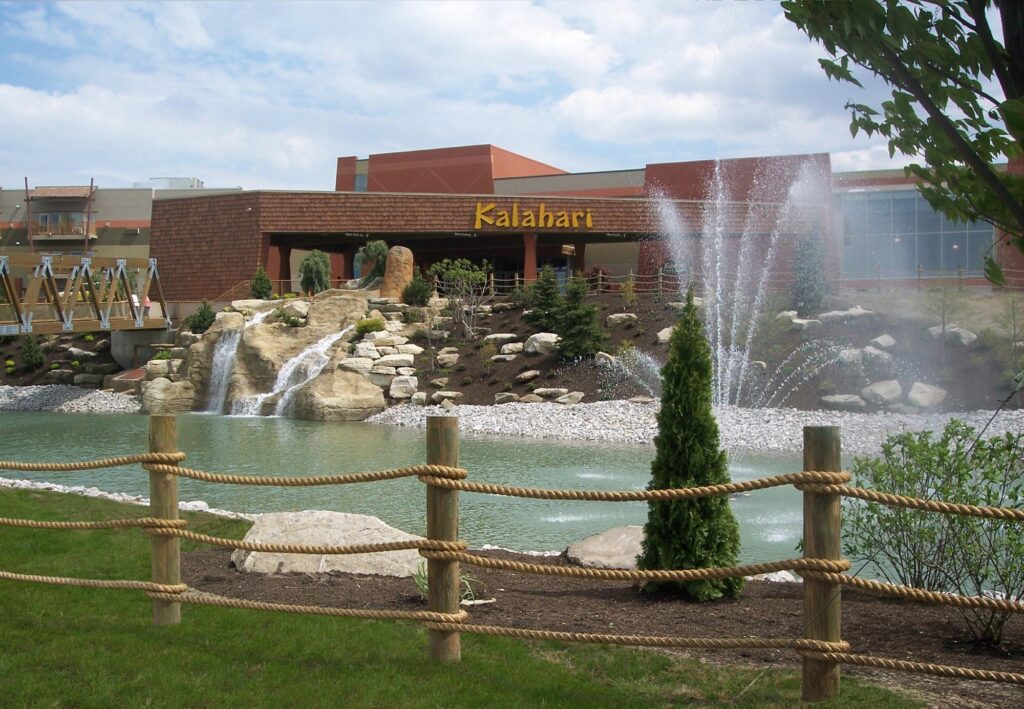 Another branch of the Kalahari resort at Sandusky offers exceptional aquatic fun, enriched with fine tourism and convention centers. While uniqueness is an attribute in this resort, it stands out for the largest indoor swimming pool across the country, to wave pools with surfboarding facilities and world-class amenities.
The resort's rides take the fun to a whole new height, with African themed ambiance and names such as Swahili Swirl or Tanzanian Twister. With exceptional accommodations, water volleyball and basketball, wellness spas, and summer outdoor park extension- family adventures are never-ending in this resort.
Feed, cuddle, and marvel at the Safari Adventure Animal Park, or join the game rooms, 7-D theatre, and virtual reality rides for a technology-boosted taste of fun.
5. Wilderness Resort, Wisconsin Dells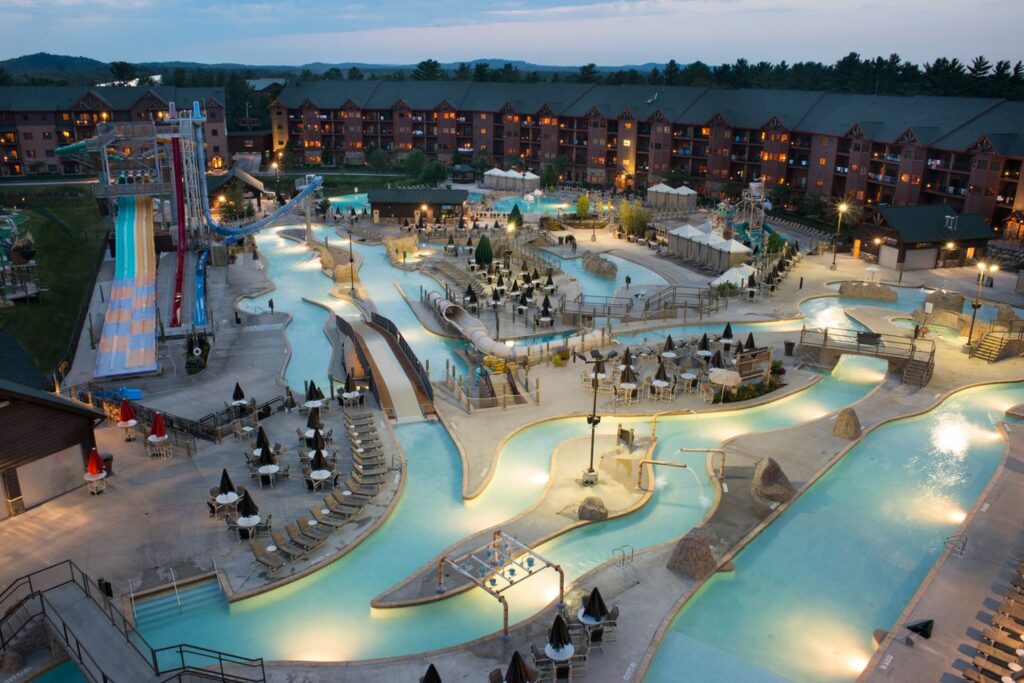 With luxury hotels, sweeping golf courses, and waterparks, wilderness resorts are an all-in-one weekend package. It stands as one of the largest indoor water parks worldwide, offering both indoor and outdoor splash fun at its finest.
For an intimate and relaxing experience, hit the naturally sunlit pools of Margarita's with a swim-up bar and child-free zone. Although to enjoy whole family fun, visit America's largest indoor wave pool at Wild WaterDome, or the infinite splashing activities and themed rides at the wild west waterpark.
At Klondike Kavern Waterpark, thrilling rides and daring slides stretch to laid-back thermal pools and spa treatments- a fun attraction for all age groups.
Wilderness resort houses the United State's largest indoor wave pool. While rides such as the Hurricane and Blackhole are breathtaking, High Plains Hot Springs offers one of Wisconsin's most splendid thermal spas.
6. Epic Waters Indoor Water Park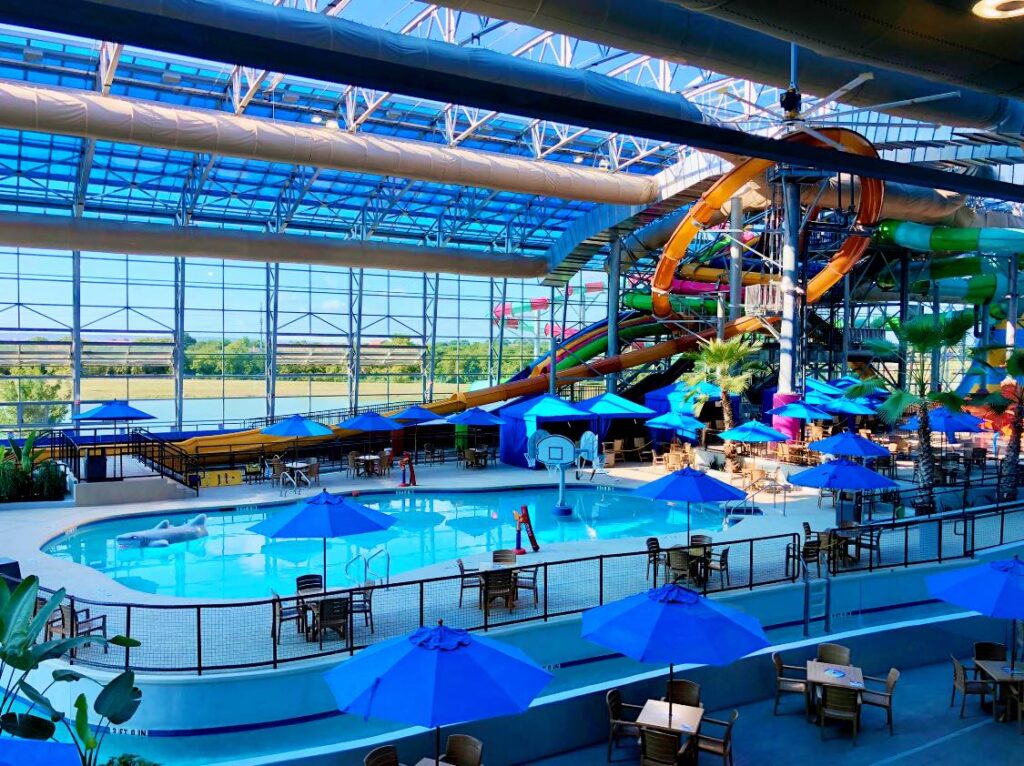 From a family ambient, crashing wave pools, America's highest water circuit, exciting themed rides, and laid-back artificial geysers and stress-busting jacuzzi pools- Epic Waters Indoor Waterpark offers a fun activity for all needs and wants.
Located in the town of Grand Prairie and its business-class attractions, the waterpark is an entertaining family getaway, known for organizing the grooviest kids' birthday parties.
For non-splashing fun, visit the arcade and the gifts shop, or laze under the side-pool beds under the glass-roofed park, while enjoying a snack or a refreshment from the park's bar.
Adrenaline is an inseparable part of the park's attractions, with the gigantic Yellowjacket drop, America's highest indoor AquaLoop, the Lasso Loop, and Prairie Plunge.
7. Timber Ridge Lodge & Water Park, Lake Geneva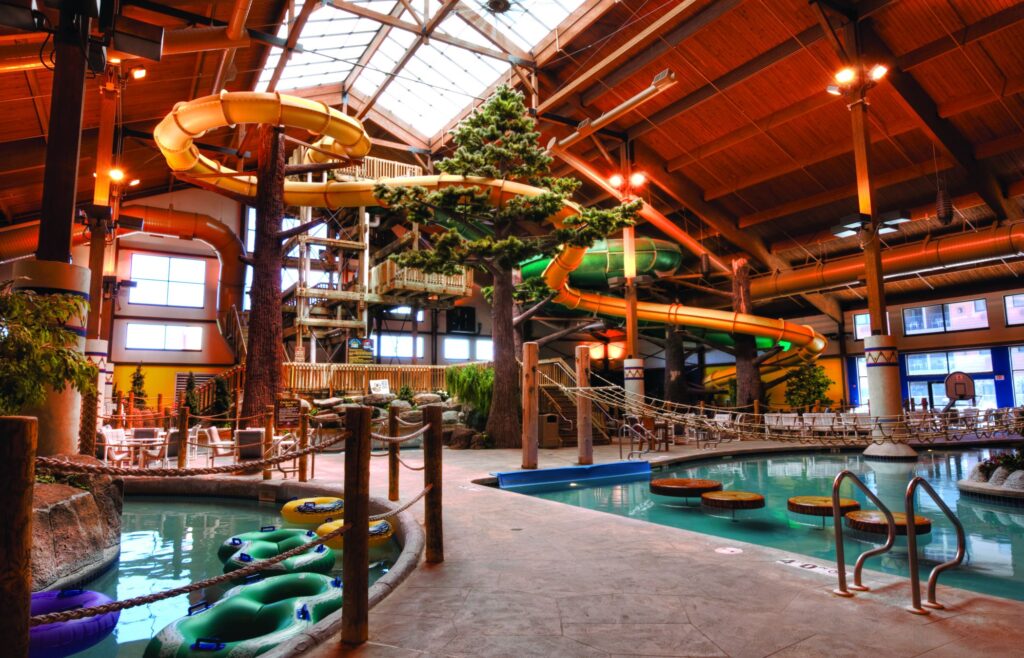 Teeming with vibrant colors and themed rides, Timber Ridge Lodge & Water Park welcomes visitors throughout the year; the indoor playground maintains heated pools in all four seasons, while the massive outdoor extension is a summer's unlimited soggy fun.
Satisfy your taste of luxurious comfort at relaxing at the center's wellness spa, or enjoy a prestigious stay at the resort's accommodations, sided with multiple Avant-garde restaurants.
The resort trolly bids are complementary to different pools, golf courses, tennis courts, and the stables of the world's most adorable ponies- for petting or a ride over the region's many scenic hikes.
All things Lego, Timber Ridge's mascot is Bruce the Moose is made entirely out of Legos. Lego rooms are a place where creativity meets with entertaining family fun.
8. Massanutten Resort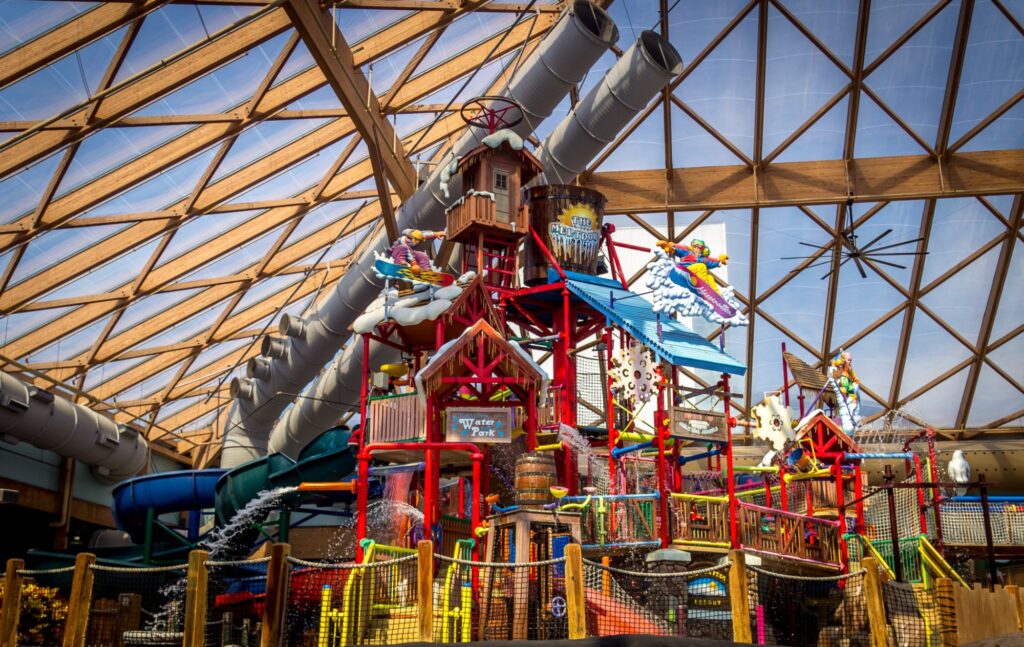 For those seeking a soggy weekend, Massanutten Resort indoor waterpark is a genuine threat; featuring a giant water bucket that tips over the pool, Wave pools with the force of thousands of tons of water per minute for high-rising surf tides, rides over breathtaking slides, and a lazy river for tubing.
The resort itself is a scenic getaway, serving as a ski resort in winters and a summer recreation center- with an outdoor waterpark- in summers. For an après-ski activity, the artificial geysers and steamed spa rooms are a fine remedy for ski-sore knees.
This all-season destination is home to more than just inflatable fun and water slides; occasional events, two designer-grade golf courses, and above all, nicknamed "the place where families learn how to ski together".
9. Great Wolf Lodge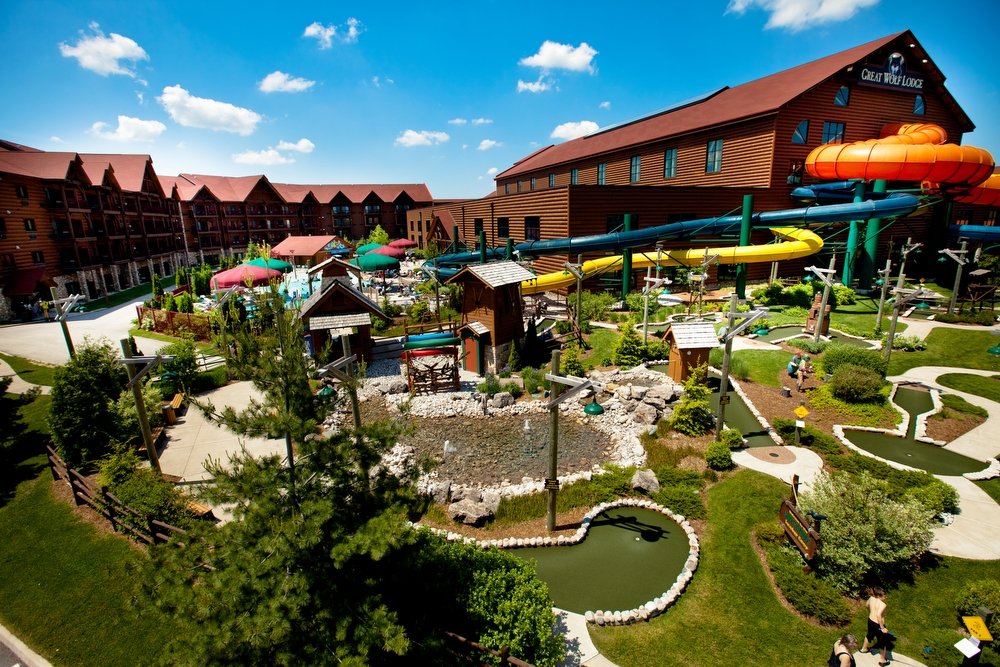 Scattered from coast to coast, Great Wolf Lodge presents a large chain of indoor water parks and luxury hotels, dedicated to exceptional hospitality and entertainment. Water runs in heights and depths here; over the tall water rollers, ceiling-height slides, wave pools, and down the lazy streams.
Alongside waterproof fun, the resort promises a delightful stay at woodland-themed rooms, an adventurous themed playground, to bowling alleys and elegant cocktail bars.
Unmissable deals and packages are this resort's specialty. Stay at the hotel's luxury suite with a home-resembling comfort, and lobby entertainment for yoga, kids' dance parties, and workshops.
10. Mt. Olympus, Lake Delton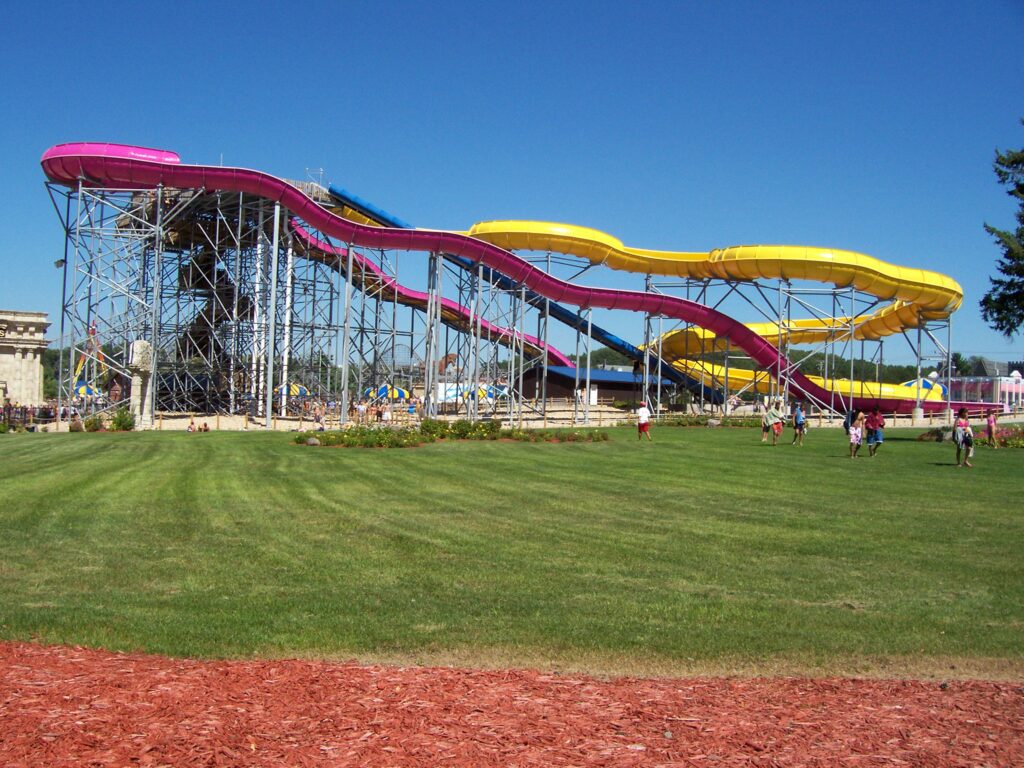 Only a few kilometers from the waterpark capital of the world, Mt. Olympus resort is a recreation epicenter, introducing a fine indoor Greco-roman themed waterpark. It covers from relaxing caldarium and quintessential green pools to 10 story anaconda and boa slides, pirate ship-themed at the Hispaniola Bay, and a tube racing river.
For a relaxing experience, Sacred Well whirlpool is enriched with steamy healing waters, and aroma, and sound therapy, together with the Mayan Jacuzzi pool and charming waterfall.
This charismatic waterpark is one of Wisconsin's four seasonal attractions- enhanced with sweeping stretches of groomed ski and tubing trails during snow season, and outdoor adventure and water parks during the hotter months.
Zoom through the underworld with Trojan Horse Go-kart race track, unstoppable putting at Demeter's Putt-Putt, climb the rock wall, join the neon illuminated Arcade fun, or take up the adrenaline rush to the heights of the outdoor-themed park's roller coaster.
11. Aquatopia Indoor Waterpark, Tannersville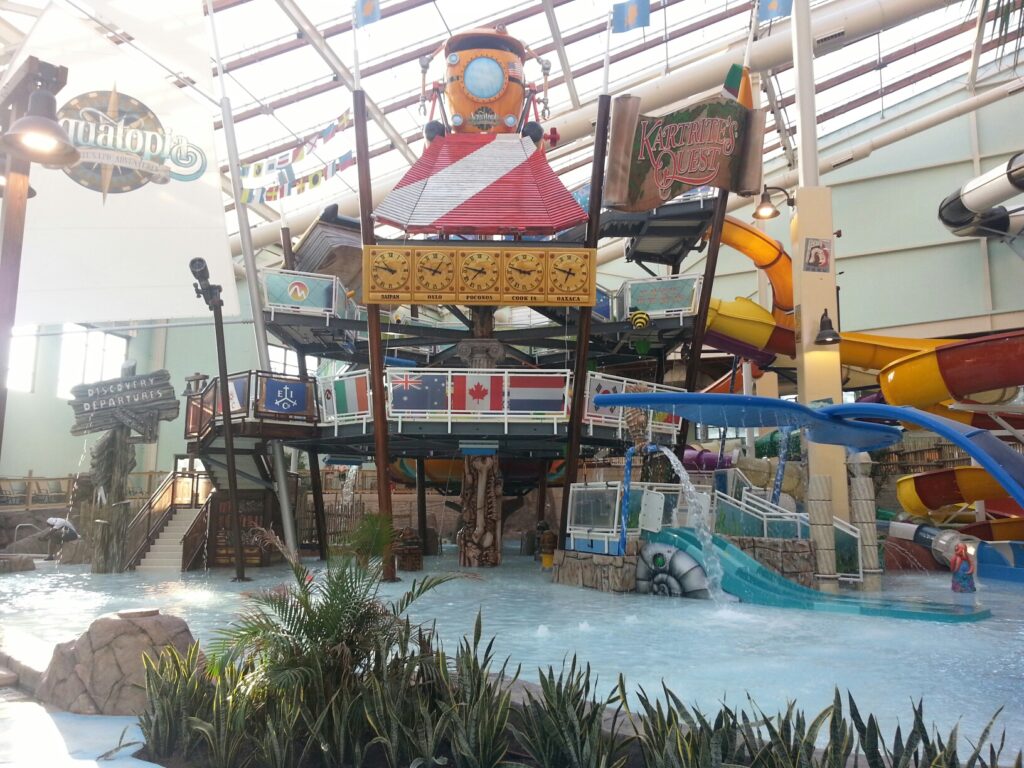 Stretching over 125,000 sq meters, Aquatopia Indoor Waterpark is the home to the world's largest indoor water coaster, none other than the thrilling Storm Chaser Roller. Additionally, several water pools are designed at the bottom of its thirteen themed slides, complemented with dozens of gadgets and a colossal dumping bucket. Starting from the young, Penguin Play Bay is a toddler-friendly zone, Kartrite's Quest's adventurous games for young children, and the rest for visitors of all ages- such as massive rides and thrilling canons.
At the indoor heart of the slope-side Camelback Resort, it bids ski-in/ski-out amenities, and an open-air swimming park- according to the season; however, the indoor waterpark welcomes visitors year-round with heated pools and exceptional splash specials.
From chilling in the cozy cabanas to indoor pools beneath the sky-lit roof- the resort's Summit House boasts breathtaking vistas, sided by a handful of posh diners.
For those seeking even more adventure, one of the nation's longest twin zip line lines over the thrilling mountain coaster track and over the limitless horizons.
12. Schlitterbahn Waterpark, Galveston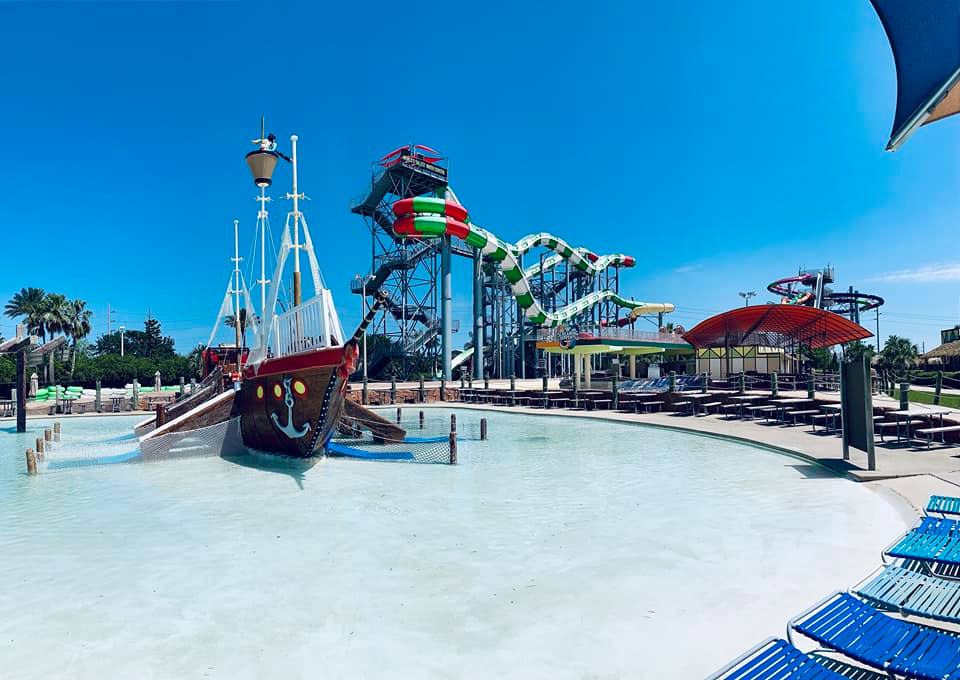 Noted among the world's largest and best indoor aquatic centers, Schlitterbahn Waterpark is a blend of recreation with luxurious amenities. Famed for its exceptionally tall rides and water slides, it features speedy racing rivers, tidal pools, and particular family packages- for an unforgettable experience.
Each year, thousands of national and international tourists visit this waterpark, especially in summer- when the splashing fun extends to outdoor pools and adventurous water slides under the shining sun. For those seeking an intimate setting, Cabanas are available for rent only during summer.
The themed entertainment at Faust & Furious runs through an amusement ride. Although the most breathtaking attraction here is perhaps Cliffhanger Speed Slides, named as one of the country's most extreme drop slides.
13. Kahuna Laguna, Conway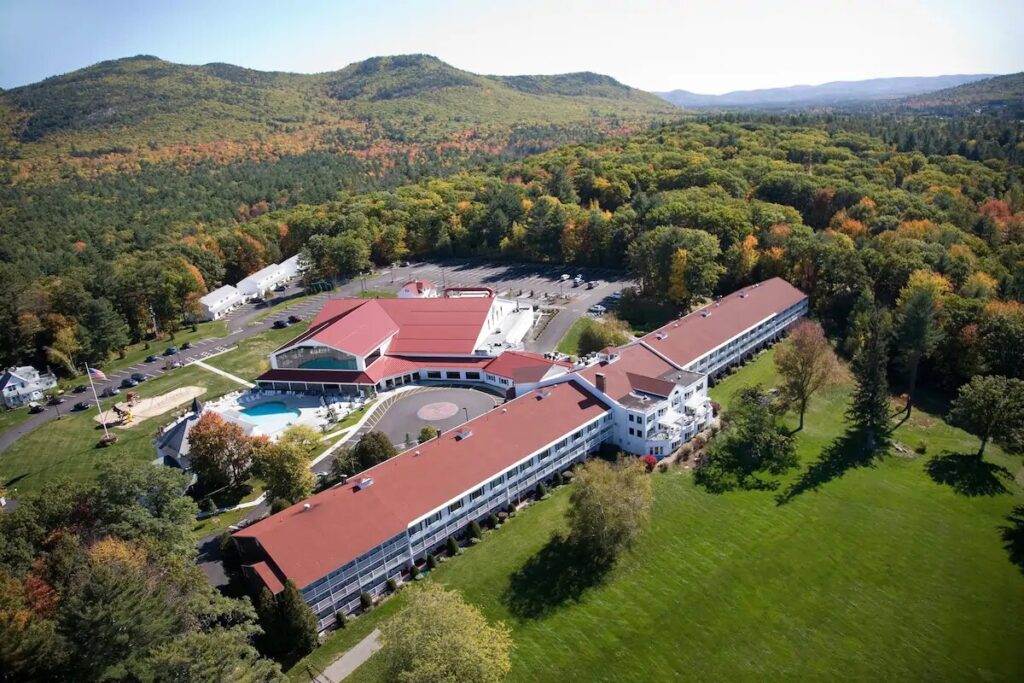 Situated at the Red Jacket Mountain View Resort, Kahuna Laguna is named among the top ten indoor waterparks across the United States. Luxury accommodations and spectacular vistas mingle with the year-round splash fun- with wave pools, waterfall dives, lazy rivers, basketball areas, and of course body tubes and thrilling rides. Cozy hot tubs bid a relaxing getaway for the adult visitors, besides the family-friendly play areas.
A night's stay at the resort's charming lodges, and dining at the gourmet restaurants- listed among the romantic hotels with the couple's getaway exclusive packages.
14. Zehnder's Splash Village Hotel & Waterpark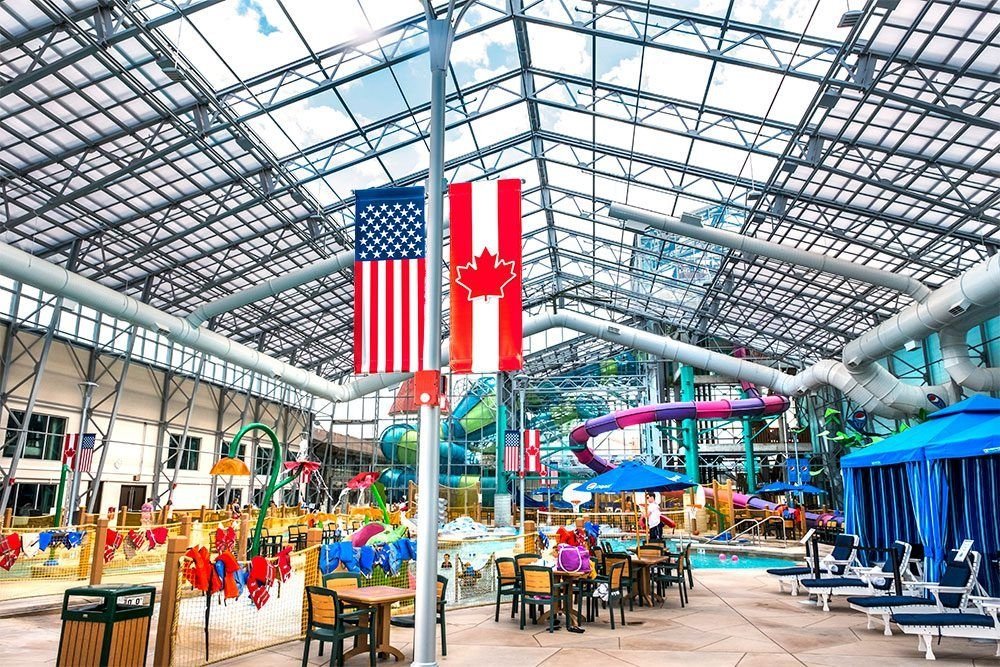 Whether for rushing down the fun water slides, tubing over lazy rivers, enjoying the relaxing hot tubs, or planning a fun family vacation- Zehnder's Splash Village has it covered. The park is riddled with themed sculptures and giant mushrooms, little fountains, and swirling tubes- all beneath its tractable roof that gives way to the shining sun.
Lined with restaurants and bars, the waterside seating areas offer a relaxing zone for snacking on delicious foods and drinks. Signature thrill rides are an attribute of Zehnder, and so the colorful gift shop and the fun arcade.
Visit the Whimsical Whirl Hot Tubs for sophisticated comfort, in addition to refined golf courses and luxury suites.
15. Splash Lagoon, Erie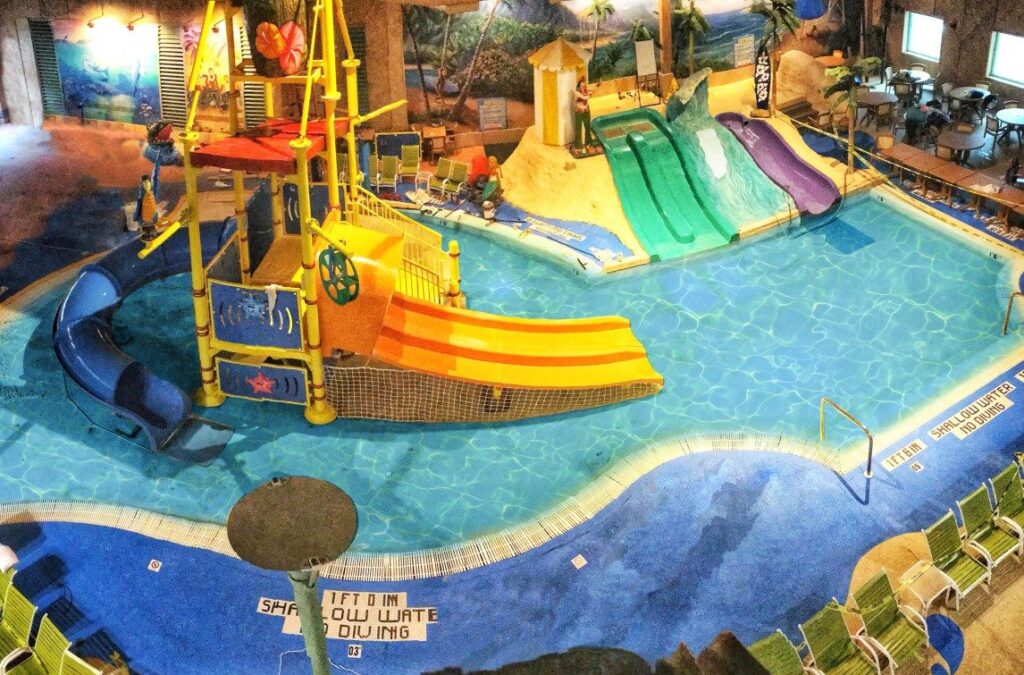 Enlisted among the finest indoor waterparks globally, the Polynesian-themed Splash Lagoon carries the summary temperatures throughout the year- for a pleasurable swimming and splash experience in all seasons.
While boasting the largest indoor pools in eastern America, the park's unique elements are countless; Monkey Shines Island with everything baby-size, a tiki-themed tree house exclusively for the young visitors, a massive tipping bucket, 9 exciting water slides, and a lazy river for strolling tubers.
Besides the many must-visit themed pools and age-oriented water activities, gaming is the park's special- whether at the virtual reality game zones, arcades, or traditional ax-throwing rooms.
The fourth waterpark in the United States houses The FlowRider and ultimately fierce wave riding and surfing zone.
16. SoundWaves at Gaylord Opryland, Nashville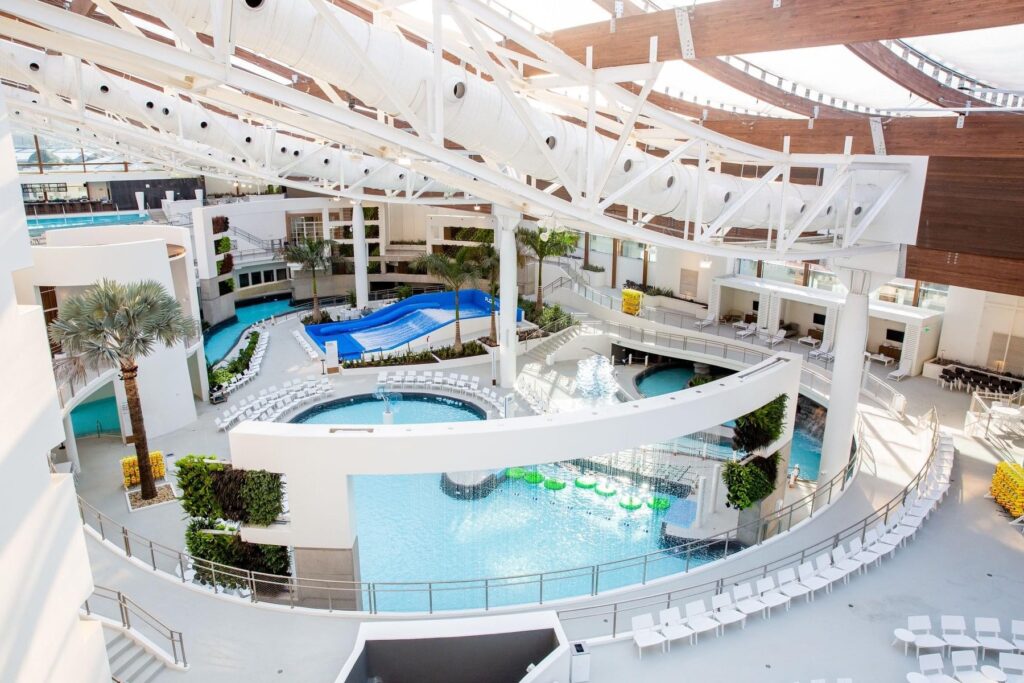 Located at the prestigious heart of Gaylord Opryland Resort, SoundWaves is a small, but upscale indoor water park- alongside luxurious amenities in all directions. Covering an area of four acres, the building exhibits state-of-the-art architecture, with eleven thrilling slides, a large pool, rapids, climbing walls, and children-zones.
An elegant café and a restaurant to cater to the splashing resident guest. These pools are exclusively accessible to guests and prohibited for outside visitors.
Ride on Nashville's only indoor and double FlowRider, enjoy an intimate tea time at the hearty Cabanas, or a meal at the hotel's grand restaurants- alongside all the premium aquatic attractions at the oasis of Opryland.
17. Kahuna Laguna at Red Jacket Resorts, New Hampshire
Ranked among the united state's top ten waterparks, aquatic fun at Kahuna Laguna arrays from the low-lying lazy rivers, to three-story-tall slides. Wave pools, themed play areas for kids and adults, gushing geysers to stress-busting spas for parents- there is no shortage of fun water activities. For a dry stroll around this aquatic amusement park, grab a snack at Tiki Tide
Café, or play a game or two at the 24-hours running Aloha Arcade. All-inclusive days long packages for families, or couple's specials with Dine and Unwind package with a luxury touch, offer a pleasant stay just paces from Kahuna Laguna.
Bamboo Blast, Super Tsunami, Kahuna Falls, and Laguna Plunge are all must-try slides. Although Wiki Wave Pool swirls the waves in three different directions, for a maximum floating thrill.
18. WaTiki Indoor Waterpark, South Dakota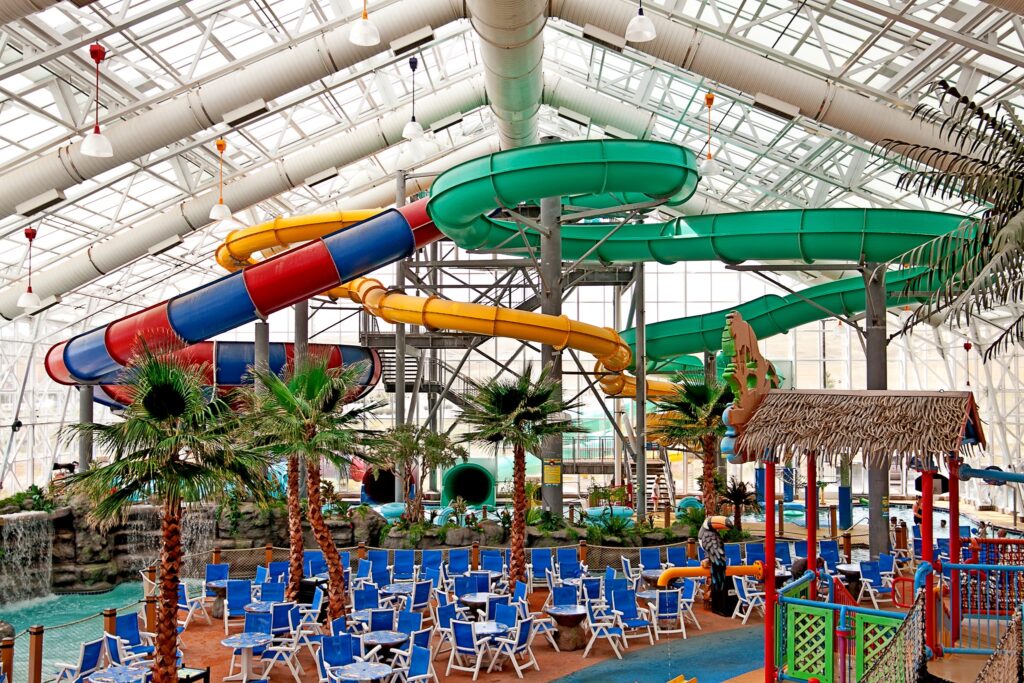 Only a few kilometers from the Black Hills' Mount Rushmore, WaTiki Resort and Indoor Waterpark is Dakota's largest and year-round splash center. Giant slides, Koko's Kingdom with its giant dumping bucket to zero-depth pools- all a jaunt from the pool-side bar and grab-and-go restaurant. tired of soaking? visit the WaTiki Arcade with tech-ridden modern games and nostalgic retro game stands.
In addition to fun, sophistication lies within the structure of the resort. Five hotels offer luxury to mid-range accommodations, boasting names such as Hilton or the Marriott. spa packages, refined diners, and royal-grade service complement the aquatic park and your stay at Waikiki Resort.
Oasis Hot Tub defines leisurely comfort amid WaTiki Indoor Waterpark's many thrilling activities.
19. Pump House Indoor Waterpark, Vermont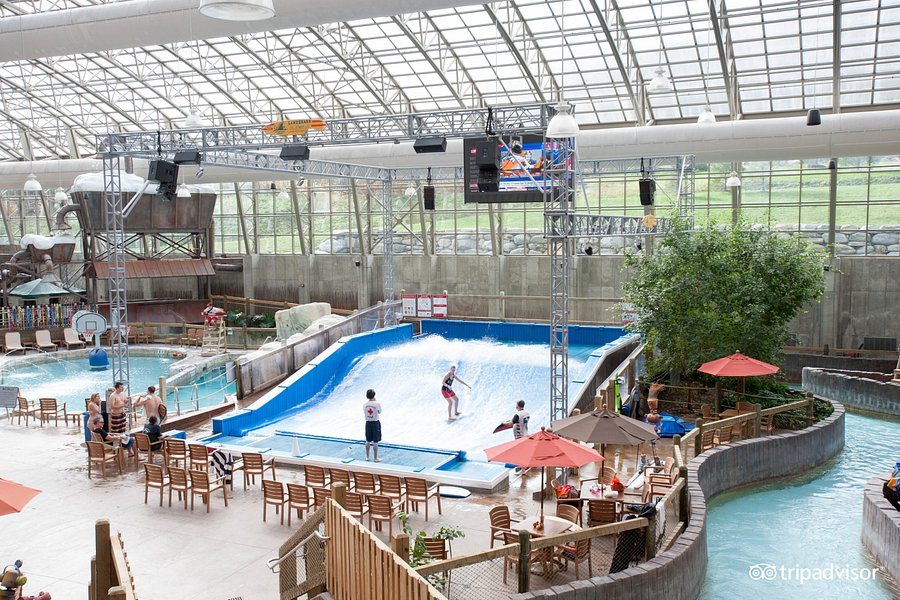 Lounging over expansive slopes of Jay Peak, Pump House Indoor Waterpark is this famous ski-resort mountain's year-round attraction. Besides the United States first looping speed slide, other highlights include poolside climbing walls, body slides- in three difficulty levels and three colors of orange, blue and green, and Mill Pond Play Area special for the young visitors. five cabanas across the park offer a groovy oasis, and away from the splash pools.
In winters, the champagne powder of surrounding slopes and the scalding indoor pools attract many visitors to this resort- sided with a polished indoor ice rink.
Double Barrel FlowRider brings water surfing and board riding together. Although the most heart-pumping ride remains over the heights of La Chute Slide.
20. DreamWorks Water Park, New Jersey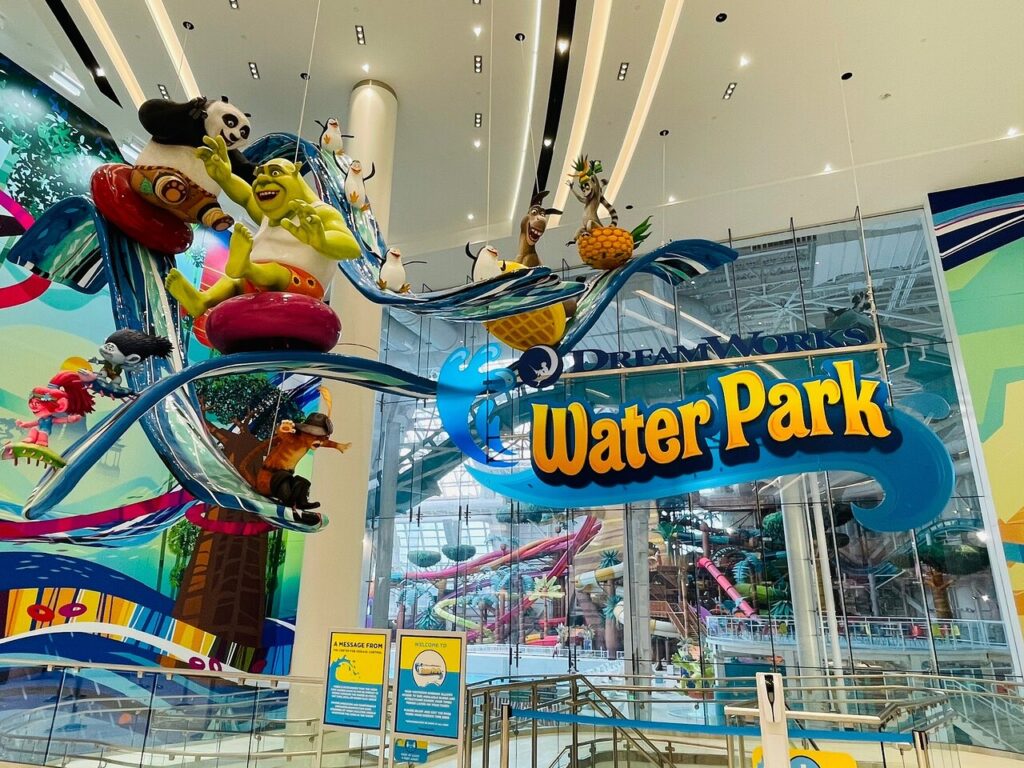 Amid the many family-friendly activities of the American Dream, DreamWorks Waterpark stands as the most popular part of the resort. When it comes to indoor water parks in the US, this themed splash haven offers an outstanding combination of gilding designs and aquatic adventures- where iconic amazon and African elements and favorite cartoon characters meet with the tallest and steepest rides.
To take a break, relax at the SkyBox Cabanas at the Ocean Suite and Bay Suite, equipped with all the home-like amenities and comfort. Dry entertainment here ranges from angry bird and alien-themed mini golfs, to an all-season indoor snow slope and a world-class skating rink.
For a splash record, jump into the Far Far Bay pool- it is not just any pool, but the world's largest indoor pool sided with poolside bars and takeaway restaurants.