Winter festivals and markets, ski and ice activities, and Canadian tradition of folklore stories around the bonfire are in full swing in February. Although the most characteristic trait of the Great White North country is the winter lights; whether from the natural spectacles of the aurora borealis, light shows, and the artificially illuminated alleys, houses, and shops.
To find out more, read our guide to Canada's top 15 destinations in February.
1. Nova Scotia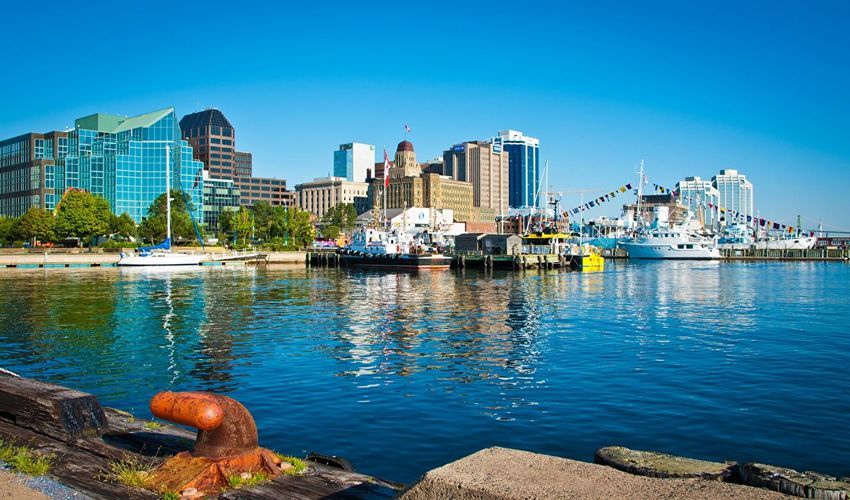 Winters are perhaps the best time to visit the heritage land of the indigenous M'kmaq and learn about the thousands of years old culture. Christmas markets remain open almost until the end of winter, complemented with folklore events. Winters are relatively mild in Nova Scotia and favorable for outdoor recreation; from bold summits and ski resorts to winter surfing and kayaking on its lightly snow-dusted shores.
To taste the best of regions' recipes, visit the restaurants at Halifax's town center; Lobsters are the seasons' specialty.
The third Monday of February is a national family holiday, although Nova Scotia celebrates it otherwise. Nova Scotia Heritage Day honors the maritime remembrance of the province's past and stands as one of Canada's epic winter celebrations.
2. Montreal
Montreal shines with a distinct gleam in the winter, covered under a blanket of snow and pulsating with festive ambiance. In between the occasional flurries and warm spring breezes, February is Montreal's month of festivity.
Igloo fest celebrates the First Nation tradition of Quinzhee accommodations at Montreal's Old Port neighborhood, featuring from remarkable one-piece ice carvings to sports competitions and dipping in the waters with below zero temperature.
From mid-January to mid-February, Parc Jean Drapeau hosts the annual Fete des Neiges each weekend. It comprises impressive ice sculpture exhibitions, ice hockey contests, and skating rinks, and much more.
En Lumiere Festival is the metropolitan's festival of light with mesmerizing displays of illuminated buildings and authentic specialties from Montreal's best chefs.
3. Chic-Choc Mountains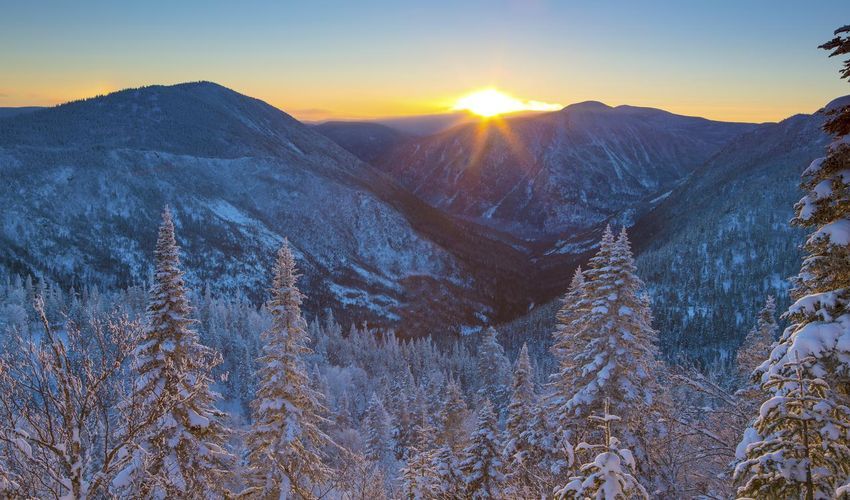 As a budget-friendly alternative to Banff and Jasper, Chic-Choc Mountains embraces backcountry ski resorts in the northern regions of the Appalachian Mountains Ranges. At a short drive from Quebec, a handful of summits are the popular locations for backcountry skiing, snowshoeing, fat biking, and Helitours.
These ancient mountains have eroded down to low altitude peaks and soft slopes. Wildlife sighting in the winter, strolling along the snow-covered hiking paths and ice climbing are fairly popular in Parc national de la Gaspésie.
When it comes to hotels, Auberge de Montagne des Chic-Chocs is the flag holder of the region's accommodation with critical acclaims. In accordance with Quebec's excellent culinary, food options include delightful gourmet restaurants to cozy comfort-food diners.
4. Edmonton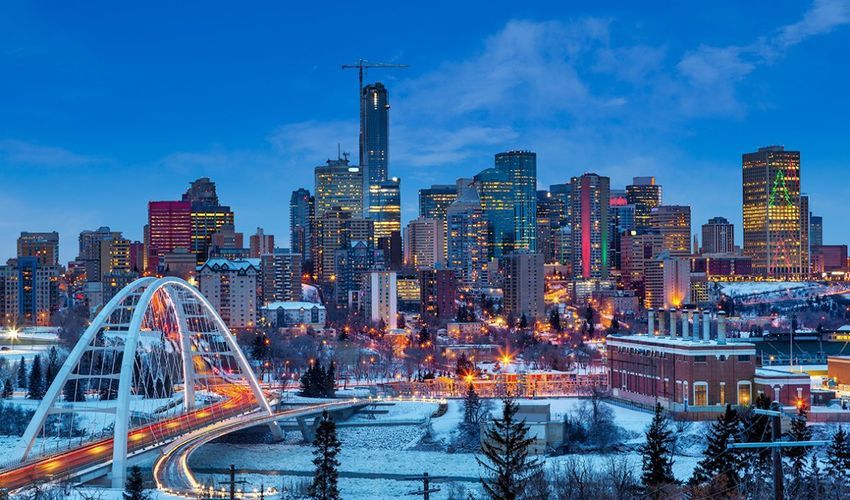 The capital city of Alberta is all about ice and snow in the winter. Countless ski resorts, winter sports competitions, ice castles, and sculpture festivals light up the whole urban and natural terrains. Besides recreations, the townships safeguard a curious history; from the first tribes, medieval boom, and Diamond and oil mining eras, myriads of heritage sites, museums and art centers present a great assemblage of indoor attractions.
West Edmonton Mall, North America's largest shopping mall gets painted in red hearts, bear dolls, and romantic themes on valentine's day; moreover, fashion boutiques, elegant cafes, and entertaining programs in winter, including a roller coaster.
5. Winnipeg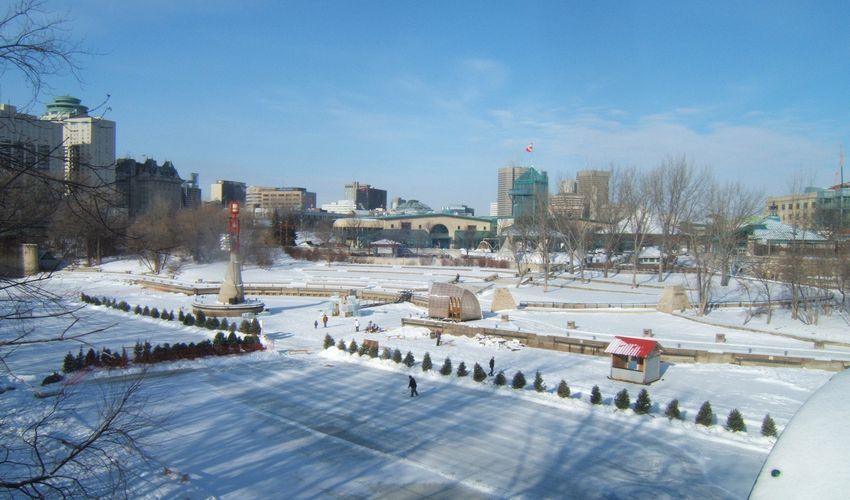 A hot winter destination, touristically speaking, Winnipeg is the "Gateway to the West" and the capital town of Manitoba's majestic terrain. Dating back to four thousand BC, the town's focal point prevails at the confluence of the Assiniboine and Red rivers. The Fork, as Winnipeggers call it, presents a historic skate ground, ice hockey field, and Red River Mutual Trail during winters.
Each February, Voyageur Park hosts its own festival, known to be the largest winter festival in western Canada. French ethnicity, ice recreation, and music are the key themes of Festival du Voyageur.
Just outside the city's suburbs, Thermëa Spa Winnipeg is in a full season in the month of love. This Scandinavian-style thermal spa is surrounded by snow-covered wilderness and alpine forests, providing a therapeutic package, relaxing outdoor pools, and excellence of European spa experience.
To savor Winnipeg's food specialty, visit Raw: Almond restaurant where art mingles with gastronomy. Furthermore, cozy restaurants to street food stalls serving authentic dishes such as Pierogis sided with a pint of locally crafted beer.
6. Cochrane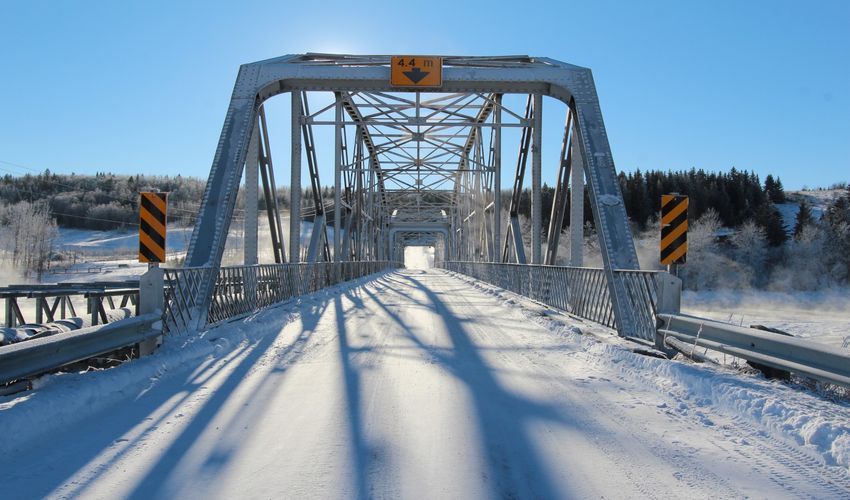 Only a brief drive from Calgary, Cochrane is one well-kept secret of Alberta. Crossing the scenic Bow Valley is a rewarding drive with the vista of a dozen frozen waterfalls, dramatic cliffs and ultimately the River Valley, embracing the township of Cochrane. The adjacent nature shelters a few provincial parks, particularly Yamnuska Wolfdog Sanctuary.
As one of Canada's cultural centers, art, in specific film and theatre, holds an exceptional place in the town's culture and tourism. Cochrane Ranche Historic Site, the natural and human history, and countless winter festivals are other gravitation of this local through winter.
7. Saskatchewan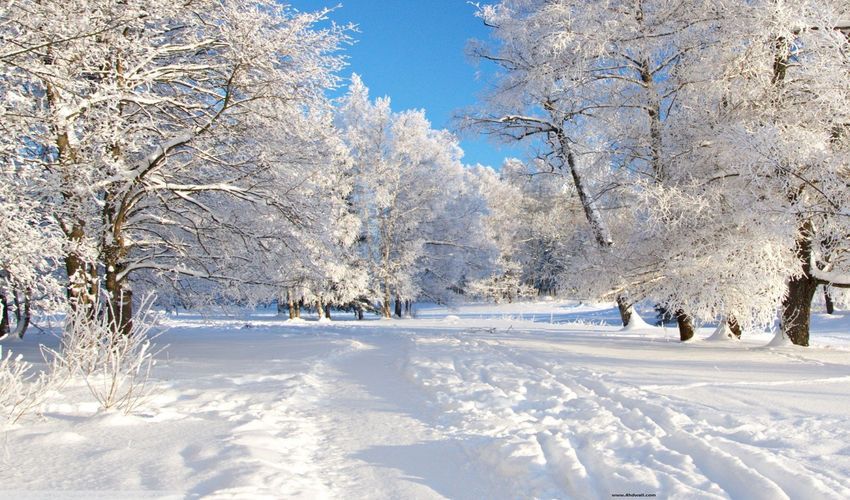 As one of Canada's main winter destinations, Saskatchewan's month of Februa is festive, sporty, and exceptionally scenic. From tobogganing at the heart of the city to skating on the frozen lake rinks and skiing down the world-class ski resorts- and the list of activities going on.
The prevailing indigenous people have preserved their ancient ethnicity, best seen in the winter. For thousands of years, the tribal men passed their winters either by ice fishing and dog sled breeding and hunting or danced and recounted the epic folklore stories around bonfires. These traditions yet stand in Saskatchewan and are greatly welcoming to outsiders.
When it comes to modern art, the region houses several art galleries, futuristic stadiums, and indoor music events through the winter.
8. Fredericton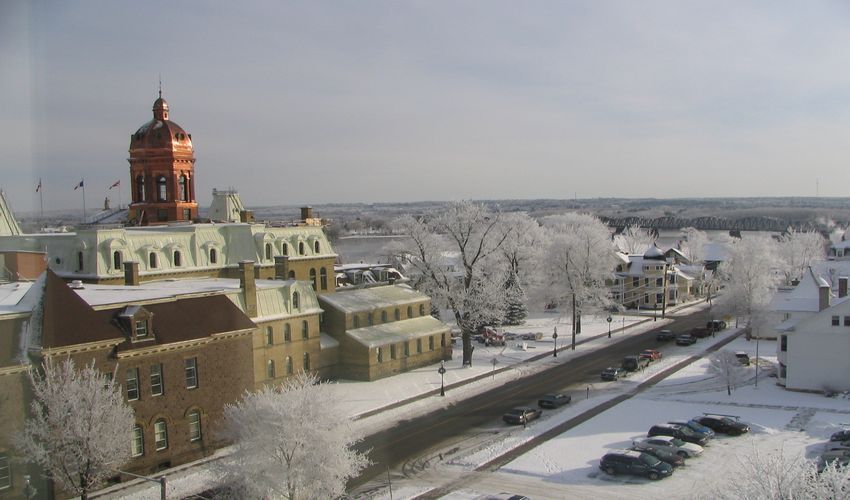 On the quaint banks of eastern Canada's longest stream, Saint John River, Fredericton's urban architecture depicts its journey from the Victorian era and the flourishing modern development. Many of these national historic structures have transformed into art centers, galleries, and museums. Besides heredity, the town is of poetic essence and has been home to numerous well-recognized literary artists.
In the winters, admiring theatre performances at Playhouse, or reserving a seat for the premiers of Pink Lobster Film Festival, and dining at a great many epicurean restaurants in the town's center, position Fredericton among the country's sophisticated winter destinations.
For more adventure, you can head to the ringing slopes for fat biking or wildlife sighting, and even to nearby ski-resorts for a snowier February. Fredericton Frostival celebrates the abundance of ice, revealing art sculptures, festive ambient, and authentic food kiosks.
9. Aurora Village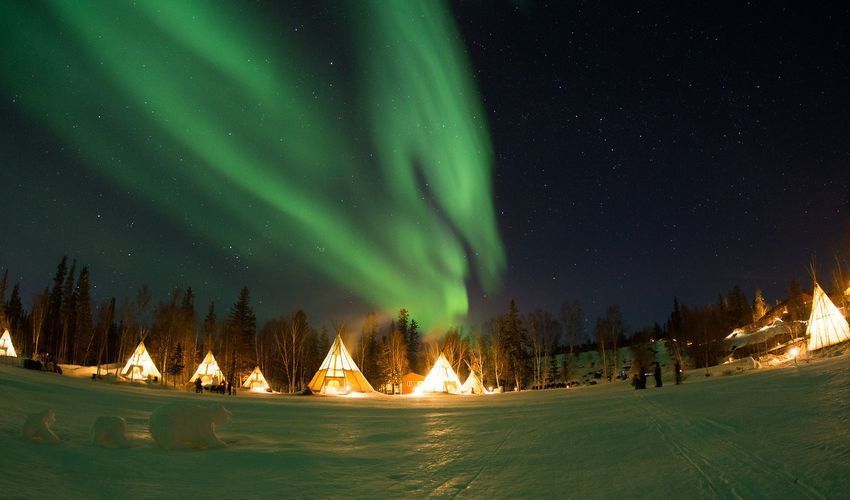 The mesmerizing phenomenon of the northern lights stands as one of the country's chief attractions, luring the visitors to its feathery prairies. On the highlands of Yellowknife, Aurora Village's night skies are noted among the most fascinating in winter. The characteristic village structures are often equipped with glass roof cabins for winter visitors and an otherworldly hotel experience beneath the dancing lights.
The encircling boreal forests lie beneath a thick blanket of snow and integrated with snow hikes, mushing, and spotting the region's birds of prey. Aurora Village is a trove of indigenous culture, mingled with posh tourism, outstanding culinary, and winter, unlike its kind.
10. Jacques-Cartier valley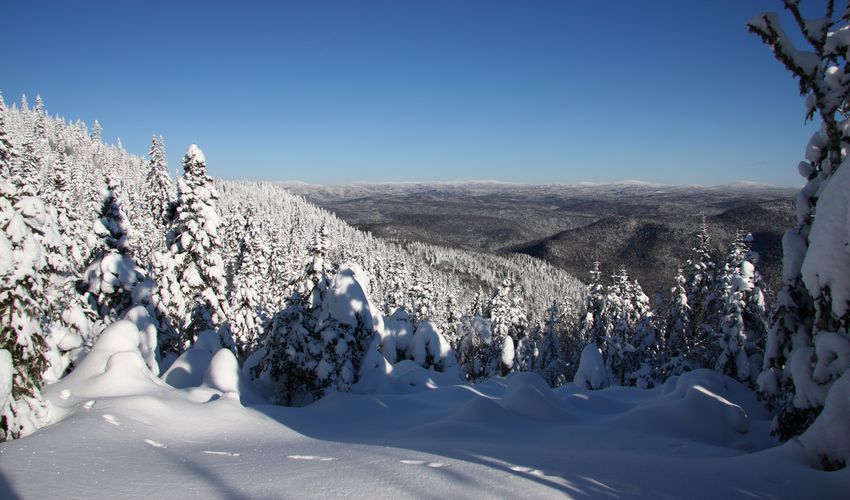 The valley is protected within its own national reserve and sits on the verdant slopes of Laurentian Mountain. As a popular winter destination, it offers a wide range of snow sports; scenic woodland ski trails and groomed tubing tracks to ice canoeing and climbing and snowshoeing along over 100 kilometers of hand-curated trails.
For a full dip into winter recreation, Jacques-Cartier leans on the budget-friendly side of Canada's ski resorts. Several wooden cottages and furnished campsites are sprinkled along the valley, for an adventurous and inexpensive stay beneath the star-speckled sky of the national park.
11. Nakusp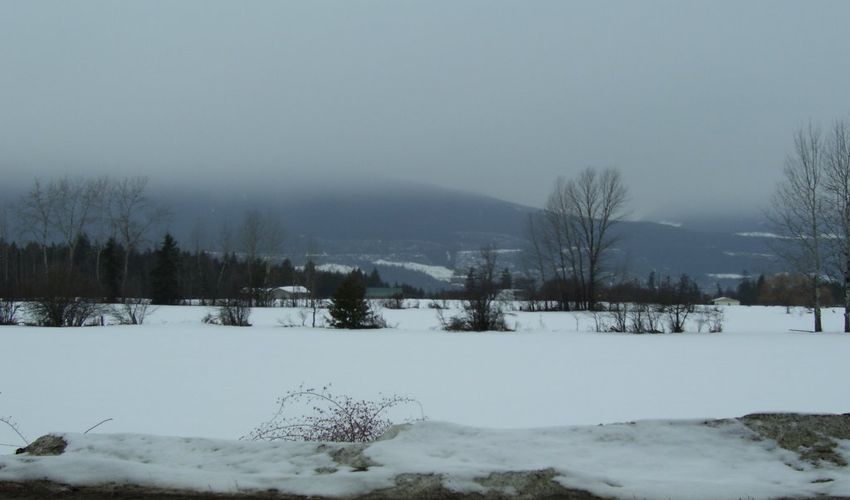 Nestled amid the wilderness of the West Kootenay region, the winters of Nakusp are mild and delightful. The village sprawls on the waterfronts of Upper Arrow Lake, and ramps of Kootenay Ranges, endowing posh ski resorts. In addition to fine amenities, these groomed rails are known for their spectacular scenery while sliding down the slopes.
Although the village itself offers a cozier winter, at the warmth of its thermal spring resort, characteristic accommodations, typical delicatessen, and restaurants.
12. Yellowknife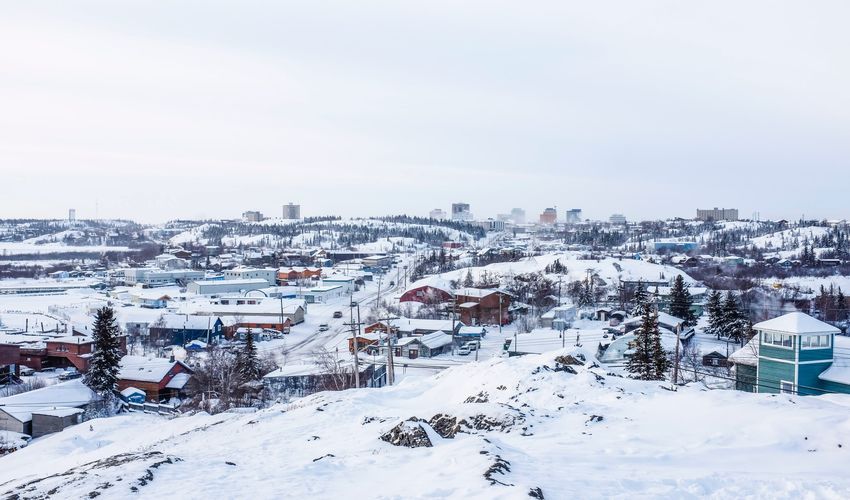 Popular winter activities in Yellowknife evolve around ethnic tourism, ice fishing, mushing, and snowmobiling. The small lakes around the town freeze and turn into ice rinks, sided by local music events, or annual festivals. February activities include cultural events such as the Brrrlesque festival and Great Northern Music Conference.
Gazing at the displays of northern lights which at its peak this month and driving over Dettah Ice road to the picturesque and frozen shores of the Great Slave Lake underline Yellowknife's natural attractions.
Many heritage centers and national historic sites mark the round-year cultural appeals, predominantly suitable for air-conditioned winter activities. Yellowknife's oldest restaurant, the Wildcat Cafe, northwestern territories oldest bar, the Gold Range, blend history, and tasteful delights together.
13. Fairmont Hot Spring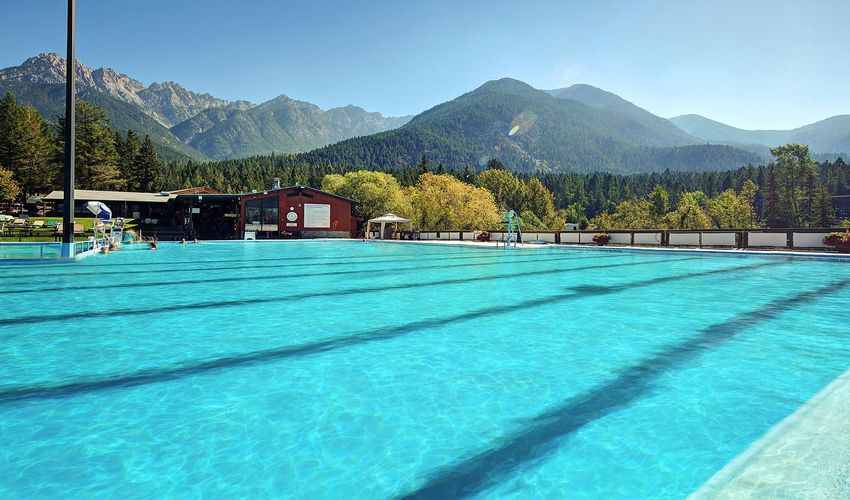 A renowned couple's getaway, Fairmont Hot Springs is an optional destination in the romantic month and lover's valentine day celebration. Dangling off the rugged cliffs of Banff national park, the thermal pools overlook the striking peaks of Canadian rocky summits and the widening valley. The mineralized thermal waters are not only healing but intimate and relaxing.
In addition to the Nordic Spa, an adjacent restaurant, facilitated campsite, and romantic cottages line the resort's diverse amenities for a dreamy valentine day- or simply immersing yourself in the goodness of natural hot springs after skating down the Banff's renowned ski resorts.
14. Quebec City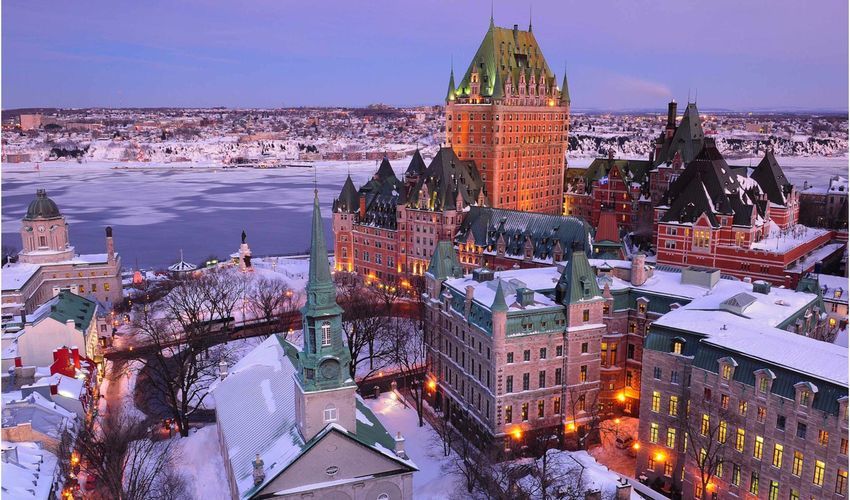 Each month of the year, Quebec city offers a different demeanor, with a set of activities and specialties characteristics. While Christmas markets at the old town quarters stretch their sale through the winter, thousands of visitors travel to Quebec to join the annual carnival du Quebec.
Displays of ice sculptures and illuminated ice castles, to craft beer stalls and authentic food kiosks to ice and snow competitions- this annual carnival is a complete representation of Canadian culture in winters.
The old town's charm transforms into a fairytale-like city, with medieval French buildings illuminated in accordance with Canadian tradition. Verged by snow-ridden alleys, the pedestrian only zones lead to cozy restaurants, souvenir shops, and historic hotels. Although, for a more adventurous accommodation, you can stay in the hand-built igloos and fancy ice hotels, or relax at the Scandinavian spa resort.
15. Revelstoke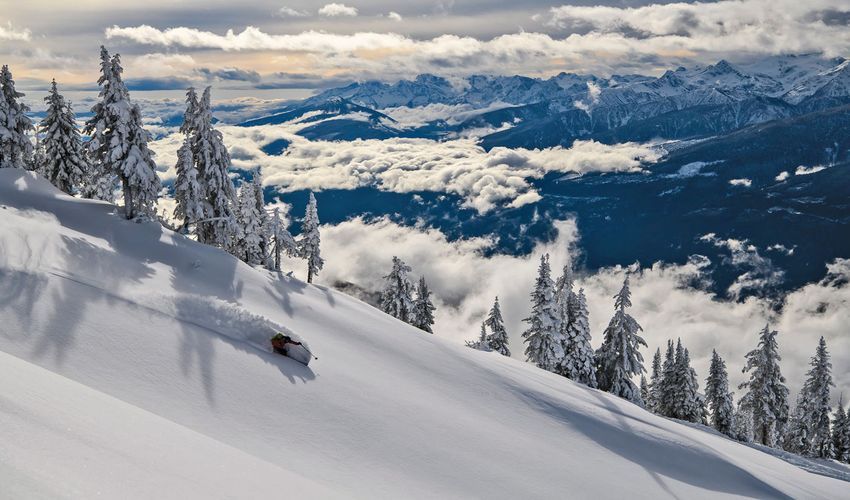 Among the must-visit ski destinations in Canada, Revelstoke was the home to North America's first ski jumping. Today, it still stands as one of Canada's premium ski resorts on the slopes of Monashee & Selkirk Mountain Ranges.
It hosts backcountry beginner ski, cross-country competitions, and equipped-ski tours. Other notable activities are snowshoeing, fat biking, and camping in the resorts facilitated and backcountry campsites. Many world-famous ski clubs call Revelstoke their Canadian Basecamp, including Freeskiing World Tour.
Apart from the small-town charm, this mountain resort haven is adorned with warm hospitality, exceptional gastronomy, and scenic landscape, portrayed in various films and tv series. Food specialties here are in harmony with the central Kootenay and infused with locally grown and freshly processed goods.
The shortest month of the year is the most festive in Vancouver, encompassing a handful of spectacular festivals and events. Vancouver chocolate festival aims to satisfy the visitor's sweet tooth. Enough for an entire year.
You can join the bake-off frenzy in Vancouver streets in almost every café and coffee shop, particularly for chocolate-oriented delicacies. In winter visitors can join the Free ice skating at Robson Square that lasts until the end of February.